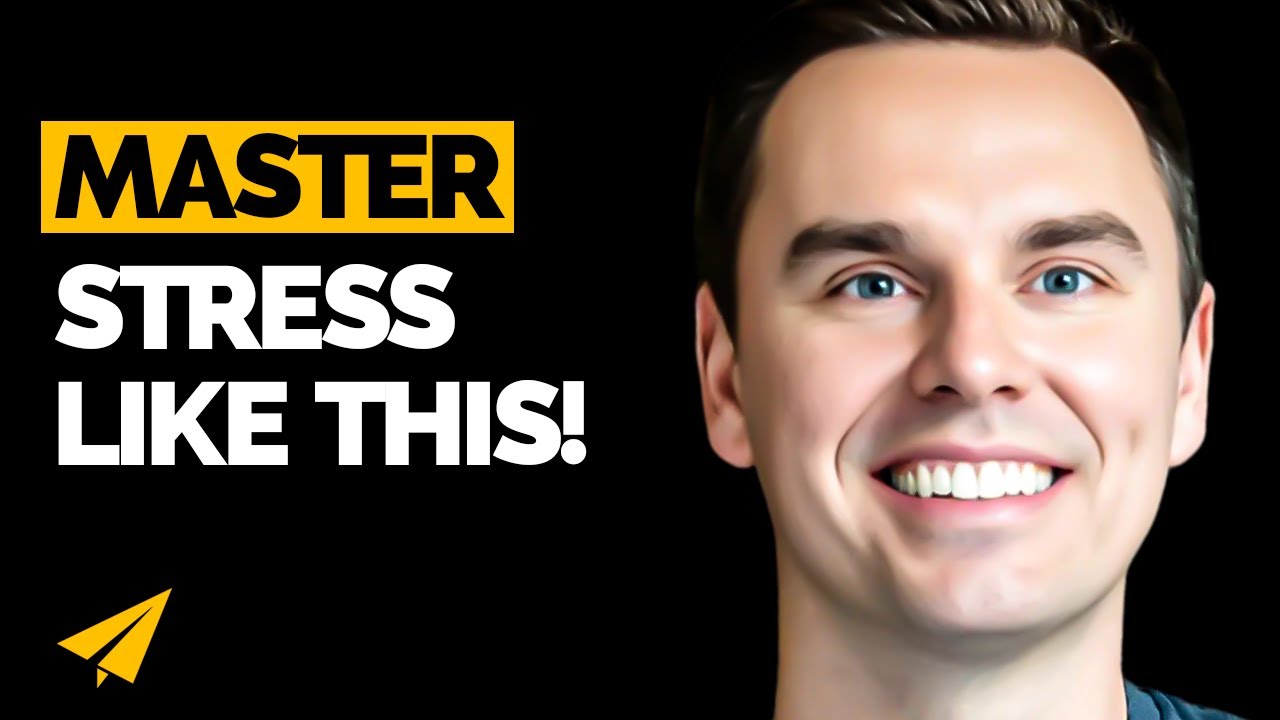 Good morning, Believe Nation, my name is Evan Carmichael. My one word is believe, and I believe that entrepreneurs will solve all of the major problems in the world. So to help you on your journey, today we're going to talk about how you can stay calm in stressful situations.
Rule number four is my personal favorite, and I'd love to know which one you guys like the best. And as always as you're watching if you hear something that really resonates with you, please leave it down in the comments below. Put quotes around it so other people can be inspired. You might win a prize, too. And also, when you write it down, it's much more likely to stick to yourself as well. Enjoy!
 How to Stay CALM in Stressful Situations
Brendon Burchard
I know, without a question, that one of the most important decisions you will make in your entire lifetime is to better handle stress.
To decide that your identity and who you are anymore, you're not going to be as stressed as you were last year or the year before.
We should all become more peaceful, more thoughtful, more present, more joyous people as we age, would you not agree? And if that's true, then it's time to start now.
Have A Schedule
Evan Carmichael
Rule number one is have a schedule. One of the things that really helped me stay calm with all the things that were happening with my business was to have a schedule. And I know that there's a time for the thing that is causing an issue.
And so, for example, Tuesday is my YouTube day. It's when I review all the videos from my team, it's when I answer any questions, when I do set ups for collaborations, when I'm doing the research, anything basically YouTube related except for filming, I do on a Tuesday.
And so whenever I get e-mails during the week, I get questions, I get proposals, I get ideas, I review a video that then spawns another creation, I have a place, I put it in my folder, and I know on Tuesday I'm going to have time to go out and do it.
And I think often times when we don't have time to figure it out, and we try to rush to solve it, it creates chaos, it creates stress, but knowing that you have a place in your calendar to be able to do it. For me at least, it creates a great sense of calm.
Move!
Robin Sharma
When I have a difficult day here's one of the first things that I do. I will get on my mountain bike, and I will ride like a bat out of wherever, through the forest, and that releases dopamine in my brain which is the neurotransmitter of inspiration. And that releases serotonin, moving, right, on the bicycle.
It releases serotonin which is the pleasure neurotransmitter. And it cuts down on my cortisol which is the fear hormone. So just simply going for a mountain bike ride, or going for a swim, or getting into yoga class, or something as simple as going for a walk, or maybe even doing jumping jacks when no one is looking will create a pharmacy of mastery within your brain which will affect your psychology, your neurobiology, and your interior life, which makes you just feel a lot better. You know that, after a work out you always feel different than you did before you went into the work out.
And related to a pharmacy of mastery, it's something that I have counted on for years. When I've had good seasons, when I've had challenging seasons of my life, massage. I call it the two massage protocol. Two massages every single week, it moves your lymph, it moves your blood which oxygenates your system, it reduces toxicity, you feel a whole lot better.
Don't Allow Stress Into Your Life
Brendon Burchard
You know what? There has to be an intentional decision at some point in our lives where we say, "Look, I'm not going to be this stressed anymore. "I'm allowing too much stress into my life." And please notice the words I'm using here, I'm allowing too much stress into my life.
Most stress is not, quote unquote, real. No one hands you a plate of stress, it's not something you see and we can transact and exchange. It's something we make up in our mind. We make things stressful that may or may not be or have any cause to be stress inducing.
You know, one thing that could stress you out might not be a stressful thing to anybody else. So that proves we're making it up. And since we're making it up, we should decide what we're going to do in the future. Are we going to be always be these stressful people or not? I know that sounds so silly but I made that decision when I was young, I was 20 years old, and I said, "Look, I don't want to be a stressful person anymore."
I used to stress about getting everything right, and getting good grades. I'd stress about pleasing people and stress about, did I fit in, I'd stress about college, I'd stress about, and at some point I said, "All this is made up." You know, matter of fact, most stress is coming from, usually, one of two things.
First is a false time crunch that we perceive. We think we only have so much time, so everything becomes stressful, "Oh my God, I got to get this done, I got to get this done. "I got to get this done." And we're reacting our lives to really false deadlines. Someone asks you for something, you think you have to get it to them right away. You probably don't. It's probably not a real deadline, and unless you ask them, "When is the real deadline on this?" I mean the point in which everything crumbles and falls apart.
If you don't get it then, what would happen? What is the worst thing that would happen if you didn't get it at that exact time? I'm crazy about this in my life. If someone says, "Well Brendan, I need this by Thursday," I say, "Okay, if you need it by Thursday, "is Thursday the day that everything "would explode and fall apart if you didn't get it?" And they're like, "No, I mean, no, Monday would be fine."
And I just bought myself Thursday, Friday, Saturday, Sunday, and part of the day Monday. I just bought five days by asking when the real deadline is, 'cause most people, they say they want something from you, when they want it, not when they need it.
So your job, to help deal with just the time crunch that stress can feel like, is asking, "When is the real deadline?" And all these things that you're stressed out about, do they really need to be handled right now, this immediate second? Would it be okay if you created a plan and you handle them over the next couple of days, next couple of weeks, next couple of months?
When you actually realize the unbelievable amount of time we all have as humans, and how much more time we have when we become focused, diligent, intentional, disciplined, then we're not so much stressed anymore. It's like, I will get to that, when the time is appropriate for that. Before that, I've got other things.
Better Yourself
Tony Robbins
Interviewer: Now you've got a sort of five point plan that anyone can follow to get over stress and trauma in their lives. Talk me through it.
Well I think, first of all I want to make one thing clear. The quality of your life is the quality of where you live emotionally. We all have a home. Angry people find a way to get angry even if their life doesn't give anything to be angry about, we can always find it. Sad people can find a way to be sad.
Caring people find a way to care for other people. So one thing you need to identify is, where are you living? What's your home, what's your habit? And then the way to change it is, when I was homeless literally on my own, just getting started, I didn't have the internet but I decided I had to go to a library and I had to feed my mind.
And I always tell people the first stage is, you know, weeds grow automatically. One of my teachers taught me, he said, "Every day stand guard of the door of your mind "and feed it something good," 'Cause if your worst enemy puts sugar in your coffee here, you're fine.
If your best friend, by accident, trying to help you, puts some strychnine in, you're dead. So, if you feed your mind everyday, 30 minutes a day of reading something, hearing something. Second, you got to strengthen your body. And the reason, Piers, is fear is physical.
So is stagnation, so is numbness, so is sadness, so is rage, and when you go in to change your body by an intense workout or run, or even an intense walk, and the blood's flowing through you, science has shown, it instantly changes your biochemistry, and now your mind and body are working together.
Third thing, all these people have in common if you watch, they've found a mission bigger than themselves. Something that they want to aspire to that was worth more than their pain. And then the fourth thing is, you've got to find a role model. You know, you heard it with Nick.
Almost everybody finds a role model that makes it real. I was with Warren Buffet and with Sarah Blakely, the youngest billionaire, we were doing this round table about the future, and when you listen to this woman, and when women meet her, they don't just love Spanks, her product that made her a billionaire.
They love this woman because she is a role model of what's possible. You get a role model, it becomes real to you, if you get a plan, you get a goal plan, and you take massive action. And the last step, number five, there's always somebody worse off than you are. I don't care what you've done.
So if you can go help somebody worse off, it puts your life in perspective and it also reminds you that life's not about me, it's about we. I always tell people, the secret to a great life, the secret to living, is giving.
When you realize that there's something still to give, even if you lost your legs, even if you've been through a horrific financial situation, your life can improve but more importantly you'll have a meaningful life because your life will contribute to other people.
Put Things In Perspective
Gary Vaynerchuk
There's a ton of bad days being an entrepreneur. Not to mention 98% of entrepreneur adventures are going to fail, so there's going to be a really bad day in your future. You know, hopefully not for you, or any of you. For me, I think this is a very personal question, I think it's how you're wired.
I'm so all in entrepreneur, I prefer the pain. I think one of the reasons I love the Jets so much is because they bring me so much pain. I love the climb. To me, the setback is exciting. I love when something goes wrong. It's where I shine the most. But that's not for everybody, right?
I mean, it can be very difficult, and when you start affecting your life and your loved ones and all the other things, it can get real nasty. To me, the way I handle things even in the few rare days when I really struggle, I take a real step back and make pretend that somebody called me and told me that my mother or daughter were killed.
And I know it's very dark, and I apologize, but it's really what I do. I literally am able to, at my deepest most struggling moment within business, take a step back and remind myself that I can make a trillion dollars tomorrow on Bitcoin, and if something bad happened to the people I love the most, then it would mean nothing.
And it very consistently rewires me very quickly. I just put business in perspective. At the end of the day, it's money. For me, it's not really money, it's my legacy so I get hurt by it a little bit more, but yeah, I put it in perspective, it's money.
And you know what? Up until I had a daughter, even while I was married, up until when I had Miesha four years ago, I secretly wanted to lose all my money. I had this weird, twisted, dark fantasy of losing everything just to rise again like a phoenix, and remind you mother.
Thank You
Thank you guys so much for watching! I love to know, what did you think of this video? What did you take from it that you're going to immediately apply to your life or to your business somehow? Please share, leave it down in the comments below, I'm really excited to see what you have to say.
I also want to give a quick shout-out to BestYouPro. Thank you so much for picking up a copy of my book, Your One Word, and taking a picture and posting it to your Twitter account. I really appreciate the support, man, and I'm so glad that you enjoyed my book.
Thank you guys so much for watching, I believe in you. I hope you continue to believe in yourself and whatever your one word is. Much love, have an amazing day, and I'll see you soon.
---
BONUS
Evan Carmichael
Close your eyes and breathe. This sounds like a pretty basic one, but just reminding yourself that, this is stressful, I'm going to breathe, I'm going to close my eyes, I'm going to relax, and things start to get better.
Why do people go outside for a smoke? Like, the nicotine helps but it's also the breathing, and so if there's a reminder on your calendar or something on your desktop background, or whenever you feel that stress coming on board, just reminding yourself, I'm going to close my eyes. I'm going to take a couple deep breaths. I'm going to instantly feel a little bit more calm.
Brendon Burchard
Anxiety usually is just coming from three places, and once you realize it, it's not so scary anymore. The scary part about anxiety is when you don't know why you have it. And again, for some people, they might have a chemical imbalance, they might have a challenge or a past unconscious traumatic event that is coming up for them, and they might need to seek some help for.
Others can just sit down and go, "Okay, where is this coming from?" And knowing that it's probably coming from three places, then now we can deal with it. Most anxiety comes from fear of loss. You feel like, in any uncertain situation, you feel like, "Gosh, if I don't do well here, "I might lose reputation, I might lose my job. "I might lose someone's respect or somebody's love. "I might lose something I like if I try something new and it doesn't go well." It's just scared they might lose something.
So ask yourself next time you feel anxiety, "What am I scared I'm going to lose here? "What could I be scared of that I'm going to lose here? "Maybe that's what I needed." And then, do fact checking, saying, "Is that legitimate? "Is that a concern that I'm blowing up in my mind, "that I have no basis in reality to figure out, "and if I don't, I need to stop thinking about it "and I need to start focusing on "what's tangible action items I can do tomorrow, or today, "to take one little tiny step closer."
Because sometimes the easiest way to wipe out anxiety is to get a little momentum. I would say the second thing that people often fear is hardship. They just think, the real anxiety is, "I'm not going to be able to handle this. "I'm not enough as a person, I don't have the skills, "the capabilities, the competencies, the talent. "And if I try it, it's going to be hard on me."
People say, "It's going to be too hard on me." And I tell people all the time, if that's coming from that… You have no idea how strong of a human being you can be. You really don't, I don't. And I'm not saying that, I'm not preaching here. I don't, we don't know.
I'm stunned at the things I can handle today that I couldn't handle 10 years ago. And I know there's areas of your life like that too, things that you can just handle today. When you first tie your shoe, you fear that you're not going to be able to figure it out the next time, it's going to be too hard or you're going to be embarrassed, but then you do it 10 times and now you've got this, the hardship thing doesn't bother you anymore.
So one way to overcome anxiety is to question, "Where do I feel like I'm not going to enough or capable here?" And then start a little diagnosis and say, "But where have I been so capable before? "Or how could I develop this capability? "What support or mentorship could I get "to go to the next level here? "To know that I'm not going to have to handle it on my own, "that I'll have real support."
Because sometimes what we need to know to overcome anxiety is that we'll be supported. Last piece I think people really have a lot of anxiety towards is disappointment. They fear that they're going to, they could do it, they could try, but maybe it doesn't turn out well.
And because it doesn't turn out well, they start inventing all these reasons now. It's not going to turn out well, they're going to lose something, and they're going to have hardship, and they're going to feel like crap, you know? They actually are fearing what they're going to be feeling and that's the anxiety.
The anxiety is actually just the sense of, "Oh my gosh, I might not feel good." And it causes us to feel even worse, right, disappointment. And so you have to look at it and say, "Maybe I need to change my value to criteria here." "Maybe this isn't about whether or not I succeed. "Maybe it's about whether or not "I give effort towards something that's meaningful to me. "Maybe it's not towards whether it turns out perfect, "but it's that I began the journey."
That we stop thinking about, is the destination going to be perfect in the promised land for us, and instead we ask this question is, can I develop as a human? Can I just, you know what, yes. Maybe part of me overcoming anxiety is getting more comfortable with the uncomfortable.
Not to get rid of the anxiety but to get rid of how I'm dealing with the anxiety. To take pride in the fact that, I'm facing it. I'm dealing with it, and I'm still marching on. And I think if we face it, we deal with it, and we still march on, we start to really start managing that anxiety.
You have greater strength in your ability and in your body than you could ever possibly imagine, and I'll say it all day long 'cause you probably don't believe it in those moments when you're experiencing anxiety. But next time you start to experience anxiety, sit down and say, "Where's this coming from? "Am I scared I'm going to lose something? "Am I scared of hardship? "Am I scared I'm going to be disappointed? "Do any of those things have any factual matter to them? "And if they do, what am I going to do with that energy? "Am I going to let it stop me, "or am I going to use it as a tool "to pay a little bit more attention, "and to keep momentum because I know, "the more momentum I get the less anxiety I'll have." Start focusing on developing your strengths and your momentum, and you'll start to experience what we call the charged life.
Robin Sharma
Worry beads, this is not philosophical. Don't worry about the, you know, this is a really practical tactic. Get a bunch of beads or beans or whatever it is, and every time you're at your desk working and your mind goes to a worry, dump one of those beads or beans, a dried bean, I'm sure you can get them.
Don't make any excuses, don't say, "Well I don't live in a city where I can get worry beads." You can find some kind of bean or a bead. Isn't it interesting how worries prevent us from taking action? Excuses prevent us from taking action. And so on this second point you just, every time your mind drifts to a worry, you drop the worry bead into a cup or into a glass.
What does that do? It starts to give you an intense awareness about how much time you spend worrying, and more particularly, how many worries you have. And with more awareness, you can make better choices. And with better choices, you'll see better results. Okay.
---
You might also like
---
More from Believe Life
---
Today we're going to learn how to communicate effectively.  Good morning, Believe Nation. It's Evan. My one word is believe, …
Today, we're going to talk about how you can create a massive action plan. Good morning, believe nation. My name …
Today we're helping you to stay motivated, and to learn how to motivate yourself! How to MOTIVATE Yourself - #BelieveLife Why MotivationGrid We're all …