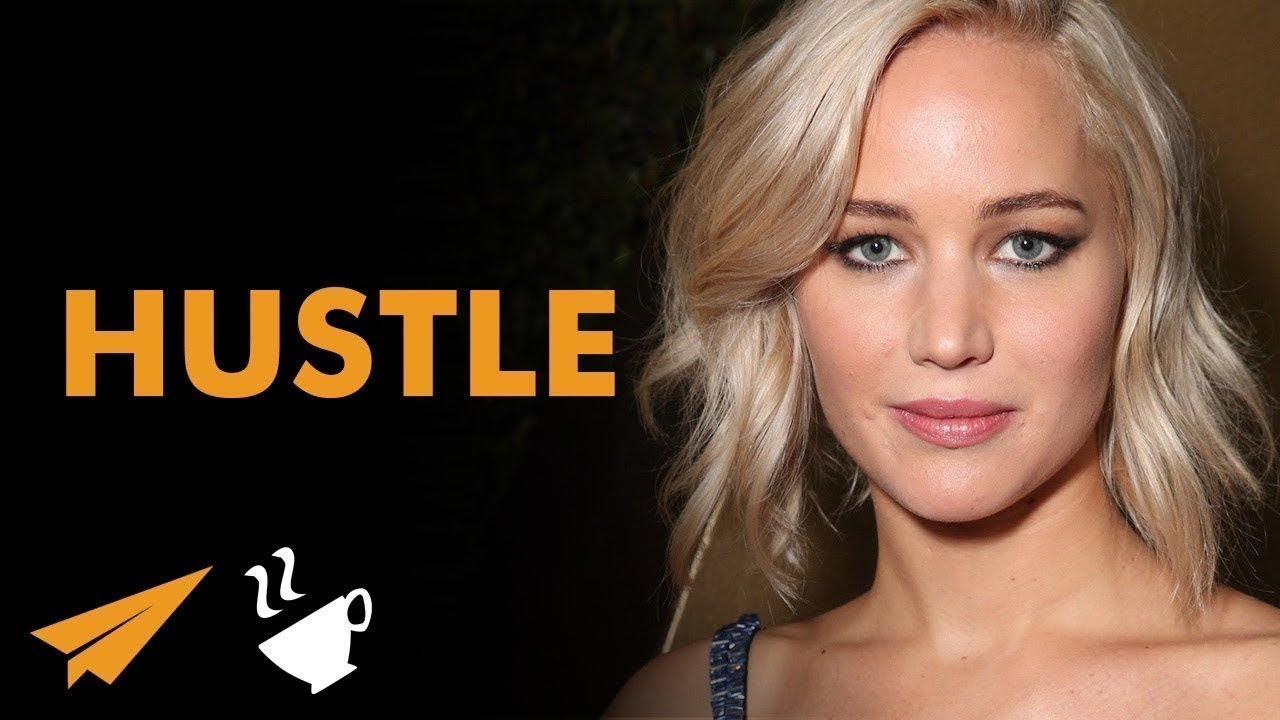 Good Morning Believe Nation! Today's message is Hustle. Over to you, Jennifer Lawrence.
♫ I wake up every mornin' ♫ Espresso keep me goin' ♫ I wake up every mornin'
Charlie: The interesting thing, for me, to talk to you, and what makes you so fascinating is the talent that you see on the screen. But, at the same time, there is a certain innocence, and yet a certain power, and it seems to me that, it's both artist and also… business.
Oh, thank you.
Charlie: But, do you believe that?
Yes.
Charlie: Am I right?
I've worked very hard to make that.
" Without gaining some sort of control over the business, I lose some control over the creative." – Jennifer Lawrence
Charlie: To make it just that.
To make that true, so, thank you.
Charlie: That it's both that.
Thank you. Well because without gaining some sort of control over the business, I lose some control over the creative. Which is most important, so, I–
Charlie: And the more you control over the business, the more you can give flower to the creative.
Exactly.
Charlie: Or give wings to the creative.
Yeah, so I used to stay out of it, I don't care, I don't want to, I'm an artist. I don't need it, you know, and, but this is my business now, and it's my, it is important if my agent, my agent always says I'm his only client that ever calls him back as soon as he, because it's my business and I respect my business.
Charlie: Your agent says you're the only client that calls him back to say.
Immediately.
Charlie: Immediately.
If I have a missed call, I call him, I'm probably the only, I return emails, I return phone calls, because–
Charlie: Because you want to know what options there are?
Yes, I've worked really hard to build this and I want to continue building it, and it's my business, my personal business. So, I don't understand how people do slack.
*******
Evan: Thank you guys so much for watching. The question of the day today is, I'm curious: How much are you guys hustling in your business right now? How much are you hustling? Leave it in the comments below, I'm going to join in on the discussion.
I also want to give a quick shout out to Yong Yu Liu. Thank you so much for picking up a copy of my book, Your One Word, it really, really, really, really means a lot to me. So thank you guys again for watching. I believe in you. I hope you continue to believe in yourself, and whatever your one word is. Much love, and I'll see you again tomorrow morning for another shot of Entspresso.
♫ I wake up every mornin' ♫ Espresso keep me goin'
---
BONUS
Evan: Hey Believe Nation, if you want a little more hustle motivation stay tuned for some special bonus clips.
Wendy Williams
I worked for Ms. Hughes for about eight months and I got a weekend gig in New York. So, I would do weekdays at WOL in Washington and drive up on Fridays after my shift, which would end at 7 o'clock and I'd be on all weekend long over in Queens, that's where the radio station was located.
And then I would drive back to D.C. And I would never even stop at my parents house, never had time for friends, because everybody was kind of, not understanding my dream, and kind of laughing at me or something, or trying to, you know my friends were like real immature and stupid, and wanting to party and hang out, and I'm on a path.
And my parents were very, you know, "Ohhh, do you want something to eat?" "What is this crazy thing you're doing called radio?" I would sleep in my Subaru, they gave me a Subaru for college graduation, and I would sleep in my car at every rest stop between New York and Washington D.C. to block out the noise of people questioning–
Telling you you can't do it.
Right! I would literally be, I'd have a blanket, an alarm clock, and a quilt. And I would take a bird bath in the bathroom. I'd be woken up by the man sweeping next to my Subaru, looking at me, 'cause I'm like the crazy, you know, girl in the, and I had a baby shade without a baby, pulled the baby shade down, you know. And that was my life for about two months I was going back and forth.
Jada Pinkett-Smith
Interviewer: How'd you get an agent?
Oh, I got to, let me tell you… Talk about some name-dropping, right? So, I had a friend that at the time was good friends with Keenen Ivory Wayans, okay. And, I got to meet Keenen and we became very good friends, I ended up doing A Low Down Dirty Shame with Keenen.
Oh, sure yeah.
Interviewer: But, I didn't have an agent.
As Peaches. As Peaches, right. I didn't have an agent yet. And I was like, you know, how am I? I was just going through the list of agencies, and I was like, I got to get an agent. And so, I literally called this one agent, her name was Nancy Rainford. And I said, "I'm a really good friend of Keenen Ivory Wayans "and he told me to call you specifically." And she's like this small agency, on Melrose, but you know, she had me, she had Michael Rapaport at the time.
Interviewer: Ah wow.
Yeah, she had Michael Rapaport at the time, so I said, "He told me to call you specifically." You know so I'm runnin' this whole game, and she was like, really? She was like, well, why don't you come in and see me? So, I went in to see her, and I put on the jazz hands, you know, and she was like, you know what, I like you, I'm going to represent you. And I'm going to tell you she was an awesome agent, she was an awesome agent, and she had Michael Rapaport and I, and she started my career.
Interviewer: Wow.
She started my career. And then she eventually got out of the business. But, she was the one that started my whole career.
And it was just that– And I got in the door because of Keenen's name.
Interviewer: That attitude, too.
That attitude. I was like he told me you specifically.
Interviewer: That's good, that's actually a very good.
Isn't that good, yeah.
Interviewer: That is actually something. That's great, that's great, I love that.
Yeah, I did, I did. Look, if it's not one thing Baltimore taught me, it definitely taught me how to hustle, I'll tell you that.
Bradley Cooper
You know people talk about how you need a vacation or something, I don't, a vacation from what? I love my life. I feel, I'm healthy, thank God. And, you know I have these incredible directors that are interested in working with me, and I'm going to jump at that, as long as there's enough time to prep and I feel like I can add to it, you know, yeah, yeah for sure.
Interviewer: Has it changed in terms, I guess there's a point where you don't have to chase quite as hard?
You know it depends on the project. I still would say, I wrote an email to a director about six months ago about a project that I just felt so connected to and never got a response.
Interviewer: That's surprising.
Yeah, but you know, you never, you know, it's yeah.
Interviewer: You'd just think that professional courtesy would be enough to–
Oh, not in this business.
Seth MacFarlane
From start to finish it takes about nine months to, sometimes longer, sometimes you know, 10 months. It's roughly a year between the time that the story is pitched to the time that it gets on the air. It takes roughly a year to do it.
And it's, you know, no one has ever figured out a quicker way to do hand-drawn animation in prime time, and it's all still hand-drawn. It's colored with computers, but every single frame is still done by hand. You know this season is a little smoother than last season.
And last season was little smoother than the one before, so it's, it gets incrementally easier. It's still in many ways a seven day a week job to get this thing done, I mean it's, it's a virtually impossible thing to do a prime time animated series, yet somehow, there's a bunch of people that do it. I, I… You know, it's, it's… I don't know how The Simpson's does it for as long a they've been doing it, but it's a, it's just a very, very intense process that just in many ways, gets easier when you get canceled.
tg_divider style="normal":
You might also like
---
More from Entspresso
---
Today's message is be confident. Good morning believe nation, it's Evan. My one word is believe and I believe that …