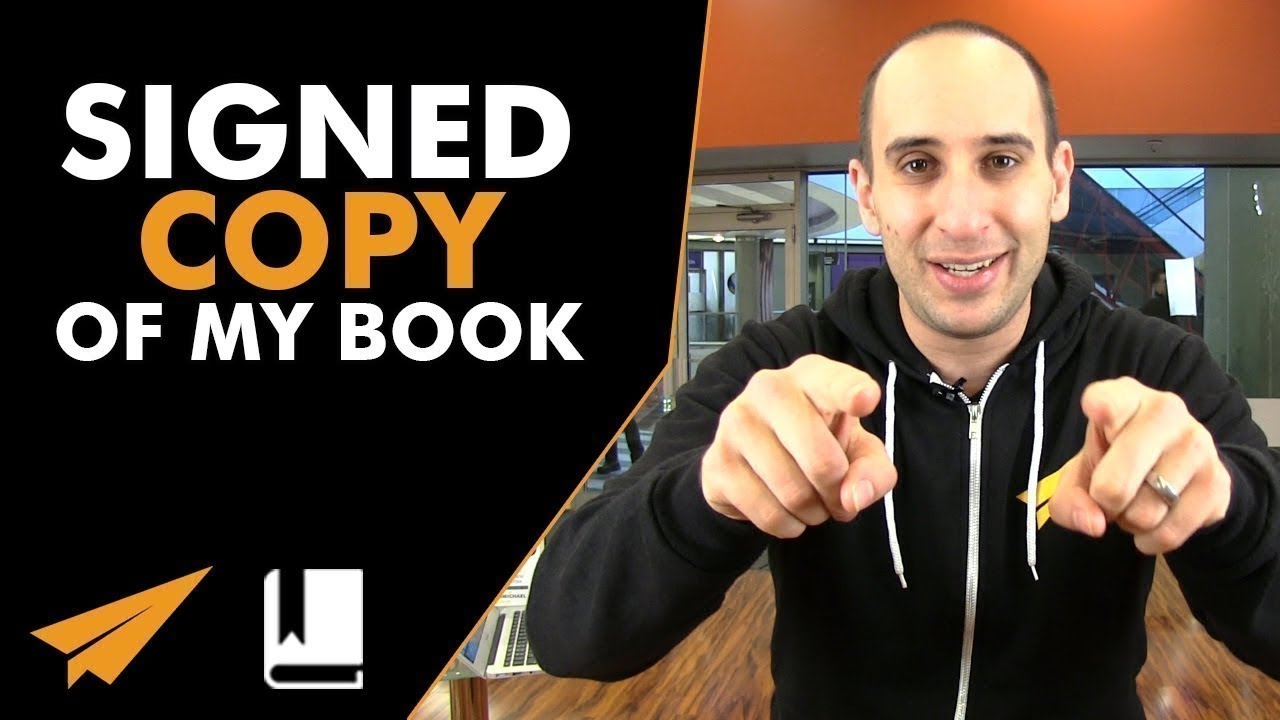 I want to give you a a signed copy of my book.
Okay guys, so last week I announced the contest where I'm going to be giving away one box, ten books, of my book, autographed, special message, limited edition, just for you guys. The contest is you need to create a piece of art, whatever your art is, whether it's a song, a Photoshop file, a program, you know whatever it is that you do. You make chairs, make a one word chair, something that pays tribute to the book in your voice, your style, your art. I want to see the creativity that Believe Nation has.
I want to see your art. And so, I mentioned it last week, we've got, this is the last week. This is it. This is all we have left. The deadline is the end of the year. I want you to link up in the comments of this video or last week's video, link up a link to your art so I can see it and then we'll figure out who gets the prizes, we'll judge you, they're all judged, or I'll have my team, or Believe Nation will judge, we'll figure it out. But send in your art.
I want you guys to get the limited edition, signed copy of this book! I signed a whole bunch of books yesterday that are being popped into the mail, customized, with a special Christmas message from me. So I want to do that for you. I want you to be holding the book, personally signed by me, as a reward for the awesome art that you guys made. Okay? This is the last week to get it in. December 31st, last day. We're not stretching it into 2017. I'm looking at it from that day, and we're going to pick some winners.
Let's get to the chat, see what you guys have to say. First up,
Nkiru, "I need one too." Nkiru, let's see your art! Give me something, what you got? "Time to learn how to sing." I want to hear a Nkiru song, a "Your One Word" dedication. Give it to me Nkiru, Believe Nation wants to hear it. Bring it.
Jaslin, "Hi Evan, the book is in Singapore! "Check out this photo!" There we go, we have our first piece of art submitted. I love it. "Your One Word." What is that building in Singapore? "Have been following Evan for the longest time "and released this book, let's read it this holidays" I love it, thanks for that. First piece is in! Let's go guys, keep submitting!
J-Ryze, "Dude, yes, art is for empires." I love it.
Zeno, "Still waiting for the book, excited, "I'll make sure to go to one of Amsterdam's landmarks "and take and share a picture once I have it. "Oh yeah got to think of something for the contest." Zeno, you got lots of creativity in there, Zeno.
There's lots of creativity. I want to see something. I need a Zeno piece of art. I want Zeno-infused something, around "Your One Word," submitted. Link that up.
New Future Builder, "Awesome challenge. Hmmm. "I'm looking forward to the entries and in terms "of your other more mobile platforms, you should "get yourself a used phone or tablet "that you just keep by your desk or at TDS. "That way you could play around with the streaming "to Periscope, Facebook, Instagram. "Your gratitude stream would do well in my opinion."
Uh, yeah maybe. I haven't done a ton of live streams, except on YouTube. I don't know. I've been in and out of Snapchat. I've posted a few things on Snapchat here and there. Never gets the lift that I'm looking for. So I don't know. I'm still so much on YouTube right now, it's where I'm focused, that… I don't know. I don't want to be distracted yet. Maybe 2017.
If you guys keep wanting it, if you guys really want me to be somewhere else, let me know. I'll think about it. I'll think about it.
Mihoviil, "Live in a small town, "but we actually have one awesome landmark." Nice. I'm looking forward to it. "And the best link to buy from in the UK "is bookdepository.com." I appreciate that. Thank you for sharing, Mihovil.
Steph, "I got the book. "It's awesome, see ya soon." I love it. Steph is actually coming in to film with me. We're going to do an in-special together. We have a special guest, Steph. Steph I want to see some art. Bring it. Bring the art.
Da'Shaquan Green, "Guess I might make "a silent short film or something."
Yeah. Silent short film. I want to see that. Link that up, I want to see your talent.
Next up is Lane, "Man I am wholeheartedly studying "political silence and Mandarin, I guess there is no art "I can make with those two skills." This is the thing, guys. This is important.
"Entrepreneurship is about being resourceful. I wanted you to think about how you can use your skills, your talents, what you're interested in, to do something amazing." – Evan Carmichael
If you're learning Mandarin, what's "Your One Word" in Mandarin? Can you write something in Mandarin and read it for me? That talks about "Your One Word"? Can you make a video about that? Can you talk about some of the lessons in "Your One Word" and apply it to the political theory and history that you are learning and studying and where the most relevant lesson is? Like that's art, too for me. That's creation!
So, I want you guys to think about, what is it that you have to give?
What are you interested in?
What is your passion?
It doesn't have to be singing a song, or making a Photoshop file. You have art inside you that can come out. And I want to see it, in the context of "Your One Word," of the book promotion somehow. Give it some tribute. It's important. All of you have that special something. And I don't want you thinking, "I don't have any talent "to give, I don't know how to express it."
Ask yourself. Instead of saying, "I can't do this," ask yourself, "How can I do this?" – Evan Carmichael
That little shift, not just for this book, but for everything. All the things that you tell yourself you can't do because you didn't go to school for this or whatever. If you start moving from "I can't do this "because I don't have the skills" to "How can I do this?"
Get used to asking yourself that constantly. It's game over, your world is going to explode, into amazing, amazing things. So yes, political science, you can give me a tribute. Mandarin, you can give me a tribute. Everything else that you guys are studying or interested in, you can give me a tribute and I want to see it. Let's link it up. Thank you for that, Lane.
Kendra, "I'm so pumped about this challenge." Five exclamation points, I love that Kendra. I love that. "Up at 2:46 a.m. thinking about how I can turn "a garment into a piece of art for 'Your One Word' book." Yes. I want to see the "Your One Word" garment. I love that. I love that, Kendra.
You have to do it. You got a few more days left. You have to do it.
Next up, Atul. "Hey I have created an art image "for you to enter in this give away contest, "please have a look." Thanks for the love, Atul. Thank you for the love. Keep it coming, guys. More art, link it up.
Umesh, "I need one." Umesh, gimme some art! That's the rule. You need one, gimme some art, let's go.
Tapan, "I want one book." I want a piece of art, Tapan. Down below. Gimme the link. Create something amazing. I want to see it. I want to sign a book and give it to you, Tapan. You got to give me the reason. Just typing it out, "I want one," in the comments is not enough. Art. Gimme art. Link it up.
Vyshnav, "I want a book. "I want to know how helpful the book will be to me. "I am excited to know whatever is inside the book. "I think the book will give more knowledge to me." Four happy faces. You know what's going to give me four happy faces? Your art. Link it up below, I want to send you a book! I want all of us to be smiling. Gimme your art, down below.
Next up Mojo-Andy Pictures. "Evan! I actually won a copy of your book a few weeks ago "when you were a guest on a radio show here in Ocala!" I remember that show, that was a fun show. "I started reading it and man, I got to tell you, "it's amazing."
Yes, I love it man. "It's kind of ridiculous how everything we love "and everything we do is linked and I didn't even realize it "until I started searching for my one word. "Thank you so much for this book. "You say at the beginning that you want to help "one billion entrepreneurs. "Well here's one of them. "Happy face, thank you."
I love it man. I love it. Listen, give me some art, I want to send you a signed copy, you can give one to your friend, you can give the Ocala one to your friend, you get the signed copy. Give me some art. Link it up, below, let's see it. What else?
Nanda, "I need one." Nanda, give me some art! Shadonna, "So I checked out here in California "Barnes & Noble to see if they have your book "so I'm going to try and purchase one by next week "to try to make the deadline. "What it would be nice if I can get a free one, "but I know that's probably a chance of slim to none, "but however I'm still interested in seeing what "all the hype is about so get back with you once I get it."
Hopefully you found that book in Barnes & Noble. Get inspired by it. Send in some art. The theme of the day. Send in art. I want to see it. I want to see your Mandarin tributes, I want to see your philosophical history tributes, I want to see your garment tributes, your Photoshop tributes, your photography tributes, your song tributes, your programming tributes, your dance tributes, your kids paying a tribute, something. You've got something guys, express it, link it below.
Jason Bean, "I'm sure you'll have some great entries." Jason, Jason, I want to see your great entry, bro. Not just others. Where's the Jason Bean entry? Let's link that up. Alright, I'm going to end it there, guys.
Thank you so much for the love. You know what I'm going to end with. Send in your art. Link it up. I'm gifting you books, autographed. This book is amazing, it's going to have a huge impact on your life and your business, I promise you. And you get it signed, by me, with a special message.
You have a few more days. December 31st is the final day of entry. Get to work. Get on your hustle. Link it up below and then hopefully, I'll be sending you a copy of "Your One Word," signed by me in 2017.
Good luck guys. I believe in you. I hope you continue to believe in yourself and whatever your one word is. Much love, I'll see you soon. (explosion sound)
---
You might also like
---
More from Evan Carmichael
---
What's up, Believe Nation? Greetings from London, England. It's Evan. My one word is believe and I believe in people, …
Today we're going to look at seven different ways that you can make business alliances. What's up Believe Nation? It's Evan. …