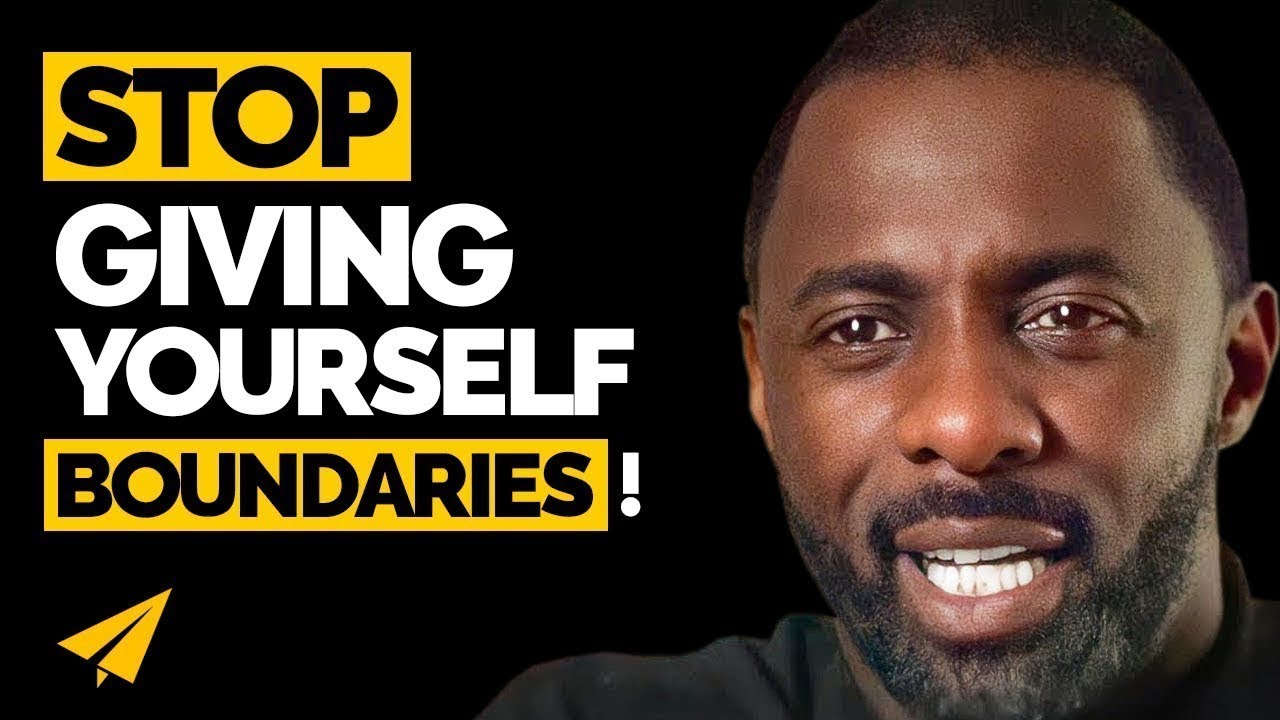 Famous Entrepreneur Quotes
Idris Elba's Quotes
"Your sky and my sky might be different, But neither of us will touch the sky if we give ourselves boundaries."
"Whatever I try and do, I do it from a point of view as, do I believe in it? Yes."
"One thing I kept doing is inspiring myself, looking for inspiration and growing."
Idris Elba's Top 10 Entrepreneurship Rules for Success and Business
He's a British actor, musician, and DJ. He's best known for his portrayal of the drug lord on the HBO series The Wire. He's been nominated five times for a Golden Globe for best actor in a miniseries. He's Idris Elba and here are his top 10 rules for success.
Rule #1: Don't Give Yourself Boundaries
I mean, it's important not to give yourself boundaries, which we can do quite easily, okay? People talk about aiming for the skies. Sometimes even aiming for the skies is intimidating. Just don't give yourself boundaries.
Your sky and my sky might be different, you know what I mean? But neither of us will touch the sky if we give ourselves boundaries, you know what I mean? Whatever your sky is, whatever your biggest dream is, I might have already touched that, you know? So in other words, what sky? Where does the sky end? I'd rather people go, "You know what? "I'm not going to restrict myself to going, "'I can only do this or I can only do that, "'or I have to do it this way or I have to do it that way.'" I think it's important that people just go, "I'm going to lose the boundaries, "lose the conformity, and just go for it."
Rule #2: Do What You Love
It was a real sort of liberating feeling at 16, 17 years old. The one thing I really liked to do was drama and there was no sort of beacon for this could be a career, you could do it. I just didn't see that, but I really loved to do it, so I just said, "I want to do what I love," you know what I mean?
Interviewer: So it was like, school plays or did you?
Yeah, school plays and from school, you know, literally, my fear. My drama teacher was like, "You got some talent here, "brother, you know? "You did really well on your GCSEs. "You got some talent. "Why don't you do it?" And she gave me this course. There's a two-year performing arts course.
It was a new course. And she's like, "Do the course, fall on your face "for two years, paint scenery, "direct plays, just do it for two years "and see if you like it." And that's what I did. That's when I fell in love with it.
Rule #3: Reinvent Yourself
So I got to a certain point in my career where I saw the glass ceiling. I was so close to it, I was going to hit my forehead on it, but I was busy. I was busy. I got lots of work. I realized that I could only play so many best friends or gang leaders, all right? I knew that I wasn't going to land a leading role.
I knew there wasn't enough imagination, not yet, for the industry to be seeing me as a lead. In other words, if I wanted to star in a British drama like Luther, for example, then I'd have to go to a country like America, all right? Now some people might say back then, "Look, there was no black detectives? "You know, like, how can you expect us "to make a TV show about one?" It's television!  Sorry.
And the other thing is that I didn't see myself or my culture on TV, so I literally just stopped watching it. Instead, I decided to go and become TV. Now if I aspired to be on the levels of Denzel Washingtons and the Robert De Niros in the world, I had to reinvent myself.
I had to transform the way the industry saw me. I had to climb out of that box. In other words, I didn't go to America because I couldn't get parts. I went to America because I was running out of parts. All the parts were the same.
Rule #4: #Believe
Whatever I try and do, I do it from a point of view as, do I believe in it? Yes. I don't do things for money and I've been broke most of my life. So because of that, I can't sort of suddenly go, "I need to do a job just to get some cash," you know what I mean? I know that's, a lot of times, it is people's motivations because people do need to eat, but in my position, I've been poor most of my life, so now, I don't really do things based on money. I do things based on authenticity of how I feel.
Rule #5: be A Student Of The Game
I think that, you know, if you're an acting student, you know, be a student of the game, understand the game as much as you can. It's very important to know the territory that you want to be in. If it's a film director, or an actor, or whatever that is, really understand what you're trying to achieve and understand the marketplace, if you like.
There's nothing worse than an actor that has grandiose ideas of being famous but doesn't actually understand the root it takes to get from one place to another as an actor. So that's about self-education, of course and trying to put yourself in opportunities where you can always practice your craft, whether that's doing small plays, whether that's writing scripts for yourself, whether that's audition and doing open auditions.
As a young actor, try as much as you can to be around the community of filmmakers and theater so you can soak it all up like a sponge.
Rule #6: Play Your Instrument
Interviewer: I feel like coming off a movie like Pacific Rim where you're using language and you're talking about things that aren't real, you're doing that, and I'm sure some of the stuff you're talking about you don't even know what you're talking about, right?  To go from that to something that is so real
Yeah.
Interviewer: What's the transition like in your head?
I mean, it was nuts actually because I was here shooting that film, going off and talking about, "Oh, look at that monster!" Do you see it yet? And then reading about Mr. Mandela and having to prepare for that.
That was a massive contrast for me and I think it is really, it's, you know, if a guitarist picks up a guitar and he can play a reggae song and a rock song using the one instrument, that's the beauty of the instrument and that's, I think, the beauty of an actor, is being able to do that,and have that sort of span, you know?
Rule #7: Imagine Success
I think my imagination's always kept me going, you know what I mean? It's like, just imagine myself collecting awards. Just imagine myself getting big parts. Imagine myself working with the greatest actors.
My imagination was the one like, you know what I mean? Not overthink it, but you're just kind of like, "Yeah man, I see myself driving that car one day," and I get that, you know what I mean? That's part of my "inner magic," is that actually, if I can see myself doing that, I could probably do it.
So you can't bottle it up and sell it to somebody. You either can do it or you can't, but everybody can imagine themselves, you know what I'm saying? Yeah, you know what? Actually, yeah. I can see myself being an influencer in clothes, you know what I mean? Because I can make that happen.
Rule #8: Inspire Others
Yes, you know my history of being sort of on all sides of my journey. I didn't have success very early and I went through some very dark times and do you know what I mean? One thing I kept doing is inspiring myself, looking for inspiration and growing, and it hasn't stopped and I want to keep doing that.
And I also want to inspire others, you know? There are millions of me sitting at home right now and they don't know it and it's just good to be able to get this sort of platform to sort of say, "Come on, man. "Go for it."
Rule #9: Trust Your Instincts
There was a lot of encouragement to trust my instincts, you know? The instinct of use your presence, you know what I'm saying? And like, in South Africa, you know. Obviously, I'm not South African, so I'm really aware that oh God, I'm going to walk into rooms where people have been, lived, seen, smelled, touched, felt Mr. Mandela in person, on the radio, on television.
And here I come as an outsider doing this portrayal of him. I was really aware. It used to make me really nervous about if I'm going to do it right or not and Justin encouraged me to stay with what my gut was. Just stay with that. Don't waver from it, don't try to be their Mandela or the Mandela they think you should be.
Be that guy we've discussed in all the rehearsals and all the script meetings, you know? Be that guy, go with that thing. So that was great, actually. I took Justin's credit. Like, he really helped me sculpt and measure out that performance, you know?
Rule #10: Stay Grounded
I was 16 contemplating being an actor. I was in Sound Systems DJing, you know what I mean? And it was like, that or this? So I always go back to DJing. I always have a studio, always have turntables, always.
Interviewer: Your feet firmly fell planted on the ground?
Are they? I don't know.
Interviewer: Well, I don't know. Actors, it's hard.
It is and.
Interviewer: It's hard to get all this attention and stay sane.
Yeah. I think, you know what I mean? Like for me, listen. I've been doing it a long time. You know what I mean? And there was a drive to be famous, to be that pinnacle, to be that guy and I'm not.
My ambition isn't that as much, you know what I mean? Good work, keep working. So it would be hard for me to sort of like, suddenly be like, "Oh, I'm lifted up "by this wonderful life that I have." I love it, but you know, my feet are on the ground, you know? It's, you know, it's work. It's a job.
---
Thank you so much. I made this because Canif Ageric asked me to, so if there's a famous entrepreneur that you want me to profile next, leave it in the comments below and I'll see what I can do.
I'd also love to know which of Elba's top 10 rules meant the most to you, is going to have the biggest impact on your life.
Leave it in the comments. I'll join the discussion.  Continue to believe and I'll see you soon.
---
BONUS
Have A Good Team
I do think that, you know, it is a balancing act and the truth is, it's about forward planning, having a good team around you, you know what I mean? To help me and help me see perspective because one thing about being in the front is that you can't see what's behind you, but if you've got people that are around you to give you a little bit of vision, you can go, "All right, okay. "Actually, this will work and this won't work," you know what I mean? But when you're just looking forward sometimes, you won't see that.
Seize The Opportunity
Interviewer: When you realized it wasn't a joke, was your first instinct stay away from it? Or was it percolating in the back of your head somewhere as a great idea?
It was a couple of things happening and my first instinct was, "Dude, dude. "That is the opportunity of a lifetime. "Are you kidding me? "What a gift." But then, it was the next thought was, "But if you fuck it up, goodnight. "Your career is over, "period."
You know? Because in film, you know, my career has been decent and I can't say I have a string of amazing films under my belt, you know? I think I've got great films and films that vary from popcorn films to some really heartfelt films, but you know, Mandela was the next level for me and it was absolutely the gateway to the next chapter of my career.
But had I had to the gateway and tripped up as I fall in, I wouldn't, I won't be moving on because he's such a big, world, global citizen, you know? And I had all this sort of trepidation about you know, "Shit man, I don't look like Mr. Mandela "at all. "How in the hell am I going to do this?" But Justin was really clear about his vision and then it was a different spin, I guess.
Maintain Your Success
Interviewer: What is our theory in success? what is your mantra around this?
You know, it's a good question. I don't know if I've actually ever thought about success in that way. Obviously, I feel a successful actor, but I also felt successful the first day I got my first job. You know, that was a form of success.
I think ultimately, if you're successful in whatever you do, it's about maintenance, isn't it? That, I think, is the most important thing is maintaining success. You know, you get to the pinnacle, but how do you stay up there? And that, I think, is important.
---
Summary
Idris Elba's Rules
BONUS
I hope you enjoyed this article, make sure to check my Idris Elba video on his Top 10 Rules For Success as well.
You might also like
---