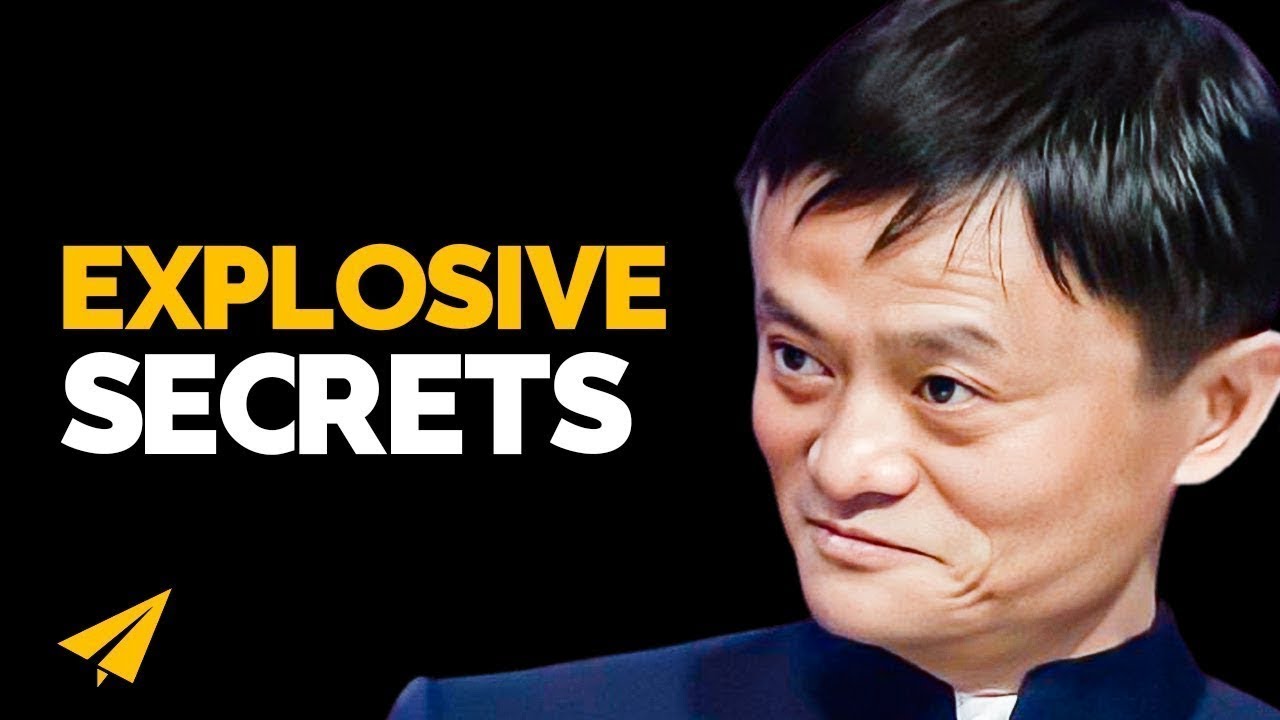 Famous Entrepreneur Quotes
Jack Ma's Quotes
"Never give up. Today is hard, tomorrow will be worse, but the day after tomorrow will be sunshine."
"The very important thing you should have is patience."
"You should learn from your competitor, but never copy. Copy and you die."
Jack Ma's Top 10 Rules For Entrepreneurship, Business and Success
He started his business with $20,000 that his wife and his friend helped him raise. He's the first mainline China entrepreneur to be featured on the cover of Forbes magazine. He's the richest man in China, and the 18th richest man in the world, with an estimated fortune of $29.7 billion dollars. He's Jack Ma, founder of Alibaba.com, and here are his 10 rules for success.
Rule #1. Get Used To Rejection
When I graduated from universities, and for three years I tried, failed in the universities. So I applied jobs for 30 times, got rejected. I went for police, they say, "No, you're not good." I went, even the KFC, when KFC came to China, come to our city.
Interviewer: You applied.
24 people went for the job, 23 people were accepted. I was the only guy.  And we went for police, 5 people, 4 of them accepted. I was the only guy they're not receiving. So to me, being turned down, rejected. Oh, by the way, I told you that I applied for Harvard for 10 times, rejected.  I know I would be rejected, I just wanted to say that.
Interviewer: They're sorry now.  10 times you wrote them and said, "I'd like to come to Harvard."
Yeah. And then I told myself, someday I should go teach there, maybe.
Rule #2. Keep Your Dream Alive
We have a secret code for success. Just like open sesame is the secret code for Alibaba, the secret code for everybody is keep your dream alive because it might come through some day. This is what the secret code is.
Rule #3. Focus On Culture
Interviewer: What do you think you core competence is?
It's culture. It's not the technology, I think technology is a tool. The core competence of our company is we have grown from 18 people to now, 20,000 young people. And we focus a lot on the value, the mission and making sure the culture, everybody work for helping others, instead of just making money.
Rule #4. Ignore  The #Littleman
People don't like it. So many people I talk to at that time for Alipay, this is the stupidest idea you have ever got, but I say, "Whether stupid or clever, "as long as people use it." Now we have 800 million people using this Alipay.
Rule #5. Get Inspired
I learn a lot of things from movies. I learned how to make a speech from the movie called Bodyguard, Whitney Houston. When she sings the songs, I look at her, wow. That's the way that you make a speech. 'Cause I never know how to make speech. 'Cause I'm not actor. But when I saw the movie, I say wow. If you sing from your heart, if you sing naturally, if you are yourself, so I realize. And I learn a lot from the movies. I even learn from The Godfathers. My favorite movie is Forrest Gump. These are the things I learned so much. Then I would discuss about the muse, the inspirations we got from movies.
Rule #6. Stay Focused
What kinds of business ideas have you said no to?
I'm saying no to a lot of ideas because as a CEO, I have to say no to opportunities, because if I say yes, I probably get 5,000 opportunities everyday. But whether yes or no, everything based on the mission, helping doing business easier. If it's on that, we'll consider. If somebody come and say, "Can you, we'll make a lot of money." I'm not interested.
Rule #7. Have A Good Name
Interviewer: Why did you call it Alibaba?
Alibaba? Well, when I started, I think, Internet is global, we should have a global name, and a name that interesting. At that time, the best name was Yahoo.
Interviewer: Right.
So I've been thinking for many days, suddenly think Alibaba is a good name. I happened to be in San Francisco that day, Having lunch, and a waitress come. I ask her, "Do you know about Alibaba?" She say, "Yes." I say, "What is Alibaba?" She say, "Open sesame." Good! So I went on the street, ask about 10, 20 people. They all know about Alibaba, 40 thieves and open sesame, and I think this a good name, and start with A, whatever you talk about, Alibaba's always top.
Rule #8. Customers Are #1
We believe the core company different from the Wall Street. We believe customer, number one, employee, number two, shareholder, number three.
Customer one, employee two, shareholder three.
Shareholder, number three. Yeah, again, this is my religion. It's the customer that pay us the money, it's the employees that drive the innovation, it's the shareholder always say. I remember the day before the IPO, and a lot of people say, "Jack, give us the shares, "we were long term shareholders." But when the crisis came, these guys run as soon as-
Interviewer: They ran away.
My people stayed, customers stayed.
Rule #9. Don't Complain, Look For Opportunities
Next I want to tell young people. Most people complain, "Where's the opportunity?" People started complaining, some people complain, some people start to change themselves, changing others. Where the opportunity is is where the complaints are. Where the trouble, where's the opportunity. And I always believed that.
Rule #10. Have Passion
Today, we are all here to discuss what we should do in the next five to 10 years. So what will Alibaba become in the future? Since we are working on China Pages, I've always said our competitors are not domestic websites but overseas websites. Our competitors are not in China but in Silicon Valley.
So first, we should position Alibaba as a global website not just a domestic website. Second, we need to learn the hardworking spirit of Silicon Valley. If we go to work at 8 a.m. and go home at 5 p.m., this is not a high-tech company and Alibaba will never be successful. If we have that kind of 8-5 spirit, then we should just go and do something else.
Americans are strong at hardware and systems. But on information and software, Chinese brains are just as good as theirs. All of our brains are just as good as theirs. This is the reason we dare to compete with Americans. If we are a good team and know what we want to do, one of us can defeat tons of them. We can beat government agencies and big famous companies because of our innovative spirit. Otherwise what is the difference between us and them?
Everyone knows the internet is a bubble. It keeps getting bigger and bigger, but when will it burst? Yahoo's stock will fall, and eBay's stock will rise. And maybe after eBay's stock rises, Alibaba's stock will rise.
So don't worry. The dream of the internet won't burst. We will have to pay a painful price in the next three-five years. It is the only way we can succeed. So the goal is Alibaba will IPO in 2002.
Thank You!
Thank you guys for watching. The question of the day for you is I want to know what kind of rejection you've had to overcome in your life and in your business. If you've had to overcome a lot of rejection and you have a special story to share, I'd love to hear from you if you want to leave a comment below.
I made this video on Jack Ma because Jeff Lee-Yang asked me to. So if there's a famous entrepreneur that you want me to profile, leave a comment, let me know what you think and I'll see what I can do.
And of course, if you like this video and you want to see more, don't forget to subscribe to the newsletter and the channel. Thank you for watching, continue to believe, have an amazing day, and I hope you'll start your day again with me tomorrow with another inspirational video.
Summary
Jack Ma's Rules
I hope you enjoyed this article, make sure to check my Jack Ma video on his Top 10 Rules For Success as well.
Related Jack Ma links
---
You might also like
---
More from Jack Ma
---
Today we're going to look at five lessons in life that people often learn too late, and hopefully you can …
Good morning, Believe Nation, it's Evan. My one word is "believe," and I believe in people more than they believe …
Hello, Believe Nation. My name is Evan Carmichael. My one word is believe, and I believe that entrepreneurs will solve …