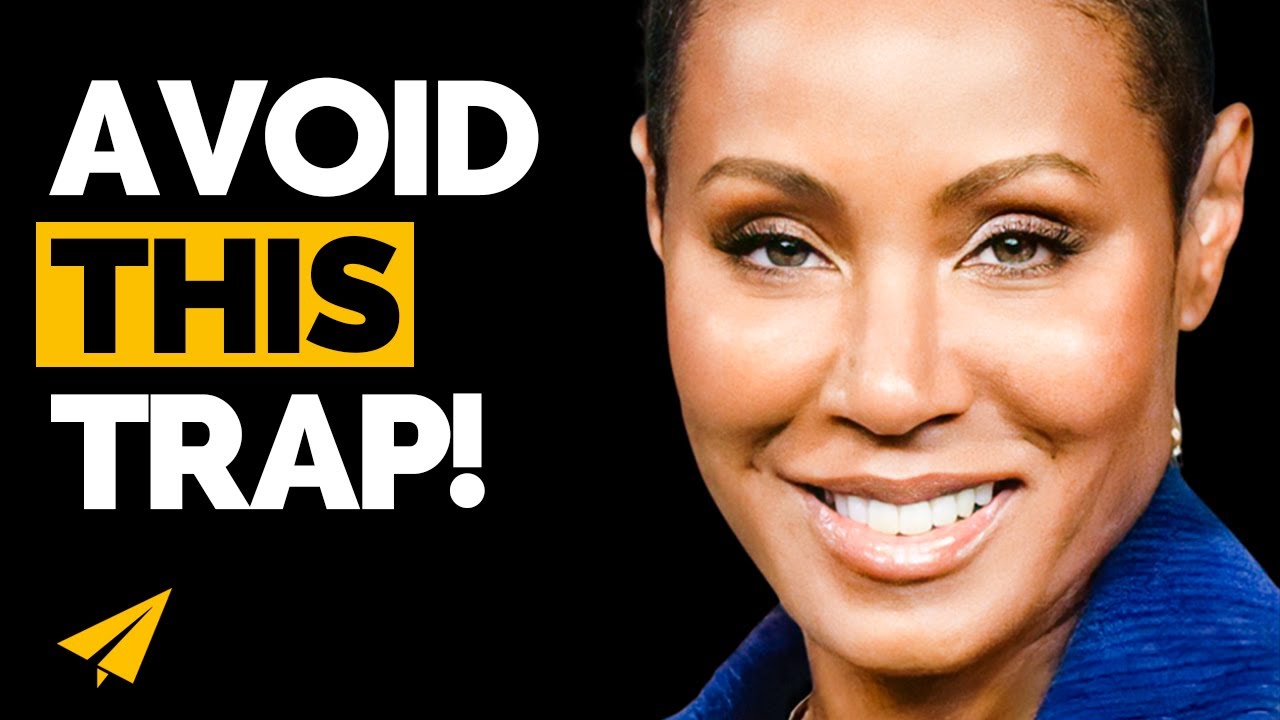 "Sometimes I can be so much of a fighter that I'm always ready to fight. That's the first thing."
"When you stop taking care of yourself you get out of balance and you really forget how to take care of others."
"Worry about being respected. Never worry about being liked because that's the trap."
– Jada Pinkett-Smith
Jada Pinkett-Smith's Top 10 Rules for Success and Business
She's an American actress, dancer, singer, songwriter, and business woman. She launched her music career in 2002 when she created the metal band Wicked Wisdom where she's a singer and songwriter. In 1997, she married actor Will Smith. She's Jada Pinkett-Smith and here's my take on her top 10 rules for success. 
Rule #1: Stay True To Yourself
I haven't had any regrets, you know. And it's sometimes really hard. I'll tell you a funny story. I remember right before I got A Different World I auditioned for Blossom. You remember the TV show, Blossom? Do you remember her friend, the young girl?
Audience Member: Six?
Six! I auditioned for Six. Okay, I had my hair up in a little ponytail, this little jumpsuit. I looked like I was about 12. Got the role. Okay, got the role to play Six and I was, like, I was 18, 19 years old then. I said, I looked at my agent Nancy Rainford. I said Nancy, I can't do this. I just can't do it. I'm going to be miserable playing a 12 year old on this show. I can't do this. We had to turn it down and, let me tell you, them folks were not happy. It was, like, who was this girl think she is? You know, that whole thing.
But within two weeks I got A Different World and that really taught me a lesson which was, you know, to really listen to and follow my gut because everything that shines isn't gold. You know what I mean? And so it really taught me a very valuable lesson to just stay true to myself. If there's nothing that I haven't learned about this business, it's really about staying true to why I'm here, why, you know, I started acting in the first place and what's important to me and keeping my artistic integrity as well as my creative, my personal integrity.
That was a big lesson for me and let me tell you, that was not an easy thing to turn down. You know, being a young actress, you got this opportunity for, you know, this series regular. It's money . You know? But I just felt deep down inside, I was, like, something's coming your way. Just fall back. And then I got to meet, you know, Debbie Allen.
Rule #2: Learn How To Listen
Sometimes it's best to just sit back and listen. I think sometimes I can be so much of a fighter that, you know, I'm always ready to fight. That's the first thing, you know, like . You know, and so I've had to learn that, okay, let me just listen. And so I'm just learning how to, The fight will never go anywhere. That's always going to stay.
You know, I've just had to learn how sometimes it's time to put the gloves down, Jada, and just listen and really be able to take in the communication. Just have it. Just have the experience, have the communication, just have it, just see what it can open. Just see, just see, just listen. Okay. Oh. That makes sense .You know what I mean? But then there are times that I listen and I listen some more and I go that's not how this is going to go. And then if there's a disagreement, well, then I have to fight. And then that's okay.
Rule #3: Focus On Your First
Every day when I wake up in the morning I go into meditation and I ask for guidance from the powers, the intangible powers, and I get focused. I think about, what does Willow need today? Okay, let me check that off. Handle that. What does Jaden need today? What does Daddy need today? And okay Jada, before the day is done you better make sure that you take care of yourself and that's a new thing for me.
When you and Jaden were first born, I had forgotten how to take care of myself because you guys were my world. You guys were my everything. You still are. But I had forgotten how to do that and at the end of the day the one thing that I always want to tell you, Willow, and the reason why you always have to be in communication, especially with me, your family, your grandmother, your father, your brothers, your friends, the people who love you, you have to understand that life is a journey.
Communication creates partnerships. Okay? That we are here to assist you, that we can't make your life for you and we can't help you with the things that we don't know and that you always have to remember to take care of you first and foremost because when you stop taking care of yourself you get out of balance and you really forget how to take care of others. And I think that we've been taught that taking care of yourself is a problem.
And I'm a tell you something about being a mother and some of the messaging that we get in this country about being a mother, that you have to completely sacrifice everything. You have to completely sacrifice every single thing and I think that what, the re-messaging that we, as mothers, need to have and gravitate to is that you have to take care of yourself in order to have the alignment and the power to take care of others at the capacity that we do. Because it fills the well.
What I believe that I do takes so much energy, so much work, from heart, spirit, and creativity, that I have to be responsible enough to take care of me, because you know what happens? Imbalance comes, and you know what happens? I look to you Willow and I say Willow, you've got to do this. Because if you don't, you become, You become, I start looking towards you. I start making you responsible for my happiness.
And a lot of times you know what we do? We look to our men. We look to our husbands and our boyfriends and we go, you, I've given all this up for you and you've got to make this right by me and you're supposed to make me happy. Because we've lost our way on how to make ourselves happy. We lost our way. So what I had to do and what I had to learn was how to get more balance.
And over the years, each year, each day I get more and more and more and more and more in balance, more and more in alignment, and you know what? I get more and more happy. And the very thing that I thought would make you unhappy or make Jaden unhappy or make Daddy unhappy actually is fulfilling for you guys as well. Even though it might not be a tangible reason. But the more happy I am and the more fulfilled I am, it works for the family. And when I'm not, it doesn't. It's really that simple.
Rule #4: Break Boundaries
You know, one of the things that I love, one of the purposes of why I became an artist is to have the opportunity to break boundaries. Right? It's one of the things that I really enjoy being able to use art in a way in which to break those boundaries and break out of those boxes that we create for ourselves and others create for us and I've always loved metal music and the only reason why I didn't do metal music was because I'd always been told because I was black and because I was female that it was a genre that wasn't for me. And I just got sick of that. I was just, like, that's just not true. That's just not true. So I decided to go on tour as a metal artist.
Rule #5: Do It Right
One of the things I was talking to Pete Berg and he called me and he said, Jada, be fearless. Be fearless. And my husband said be relentless. So fearless and relentless, you know, are those two words that I keep in the back of my mind at all times when I'm sitting in front of that monitor and I'm like, do I have this? And I know we only have five more minutes before we have to, I don't have it. Do it again. Still don't have it. Do it again. 20 hour shoot. We got to get it.
Interviewer: You got to be the one that takes the hit.
I got to take the hit, you know. I got to take the hit 'cause at the end of the day nobody's looking at that screen going, oh man, you know, it took her 20 hours to do that. They're going is either they enjoyed the experience or they didn't.
Nobody cares when the movie comes out, you know, all those bits and pieces. Make it good. Have what you want, you know. Have what you want. It is so painful to sit there and know that you didn't get what you wanted. Then you sit there and you watch that scene and go . It's unbearable. I've done it already. Not in this project, but , you know, in other projects. It's a painful, painful, painful death.
Rule #6: Find Your Truth
I think we as women have to learn how to have acceptance for who we are and that takes time. You know, it's like as soon as I turned 40 I think that's when, like, real self acceptance, like, like and adore me, like, boom, right? I've been working hard for me, you know, in my 20's through my 30's. Got to 40 and I was, like, dag, I really understand what self acceptance means which then brings about that self assurance and that sense of identity.
You don't care what anybody thinks. You don't, you know, you just playing your own game and I think that that's really where that sense of self esteem comes from is just being okay in your own skin. And I think that I would just tell young women to just stay on that path of finding oneself because it doesn't just happen. It is a journey. And trying to be someone else might be someone's entryway into becoming their own self, but to know that, you know, trying to be anyone else besides who you are isn't going to get you there.
You know? So as women we just have to stay on that path of what I call that path of truth. Just finding what's true. And what's true for different women, you know, we all have different paths and different ideas of truth and as long as it's a truth that gets you settled into your own skin, well then that's the truth for you.
Rule #7: Hustle
Interviewer: How'd you get an agent?
Let me tell you.  Talk about some name dropping, right? So I had a friend that, at the time, was good friends with Keenen Ivory Wayans. And I got to meet Keenen and we became very good friends. I ended up doing Low Down Dirty Shame with Keenan.
Interviewer: Oh sure, yeah.
But I didn't have an agent.
Interviewer: As Peaches, huh?
As Peaches, right. I didn't have an agent yet and I was, like, you know, how am I, I was just going through, you know, the list of agencies and I was like I got to get an agent. And so I literally called this one agent. Her name was Nancy Rainford. And I said I'm a really good friend of Keenen Ivory Wayans and he told me to call you specifically.
She was, like, this small agency on Melrose but, you know, she had Michael Rapaport at the time. She had Michael Rapaport at the time so I say he told me to call you specifically. You know, so I'm running this whole game. And she was, like, really? She was like, why don't you come in and see me? So I went in and see her, you know, and I put on the jazz hands, you know.
And she was like, you know what? I like you. I'm going to represent you. And I'm a tell you, she was an awesome agent. She was an awesome agent and she had Michael Rapaport and I and she started my career. She started my career. And then she eventually got out of the business, but she was the one that started my whole career.
Interviewer: And it was that-
And I got in the door because of Keenen's name.
Interviewer: That attitude too.
That attitude. I was like, he told me you specifically.
Interviewer: That's good. That's actually a-
Isn't that good?
Interviewer: That is actually something that .   That's great. I love that.
I did, I did. Look, if it's not one thing Baltimore taught me it definitely taught me how to hustle.
Rule #8: Go With The Flow
What I look for is the power in all things. I look for the beauty in all things. And I think that part of the reason why I've been able to do the things I've been able to do is because of that. And I'm a tell you what, those streets of Baltimore gave me the training I needed to survive this game right here. It gone plan. You know what it is. You know what it is. I didn't go to college. I learned on the streets. So it's all relative. You know, that's why it's very difficult to look at something and go that's right, that's wrong, because you don't know. You don't know where your gifts lie. You don't know where your treasures are. You just go with the flow and make the best of it.
Rule #9: Seek Respect
I always say, you know, worry about being respected. Never worry about being liked because that's the trap. That's where people manipulate you. And so my kids, you know, I did not teach my kids to be liked. I taught them to always live by their truth and to always respect others and to always reach to be respected. And, you know, different people will respect different things but at the end of the day, my kids have the confidence to be who they are and that is all, as a parent, that Will and I can ask of them because that is where their power and their strength will come from.
Rule #10: Learn To Get Backup
As parents you want to create, you know, boundaries that keep your children save but, at the same time, create enough freedom that they can develop and understand who they are.
Interviewer: My daddy once said to me, I think this is what he said. I love you too much to deny you the privilege of making mistakes.
See, there you go! And that's what life is all about. I always tell my kids it's not about not making mistakes. It's about how do you make them right?
Interviewer: That's right.
It's the getting up 'cause we all make 'em!
---
Thank you guys so much. I hope you enjoyed. I made this  because Takara Taylor asked me to so if there's a famous entrepreneur that you want me to profile next, leave it in the comments below and I'll see what I can do. I'd also love to know which of the top 10 rules for had the biggest impact on you and why.
What change are you going to make after watching this video? Leave it in the comments and I will join in the discussion.
Finally, I wanted to give a quick shout out to Tim Habegols from upfeed.io. Tim, thank you so much for buying my book. It really means a lot to me. For those of you watching, if you want a chance at a shout out in a future video make sure to pick up a copy of the book and email in your receipt so we can keep track. Thank you guys, continue to believe or whatever your one word is and I'll see you soon.
---
BONUS
Be Bold
He had, I think, one of my favorite days on Hawthorne and this might have been one of the reasons why TNT was like, we can't mess with her. We didn't have … It was a scene, it was the third season. It was a scene that I had with the psychiatrist and, you know, I'm in this love struggle between Nick Renata and Tom and I'm going to this therapist and the scene wasn't written.
We didn't have anything to shoot that day and we improvved it. We improvved it. I looked to the camera crew and I said we going to shoot this thing. It's going to be an improv and I need for everybody to be on their creative toes because we gon' do this thing and we gon' do it on the fly. And let me tell you something, me and the crew, we had so much fun. I
t was probably one of the best days, creative days of my life but you can imagine how the studio  and TNT were like, she's doing what?  We haven't approved anything! We don't know! What is she doing? I said we gon' shoot this thing. We gon' shoot this thing right here. And we had so much fun. The crew was like, we've never had the opportunity to do something like that before.
You know, and so, you know, it was an improv day and it was fantastic to be able to have that kind of creative freedom but I'm sure TNT was like, that's it for that.  That's it for that, but we had a ball.
Interviewer: But it worked out.
It worked out. It worked out and we had a ball. We really had a good time. That was a ballsy thing to do but we had fun.
Jada Pinkett-Smith's Rules
BONUS
You might also like
---
More from Jada Pinkett-Smith
---
Hello Believe Nation, my name is Evan Carmichael. My one word is believe. I believe in people more than they …
Good morning believe nation my name is Evan Carmichael, my one word is #Believe, and I believe that entrepreneurs will …