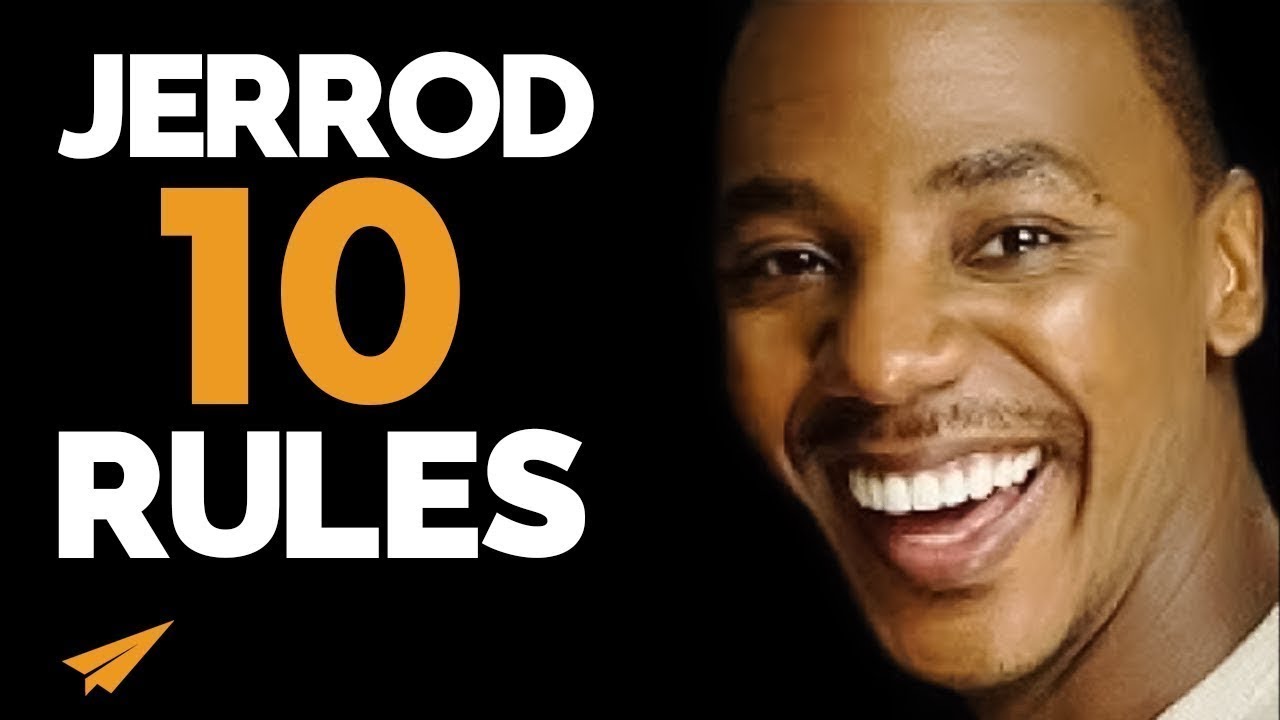 Famous Entrepreneur Quotes
Jerrod Carmichael's Quotes
"I don't like mindless content. I've never liked it. I like to think about what I'm watching, what I'm taking in, what I'm listening to."
"Humor's always been an important part of my life. Since middle school."
"People connect with truth more than anything."
Jerrod Carmichael's Top 10 Entrepreneurship Rules For Business and Success
He's an American stand-up comedian, actor, and writer.He is best known for creating and playing the lead role in the semi-biographical NBC sitcom The Carmichael Show. He's Jerrod Carmichael and here's my take on his top 10 rules for success.
Rule #1: Do Meaningful Work
I don't like mindless content. I've never liked it. I like to think about what I'm watching, what I'm taking in, what I'm listening to.
So, even music, I can't listen to music that doesn't challenge me in anyway and I never could.
It's just kind of who I am as a person. It was, I guess, embedded in my DNA to just, really want to feel something, figure something out.
And not just tell jokes for the sake of telling jokes.
I like to say things that, at least, can be meaningful.
I'm doing my job when I see someone react other than just a laugh, actually give me a reaction. And it's not always just turning as much as it's just like, "Oh no" like, people shaking their head.
Comedy, a lot of times, has become this court jester type thing where everyone just goes says the craziest, brashest, most outlandish absurd silly thing and it means nothing. And I don't want to say things that don't mean anything.
It's more work, it's more exciting, and it' more fulfilling.
Rule #2: Express yourself truthfully
Interviewer: When did you notice that I can do this and I can turn a phrase or make people laugh at something that they didn't see before?
8th grade was really big. It was an important time for me. Just having this teacher that encouraged me to read a lot independently.
And to question everything, gather information. I remember one time, he started doing these class debates and there was this article.
I don't remember exactly what was in the article but it was about a man that committed a crime but he had a somewhat righteous cause for doing it.
I remember those details. But, he was dividing up the class and who agreed with this guy and thought that he was justified in doing it and who disagreed. I remember he said "who thinks he wasn't justified?" And the entire class except me raised their hand.
And then you know, like, "well, who agrees with the guy?" And I raised my hand and then we argued for like 25 minutes.
I remember it being the most fun time I'd ever had in class, ever had in school. It meant the most to me and I just remember holding my own against 20 other students.
I think that one experience, that single experience, it formed so much of my life for humor. More than any individual experience I can think of.
Interviewer: It must have also been notable that you were the only person that took an opposing view point.
Yeah, and it was natural. And that's kind of a rule for stand-up for me too is that never be contrarian for the sake of.
Always have a truthful intention behind what you say. Because that's what people will connect with. That's what will give license to people's attention.
People will actually give you their time if they know that it's coming from an honest place and that it's really a thought or emotion that you want to work out. I think that people respond to that.
Rule #3: Find Your Calling
Dan Patrick: When did you know that this is what your calling was?
When I was depressed working at a shoe store. I was like, you know, I got to do something else.
Dan Patrick: Were you a funny salesman?
Yeah. Humor's always been an important part of my life. Since, like, middle school.
Dan Patrick: But you were selling tennis shoes?
Selling tennis shoes. But you use it for anything. You use it for whatever you're working on.
Dan Patrick: You meet women in that way?
Yeah. That was my way in.
I never really met girls at the shoe store. Everywhere else but humor was the most important thing.
Rule #4: Make People Question Things
Interviewer: You talk about gentrification and how it's affecting folks. It's not that it's funny, it's that it's real that makes us laugh. And that's the kind of smart, intelligent comedy that I feel like you guys are writing on this show that you're touching on real ass issues while laughing because we're laughing at ourselves.
People connect with truth more than anything. Especially, I mean, we live in a time where we were just talking about it there's so many reality shows and so many things to where people see reality and they live in it in their entertainment so much that if you turn on a sitcom and people are just saying these crazy things that you know isn't real life then you have nothing to truly respond to.
I don't want people … With anything, I never want people to turn their minds off.
It's like all of the art that I love, my favorite artists, my favorite rappers, my favorites make me think and make me question things and I have to listen again and I have to watch again. And so, I just want to contribute to that. With the show and with stand-up or anything.
Rule #5: Dare to Explore
Interviewer: Did exploring apathy or at least sort of your fear of not feeling enough or the feelings about not feeling in this special shot just a few days after the election did it feel kind of dangerous or like you were walking a thin line? Cause I will say when I was watching it, there was something about like that was one of the most dangerous things that I felt I had seen a comedian do in a long time. And it wouldn't have been that dangerous A year ago. But there was something about you walking that rope and trying to make this approachable for people and make them relate to you and understand you and not turn on you.
That's where it's fun. You know, I mean, that's where comedy is it's most fun.
And I think can be at it's best where it's someone exploring an unpopular thought or emotion on stage and I like to treat audience members like the adults that they are and we can have a discussion and you can completely disagree with me you can feel the opposite of how I feel and still listen and still understand and still …
My job is to articulate my point and I just try and articulate my point and hopefully you laugh at the end or at least feel something.
Interviewer: Do you think that there's a line that people should or shouldn't cross? Or do you think that that line itself is it just like well, is it funny and do you have an original thought? And if you don't then there's probably a line for you.
You should have a intention. You know. The line is where your intention is. If your intention is to just say some crazy into a microphone, then maybe you shouldn't have a microphone.
Like I'm just going to say the most absurd thing in the world and you're going to get mad and whatev … like, no. But if you're intention is to explore a thought, then there is no line.
Rule #6: Just Jump in!
Interviewer: How did you develop your stand-up act?
Just kind of doing it. I just jumped in. I didn't … I'm from North Carolina but I started in L.A. cause I just wanted, I'm competitive.
Dan Patrick: Did you go to the comedy store?
I'm competitive in that sense. That's where the heart of an athlete  is where you're just wanting to.
Dan Patrick: So you're the Jordan of comedy is what you're saying?
God bless you.
Rule #7: Make Targeted Pitches
NBC is in a place of redevelopment which is kind of why I was attracted to NBC in the first place. I only pitched to NBC cause I was only going to sell it to NBC. Because I was making a show for NBC. And you know and partly. I did you know I did a deal with Universal because, yeah, they can pitch to other places but I knew NBC would be first and that's the only place I was going to do the show. That was it.
Interviewer: I understand the show was a realization of a life long dream of yours?
I always wanted a show on NBC. That was kind of of a, yeah.
Interviewer: Starting at what age?
I think I was like, 11 or 12. I used to tell my brother and my family I wanted a show on NBC because a lot of my favorite shows were on there.
Everything from, I watched television with my parents so I watched Cheers and The Cosby Show and you watch, you know A Different World and you watch Seinfeld and we watched all these things and I was like, well I want to be on that. Fresh prince is on that, you know.
And that was kind of the goal. I wanted Thursday nights at eight but, you know, Wednesdays at nine is fine. You know. You can't have it all, Larry.
Rule #8: Be As Real As Possible
Interviewer: When you're making a decision to discuss a specific issue, social or political or whatever it may be, what's going on? Is it, are you building a story around that issue or does the issue happen authentically through the story you wanted to tell to begin with?
A lot of times it's based on discussions, arguments, topics, that I talk about with my friends, that I talk about with my family. Then we just explore it honestly. And ask questions and explore curiosity and that's it.
Never the illusion of edge of, you know, cause if you're going to pick these topics it's like, well I like speaking to adults and I have adult conversations, like the best version that I know how to have given the format.
And again just being as real as possible like not … There isn't a message. There's no message. I'm not trying to get, I'm not trying to convince you one way or another.
I'm just trying to have an honest conversation and be funny.  It's just that that's really it. Because I don't want to step into a pulpit you know, a lot of art is starting to reflect that and it's more aspirational than real and I don't want to be that.
I don't have a cause that I'm championing. I don't have a, and we're going to do, no, I just want a funny show that's not lying to you.
Rule #9: Follow the Excitement
Dan Patrick: Where do you get your thoughts, inspiration when you do stand-up? Like, how do you mine that and not kind of cheat on The Carmichael Show?
They all kind of come together cause like a lot of times if you look in my stand-up a lot of times you'll hear a lot of those things in the show. Like it just kind of bleeds into, cause it's all perspective so as long as I feel strongly about something, I can use it for whatever I'm working on.
With stand-up, a lot of times, it's the thought that I'm running from the most. Like the thing that I'm a little nervous about, a little hesitant about and those are the things that excite me and are usually the most fulfilling things to do on stage.
Dan Patrick: What makes you nervous?
Nothing really. It's not that it makes me nervous as much as that I know that it's a tightrope. You know? Like just to get this thought out it's going to kind of be of difficult.  you know those are the things that it gets me excited. I'm never really nervous but it's like the things that are going to be hard to repeat is. I'm trying to make it hard for you to come back here and repeat later.
Rule #10: Perform amazingly
Bill Cosby.
Well, you all are already very excited.
I want to start by saying that I met Bill Cosby and he was very nice to me.
To me. Obviously I can't speak for about 55 women who may have had a less than enjoyable experience
With the Cos.
But he was very nice to me.
I went to his house. I did. We had tea.  I don't remember much after the tea.
I'm kidding, obviously, I was not drugged and raped by Bill Cosby. But we, I don't know, I emailed him. I emailed him. I wanted to reach out cause you guys are being so mean to him.
Didn't write anything in the body of the email.
I only wrote in the subject line. I did. You want to know what I wrote? Uh-huh.
Woman: Yeah.
I wrote "Hey, my nigga, you good?" That's what I wrote to Bill Cosby.
I don't know if he's going to respond. I don't know if he checks his email.
If he does, he'll …
Can we talk about how difficult it is for me? This whole Bill Cosby thing. A lot of you may not relate. Maybe he wasn't your favorite comic. Maybe you don't do comedy. But for me he was a, you know, an important person in my life. You know? An inspiration if you will and it's hard. You know. It's hard. I'm, you know it's not that I'm, I'm not making any excuses at all. You know. Like would I let him give my mom headache medication? Of course not.
But, it's hard watching your hero fall from grace. It's hard. Really is. I mean for me, this whole Bill Cosby thing is like watching Superman rescue a boy from a burning building and then immediately molest that boy.
You know, leaving me to emotionally weigh the good with the bad.
I want to see the good in him. I want to see the good in everybody. You know. I try and take what I call the best friend perspective. You know. Where even if someone did something evil or wrong, I try and see the good in em. You know. Like a best friend.
Like even at Hitler's funeral.
There was still some dude who had to get up there and speak.
And it was hard for him.
Society just hating Hitler. He knows that Hitler was his best friend and he tried to find nice things to say.
Stand up there with his speech over the coffin. Angry reporters. Look, what can you say about the guy, you know.
I know a lot of you hated him. I get it.
But you don't understand, like he helped pay for my daughter's braces man. He was a good dude.
He was a good dude. Okay. I know the whole Holocaust thing but he used to make these quesadillas, man.
And trust me, you haven't had a quesadilla till you had a Hitler quesadilla.
It was something
---
Thank You!
Thank you guys so much for watching. I made this video because Malik Jordan asked me to. If there's someone you'd like me to profile in a future Top 10, please check out the link down in the description below and you can cast your vote on who we should do next.
I also want to give a quick shout out to Bhekisisa. Thank you so much for picking up a copy of my book, "Your One Word" and posting to Twitter about it as well. I really really really appreciate the support and I'm so glad that you enjoyed the read.
Thank you guys again for watching. I believe in you. I hope you continue to believe in yourself and whatever your one word is. Much love. I'll see you soon.
---
BONUS
Surround Yourself With Like-Minded People
Surround yourself with like-minded people. All my friends … The thing that I feel luckiest with is like the group of people that I'm around.
I really have excellent friends who, like care about like making things and creating and like don't get caught up in trivial things that won't matter tomorrow.
Like we don't get caught up in things that don't matter tomorrow. Don't get me wrong, we like new experiences and we like having fun but we like work … I was at my office with friends until six this morning. Five or six this morning just like, just … and it
Interviewer: In this context.
Yeah, on Saturday night. My entire Saturday, I don't go out  really, like, you know, do too much. Like you know every now and then but for the most part, like just work and my friends think like that.
Overcome obstacles
Interviewer: Do you find it difficult to tell some of these stories that you want to tell in the allotted time you're given?
I mean there's always like a, I'm not sure which mic I'm using here. Boom. There we go. There's always a thing or two that falls out, you know that you're excited about, that you, ah you really wish this point or joke or whatever could make it in but.
Whatever the amount that we get is, something small. But we, I'm happy with it It's a fun obstacle to try and write around that. Try and capture everything you want to say in that amount of time.
Summary
Rule number one is my personal favorite, and I'd love to know which one you guys like the best.
Jerrod Carmichael's Rules
BONUS
I hope you enjoyed this article, make sure to check my Jerrod Carmichael video on his Top 10 Rules For Success as well.
---
---
You might also like
---