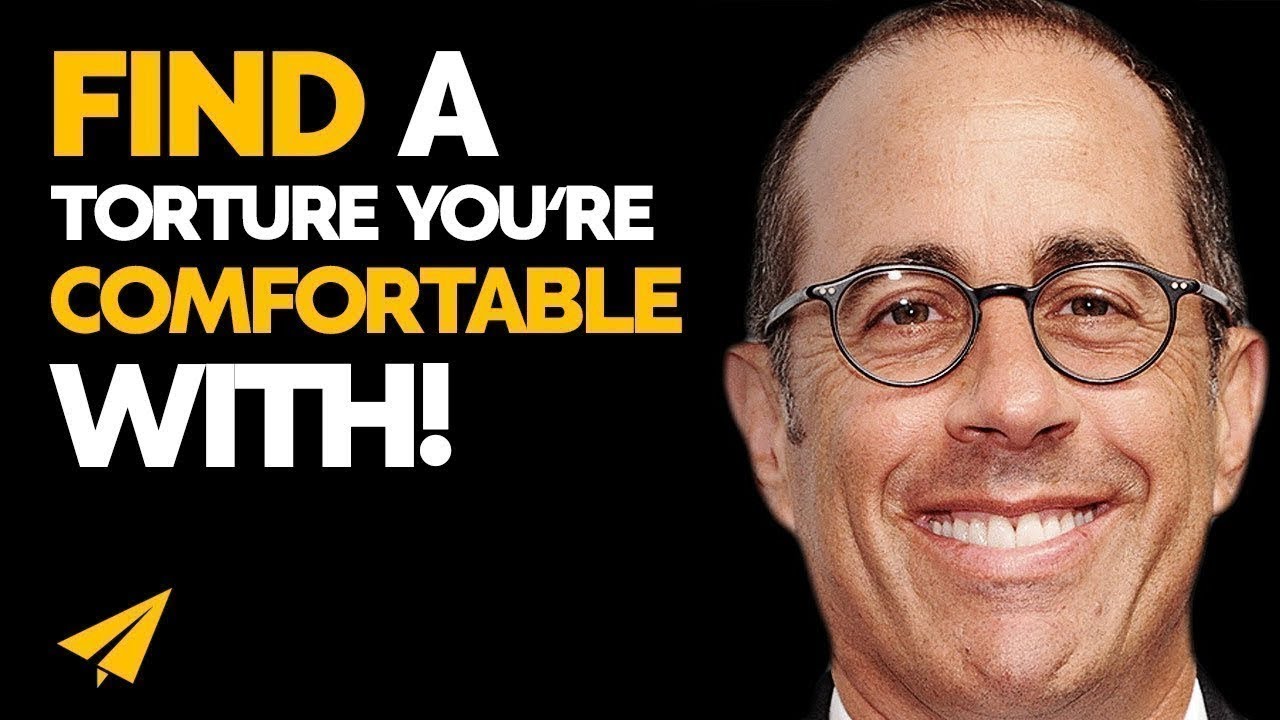 Famous Entrepreneur Quotes
Jerry Seinfeld's Quotes
"I think money's great, but energy, physical and mental energy, to me, is the greatest riches of human life."
"What I am good at, and what every comedian is good at, is knowing how to carefully manage an audience's attention span."
"The audience teaches you over the years. That's the way I learned. "
Jerry Seinfeld's Top 10 Entrepreneurship Rules For Business and Success
He's an American comedian, actor, director, writer, and producer. He's best known, for portraying a semi-fictional portrait of himself, in the sitcom, Seinfeld. In 2005, Comedy Central named him the 12th Greatest Standup Comedian of All Time. He's Jerry Seinfeld, and here's my take on his top ten rules of success. 
Rule #1: Chase Physical And Mental Energy
Putting in a phenomenal day's work, to me, is way better than, you know… Let's say, you come into a little chunk of money you didn't think you were going to get. You just get some dough, and you go hey, that's great. That is great. I think money's great, but energy, physical and mental energy, to me, is the greatest riches of human life.
Rule #2: Find The Torture You're Comfortable With
But, a lot of guys, Howard, a lot of guys, they don't want to lift those weights. It's like goin' into the gym everyday. You know how you walk in everyday, and you go, oh geez, I got to do this again. A lot of guys don't want to do it. It's brutal. But, you know what? Your blessing in life, is when you find the torture you're comfortable with.
Howard: Well, wait a second. You have stated-
Jerry: What, is that too rough, Robin?
Howard: You want to go-
Jerry: Wait a minute, is that too rough?
Robin: That was pretty profound!
Jerry: Well, that's where I-
Robin: Find the torture you're comfortable with! That's life!
And that's marriage, it's kids, it's work, it's exercise, it's not eating the food you want to eat! Find the torture you're comfortable with, and you'll do well!
Howard: I can't argue with that, because you know, even radio. I don't, it's torture for me.
Jerry: Of course it is!
Howard: But yet, I have to do it.
It's no different, than when you're 30 minutes into your workout. You're okay. And like you're okay now. You don't want to get your ass out of bed. You don't want to sit in that awful chair again. But, once you get goin', and that's life. If you master that, you've mastered life.
Rule #3: Grab And Hold People's Attention
What I am good at, and what every comedian is good at, is knowing how to carefully manage an audience's attention span. And that is also the key to this show. For example, I'll give you another, when this show was first cut together, again, and go back to that little scene with the phone, about net-a-porter, just talkin' to my wife.
And Julia says, "Ask your wife about, "this thing about net-a-porter." I go, you know what, I'm going to ask her right now. And I take the phone, and I dial the phone, and then, Jess picks up the phone, and I go, hi Jess, I'm sitting here with Julia.
I'm in the middle, we're actually right in the middle of doing an episode. She has a question, about net-a-porter. Do you mind, can I ask you right now, are you busy? Okay, you got to get rid of all of that. All of that goes, because it's just boring.
Now, it's not boring, in a TV series, you can, when you're watching a TV series, you're watching an episode of a sitcom, there's a story that you're hooked on, and there are characters. And this is going somewhere. This thing is going nowhere.  So… Even when they first cut it together, they even had me dialing.
No, no, no, you can't have that. That microsecond is on the Internet, 'cause the Internet is the most brutal medium for attention span. The distance, from your finger, to that off, or stop, you're holding it right there, while you're watching the thing.
How many times, you see a video, and you go, oh that looks good, I want to see that. You press it then, but 15 second commercial. You're like, no, no, no, no, no!  No, you don't get 15 seconds. It's not that good. Like Amazon.com, one click ordering.
That's where I got this idea. They've understood, two clicks, I don't even want it anymore!  I changed my mind, in between clicks! As a standup comedian, you must master that attention span dynamic, of an audience.
And then, it's no different from trying to do drugs, with four drunks in a nightclub, at two o'clock in the morning. You've got to get their attention, and hold it, so you spend your life doing it, and that's what you have to do, on the Internet, to survive.
Rule #4: Relate To People
Comedians speaks to the public in a way, that no other person does. He talks about things, that we all say, commercials and things, and it's special. It's a unique podium, being a standup comic. You have free range, and you don't even really have to make a point, but you have to relate to people on a very personal level, and I was afraid, I'm still afraid of losing that, 'cause I think that's the key to my own sanity, as well as my continued success.
Rule #5: Enjoy Getting Older
Howard: If you could go back to being younger Jerry, would you go back there? I mean, you know…
Would I want to be young again? No.
Howard: You're happy where you are.
I think, if you're a little lucky in life, you should enjoy getting older. Because, you're going to see more. When you're young, you can't see what's goin' on so well. You get older, you walk into a room, you meet this guy, and that guy, you go, oh I see exactly what's going on here. I love that. And I don't care about the physical deterioration.
Howard: You don't?
No. That's part of it.
Rule #6: Do Your Own Thing
It's a nice feeling, to invent something, where there was no template there, before you, to figure it out. I mean, I remember, I told the idea to Louis CK, and I said, I have this idea of, I'll hang out with comedians, and I'll shoot it, and I'll cut it together, with music and coffee, and I said, what do I do with that? And he says, "You should charge people a dollar, to watch.
"Charge everyone a dollar," you know. And I didn't like that. Nobody knew what to do. I went, I had this big meeting at CAA, where there's really smart, digital people. There was like ten people in the room, people I had read about, never met! This is the guy, who meets with Zuckerberg everyday!  This is way out there! And I go, okay, well I got this idea, and it seems like, as a person that people know, I have an audience.
People know me. So, we can get people to check it out, and the Internet seems like a pretty fluid medium. I could put this thing on the Internet. What do you think I could do, and they went…  No idea. And then, I met with these Facebook people, and I met with YouTube people.
A guy like me, that's one of the fun things about being me, is you can meet anybody.  You can call anybody, and say, can I talk to you, and they go, "Sure, come on in!" And they're all smart! And they were nice, and they were well-intentioned, and they all tell me, this will not work! They said, if you're over five minutes, nobody's going to, they're not going to hang in there, 'cause the Internet is, five minutes is the maximum length of time, and we average 19 minutes a viewer. So, that was pretty cool!
Rule #7: Learn From Your Audience
I think the breakthrough is when people are talking about your act, to other people, and they can't do it, you know what I mean? They start to do it, and they go, I can't do it, it's the way he does it, that it's so ingrained in your personality, and the way you talk, and the way you behave, that people cannot imitate it.
Interviewer: How did you find it?
The audience teaches you over the years. That's the way I learned. You just, night after night, show after show, after show, you're doing something, and they laugh, and you go, why did they laugh at that? And but, the next night, you do it again the same way, and if they laugh, then you build on it.
Rule #8: Don't Care What Other Thinks
Robin: You walk into a place, you know, that everybody says, that's Seinfeld.
No, I don't think like that.
Robin: You don't?
No, I'm so lost in my own head, I'm not thinkin' about what other, people think, do people expect you to be funny all the time? I get that question. What do I know, what people expect, nor what do I care what people expect? Your expectations are your problem!
Robin: You don't have to perform for people!
I try to, because I like to, but I don't care!
Rule #9: Fall In Love With Your Work
Privilege is toxic
Barack: Yeah. It really is.
Things that people struggle to achieve, they get to positions with power, influence. Money can do things. It has a toxic effect on their judgment.
Barack: Yes. Has that happened to you, yet?
No.
Barack: Why is that, do you think.  So, you're a funny guy.
Thank you.
Barack: You've gone on some late night talk shows, people think you're funny, they give you a show, and then, next thing you know, you've made a ridiculous amount of money.
So much more than you. And yeah, it's… How do I seem to you? Do I seem spoiled, out of touch?
Barack: You know, I don't know.
You have a pretty good instinct for people.
Barack: Right now, you seem like a completely normal guy.
But, I'm putting on an act, like everyone else does for you.
Barack: That's my point. That's what I'm gettin' at. But, I'm going to probe this. The question is, how did you calibrate dealing with that? Now, at a certain point, you might've thought to yourself, you know what, I'm more than just a comedian. I'm going to make a Jewish version of Citizen Kane. You know, how did you keep perspective?
Jerry: I'll give you the real answer. It's got to be similar to your life. I fell in love with the work. And the work was joyful, and difficult, and interesting, and that was my focus.
Rule #10: Be An Amazing Performer
Food is so complicated as an adult. It's just, where you see people in the supermarket, they're just sweatin'. Nobody knows, what do I eat, the protein, the carbs, the fat content! Oh, my God, fat content! You're just walkin' up to each other, you look pretty good, what are you eating? Maybe, I'll eat that.
The whole supermarket itself is designed to break down your sense of having any life outside the supermarket. It's like a casino. There's no clocks, no windows, no easily accessible exits. You ever not buy anything in the supermarket, and try and get out of there? It's impossible.
There's no way out. You can see what happens to people. When they're walking up to the supermarket, they really have a whole sense of purpose. I'm going to get this, I'm going to get that. I'm going to pay for it, I'm going to get out of here, and get right back to my normal life.
You see that same person, ten minutes later, just…  What aisle is this? Why did I come up here? They're just noticing something new. Oh, they got 'em in mesquite flavor, now. What is mesquite? I wonder if it's made from mosquitoes.
Produce section, I always find very challenging. There's always some special thing you're supposed to know, you know, about each fruit. Summertime, make sure your peaches, or I don't know, whatever it is. You got to fake it, you know, I'm shakin' stuff, holdin' it up to the light.
Yeah, that's a good one! Sure glad I found that one! Cantaloupe's rollin' down the aisle. See where that's floating left, that was not ready. I don't want that one. I'm very impressed with this seedless watermelon product that they have for us. They've done it.
We now have seedless watermelon. Pretty amazing. What are they planting, to grow this seedless watermelon, I wonder. The melons aren't humpin', are they? They must be plantin' something. How does this work? And what kind of scientists do this type of work? I read I thing, it was 15 years in development. In the laboratories, with gene splicing, or whatever they do there, I don't know.
I mean, other scientists, workin' on AIDS, cancer, heart disease, these guys are going, no, I'm going to devote myself to melon. I think that's much more important. Sure, thousands are dying needlessly, but this,  that's got to stop.  Have you ever try, and pick up a wet one off the floor? It's almost impossible.
I really think we should devote the money to these studies. Milk is a big problem for people in the supermarket. They're never quite sure if they have it, or if they need it. They bury it, way in the back, in the supermarket. You got to find it, you got to hack your way through all the displays.
There it is! There's the milk! Do we have any milk? People are never really sure if they have milk. You think you have milk, we might have milk. I know there's a carton in there. I don't know how much is in it. Well, what should we do? 'Cause, you want to be sure.
There's nothing worse, than thinking you have milk, and not having it. You know, you got the bowl set up, the cereal, the spoon, the napkin, the TV, the newspaper, everything's ready to go. You got to lift up the carton, and it's too light.
Oh, no! Too light! Or sometimes, you think you need, but hey, we better pick up some milk. Like, many of you are thinking right now. You know, he's right, maybe we should pick up some milk. So, you pick up some milk on the way home, and then you'll discover, you already have milk.
And now, you got way too much milk. That's no good either. Now, it's a race against the clock, with the expiration date. That freaky thought. Now, you're eatin' giant punch bowls of cereal, three meals a day. You're washing your face with milk. Bringin' cats in, from all over the neighborhood, hurry up and drink it! Come on, it's almost time! Get back over here.
How do they know, that that is the definite exact day? You know, they don't say, like it's in a vicinity, give or take, roughly. They brand it, right into the side of the carton, and then they…  That's your goddamn day right there! Oh, don't screw with us.
We know what day is the final day! And then, it is so over! You ever have milk, the day after the day? Scares the hell out of you, doesn't it?  The spoon is trembling, as it comes out of the bowl. It's after the day! I'm takin' a big chance! I smell it, you smell it, what is it supposed to smell like? It smells like milk to me! I don't know how they're so definite, though. Maybe the cows tip 'em off, when they're milking 'em. July third.
---
Thank you guys so much! I made this, because kennymean asked me to. So, if there's a famous entrepreneur that you want me to profile next, leave it in the comments below, and I'll see what I can do. I'd also love to know which of Jerry Seinfeld's top ten rules had the biggest impact on you, and why, Leave it in the comments, and I will join in the discussion. Finally, I want to give a quick shout out to Dre Baldwin, from DreAllDay.com. Thank you, Dre, for picking up a copy of my book. If you guys watching, if you want to chance at a shout out, in a future video, make sure to grab the book, and email in your receipts, so we can keep track. Thank you guys so much, continue to believe, or whatever your one word is, and I'll see you soon.
---
BONUS
Do Something Different
Interviewer: So, with Letterman retiring, that's another one of your peers that was retiring, and I know, you said, you'll never stop doing standup, but I was wondering, what drives you to do this show? The things outside standup. Like, what is bringing you to do that?
I did this show, really first of all, I never thought it was a show. It was very actually, just very recently, that I started to think, maybe this is actually something!  But, I kind of missed, from talk shows, the funny talking of casually hanging out.
There's no casual hanging out, anymore on talk shows. The real estate is too valuable, and people want to push their product, and I don't know, so I came up with this idea, of like, if I ever did a talk, see the reason I never did a talk show, is 'cause I can't really talk to people that aren't comedians, and be funny. It's hard. You're doing just great, though.
Interviewer: It's only been for three minutes.
Yeah, yeah. So, I don't know, this was my personal fantasy, idea, of what I would like to watch. And standup is becoming so popular with some of the young people now. There's so many standup geeks, you know. They would like this.
So, I just made a few of them, and just threw 'em on the Internet. We didn't do any press, or sell it in any way, and you know, that's just so cool. The Internet fascinated me, also, as a network. I thought, why do I need a TV network? This is a network. So, that was what drew me to it.
Know Yourself
Howard: Do you ever dream of the day, where you could go, with your wife, to a Chinese restaurant, and sit there, and not think about, that the chopsticks are ridiculous-
I'd shoot myself in the mouth, with a bullet.
Howard: Would you?
What fun is life, if I'm not making jokes all the time?
Howard: But, you said, it's a torturer, also.
It's a torture I love!
Howard: Wow, you really know yourself.
I guess I do, I guess I do.
Be Loud And Fast
You want to know the key to comedy, right now, in two words? 'Cause, you guys are going to be doing more comedy bits, on this show? Let me explain the basic thing, really, all you need to know. Loud and fast. Do not leave pauses, between the lines.
Say it loud, say it fast, and you're 80 percent there. When people would come on the show, actors, sometimes good actors, they would come on, to do a scene, or do a part on the show. That's all we would tell 'em. Louder, faster, louder, faster. You can't fix, the material is the material, right? You're going to do it. That was pretty good, that was pretty good.
Dan: I thought he was going to shish kebab you guys.
No, I would say, I would make it 30 seconds shorter…  And I would pull out some of the air. Do you edit that, or is that just… You do edit it, a little bit, okay. So, I would have just pulled out a little more air, and I thought it played pretty well.
Dan: The best… Who captured a character, out of these-
Jerry: They were all good. You were good.
Dan: Fritzy, as George?
Jerry: He was good. You know why, he talked quickly.
Dan: He always does. What about Paulie?
Jerry: In comedy, you got to talk quickly, because you want to get the mind goin'.
Summary
Rule number 6 is my personal favorite, and I'd love to know which one you guys like the best.
Jerry Seinfeld's Rules
BONUS
I hope you enjoyed this article, make sure to check my Jerry Seinfeld video on his Top 10 Rules For Success as well.
---
You might also like
---