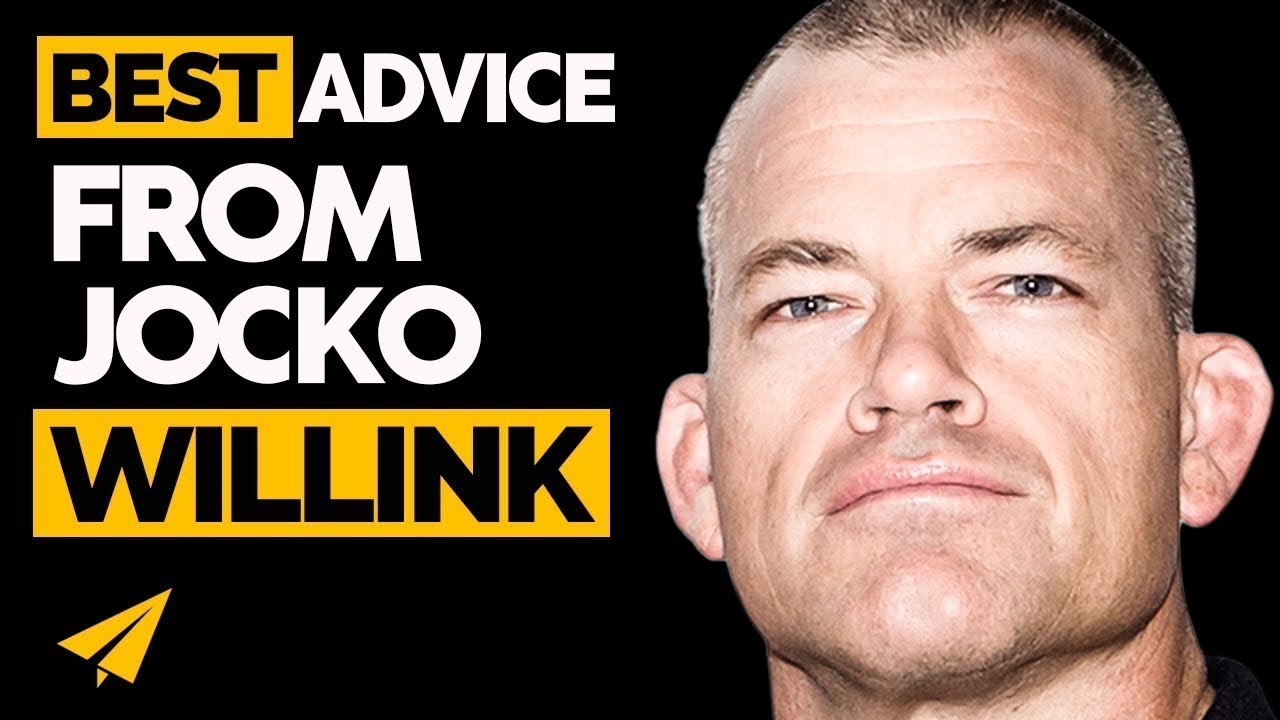 What's up believe nation, my name is Evan Carmichael, my one word is believe and I believe that entrepreneurs are going to solve all of the world's major problems.
I start the Mentor Me series with a goal to try to learn from people who've done more than us. And by hanging around them a little longer, hopefully some of their mindsets that are added to their beliefs, their confidence, seep into us to help us to become the best version of ourselves.
So today, we're going to learn from John Jocko Willink and some of his best motivation. Rule number one is my personal favorite and I love to know which one you guys like the best. And as always guys, as you're watching the clips, if you hear something that really resonates with you, please leave it in quotes in the comments below. You might win a prize but also when you write it down, it's much more likely to stick with yourself as well. Enjoy.
Jocko Willink MOTIVATION
#1: Build Self-Discipline
Where does discipline come from?  It's pretty simple and pretty obvious. Discipline comes from within. It's an internal force. Now sure, of course you can have discipline imposed on you by some person like a drill instructor or like that self-help guru on TV.
But the reality is that type of discipline isn't the real type of discipline that we're talking about. That discipline isn't as strong, it won't survive. What you need is self-discipline.  Now self-discipline comes from the self, it comes from you. It comes from when you make a decision to be disciplined, when you make a decision to be better, when you make a decision to do more and to be more.
Self-discipline comes when you decide that you're going to make a mark on the world. And if you think that you're not disciplined or you can't be disciplined, it's because you haven't yet decided to be disciplined. It's because you haven't created that discipline yet.
So make the decision, make the commitment. Discipline, the root quality that will improve every aspect of your life and it'll make you better and stronger and smarter and faster and healthier. And most important, it'll make you free.
#2: Stop Looking For Shortcuts
I don't really like those words. Self-help or self-management or self-improvement, I don't really like what those words have come to mean these days. Cuz there's a lot of people out there that are constantly trying to improve themselves by looking for the one change, the one change right, the one change in their life that's going to make their dreams come true.
And even worse, on top of that, there's a lot of people out there, a lot of self-help gurus and these hyperactive motivational speakers and these other self-appointed modern zen yoga warriors that they're trying to sell the one thing, they're trying to sell the nine steps or the enlightened path that's going to allow you to unlock all of your human potential and fulfill the dreams so you can live the life that you've always wanted to live.
Now, I'm no guru and I definitely don't claim to be. I'm just a man. But I will tell you this. It isn't one thing and it isn't 10 things and it isn't a hundred things, it isn't a quick path and there are no shortcuts. And meditation won't get you there and neither will a miracle drug or an organic supplement or some super food.
Getting better isn't a hack or a trick or a one change that you need to make. Getting better is a campaign, it's a campaign, it's a daily, a weekly, it's an hourly fight. An incessant fight that doesn't stop against weakness and against temptation and against laziness. It's a campaign of discipline.
It's a campaign of hard work and dedication. It's waking up early and going to bed late and grinding out every second in between. Every single day. So you want to get better? You want to self-improve?
Stop looking for a shortcut and go find your alarm clock and find your discipline and find your guts and your passion and your drive and find your will. And then, and then you will find your freedom.
#3: Stay on the Warpath
Those days when I'm tired or warn out or just basically sick of the grind, what do I do on those days? I go anyways, I get it done even if I'm just going through the motions, I go through the motions. I don't really want to workout? I work out. I really don't want to hammer on a project? I hammer on the project.
Don't really want to get up and get out of bed? Yeah, I get up and get out of bed. Now these could be signals that you need some time off. And those signals might be right, they could be correct but don't take today off, not today. Wait until tomorrow. Don't give in to the immediate gratification that is whispering in your ear.
Shut that down, do not listen to that little voice. Instead, go through the motions, lift the weights, sprint the hill, work on the project, get out of bed. Now as an overall rule, I do not like procrastination. You need to get things done. But if you are going to rest, that is one thing that you should procrastinate on.
That's the one thing I want you to put off until tomorrow. And if when tomorrow comes, you still feel like you need to rest or you need to take a break, then okay, take it. But the chances are you won't. You won't need that rest. The chances are you will realize that the desire to rest was just weakness, it was just the desire to take the path of least resistance, the downhill path, the easy path.
And by simply going through the motions, you overcame that path and you stayed on the righteous path, the disciplined path, you stayed on the warpath which is right where you know that you belong.
#4: Make Today Count
So I want to tell you something else and I want to make this clear. Don't just listen. Don't just listen, do. I'm not just talking, so you know, I'm not just talking, I'm doing and I don't want you to just listen. Put his information to work. Make today count, every day.
Go forward, get aggressive and attack whether it's on the battlefield or on the beat, or in the factory or on the farm or on the construction site or on the website, in the garage, or in the firehouse, don't hesitate, step. Step forward and get after it.
#5: Don't Let Regret Beat You Down
There's so much knowledge out there, so much information, so many ways to get better and we make, we make so many mistakes. We're the product of our mistakes and often times the lesson is sitting there right in front of our face. It's there to be learned but we miss it or we don't pay attention to it or we think we know better until it punches us in the face.
And the most important thing to learn is that we have so much to learn, we all do. And we can learn from school and from people and from experience and we learn from life. But you have to process the information, you have to absorb it, you have to accept it, you have to open your mind, you've got to free your mind so that you can learn and make real progress.
And as far as regrets and things I wish I would have done differently, of course. Hindsight, hindsight is 20 20 and looking back of course, who wouldn't want to take another go at something and improve on the first try by doing it again? And then why not do it again and again and again and why not just do it over and over again until you have it perfect?
But the fact is, you don't get that chance. You get one shot, one shot at this gig right here, life. One life, that's all you've got. And regret, in and of itself, it's worthless, it does nothing for you. In fact, the only valuable thing in regret is the lesson you learned. The knowledge that you gained.
But walking around filled with regret gets you nothing. So, learn and move on. Don't let regret beat you down, don't be a slave to regret, no. Let it teach you, let it make you better. Let the fear of regret fuel you to take action today, now. To take action now to become a better person not filled with regret, but filled with knowledge. Filled with knowledge and strength and power and filled with life.
#6: Get Comfortable With Being Uncomfortable
Any type of danger right gives you this flight or fight response, so train. It starts with training. Jujitsu, boxing, Muay Thai, wrestling, shooting, competing, competing right? You get used to those butterflies when you compete, you get those butterflies and you get used to em.
And so train and get used to seeing how that reaction, what that adrenaline feels like and also get used to understanding what the superior action is, right? Fight or flight, cuz sometimes flight is the correct response. Sometimes fight is the correct response.
But you want to do is you want to be able to assess and dictate which response you're going to give and not just do whatever your instincts tells you cuz sometimes your instinct might be wrong. And so again, I don't know what you're actually… The situation where you're going into but whatever it is, cuz people get the fight or flight response to everyday things, to like public speaking right?
Interviewer: Oh yeah.
Rock climbing and an answer where I say like you know, do these things, train in them. So public speaking, rock climbing, you know, if you want to get good at rock, you want to get over that fight or flight response when you get… Go rock climbing, you'll get used to it.
You scared of heights, go start parachuting you know, you'll get used to it. You're scared of the water? Get worked up and go through swimming and then you can come scuba certified. Just, the things that you're not comfortable with, get comfortable with being uncomfortable while you're doing them too.
While you're doing them, pay attention. You got to detach a little bit when these things are… When you're training, detach a little bit and see what is going on in your mindset, see what red flags that you can see, what things will make you aware of the fact that you're nerves or your adrenaline and you feel yourself clenching your fist, you know okay so I'm clenching my fist, be aware of it so that you can change it, so you can adjust it.
And again, put yourself into these scenarios and escalate them so they get harder and harder and harder and worse and worse and worse until you start to get control of these things.
#7: Attack
One of my direct subordinates, one of my guys that work for me, he would call me up or pull me aside with some major problem, some issue that was going on and he'd say, "Boss, we got this and that "and the other thing." And I look at him and I'd say, "Good."
And finally one day, he was telling me about some issue that he was having, some problem and he said, "I already know what you're "going to say," and I said, "Well what am I going to say?" He said, "You're going to say good." He said, "That's what you always say. "What something is wrong and going bad, you always just "look at me and say good." And I said, "Well yeah."
When things are going bad, there's going to be some good that's going to come from it. Didn't get the new high speed gear we wanted? Good. Didn't get promoted, good. More time to get better. Oh, mission got canceled? Good, we can focus on our other one.
Didn't get funded, didn't get the job you wanted, got injured, sprained my ankle, got tapped out, good. Got beat? Good, you learned. Unexpected problems? Good. We have the opportunity to figure out a solution. That's it, when things are going bad, don't get all bummed out, don't get startled, don't get frustrated  If you can say the word Good, guess what, it means you're still alive.
It means you're still breathing. And if you're still breathing? For now, you still got some fight left in you. So get up, dust off, reload, recalibrate, reengage and go out on the attack.
Thank You!
Thank you guys so much for watching. I'd love to know what did you think, what did you take from this video that you're going to immediate apply somehow to your life or to your business? Let me know down in the comments below. I'm really curious to find out.
I also want to give a quick shout out to Brandon from OnePercentBetter, thank you so much Brandon for picking up a copy of my book, Your One Word and doing that awesome YouTube review on your channel. I really appreciate the support man and I'm glad you enjoyed my book.
We are happy to have you on the channel.
Thank you guys so much for watching. I believe in you, I hope you continue to believe in yourself and whatever your one word is, much love, I'll see you soon.
---
You might also like
---
More from Jocko Willink
---
What's up, Believe Nation? Greetings from London, England. It's Evan. My one word is believe and I believe in people, …
I'm excited to launch a new potential series, this is the first in the series, called EntRoundup, where the idea …
Good morning Believe Nation. My name is Evan Carmichael. My one word is believe. I believe that entrepreneurs will solve …