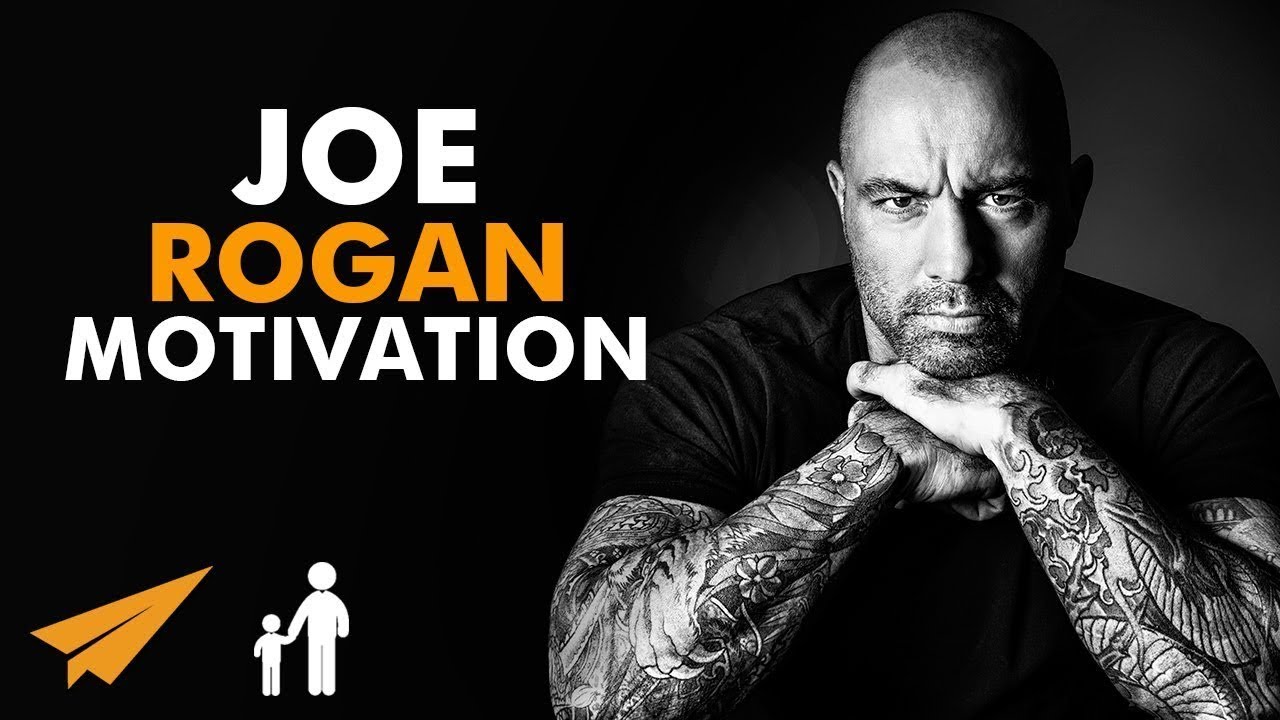 What's up Believe Nation? My is Evan Carmichael, my one word is believe, and I believe that entrepreneurs are going to solve all of the worlds major problems. I started the Mentor Me series with a goal to try to learn from people who've done more than us, and by hanging around them a little bit longer, hopefully some of their mindsets, their attitudes, their beliefs, their confidence seep into us to help us become the best version of ourselves.
So today we're going to learn from Joe Rogan, and some of his best motivation. Rule number one is my personal favorite and I'd love to know which one you guys like the best. And as always guys, as you watch these clips, if you hear something that really resonates with you, please leave it in quotes in the comments below. You might win a prize, but also if you write it down, it's much more likely to stick with yourself as well. Enjoy.
Joe Rogan MOTIVATION
#1: Don't Limit Yourself
You can get defined easily by other people's perceptions of you. My whole life I was convinced, when I was a young man, I was convinced I was a loser, absolutely convinced. Until I started getting really good at martial arts, I never thought I was good at anything. I just had a very low self-esteem, and I was limiting myself by what I thought were other people's opinions of me. This is when I was a really young kid, and I didn't figure this out until I was in my 30's.
But I think that you absolutely can be limited by your perceptions of someone's definitions of you. But you can break through that stuff. That's what you break through with discipline, that's where you break through with hard work and concentration and focus, and that's why it's so important to have either a discipline or an art or something that you're trying to create or something that you're really focusing on, cause if you don't have a point of focus as a human, I think it's very hard to get through this life and have an appreciation for true struggle.
Because our physical struggle with what our bodies are designed for, the cavemen 10,000 plus years ago, our bodies are still designed for that. That physical struggle doesn't really manifest itself when you're sitting in front of a cubicle, you know, in front of a computer in a cubicle, in this unnatural position all day. I think the whole situation is very confusing for the human body, and we don't get the tests that we need in order to have what you would call personal sovereignty. So you've got to impose those tests on yourself.
#2: Work Towards Something
Say if you had a kid, obviously you do have a kid, but say if you had a 20 year old and he's just a doper, where he wake and bakes, doesn't get anything done, he's just always hanging out with this friends and playing video games and he's just a loser. I wish there was a way you could show someone like that, I know that you're getting some comfort and satisfaction out of just laying around, doing nothing, eating, getting fat, but your life would feel better and richer if you had a goal, you chased that goal, you accomplished some things, you would get this boost of confidence, you'd get this boost to self-esteem.
Like, whatever it is that you're into doing. Maybe you're into drawing comic books, maybe you're into making pottery or sculptures, but find whatever the that is and pursue that instead of doing nothing. Like the people that are doing nothing, those are the real, look, doing something might be as simple as that Alex Honald guy. He just climbs rocks, but he's a world class rock climber.
It's something though.
It's something.
#3: Always Keep Improving
Jocko: I was always trying to learn, I was always trying to figure out what I was doing wrong and what mistakes I was making, because if you don't do that, that's something I learned from jujitsu. If you don't do that, then you're going to get passed by and other people are going to figure some new way of doing it and you're going to be left in the dark.
Yeah, as much as I like to use the term 'that was perfect' there really is nothing perfect in human beings. There's always room for improvement, there's always a shorter path, there's always a quicker victory, there's always new things to learn. As soon as you start thinking that you've mastered something to the point of an end, you've kind of missed out what it's all about in the first place. You're constantly uncomfortable, you're supposed to be constantly uncomfortable, and these little victories that you get, the good thing about when people tap, you get aaah, you get a little nice feeling right here.
Jocko: Yeah, and then you're like, let's go again.
And then you're like, ah , back to being uncomfortable. There's no getting, and then he taps you, and you're like, ah . Should have quit while I was ahead. No, no, because you're missing the point. The point is that it's a long path, a long arduous path, and I think anything that's worth doing is probably like that.
#4: Be Real
Yeah, right or wrong, I'm real as I can be. If I'm wrong, I'm sorry, I didn't think I was wrong. I'll tell you if I'm wrong, but I'mma be as honest about this whole thing as I possibly can, and I think we owe each other that, and I think the idea that we don't and that we shouldn't think that deeply, or we shouldn't uncover problems and issues and we should just go about our lives, ooh, I don't think that makes sense.
I don't think that makes sense mathematically, it doesn't make sense logically. I think we, as a species, owe it to ourselves to be honest with ourselves. That's the best benefit that we get from being around other people, is to understand the real information as they see it, and you can process that any way you like. You can put it through the filter of ego and personal circumstance and all sorts of things that make people have opinions that are biased in one way or another, whether it's liberal or republican, but when you get past all that, you really get to see how a person is thinking when they're honest. And when they're not, you don't really know who you're talking to.
You're dealing in this fantasy world of . You're dealing in this world where someone's pretending to be something because it looks like that looks best on the numbers. You know, they've looked at some sheets and say they prefer Christian, nothing Mormon or anything crazy like that, that's what people prefer, so let's go Christian. They prefer a person that wears a tie and a suit all the time so let's dress in the appropriate manner, and they sort of slowly but surely segment themselves into this ridiculous population of pretenders.
#5: Explore Difficult Tasks
I'm fascinated by martial arts. I'm fascinated by comedy. I'm fascinated by many, many different things. I don't understand when people say they're bored, because if I had the time to live a hundred lives, I'd be speaking different languages, I'd be living in different countries, I would try a number of different careers, 'cause I think there's a lot of unbelievably fascinating, puzzling, complex things that you could study in this world. But that's just me and my personality, but that's the personality also that I've cultivated over years of challenges.
Interviewer: Kind of like that as a kid too.
Well I was involve din martial arts very early and I think that is one of the things that motivated me to explore difficult tasks because through difficult tasks you learn an incredible amount about yourself, and through the fire of competition, you get to understand motivation, you get to understand the resistance that you have inside your mind to doing hard work, you get to understand the rewards of discipline.
You don't truly appreciate relaxation unless you've worked hard, and that is the yin and the yang of life. I've said this to the point of people getting sick of it, but one of the worst decisions a man can make, I can only speak for men obviously, is to be comfortable. I don't think you should try to be comfortable. I think what you should try to do is try to earn comfort, and if you can get a day off where you've worked hard and you've accomplished goals, that day off will be so sweet. When I work hard and I sit in front of the T.V., I enjoy the shit out of it. I put my feet up, I have a nice drink, I enjoy my free time.
Interviewer: Do you have one of those chairs that kneads your back or something like that?
I do have one of those.
Interviewer: Do you really?
Those are great. I don't use it that much though, honestly. I'm more of a workaholic than I should be, probably. I probably should relax more than I do, but I never feel like I earned it. But that's part of the reason why when I do feel like I earned it, I can enjoy it. It's 'cause I am more connected to the idea that I need to accomplish things. It's not for anybody else's benefit other than my own, or anybody else's approval other than my own.
When I have a task, whether it's, today I'm going to write 1000 words, or 2000, or whatever the number is. If I don't that, I write things down. I'll write down a list of things that I'll get accomplished that day, and if I don't accomplish that, I'll get sick. I'll drive me crazy. If I can't fill out that list, that drives me nuts. That's what led me to be a championship level martial artist, that's what led me to achieve, it's the reinforcement of those goals.
Understanding that you can achieve those goals, it's going to be difficult, you're going to push through the difficulty, and then you're going to understand what difficulty truly is, and how much of it is just mental, how much of it is just in your mind, this adversity to a difficult task or to struggle. A lot of people have that, they're scared. They're scared of complications, they're scared of failure. Failure's a big one that people are afraid of.
But failure's one of the most important things you could ever have as far as the motivation to do things differently. One of the reasons why I think that I'm good at friendships and relationships is because I've failed at them in past. One of the things that I'm good at comedy, is because I've bombed on stage. One of the reasons why I'm good at work is because I've been a worker in the past and I know the feeling of failure, the feeling of shame, of being a weak, non-motivated, lazy person.
That's a weak feeling. You don't respect yourself. And I have this phrase that I use all the time to people to try to motivate people. I say that, be the hero in your own movie. Pretend that if your life was a movie and your life started now, what would the hero do? What would the person that you respect do? What would the person that you admire, person that inspires you, what would they do? Well do that , and if you do that, you slowly build momentum.
You're like, today I did what I wanted to do. Today I started a class in yoga, I did this, I did all these things that I was saying I wasn't going to do and now I feel momentum, and momentum is a very important point in people's lives. That's why some folks don't like to take days off because they feel like they're losing momentum, and they sort of have to restart the wheel up again after a vacation.
#6: Don't Get Stuck In Life
When you're alone with your thoughts, you get an idea of what your thoughts actually are. If you life your life just acting constantly on the momentum of other people's expectations, of you wanting to be liked by these other people, you can run into a trap, and you set up a life that you didn't really want. You're trapped in this situation where you have a mortgage, you've got credit card bills, you got student loans you have to pay, you have a bunch of going on that you have to continue to feed and all that, and especially if you have a family and you have to feed them, oh my goodness.
Then you're fully locked in. You can't take any chances whatsoever. An often-times people make the mistake of getting stuck, and it is just a tactical mistake, just like it would be a mistake if you got stuck on a video game, just like it would be a mistake if you followed a map incorrectly and you got stuck in the woods.
Your life is certainly some sort of a journey. It's certainly some sort of a journey, and we have to all be aware that when we're making journeys, we're not going to always make the right steps, and sometimes you have to back up and try again, and if you're in a position where you can't back up and try again, you've trapped yourself, and the system will set out honey pots for people to get trapped in.
The system will set out the ideas of retirement, the ideas of the golden years, providing you benefits, providing you a healthy work environment. Why? Well because they want people to work for them. They don't want people to realize their own dreams and escape, well that's a pain in the ass, you got to hire more people and train them. They want to set it up so that you stick around. You stick around in some sort of an unsatisfying world.
It's up to you to see that video game problem, to see that issue as it comes up on the map. No, no, I think this is a right turn, to see all the problems that could potentially lay in front of you, and calculate your future. And then also look around all the people that didn't do it and look at the misery they're in, and learn that you don't want to be like them. And then look at the people have kind of tooken chances and navigated their way.
What did they do differently than you? What objectivity do they have that maybe you lack. What insight into their own mistakes are they willing to delve into that you're not, that you step back and you go, I just don't want to look at myself that closely. But the person that's able to look at themselves the closest is going to get the more rational results. And there's a lot of folks that live life on a cushy cloud of marshmallows and , and then one day something goes wrong, and I mean, that's why spoiled kids are so sad.
Like, a spoiled young boy is one of the saddest things ever. A young boy that becomes a man and can't take care of himself, and his dad has to keep on rescuing him, his dad has to keep on bailing him out of situations and giving him money. I've met guys like that, and that is a crippling affliction when they don't have the character themselves to be able to get by in life. They constantly need someone to help them and bail them out.
Even as a grown man, I've met guys in their 40's that still need help from their parents. I'm like what the man? You're never going to get it right because somewhere along the line they didn't face enough of the adversity to realize that there's some times we just have to get up and get done. There's some times where you have to pull yourself up and you have to push forward, even if you want to stay in bed.
And if you don't do that, and you just keep calling on your Daddy, and your Daddy keeps rescuing you, you never develop those tools. You never develop that ability to recognize what you're doing wrong with your life. 'Cause you're soft, you got a cushion, you got a safety net, the safety net for your safety net.
#7: Find True Happiness
You know it sounds really hippy, but true happiness comes from making other people happy. True happiness comes from being around happy people and enjoying each other's company. That's really hard for people to wrap their heads around, because they always associate true happiness, no true happiness is with titles, or numbers, or objects that you possess. You're not concerned about being nice to people, you're not concerned about having a positive impact on people. You're more concerned with making ones and zeros. That creates a negative
Interviewer: And when you don't care about other people, doesn't it really say that you don't care about yourself?
It does, and see we're not taught that. It sounds like hippy , but it really truly is how the human race interacts with each other. You really have to be nice to other people to be happy. You have to. If you're not, you won't be happy. We all make mistakes and we all find ourselves in positions of frustration and we've all acted out, yelled at our dog when maybe we shouldn't have. There's pressures in this life.
But I think it's really important to recognize what those truly are, and to understand that at the end of it, we can alleviate a lot of how we deal with this life, if we really treated people the way we would treat them, as if they were ourselves living another life.
Thank You!
Thank you guys so much for watching. I'd love to know what did you think? What'd you take from this video that you're going to immediately apply somehow to your life or to your business? Let me know down in the comments below, I'm really curious to find out.
I also want to give a quick shout out to The Modeler, thank you so much for picking up a copy of my book, Your One Word, and doing that awesome review on your Youtube channel. I really appreciate the support and I'm so glad that you enjoyed the read.
Narrator: Today we're going to be reviewing the book, Your One Word, by Evan Carmichael.
Thank you guys so much for watching. I believe in you. I hope you continue to believe in yourself, and whatever your one word is, much love, I'll see you soon.
---
You might also like
---
More from Joe Rogans
---
What's up, Believe Nation? Greetings from London, England. It's Evan. My one word is believe and I believe in people, …
Today's message is "Don't dwell on the past."Good morning, Believe Nation. It's Evan, my one word is believe and I …
Embrace PAIN! Check out what Eric Thomas, C.T. Fletcher, and Joe Rogan have to say about pain, and how it …