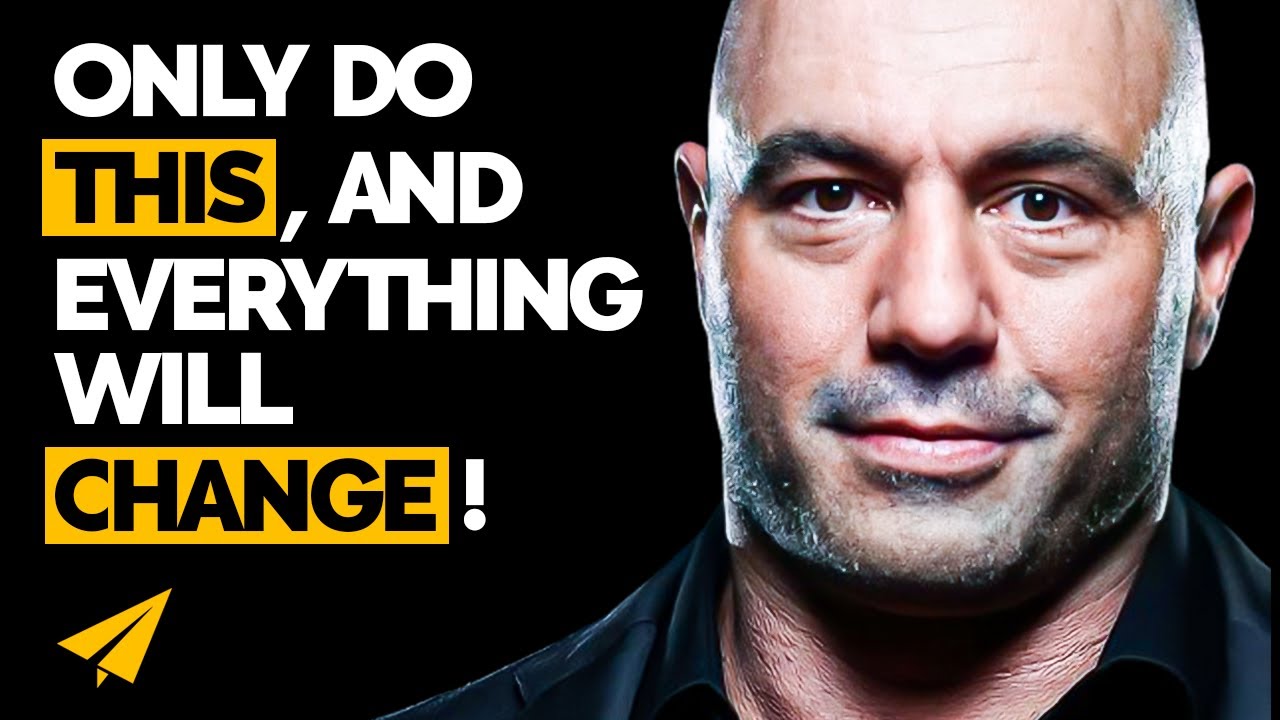 If I only worked out when I felt good, I'd be a fat f–k, 'cause there's a lot of days I don't want to do it.
If nobody ever punches you in the face, you don't really appreciate safety. 'Cause a lot of people don't even understand what safety is.
Some people really love their life, just sit around and f–k off. When I sit around and f–k off, I don't like me.
– Joe Rogan
Evan: Hello Believe Nation, I'm Evan Carmichael. My one word is Believe, and I believe that entrepreneurs are going to solve all of the major problems of the world. So to help you on your journey today, we're going to learn from commentator and podcast host Joe Rogan, and my take on his Top Ten Rules for Success, Volume Two. Rule number three is my personal favorite, and I'd love to know which one you guys like the best. And as always, guys, as you're watching, if you hear something that really resonates with you, please leave it down in the comments below, put quotes around it so other people can be inspired, and when you write it down it's much more likely to stick for yourself as well. Enjoy.
Joe Rogan's Top 10 Rules For Success
Rule #1: Have Discipline
The one thing that discipline definitely does help you with is it helps you get things done, and when you get things done, when you actually do things, you have more success. If you have more success, and sometimes a big part of success is just not being f—ing lazy and just doin' it.
That's like 90% of it is just showing up. Get there and start working. Like, you're not going to feel perfect every day. If I only worked out when I felt good, I'd be a fat f–k, 'cause there's a lot of days I don't want to do it. It's pretty much the same with everybody that actually gets good at something.
There's got to be those days you push through, and they're probably going to be more numerous than the days you don't. And so the benefit of discipline, in my eyes, has always been that through discipline I get things done. I always say that I'm like, the most lazy, disciplined person I know because I don't want to do it but I always do.
Rule #2: Write It All Down
Write it down. Write down everything you want to do. And I don't mean crazy s–t, like, "I'm going to be the Prince of Brunei, I'm going to have a base on the moon." Shut up. This is what I want you to do. Write down what you would like to fix about your life and then if you're 30 pounds overweight, you want to lose 30 pounds?
Do it the right way, start eating vegetables monitor your calories, write down what you eat, exercise every day, force yourself to do it. Say you're the general, the brain is the general, the troops are the body, the troops don't want to listen but you go f–k you, you listen, and you get up and you do it.
And then you get to write it down. If you don't write it down, you don't eat, you don't f–k, you don't s–t, you don't shower. Write that s–t down so you do it. It's like brushing your teeth, it's not something, "I don't want to brush my teeth today."
What do you want, your teeth to rot out of your head, you f—–g dunce? Just do it, just do it, make yourself do it. And if you do that, if you write s–t down and do that, you can change who the f–k you are.
Rule #3: Discomfort Is Your Friend
Our bodies for whatever reason, most people, their associations are to avoid anything that's uncomfortable, but it's so illogical, because when you look at comfort and you look at success and progress and the eventual, the feelings of accomplishment, and of getting past certain hurdles in terms of like how you feel about life, a lot of those are connected to discomfort.
Like, discomfort is your friend, it really is. Like, discomfort and not being happy and content with certain situations in life or certain feelings in life, they're massive, massive motivators, and they're amazing at facilitating change.
And yet our instinct is to avoid those and just sit on the couch and watch some f—–g reality show about dudes who make moonshine with our jaw open like guhhh. It's bizarre.
Rule #4: Overcome Resistance
'Cause a lot of artists and comics, I bet musicians as well, but were writers for sure. One of the big problems is sitting down and doing the work. And you got to, and Pressfield talks about that, in the most concise and beautiful way, and he labels it like an enemy, he calls it resistance, you know, and that you have to sit down, you have to overcome resistance, and that the pro goes to work, and it doesn't matter if you're sick, doesn't matter if you have kids, doesn't matter what, you're a pro and you go to work.
It puts it in your head that this is what I do, and you have pride in that. And then when you are in front of that keyboard and you look down at the count and it says, I got a f— a thousand words today, I put a thousand words in. And you're doing the work, and out of that work, gems blossom.
Little things, but you might have a day where you just write nothing but dogs–t. So what? Show up again tomorrow, and tomorrow out of that dogs–t, a flower will emerge. You never know and that's the only way to develop real, like, to really develop your potential 100% in anything.
Rule #5: Don't Dwell On The Past
If I look back on anything I've ever done, mistakes I've ever made, paths that I, you know, something that I put out that I didn't quite think, man, maybe if I just waited three months before I released that, or maybe I should have re-edited that blog post a couple more times before I put it online, those things drive me f—–g crazy, the b——t things that I've done have driven me crazy, yelling at someone I didn't have to yell at them for, whatever, but the most important thing is always for all people to recognize that you're not who you were a year ago.
You're not who you were five years ago, you're not who you were last week. You're who you are now, and this is the only s–t you have control over. So you've got to regulate how much you dwell on regrets of the past, you really got to be careful, because it's good to have a little, because my regrets, whether it's things of a professional nature, or the very few regrets friendship-wise, which is one thing that makes me very happy, but you know, there's, life is strange.
There's a lot going on, there's a lot of factors happening in life, but for sure, who I am now wouldn't have ever happened if I didn't f–k up. If I didn't make those mistakes I wouldn't have understand the importance of friendship and kindness, and if I hadn't been cruel at some point in my life or someone hadn't been cruel to me, I wouldn't understand the beauty of love.
I wouldn't understand the full range of it 'cause I hadn't felt the sting. If nobody ever punches you in the face, you don't really appreciate safety, 'cause a lot of people don't even understand what safety is. Oh we're safe, we're safe, but you are so not safe.
At any moment, you know, and when someone's punched you in the face a bunch of times and you've been in a street fight with some guy you barely knew, or you got in an argument with, there's something about regular safety that's sweeter, it's more delicious, it's more delicious.
It's way better to drive your car straight after you almost lost control on a turn, like  and then you get back straight, you're like woah.
I'm not saying that you should go sideways around corners, but what I am saying is that there's a f—–g yin and a yang to this world, man, and you've got to fuel yourself with the f—ups, and most people get stuck in these patterns because they define themselves as a f—-up, or they define themselves as the person who doesn't follow through on their ideas, or a person who doesn't pursue their real interest in loves, you define yourself by that.
"Well, you know, I start things and then I quit." No you don't. No, you have started things and you quit, and it gives you a horrible sense of regret that's made you define yourself by that. You don't have to do that. You don't have to do that.
Rule #6: Have Goals
Your life would feel better and richer if you had a goal, you chased that goal, you accomplished some things, and you would get this boost of confidence, you would get this boost of self-esteem, like whatever it is that you're into doing. Maybe you're into drawing comic books.
Maybe you're into making pottery or sculptures but find whatever the f- that is, and pursue that instead of doing nothing. Like, the people that are doing nothing, those are the real… Look, doing something might be as simple as, like, that Alex Honnold guy. He just climbs rocks but he's a world class rock climber.
Interviewer: That's something though.
It's something.
Rule #7: Pay Attention To Criticism
Host: I get to where I have to tell people things that are true that are even embarrassing about me now because it's like, it's so weird, you can feel the energy. You guys want to talk about that? 'Cause, I mean, you brought this up. Elaborate on how strength, 'cause few know this, few get to talk hours a day in front of people and then learn that it becomes a real relationship.
Well yeah, it definitely does and you know what else is? God damn, you learn so much from those people, man. You know, even people who are critical. Like they send you a link to correct you, like, "This is the real information and you have the inaccurate information." Like, if you don't have an ego about all that , if you can deal with the fact that you might be wrong, or there might be, you might have jumped to a conclusion, there might be many possible scenarios-
Host: It's a giant think-tank.
Yeah, you learn so much from people on Twitter, man. You know, a lot of people will complain about, like, negative things on Twitter. I don't get that much negative  on Twitter, but I occasionally get like, "Yo, Imma punch you in your face if I see you, faggot!"
Host: That's little kids.
But even in negative , you usually can grab, like, something from some of the negative stuff. Like, even if there's a ton of negative , usually there's like, 1% truth to it, where that 1% will kind of stick in the back of your head, where you're like, all right, he took it to like, the next level, but I do understand that 1% of what he's talking about.
Yeah, you can get a hater who's like, 90% hater, but 10% has a point-
Host: It helps you!
It does help you. I really believe it. It's a terrible feeling, that feeling when someone's hating on you, but I find it very beneficial for two reasons. One, because it's like snake venom. Because if you get bit by a rattlesnake, and you've never been bit by a rattlesnake before, it will  you up. Like, someone who's never been famous and then all of a sudden decides to do a reality show and then they get all these insults hurled at them from every direction online, that has got to be horrific. That's just got to be torturous. But when you take a little bit of hate venom, and a little bit of hate venom, then you develop an immunity to it. You kind of understand what it is.
Host: It becomes enjoyable!
Well, then it becomes a checking mechanism, and I look at it almost like as if it's an algorithm. And I look at like, well, this negative comin' in, like, how much does it affect me, and how much does it affect the positivity that I put out? Like, and if I dwell on it, well then it'll surely  me up, but if I just look at it and if I truly look at myself to say, okay, do they have a point? And if they do have a point, if I am bein' a , like, I got to, that's very important to be honest about that and to look at that.
Rule #8: Get After It
I enjoy a lot of things, and what I've found that the best way to live my life for me. I'm not sayin', you know, other people, some people really love their life to sit around and f–k off. When I sit around a f–k off, I don't like me. I like to get things done.
But the things that I do, they're recreational, they're all fun. Like, Disneyland was fun as f–k with my kids, the Eddie Bravo Invitational was fun as f–k, the UFC was fun as f–k, my show, sold-out show at the KA Theater where they do the Cirque de Soleil at MGM with Joey Diaz and Jim Norton, Friday night, fun as f–k.
Host: The book is fun as f–k, too.
The book, those are jobs, right? But those are fun things. And training is fun, stand-up comedy couldn't be any funner. You know, the only real work work is like, I got to discipline myself to sometimes work out when I don't want to, write when I don't want to.
But this is how I feel, it's harder for me to not do what I'm supposed to do than it is for me to do what I'm supposed to do, 'cause if I don't do what I'm supposed to do, then I deal with regret and doubt. I've done it before. I've done it a lot of my life, I've felt those feelings, I don't like it. So what I do is I just don't do that. I just say, well, what is the difference? If I don't do it, then I'm going to have to feel like I didn't do it, and feel like a loser, so get after it, b—h.
Rule #9: Be Creative
We were talkin' before this podcast about Holly Holm's victory over Ronda Rousey, and one of the things that we were talkin' about was that Ronda had this very linear, straightforward attack. You knew she was coming, and Holly is a master at countering, so all she had to do was wait and move, and Ronda was coming in one direction. There was no variation-
There was no creativity.
There was no creativity. It was a mad bulldog rush that had worked on everybody else before. But she found one person who was a virtuoso at movement, and she needed creativity and it wasn't there, and she needed that experience that came with having faced someone who knew that position and had a deep understanding of that movement, and she didn't have that in her repertoire, and so that's the result that we saw.
Like a striker like Anderson Silva is extremely creative. If you watch, he's got a fight versus Tony Fryklund in Cage Warriors. Cage Warriors? What the f–k was it called, in England? Small organization in England. I think it's called Cage Warriors-
Host: It was Cage Warriors, yeah.
Where he practiced this step-in uppercut elbow, like a sideways elbow, and his coach was goin', "You're f–kin' crazy, stop practicing that," and he would make his wife hold the pillow, because his coach didn't want him to practice it anymore, 'cause he thought he was wasting his time.
So he practiced, his wife would hold a pillow for him, and he'd step in and throw this uppercut elbow. That's what he knocked out Fryklund with. And obviously Fryklund was outclassed in that fight, but he wanted to make a point. And like the front kick that he landed in the face of Vitor Belfort. Vitor never saw that shit comin', 'cause nobody had done that to him before, 'cause nobody had done that in the history of the UFC.
Nobody had ever knocked anybody out with the first kick you learn in martial arts. But the creativity to try something like that, he would throw punches to your thigh from standing, he would throw a jab to your thigh. He would throw a crescent kick, an inside crescent kick to your face, like what the f–k? It was part of what made him such an effective striker, is that he threw these things that you just didn't expect him to do.
Rule #10: Practice Martial Arts
People who are in jiu jitsu and train on a regular basis, they're healthier people. Their egos are healthier, especially men. They're easier to talk to, they're easier to hang out with because they're facing reality on a regular basis.
If somebody, my  teacher told me when I was a little kid, that I never forgot was that martial arts are a vehicle for developing your human potential, and nothing in my life has ever put me in face with reality better than jiu jitsu, 'cause I think, you know, in life we can all distort our perception of things in order to make ourselves more comfortable, in order to make ourselves accept where we are, and there's a lot of people out there that're runnin' around in life full of s–t.
You can't be full of s–t and do jiu jitsu. When you do jiu jitsu it's impossible to be full of s–t because reality comes at you in the purest form possible. A life-or-death struggle using your determination, your focus, your techniques, your mind, and your training, over and over and over again.
And it's reality, and if you f–k up and you get caught in a triangle, you've got to tap and that is the end of the story. It's as real as it can get, and that has made me a better person. It has made me a better man, it's made me understand myself, my weaknesses, my strengths, the s–t I need to work on, jiu jitsu has been one of the most valuable tools I've ever had in my life.
Thank You!
Thank you guys so much for watching, I hope you enjoyed. If you want to get your pick of who I should profile next in the Top Tens, check out the link in the description and go and cast your vote.
I also want to give a quick shout-out to Jean Fredeling. Jean, thank you so much for picking up a copy of my book, Your One Word, and posting that awesome picture on Instagram, I really appreciate the support and I hope you're enjoying the read.
So thank you guys again for watching, I believe in you, I hope you continue to believe in yourself and whatever your one word is. Much love, I'll see you soon.
---
BONUS
Enjoy what you do
It's very rare that someone is successful that doesn't have a crazy schedule, and if they are, they're not going to appreciate it. They're going to, you know, like, but it's, it's all like, what is where you're at? Like, is where you're at where you want to be?
Like, are you enjoying it? Because I'm, what I'm happy about the most is that I enjoy what I do. So when I'm doing, like if I was workin' as a CEO of some f–kin' corporation or somethin' like that and I was puttin' all these crazy hours, like the same kind of hours I put in now, the same kind of effort, I'd probably be a miserable, drunk, pill-poppin' psychopath who's just lookin' to escape and go bang hookers or somethin'. I'd be lookin' for some sort of a release.
---
You might also like
---
More from Joe Rogans
---
What's up, Believe Nation? Greetings from London, England. It's Evan. My one word is believe and I believe in people, …
Today's message is "Don't dwell on the past."Good morning, Believe Nation. It's Evan, my one word is believe and I …
Embrace PAIN! Check out what Eric Thomas, C.T. Fletcher, and Joe Rogan have to say about pain, and how it …