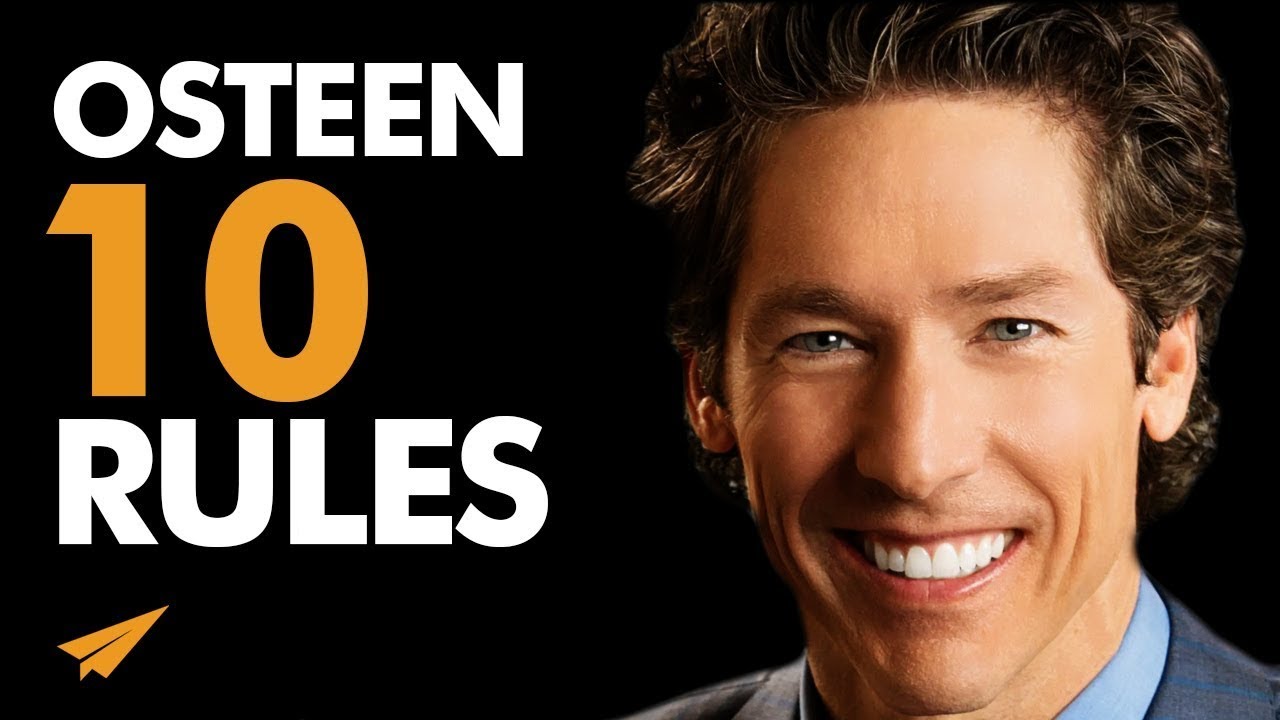 Famous Entrepreneur Quotes
Joel Osteen's Quotes
"And the reason some people don't enjoy their lives, is because their container, their heart, is contaminated with so many things."
"If you're always feeding negative thoughts, thinking I'll never get well, I'll never meet the right person, you're feeding doubt, feeding mediocrity, feeding fear."
"It's easy to go through life holding on to things that are weighing us down, guilt, resentment, doubt, worry. The problem is when we allow these things in, they're taking up space for the good things that should be there."
Joel Osteen's Top 10 Rules For Entrepreneurship, Business and Success
Today we're going to learn from pastor and New York Times best selling author, Joel Osteen, and my take on his Top 10 Rules for Success, Volume Two.
Rule #1: Empty Out The Negative
It's easy to go through life holding on to things that are weighing us down, guilt, resentment, doubt, worry. The problem is when we allow these things in, they're taking up space for the good things that should be there. Imagine your life is like a container. You were created to be filled with joy, peace, confidence, creativity, but if you allow worry in, it pushes out the peace.
There's not space for both. You can't go above 100%. You have a limited amount of room. If you allow guilt to take up space, that's space that you don't have for the confidence you need. And the reason some people don't enjoy their lives, is because their container, their heart is contaminated with so many things.
They have 10% worried, stressed out over their job, 12% bitterness, mad at their neighbor, 20% guilt, beating themselves up for past mistakes, 9% jealousy, their co-worker is more beautiful. They don't realize 70% of their container is negative. They wonder why they don't have joy, creativity, passion, they only have room for 30% of what they should have.
And the scripture says give no place to the enemy. It's not just talking about forces of darkness, that means give no place to guilt, give no place to worry, give no place to bitterness. It can't come in and automatically take over. You control what's in your container. You control what you think about, what you choose to allow in, and we all have negative emotions, negative feelings.
You have to make the choice, I'm not going to give this jealousy, this bitterness, this anger valuable space and let it poison my life. I'm going to protect what I allow in me. And every morning when we wake up, we need to empty out anything negative from the day before. Somebody offended you at work, they didn't treat you right, it's easy to let that offense stay.
Feels good to carry around a grudge, but you have to be disciplined, say no I am giving this offense any room. I am not going to let it sour my day. They hurt you once, don't let them continue to hurt you by holding on to the offense.
Being offended is not harming them, it's harming you. It's taking up space you need for the good things that move you towards your destiny. Take inventory of what you're giving space to. Life is too short to go through it with negative things holding us down.
Rule #2: Change Your Mindset
There's a large company that has a slogan that says, That was easy. A few years ago a friend of mine sent me their big red button when you push it says,
Button: That was easy.
I keep this by my bathroom sink there on the counter. Every so often, I reach over and push this button. I like to get that phrase down in my spirit. 'Cause it's easy to go through life, looking at our problems, focused on our obstacles, thinking aw man, this is goin' be so hard. I dread dealing with this, it's never going to work out.
That mindset is not only stealing our joy, but it's keeping us from seeing God's favor. When my dad went to be with the Lord and I first started ministering, it took everything I had to write a message for that weekend, all my focus, my creativity, my energy. I was pressured, stressed. When I finally finished I felt like that's the last one that I could ever do.
And if I wasn't careful, I was tempted to dread it and think this is too hard, I'm not going to know what to say, I can't do this anymore. I had to turn it around. Father thank you that your yolk is easy. Thank you that I'm well able, thank you that you've equipped me and empowered me. I got my mind going in the right direction.
I went through seasons of struggle, strain, difficulty, but I didn't let it become permanent in my thinking. One day I came into this anointing of ease. What once was a struggle, is not a struggle anymore. Every week when I finish a message, I hit this button,
Button: That was easy.
just to remind me that it was easy. Quit telling yourself, this is so hard, I'll never accomplish my dreams, I'll never get out of debt. This is a new day.
Rule #3: Don't Fly Solo
It's easy to do life on our own, and think we don't need any help, but you won't reach your highest potential by yourself. God has ordained people to come into your life to strengthen you, to encourage you, to push you towards your purpose. You've seen birds that fly in formation.
When geese make that V, it takes 40% less energy for them to fly. They could do it by themselves, but they understand this principle they won't go as far if they fly solo. Are you flying solo or do you have a community of faith? People flying with you, watching over you, encouraging you, inspiring you.
After the football game the other night, the star running back was being interviewed and he'd had a great game, set a record for the amount of yards he had rushed. The reporter asked him how he did it. The first thing he said was it was because of my offensive line. Those guys that block for me, they're the best.
And my coaches have poured into me and made me better. My trainers have helped me to get stronger. He recognized that we need each other. You can be good by yourself, but you can't be great by yourself.
You won't become all you were created to be without the right people around you. You can go 60% but when you get in formation, when you have a family of faith blocking for you, praying for you, encouraging you, you'll go 40% further.
Rule #4: Recognize Your Value
Too often, we base our value on how someone is treating us or how successful we are or how perfect of a life we've lived. The problem is all of those things can change. If you're getting your value out of how people treat you, then if they hurt, they disappoint you, you're going to feel devalued.
If you're basing your value off of your achievements, how much you make, what you drive, the title behind your name, then if something happens and you don't have that position, your business goes down, then your value will go down. And some people don't feel good about themselves 'cause they've made mistakes in life.
They're not where they thought they would be. Now they're living insecure, feeling inferior, they're basing their value on their performance. How someone treats you doesn't change your value. What they say or do doesn't lessen who you are. Mistakes you've made doesn't decrease your value.
That's what you did, that's not who you are. You can buy a bigger house, drive a better car, but that doesn't make you any more valuable. That increases your net worth, not your self worth. You were already valuable when you had the small apartment and no title behind your name.
That position may give you more influence, but not more value. You can be a stay at home mom, raising your children. You may not have the influence of the CEO, but you have the same value. Value is not based on what you do, what you make, who you know, that's superficial, those things can change.
The enemy works overtime trying to devalue us. He'd love for you to go through life letting what people say make you feel inferior. Comparing your life to somebody else's, thinking you'll feel good about yourself when you catch up to them. When you live in that neighborhood.
Or when you perform perfectly, when you break the addiction, then you'll feel valuable. But nothing you do will make you any more valuable. Nothing you achieve, nothing you overcome, you are valuable right now. God calls you a masterpiece, you are one of a kind.
You didn't come off an assembly line, you weren't massed produced. God made you unique, there will never be another you. Put your shoulders back, start carrying yourself with confidence. You have been fearfully and wonderfully made.
Rule #5: Feed Your Destiny
We may not realize it, but we're always feeding ourselves. What we watch and listen to, the people we're around the thoughts we're dwelling on, that's feeding our inner man. If you go to lunch with people, that talk bad about the boss, make fun of a co-worker, put down a friend, they're feeding you gossip, feeding you jealousy, feeding you disrespect.
Here's the key, whatever you feed, is going to grow. You may not like what they're feeding you, you're a nice person, but if you continue to hang around them, before long, you'll be gossiping, you'll be critical, you'll be disrespectful, why? Because you kept feeding the wrong things.
If you're always feeding negative thoughts, thinking I'll never get well, I'll never meet the right person, you're feeding doubt, feeding mediocrity, feeding fear. A man told me how he spent years of his life on drugs and alcohol and it had ruined his marriage. He wasn't there for his children.
Now he was so down on himself, so discouraged. What was he doing? Feeding the guilt, feeding the regret, feeding the blame. If you feed guilt, it's going to get bigger. If you feed fear, it's going to become larger. What if you spent that same energy feeding your faith, feeding your hopes, feeding your dreams.
What are you allowing in your spirit? The people you're spending time with, the thoughts you're dwelling on all day, is that inspiring you, building your faith, pushing you towards your dreams? Or is it junk food, feeding you guilt, mediocrity, negativity, causing you to compromise.
A friend of mine was diagnosed with a serious illness. The doctor put him on a very strict diet. He couldn't eat any sugar, any flour, any meat, it was only raw vegetables, nuts, grains, very limited. Now I asked him if he was going to do it. He said, what do mean am I going to do it? I don't have a choice, my life depends on it.
Today I'm putting you on a new diet. Not physically, but for your inner man. No more junk food. No more dwelling on thoughts of worry, fear, I don't have what it takes.
No more hanging around people that are feeding you negativity, causing you to compromise. No more guilt, condemnation, I'm all washed up. You're prescription is for faith food. Feed your hopes, feed your dreams, feed your confidence, feed your destiny.
Rule #6: Be Patient
It's easy to have faith. It's easy to believe for your dreams, but faith without patience can get you into trouble. What you're believing for may be taking longer than you thought.
You're not making progress, not seeing a dream come to pass, but God knows what he's doing. Don't try to force things to happen, you don't have to promote yourself, manipulate people, convince them to like you.
Yes we should be determined, but you don't have to beat down a door. At the right time, things will fall into place. At the right time, the right people will show up. Now do your part and wait for the promise to unfold. You're not falling behind, you're not being left out, you're right on schedule.
Rule #7: Live With Expectancy
When we've been believing for our dreams to come to pass for a long time or problems to turn around and we don't see anything happening, we're not making progress, we're not getting good breaks, it's easy to lose our passion and not expect things to change. It's been that way so long, we start accepting it.
I'll never get well, I'll never break this addiction. I'll never accomplish my goals. I tried, I prayed, I believed, but it didn't work out. That may have been true in the past, but I believe you are entering into a new season. You're coming in to a high time. High time is when things suddenly change in your favor.
High time is when blessings chase you down. You don't have to go after them, they come after you. High time is when you're healing shows up. You meet the right person, you break the addiction. God makes things happen that you couldn't make happen. Now if you're going to see this high time, there's something you have to do, wake up out of your sleep.
That means get your passion back. Start believing again, start expecting things to change, start talking like it's going to happen. You can't sleep through your high time and see God's favor. You can't be complacent and step into the fullness of what God has in store. The amplified version says, it's a critical time.
It stresses the importance of the season. It's saying, don't take it lightly, don't dismiss and say aw, this isn't for me today. If you don't stir your faith up, you can miss the new things God wants to do. What you're believing for is not way off in the distance, it's close, it's at hand, it could happen today. Live with this expectancy. There has to be an anticipation in your spirit, that today could be my day.
Rule #8: Accept Yourself
Too many people go around feeling wrong on the inside. They don't really like who they are. They focus on their faults, weaknesses. They're constantly critical towards themselves. That recording of everything they've done wrong is always playing in their mind. You're impatient, you blew your diet yesterday.
You lost your temper, you're still struggling with that addiction. You should be ashamed of yourself. They wonder why they're not happy, it's because they have this war going on, on the inside. But you're not supposed to go through life feeling wrong about yourself. Quit focusing on your faults.
Quit over-analyzing your weaknesses. Quit beating yourself up because you're not where you thought you would be. You may have some weaknesses, we all do. There may be some areas where you know you need to improve, but being down on yourself is not going to help you do better.
Having that nagging feeling, telling you you don't measure up, God's not pleased with you, you'll never get it right. It's not going to help you move forward. You have to accept yourself right where you are, faults and all.
Rule #9: Keep Strife Out Of Your Life
One of the biggest challenges we all face is getting along with people because everyone is different. We have different personalities, different temperaments, we come from different backgrounds. When somebody doesn't agree with us or they do something we don't like, it's easy to get in conflict with them, argue, try to straighten them out, prove our point.
Before long, we're at odds, mad at each other, living offended, there's stress, tension in the home. What's happened, we've allowed strife in. Strife is a spirit, just like peace is a spirit. You've walked into a place before, you don't know anybody, you've never been there, but you can feel the tension in the room.
In the atmosphere there's stress, discord, nobody said anything, but you know something is not right. That's the spirit of strife. Now if we would see it as the destructive force that it is, we would be more careful about allowing it in our lives. After all, it's easy to argue, especially with those closest to you.
Let's be real, your spouse can get on your nerves. You love the man, you can't live without him, sometimes you feel like choking him. A reporter asked Billy Graham if he'd ever thought about divorce. He divorce no, but murder, yes.  But when we let our guard down and say things that are hurtful, disrespectful, demeaning, that's not only damaging the relationship, that's opening the door to strife.
That's inviting that destructive spirit into our life. That's why the scripture says give no place to the enemy. Strife can't just come in when it wants, bring division, disharmony, tear relationships apart. We have to open the door.
And I'm not saying that we should never have an argument, never say a wrong word, that's not reality. But when it comes a part of who we are, it becomes common, we're constantly arguing, fighting, being disrespectful, that means we've gone way too far.
Rule #10: Live Joyfully
It's easy to let the pressures of life weigh us down. We have traffic to deal with, bills to pay, people that are rude. If we're not careful, we'll look up and we don't smile as much, we're not as friendly, we never laugh, never have fun anymore. We have too much pressure, too much responsibility to enjoy life, but God didn't create you to live with a heaviness.
You're not supposed to go around solemn, serious all the time, burdened down by problems. Taking time to laugh, to have fun, that re-energizes you, it helps keep you in balance. If it's all work, all stress, all dealing with problems, that's going to weigh you down.
You can get so busy raising your children, changing diapers, getting them to school, making sure their homework is done that you don't enjoy your children. It's all work, no time for play.
And sometimes, we think we have to be serious to show that we're responsible. But you can be responsible and good natured at the same time. Have you let the pressures of life weigh you down? Are you always solemn, always serious?
If you don't make this adjustment, not only will you not enjoy your life to the full, but you won't have good relationships. Nobody wants to be around a grumpy, sour person. That pushes people away.
Thank You!
Thank you guys so much for watching. I made this video because Pagla Bye asked me to. So if there's a famous entrepreneur that you want me to profile next, check out the link in the description and you can go and cast your vote.
I'd also love to know what clip resonated the most with you, what lesson are you going to take with this video and immediately apply to your life or to your business somehow, leave it down in the comments below, I'm really curious to find out what you have to say.
I also want to give a quick shout out to Surge Wisdom.Surge Wisdom thank you so much for picking up a copy of my book, Your One Word, and making multiple videos on your YouTube channel covering all the different chapters in my book.
Thank you so much man for the support and I'm so glad that you enjoyed my book.  Thank you guys so much for watching, I believe in you, I hope you continue to believe in yourself and whatever your one word is much love, I'll see you soon.
---
Live guilt free
But living guilty doesn't do anything productive. It doesn't help you to do better, it causes you to struggle more. Guilt drains you emotionally, physically it will wear you out.
When we're guilty, we don't pursue dreams, we don't believe to overcome challenges, we get stuck. This is why the enemy works overtime in this area. He knows guilt will keep you from your destiny. There's nothing he would love any more than for you to go through life against yourself, focused on your failures, feeling unworthy.
You can't drag yesterday's failures into today and live in victory. Let it go. God's mercies are fresh every morning. Don't spend another minute down on yourself, living in regrets. When those voices remind you of everything you're not, one of the best things you can say is I am righteous, I am holy, I am blameless, I am honorable.
Everything in your mind will say, no you're not. You have an addiction, you keep giving in to the temptation, you made those mistakes. But when you declare I am righteous, you are announcing to every force that's trying to stop you.
You're announcing to the accuser, to the guilt, to the heaviness, you don't control my life, you don't determine my destiny, you can't stop my purpose. The creator of the universe made me righteous.
Summary
Rule number five is my personal favorite, and I'd love to know which one you guys like the best.
Joel Osteen's Rules
You might also like
---
More from Joel Osteen
---
Today we're going to learn how to expand your mind. Hello, Believe Nation! It's Evan. My one word is believe, and …
Embrace PAIN! Check out what Eric Thomas, C.T. Fletcher, and Joe Rogan have to say about pain, and how it …