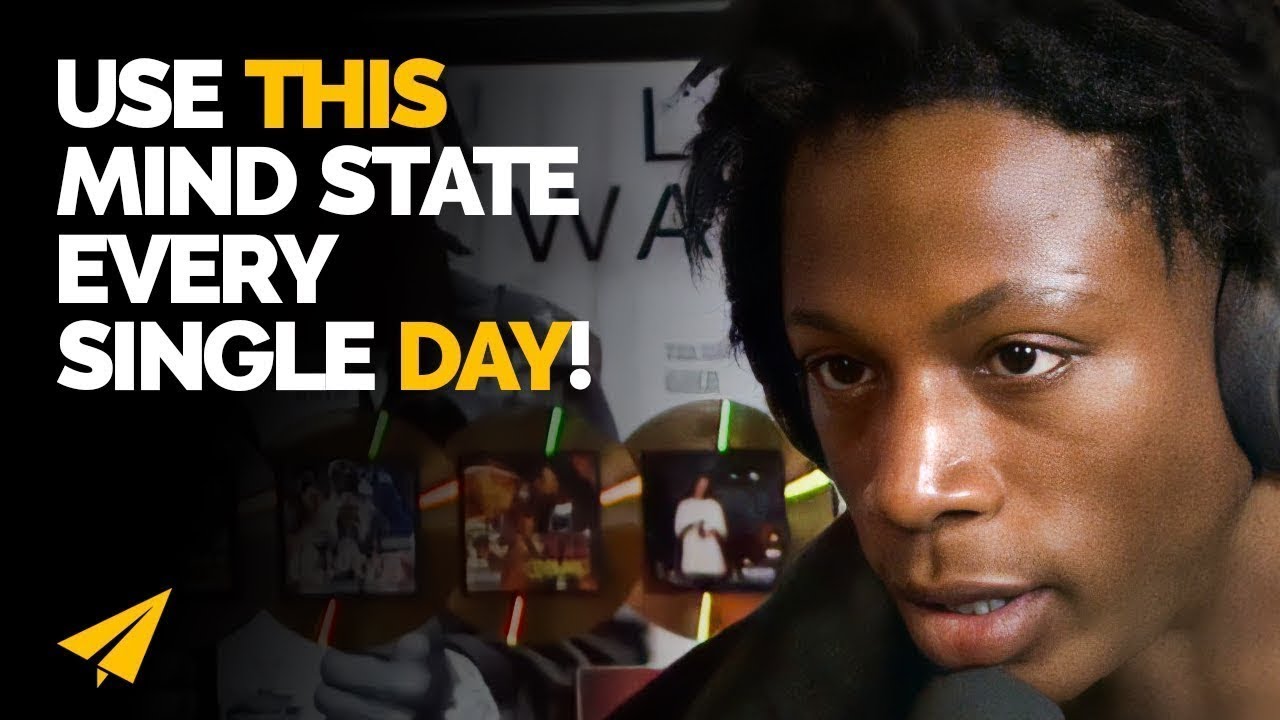 Famous Entrepreneur Quotes
Joey Bada$$'s Quotes
"You're going to do everything in your power to get there, …… It's that grind, it's that hunger to getting to your goal."
"My main thing is always being myself."
"No sleep, no days off. It's just so much hard work. "
Joey Bada$$'s Top 10 Rules for Success and Business
Today, we're going to learn from actor and rapper, Joey Bada$$, and my take on his top 10 rules for success.
Rule #1: Make The Jump
My advice to the people is to follow your heart. You know, eff what anybody is saying to you about a dream or an idea that you have. If you really feel like a feeling and you know what I'm talking about like that, the gut, that deep feeling,
Interviewer: That right, like I can do this.
I should do this or I can do this. Just do it,'cause we only got one life to live and honestly that might be the test of your life. That might be the test of this journey. Everybody has the chance to jump. The choice to jump and you know sometimes you got to make that jump  I encourage everyone to make the jump, you know what I'm saying, 'cause you don't want to live your life thinking like damn, I should've jumped back 20 years ago. 10 years ago,
Interviewer: Life could've been different and everything.
Could've been, would've been different, but the thing is you will never know 'cause you never took it, never took it so take the risk.
Rule #2: Change Your Mind State
I want to put people in the mind state that I have because I think that it's a real healthy one to keep, you feel me. I think it's real beneficent.
Interviewer: You said the mind state that I have, what is that mind state?
I'mma explain, it's real beneficial I think to you know just society period to mankind, and like with this current album, you feel me, with the message that I'm currently trying to push the concept of this whole picture is basically I'm welcoming people to this before the money mind state. And what that really is, is like that before the money mind state is that time where you at, before you realize all right, you know you got this goal. You got these things that you want to do, and it's that moment where you realize that you're going to do everything in your power to get there, you feel me. It's that grind, it's that hunger to getting to your goal and even once you get there it's all about keeping that mind state, like even me right now I feel like I attained so much, I've came so far, but I'm still in that before the money mind state. Like I still got that same grind as if I was just like still rapping in school and  like that, you feel me. And I want people to apply that to life no matter what their goals are, if they want to be a doctor and , I want them to be in that before the money mind state of it. Like yo..
Interviewer: A genuine passion, that genuine love.
Yeah, that genuine passion. Yeah, and I just want people to always relive that, and live with that everyday.
Rule #3: Be Yourself
DJ1: I've also seen comparisons to to Nas Illmatic, you know what I'm saying. What type of pressure does that put on you, if any?
DJ2: Or maybe inspiration.
DJ1: Or inspiration?
If anything, it drives me to not sound like that.
DJ1: Okay.
Joey: You know.
DJ1: Yeah.
It drives me to be myself because you know, the comparisons are great, they're always great and it's a honor to be compared to somebody like Nas and Illmatic, you feel me, 'cause that's a great, immense body of work, but my main thing is always being myself and sounding like myself. I don't want to sound like anyone. I want people to be like, yo, you sound like Joey.
Rule #4: Become The Change That You Want To See
We became the change that we wanted to see, slowly, that's what we started growing to, and progressing towards. When I basically grew up and I got older, you know, even when you see movies as a child, and you grow up and you watch it again, you understand it differently, you see different things about it.
That was pretty much the same case with music for me. When I got older and then I revisited these things and everything, it hit me like an epiphany again, and everything and I identify that as what rap really is, you know, that's traditional rap for me.
And basically when I started making 1999 when we formed pro era in 2011/2012, what we realized in the game, what we loved about Hip Hop so much we didn't see in the game, so we basically decided to become the change we wanted to see.
Rule #5: Cut Out The Middleman
Interviewer: What's your success? What's your secret?
I mean, you know the game changed, soon as the internet came around. With the internet I know what it did for me, it cut out the middle man. I didn't have to go out physically and meet somebody, a A&R from a label or some , my A&R was YouTube.
DJ: Yeah.
Me putting my videos up, you know what I'm saying, and sending it to World Star and hoping it get picked up, which it eventually did way after the S**t.
Rule #6: Inspire Others
You know, the fans are who got me traveling overseas, you know what I'm saying, the fans who got me playing on the TV, playing on the radio.
You know, I think it's extremely important, it's extremely imperative to give back to those people and make sure that they're happy, not just content but they're elated  from what you're giving them.
And also these people are inspired by me so I just do the best that I can to keep uplifting them and to show them yo, they're just like me and same way I follow my dreams, why can't you too.
Rule #7: Work Hard
Interviewer: How difficult has the journey been in the four years that people don't get to see?
There's a lot of late nights, early mornings, you know, there's a lot of little sleep. I shouldn't even say it's a lot of that, it's like absolutely no sleep, no days off.
It's just so much hard work. It's never really, especially for a guy like me, like I'm such a hard worker, I don't I'm one of those people that don't know how to relax. I don't know how to chill out you know. Even if I'm on a vacation, I'm still trying to find a way to work.
Rule #8: Be Content With What You Do
I already know the energy and the passion and just the truth that I put into my music. So it's like I don't need people to validate that for me. You know what I mean, so and that comes from me being at a level where I just want to be content with everything I do.
So if I already know what I'm putting into my work, I don't need to be wrapped up about what I'm finna get out or get back from it. It's like, you know what I mean, I'm just here to do this, you know what I mean.
And yeah that's what it is, it's like don't worry to be, there's a quote, I can't remember who said it but, it's basically like, "don't strive for recognition, "just be worthy of it" you know what I mean, it's something along those lines.
Interviewer: I love that.
But yeah.
Interviewer: Yeah, you can't live your life waiting for validation from people, 'cause you'll always be miserable at that point. You know what I mean?
Exactly.
Interviewer: It's just it's never
It's like my happiness is determined,
Interviewer: Based on you?
Yeah, it's outside of me.
Interviewer: That's crazy, yeah.
And it should never be that way.
Rule #9: Be Your Own Role Model
I think they are, I think you know, it's a interesting thing to watch me grow, you know what I'm saying. I tend to look at myself from a outside perspective a lot. You know, and I just try to be my role model.
DJ: That's how you do it.
I try to be a cat that I could follow if I wasn't myself.
Rule #10: Be Passionate
Watch this video clip, click here!
Thank You!
Thank you guys so much for watching, I made this video because KA asked me to. So, if there's a famous entrepreneur that you want me to profile next, check out the link in the description, and you can go and cast your vote.
I also love to know which clip resonated the most with you, what lesson are you going to take from this video, and immediately apply to your life or to your business somehow, leave it down in the comments below, I'm really curious to find out what you have to say.
I also want to give a quick shout out to Hideo Yoneyama, thank you so much Hideo for picking up a copy of my book, Your One Word, and making that post, and putting it on Twitter, I really appreciate the support, and I hope you enjoy the read.
Thank you guys so much for watching, I believe in you, I hope you continue to believe in yourself, and whatever your one word is, much love, I'll see you soon.
---
BONUS
Strive To Be The Best
When I'm doing something, I do it to the fullest capacity, the fullest potential, I want to be one of the greatest artists of all time I don't just rap to be an underground rapper, I rap because I want to be one of the biggest, one of the greatest ever, one of the greatest influences in the world when it comes to music, you know what I'm sayin? That's my mission, that's my goal.
Challenge Yourself
I always love when I challenge myself to make something different, that's always something that makes me happy, and makes me proud of my work, cause anytime I approach the mic I'm trying to create a new sound, I ain't ever tryin to re-make what I already did, you know what I'm sayin? So, yeah,
Interviewer: I love that
Don't Follow The Rules
I feel like the challenges for young artists probably comes more when you're like, "alright, I need to go beyond throwing down a 16, "I need to put together a complete record."
I don't find it too challenging, because, you know as an artist it's something that we do. The thing with me, I don't just keep it basic, like I won't just have a normal structured song, like you know a verse, hook, verse, hook, like you know, I might just have a long ass verse, and then a hook at the end, there's no rules.
Summary
Rule number one is my personal favorite, and I'd love to know which one you guys like the best.
Joey Bada$$'s Rules
BONUS
I hope you enjoyed this article, make sure to check my Joey Bada$$ video on his Top 10 Rules For Success as well.
---
You might also like
---