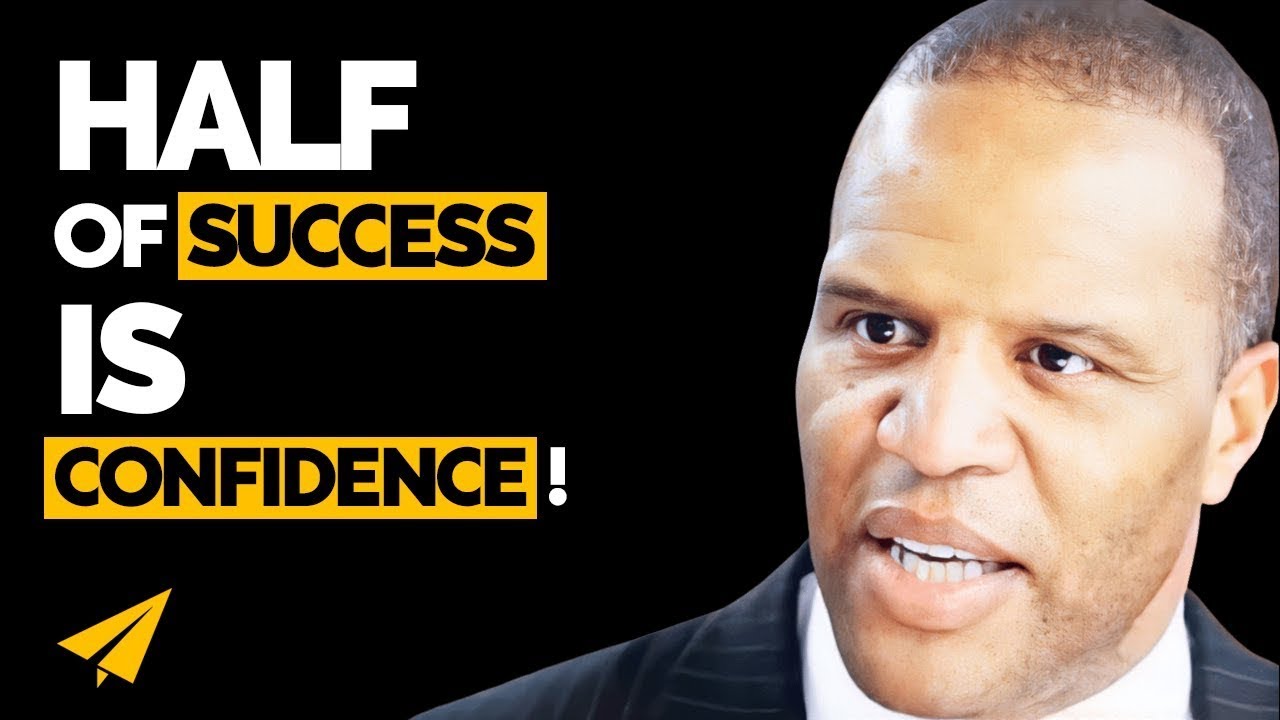 He's an American financial literacy entrepreneur and businessman. He's the founder, chairman, and CEO of the non-profit organization HOPE. He served as vice chair on the U.S. President's Advisory Committee for Financial Literacy. He's John Hope Bryant, and here are his Top 10 Rules for Success.
John Hope Bryant's Top 10 Rules For Business and Success
Rule #1: Be Nuts!
People say I'm nuts, and that's a compliment. Because they said that Steve Jobs was nuts. They said that Ted Turner was nuts. They said that Bill Gates was nuts. And they said that my hero Dr. Martin Luther King Jr was nuts. Let me tell you what, I'll take it.
Rule #2: Vow To Never Be Poor
People are not waking up in the morning and saying, ooh, let me be broke. Let me be poor and ignorant, let me be stupid. Let me go into some deep, uncomfortable waters. Because I thought I understood poverty. If you haven't noticed, I'm black.
I grew up in South Central LA, in Compton, California. I'm going to tell you a little bit about my story. But I actually thought Dr. Franklin and I was poor. I now realize I wasn't. There's a different between being broke and being poor.
To be broke is economic, but to be poor is a disabling frame of mind and a depressed condition of your spirit and you must vow never, ever, ever to be poor again.  I was talking to Dr. Franklin and others and there was an experiment that he was telling me about about some gentlemen who were very well-meaning, they were going out, hanging out with homeless people to try and relate to their experience.
They dressed like them, they act like, they walk like them, they talk like them, the live like them, but the legitimate people who are homeless knew that these were instigators. They knew that they were not homeless. Why? The twinkle was still in their eye.
The hope was still in their eyes. I can give a homeless guy a million dollars, he'll be broke in six months. With the best of intentions, because nothing changed here, and here. The word capital comes from the Latin root word capitas. It means knowledge in the head. It doesn't even mean money.
Rule #3: #Believe In Yourself
I told you, the issue is confidence. But if I can make you immune to failure, not ashamed to trip and fall. If you can have an opportunity to have somebody invest in you at an early age, believe in yourself, have some experience with free enterprise, with starting something on your own, believing in yourself, pursuing it, no matter what the outcome.
An entrepreneurial mindset works whether you're running a household or whether you're running a community center, or city government, or your own life, or your own business. It is the can do empowerment-based, what I'm for not what I'm against mindset that I will do anything from anywhere for any purpose at any time that is unique to an entrepreneur, that is always reimagining everything and creating solutions. That's just a winning attitude about life.
Rule #4: Make Friends Everywhere
So here's a rule for you, talk without being offensive, listen without being defensive, but always leave even your adversary with their dignity. Because if you don't, they'll spend the rest of their life trying to make you miserable.
So help people win. When George Bush was in office, my friends, oh, why are you hanging around with that guy? So what do I say? He's the president.  I talked to him for a while and I got him to sign his executive order around financial literacy, and I'm proud that he did that.
And by the way, I've honored to serve now three presidents from both political parties, Republicans and Democrats, I serve Obama today. But I think we need to talk to everybody, and you never know who your friends are going to be, you should make friends everywhere.
People who you least expect to provide the sort of leadership you need may be the ones that actually end up doing it, so make friends everywhere.
Rule #5: You Can't Grow Without Legitimate Suffering
You cannot grow without legitimate suffering. You cannot grow without legitimate suffering. Rainbows follow storms. My last book, the favorite chapter was Loss Creates Leaders. Nobody woke up in the morning and said I want to start a cancer foundation. People who start cancer foundations are people whose lives have been impacted somehow by cancer. Rainbows after storms.
Rule #6: Redefine Success
I was homeless for six months in my life.
Interviewer: And what did that teach you?
You can't fall from the floor. That I had to redefine failure as going from, redefine success, actually, from going from failure to failure without loss of enthusiasm. That I had to learn to do for myself. That PhDs were good, but PH dos were better. And it made me get real with success and failure in my life and made me resilient.
Rule #7: Have Confidence
For you to sit here and ask me questions or approach me this morning takes personal confidence. For you to look me in the eye right now takes personal confidence. Well, half of success is confidence and self-esteem.
But if you're poor, you've been beaten down, you've been depressed, you lack hope. So it's very interesting, the very thing you need as the first option to be successful you actually don't have by virtue of the fact that you've been in this poor environment.
Rule #8: Give
Today my life makes sense, but the minute you think you know everything, at that moment you know nothing. I was in India and I was teaching a course on leadership in India, and I had gone to this university and I spoke there, and after I left, I got back to the hotel and I realized I didn't have my wallet.
I called the hotel and I said would you please bring the car back, they have my wallet. They said, "I'm sorry, sir, we don't have a car." "That was a taxi we used." They tried calling the taxi company and nobody answered the phone. They tried again, nobody answered the phone. I became a little cynical.
I went from hopeful, to skeptical, to cynical, and I started thinking the worst of people. And of course I said, well, my wallet is gone. By midnight they called and said we're still trying, he's not answering the phone, the taxi cab driver.
But at two in the morning they called and said he answered his phone, his phone was off, he's coming back to your hotel with your wallet. So I get dressed and I run downstairs and a man meets me and the bellman translates for me in Indian, in the dialect, and I get my wallet and everything is in my wallet, everything.
My passport, my money, my credit cards, it's all there. I reach into my wallet and there's $70 US. I ask the man, through a translator, what do you make a month? He says about 2500 rupees, which, at that time, was about $70 US.
I reach out and I say let me give this $70 to you, this is my way of saying thank you. And the man says no. I said, no, I don't think you understand. I have one month's salary for you, I want to say thank you, here's $70. The man says to the translator, "No." I said there must be a translation problem here.
I'm talking about paying you, I'm talking about giving you a month's worth of your salary. One more time, and this time he became a little visibly angry, he said I told you no. I didn't bring you your wallet because I wanted a reward. I brought you your wallet because it's your wallet.
Now this may not sound like an incredible story, but think what would've happened if I'd lost my wallet in a taxi in New York City. Or a big city anywhere in the world. Think about the chances of me getting my wallet back. Think about it and be honest with yourself, now.
This is a slum, they call it, in India. So I said to the man what can I do to be thankful to you? What can I do to say thank you? He said well the next time you're in India, come to my house and have tea, be my friend. Whoo. Sometimes when you give you get.
Sometimes whatever goes around comes around. And so ubuntu, as they say in South Africa. Ubuntu, I am me because you are you. I didn't give that man a thing, he gave me a sense of purpose. He let me understand that there's hope in people and that you can believe in the humanity and the decency of people.
And sometimes people just do things because it's the right thing to do. What if we all just made a commitment to be someone's friend, to show up in their house and have tea, or better, to invite them into our house and make that connection.
You gain more by giving, you get more by building, you learn more by listening. We have a chance and an opportunity to change the world because nobody changes in good times. People only change in bad times. No one changes when they're comfortable, they chance when they're uncomfortable.
We have a chance now to change the world. So here's my question as I wrap up, and I'm now going to come right to you. I'm going to ask you what kind of bird do you want to be. But I want you to answer in your own dialect, in your own word, but I'm going to start with something easy and you're going to repeat after me. I can change the world.
Audience: I can change the world
I will be the change in the world.
Audience: I will be the change in the world.
You guys sound really weak.  Talk like you got passion in your life.  Oh, my god.  Remember now, you're honorary black people, you got to have some soul. I'm going to ask you one more time. I am somebody.
Audience: I am somebody.
I can change the world.
Audience: I can change the world.
I am
Audience: I am
I
Audience: I
Question, what kind of bird do you want to be?
Audience: An eagle.
No, no, say it with passion. What kind of bird do you want to be?
Audience: An eagle.
Give them a round of applause.
Rule #9: Empower People
So if I gave the guy a fish, he'd eat for a day, okay? But I taught him how to fish. Not only is he eating for a day, not only is his family eating, his employees are eating, he's actually now teaching other people how to eat. And that ripple effect.
Financial literacy is the only philanthropic or charitable or non-profit activity that has leverage, that uses leverage. Once I teach you, you're never untaught. Once your rubber band is expanded, it doesn't go back to the same size, it's expanded.
So your understanding, your appreciation for life is different, and that is the special sauce, to me, that is what makes this transformational in its potential.
Rule #10: Don't Take Yourself Too Seriously
I was a dancer on Soul Train.  And American Bandstand. They taped across the hall from each other. I've never done this publicly. Is there any music?
That pretty much falls in place with my life philosophy, which is take life seriously but don't take yourself too seriously. Have a light touch. One of the diseases that we have in this world is seriousness.
People take themselves very serious. People who take themselves very serious enforce other people to also suffer from this disease of insecurity, which is then connected to fear, which is then tied to how you treat other people.
Thank You
Thank you so much. I made this because Bishop asked me to. If there's a famous entrepreneur that you want me to profile next, leave it in the comments below, and I'll see what I can do.
I'd also love to know which of John Hope Bryant's Top 10 Rules meant the most to you, had the biggest impact. Leave it in the comments and I'll join the discussion. Thank you so much, continue to believe, and I'll see you soon.
---
You might also like
---