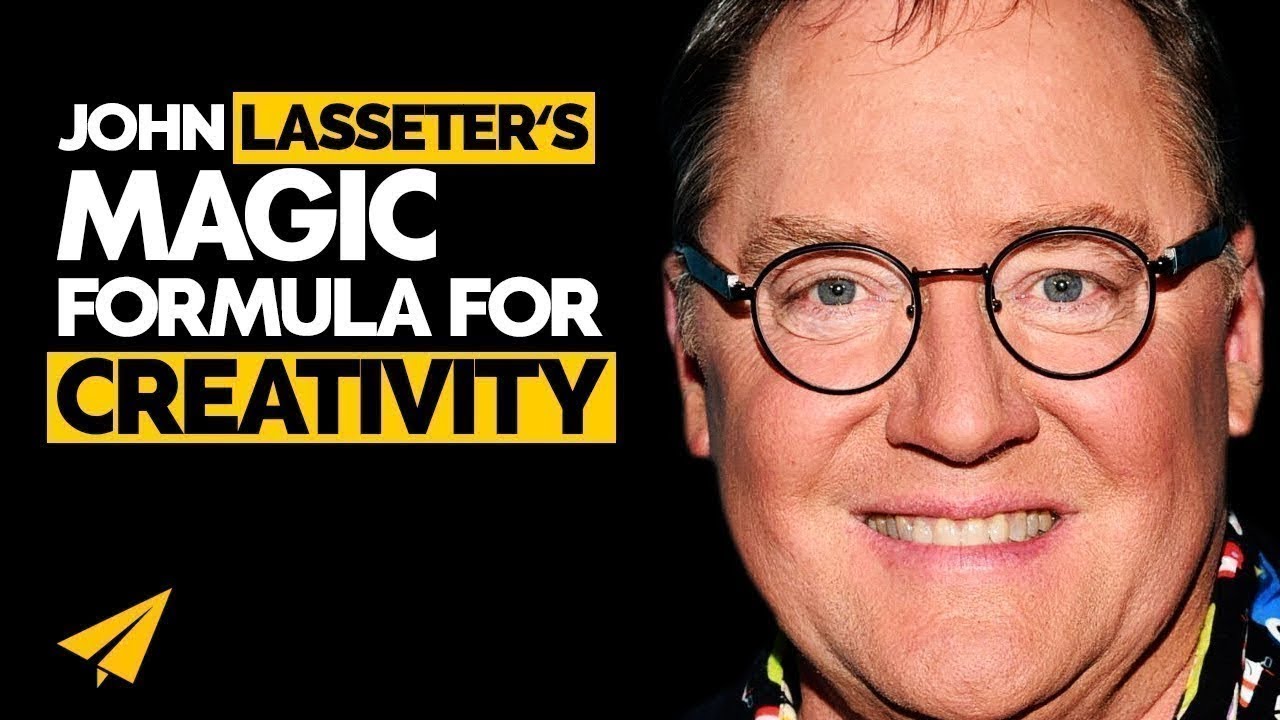 It's so much in my memory the look on that little boy's face. I think about that little boy every single day working at Pixar.
"You have to put yourself our there. You have to be willing to fail." – John Lasseter
Even though it's never been done before doesn't mean it can't be done.
Honestly, we put more pressure on ourselves to make good movies for our audience than any kind of pressure from the outside.
Evan: He's an American animator, film director, and chief creative office of Pixar and Walt Disney Animation Studios. He oversees all of Pixar's films and associated projects as executive producer.
He has an estimated net worth of 100 million dollars. He's John Lasseter, and here's my take on his top 10 rules of success.
Rule number one is my personal favorite, and make sure to stick around all the way to the end for some special bonus clips. Also, as John is talking, if he says something that really resonates with you, please leave it in the comments below and put quotes around it so other people can be inspired, as well. Enjoy!
Rule #1: Find Your Why?
Everybody has their own sense of accomplishment. Some it's opening weekend box office or winning Academy Awards.
"To me, it is being in an audience anonymously and watching people watch my movies, and seeing how we're entertaining people." – John Lasseter
The first true experience I ever had of that was about five days after Toy Story came out. It took four years for me make Toy Story, all of us at Pixar, and I was flying with my family. We were changing planes in the Dallas Forth Worth Airport.
I got off the plane and there was a little boy about four years old with his mother, and he was holding a Woody the Cowboy doll, and it's the first time I'd seen one of my characters outside of Pixar, and I was so stunned. My boy, "Dad, look, look, look!"
The look on his face, he couldn't wait to show his father who was getting off the plane his toy, and I realized at that moment that that character that I, with the help of everybody at Pixar, created over four years, no longer belonged to me, it belonged to him.
To be honest, it's so much in my memory the look on that little boy's face, I think about that little boy every single day working at Pixar, and that's why we do what we do.
Rule #2: Take Risk
To create something that connects with people, that moves people, is the most fulfilling and satisfying work there is. For an artist, it is truly a privilege to do this for a living.
But with that privilege comes responsibility, and the privilege and responsibility are one in the same, to do something new.
I say that it is a responsibility because to really truly be creative, you have to be willing to take risks. You have to put yourself out there. You have to be willing to fail.
Failure has such a negative connotation in our society, and I think this totally unfair, because what failure really is is the opportunity to learn.
If we never failed, it would never occur to us to do thing differently. You would just keep doing the same thing because it would always work.
"But the world changes, people change, and so we have to change. We have to fail in order to succeed." – John Lasseter
Rule #3: Be Thirsty For Knowledge
I think the biggest thing for us is that we studied films. We watched films religiously. We were making… With Toy Story, it was a buddy picture.
We watched every buddy picture we could find and analyzed it. Good ones, and it's very important to watch bad ones, too. No seriously, it is very important. You watch a bunch of good ones and watch a few bad ones, and pretty soon you'll start seeing, "Huh, this one, defiant ones did this," I'm not going to say it, "These other films did that, "and that's why it doesn't quite work. "Interesting, okay."
And you start understanding what they did and more and more. And don't copy things, it's about understanding and learning.
"Be thirsty for knowledge, be thirsty for knowledge. It will always make your work better." – John Lasseter
Rule #4: Produce Quality Content
I believe so strongly that no matter what you do, create the best quality you can in whatever you do. Quality is the best business plan. It's the only business plan I've ever lived.
Pixar, Up is going to be our 10th movie, and it's a record in Hollywood that's unlike any record that anyone has ever seen, 10 successes in a row.
So quality is the best business plan. And we surround ourselves with absolutely the best people, and I believe very strongly in this.
So often you will find yourself in a situation where there is a hierarchy, that ideas are important because of who is saying them, because they have a higher position than you.
I believe very strongly it doesn't matter whose idea it is. The best idea at Pixar we always use. The ideas come from the receptionist, they come from the cooks, they come from everybody, and we use them, because everybody is there to make the movies better.
Rule #5: Push The Boundaries
Our people are so good right now and they're so accomplished, and our technology has grown so much, and that's what Pixar is about.
Everyone at Pixar lives for that day that will come to them and say, "We don't know how to do this. "Here, try to figure it out." They live for that, 'cause what's interesting about Pixar, and I think it's really a product of Northern California, Silicon Valley, Steve Jobs, George Lucas, it's all this belief that even though it's never been done before doesn't mean it can't be done, right?
There's no one here that says, "No, it can't be done." Every movie we've made, there's aspects of it that's unlike anything you've ever seen before, even the sequels.
You look Toy Story, and Toy Story 2, and Toy Story 3, and I tell you, there's things in both of those sequels that are unlike anything that's been done before it.
And I think definitely looking at Cars and Cars 2 is so different in kind of the look and feel.
Rule #6: Do What You Love
Mark Twain once said, "The two most important days of your life "are the day you were born "and the day you find out why." The first of those has already happened to you 'cause you're sitting right here, okay?
The second, they day that you find out why you were born, may have already happened to many of you, and to the others, not yet, but you will know when it happens.
It will be connected to something that you truly love. I've always said to my five sons,
"Choose something that you love to do "and you'll never work a day in your life." – John Lasseter
Rule #7: Be Wrong As Fast As You Can
Is that every time you do something for the first time, a paper, a movie, a story, a script, whatever, chances are the first time, the first pass, is going to be wrong.
So Andrew Stanton coined this phrase, and we use it all the time at Pixar, "Be wrong as fast as you can." Get it up there. Be wrong as fast as you can, because then with honesty around you you will get to being right much quicker.
Rule #8: Surround Yourself With Trusted People
Very, very, very important, do not work in a vacuum. Do not work in a vacuum. You may be the filmmaker and doing something, but you have to surround yourself with trusted people.
You have to, you get so immersed in your work, you will, everybody does, you get so immersed in your work, I guarantee you you will not be able to see the forest from the trees.
Frankly, you'll be studying the pine needles and worrying about them, and you need someone to help you back up and take a look at the forest and see where things are working or not working.
"And you need to surround yourself with people whose judgment you trust, and they can be brutally honest with you." – John Lasseter
And you have to be able to… Look, as an artist, showing unfinished work to people is really difficult, is really hard, it always is hard, it always will be hard, it never gets any easier, but you have to do it.
Rule #9: Do It Right
You know, it's funny. Asks, "How do you cope with the pressure? "Do you feel the pressure?" Honestly, we put more pressure on ourselves to make good movies for our audience than any kind of pressure from the outside.
It was very important for me when Bob Iger and Steve Jobs agreed to let Disney buy Pixar and merge the two companies, and they asked me to become chief creative officer of Disney Animation, as well as continue doing that with Pixar Animation.
And I came home to Disney, and it's like coming home, really, 'cause I've always done things, I've always wanted to work for Walt Disney when I was a kid and be a Disney animator, and I loved everything about Disney.
And even at Pixar, I made movies in the style of Walt Disney, and coming home to Disney to me the goal was to make the studio make great movies again to truly deeply entertain audiences, to put the filmmakers, the artists, the animators, the story people, kind of creatively in charge of these films again, not let these executives tell them what to do, let the artists, the filmmakers, it's why they're there, but to challenge them to make these films great, and to me I will never… You know it takes four years to make an animated film, and you have every chance, this is what I say, you have every chance to do it right.
And I am so dedicated to making sure that it's good movies out there, and that's why we have a good track record, because we have this belief that we can do it and we will do it.
Rule #10: Make Yourself Indispensable
In your life, you will start a job, and this is what I say to every single new person coming into Pixar. No matter what you do, make yourself indispensable to that organization.
"Make yourself indispensable, where people after you're done with your job, people cannot imagine the place without you, and without asking for a thing, your career will be set." – John Lasseter
Evan: Thank you guys so much for watching. I made this video because Chaitan Joshi asked me to, so if there's a famous entrepreneur that you want me to profile next, leave it down in the comments below and I'll see what I can do.
I'd also love to know which of the rules had the biggest impact on you and why. What change are you going to immediately make to your life or business after watching this video?
Please leave it in the comments. I'm going to join in the discussion.
Finally want to give a quick shout out to Kevin Lee. Kevin, thank you so much for picking up a copy of my book, coming in to get it autographed and then posted on Facebook. I really, really, really appreciate the support and the love.
So thank you guys again for watching. I believe in you. I hope you continue to believe in yourself and whatever your one word is. Much love. I'll see you soon.
---
BONUS
Be A Great Story Teller
You know one of the exciting things about the merger between Disney and Pixar, and Bob Iger making me chief creative officer and Catmull president of the Walt Disney Animation Studio was that the first thing that we wanted to do when we came into the studio is we wanted to start production on a hand drawn animated film.
I love the medium of hand drawn animation. I love it. I think it's fantastic, and I never quite understood why animation studios, like all around, especially in Hollywood, but all around the world, were deciding that audiences weren't interested in watching hand drawn animation anymore.
The way I look at it is like think of two movie studios that are making live action films. One makes really popular films and the other one just so so films. The so so films studio would kind of look over and go, "Oh, I get it. "I know why our films are not doing well at the box office. "We're using the wrong camera. "We're going to use that camera where that company "its films studio is doing amazing work, "and now our movies are going to be liked by audiences."
Now of course that's ridiculous, but that's the way we feel about hand drawn animation versus computer animation. Never in the history of cinema has the movie been entertaining to an audience because of the technology. It is what you do with the technology, it's what you do with the medium, it's so special.
Andrew Stanton said this, and I think it's a perfect sentiment, is that 2D animation became the scapegoat for bad storytelling. What the audiences don't want to watch is bad movies. They like watching good movies.
Study The Basic
The thing I always tell students that really want to work in animation, or work in film for that matter, is do not forget to study the basics. – John Lasseter
Basic drawing, even for computer animation you should know how to draw, basic design, basic fundamentals of animation where you learn the principles of animation, film grammar, how do you stage things, you know, how they do it in live action film-making, story, writing, three act story structure is so vital to this.
You got to learn all these basics, because this is kind of like eating vegetables. A lot of people don't want to do it and they just get onto the more flashy stuff of using all the latest software, but the thing is is through your career the software will change.
It will always evolve and get better. What's important, and remember this, software never makes a movie entertaining, it's what you do with the software, and what you do with the software you'll learn that from the basic fundamentals.
I rely on the basic fundamentals of art and design and film-making and animation and storytelling every single day of my career. It's something that just is a part of you.
It's the foundation in which you work, and without those, you won't go anywhere, so it's really important to get the fundamentals down.
Chase Your Dream
I loved animation. I knew it was not just for kids. Walt Disney never made his movies just for kids. He made them for everybody. Chuck Jones made his cartoons to show in theaters in front of Warner Brothers movies for adults, but I felt it had to be done for today's audience, it had to be done in a new way.
I found the answer when I was working at Disney, computer animation. I knew this was it. I knew this was the future. You see, one of the things that I always admired about Walt Disney was his innovative spirit.
Walt had been a great advocate of the new, and many groundbreaking developments of film technology had their origins at his studio. I threw myself into suggesting projects that would show how the computer could be used to take Disney animation to the next level.
I even did a test. I kept getting the answers, "No, that's not how it's done. "Is it cheaper? "Is it faster? "Then no, just do what you're told."
No one was willing to take risks, but that didn't stop me. I kept trying. I just couldn't let go of the idea that computer animation was something Disney should be doing, because I knew it would make the studio and its films better.
Then one day the manager of the animation department, Mister No himself, called me into his office and fired me. To be fired from the place of your dreams was so painful and embarrassing for me that it took decades before I could actually tell people about it.
I made this kind of excuse up that I followed my dreams somewhere else. Even as I got married, it took me a long time to tell Nancy, my wife, I had actually gotten fired.
But as fate would have it, I met Ed Catmull of the Lucasfilm Computer Division. He and his group were doing the most innovative research in the world on computer graphics, and unlike the Disney that just fired me, Ed was so excited about what I was trying to do, to combine classic animation principles to computer animation.
I finally found someone who could see the future as I saw it. He invited me to come work with him. Then in 1986, Steve Jobs entered our lives. He was so excited about what we were trying to do that he bought our group from Lucasfilm, and we formed a new company called Pixar. He really pushed us to do what no one else had ever done before. The result? In 1995, we released the first computer animated feature film ever made. We released Toy Story.
---
You might also like
---
More from John Lasseter
---
Today's message is Become irreplaceable. Good morning Believe Nation, it's Evan. My one word is believe, and I believe in …
"Do what I love." "Choose something that you love to do."  "I really love what I'm doing." "This is what I want to …
Good morning Believe Nation! Today's message is. Take risks. Over to you, John Lasseter. ♫ I wake up every morning ♫ …