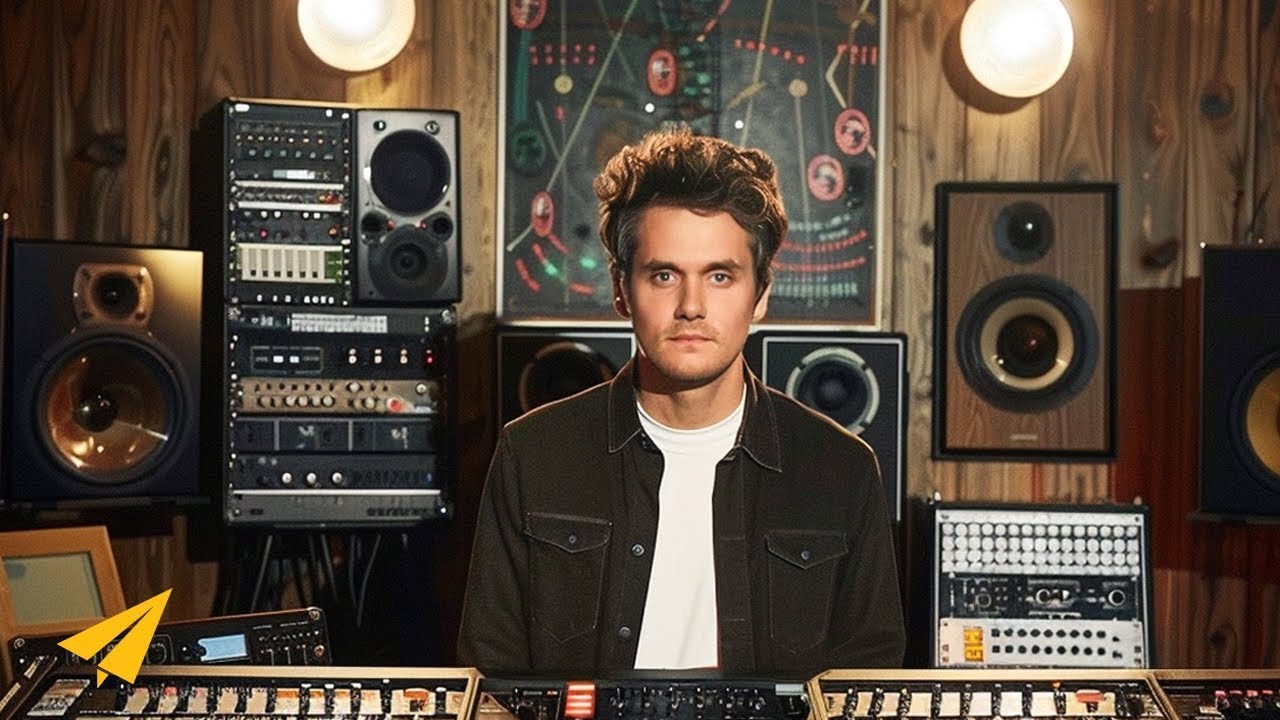 Famous Entrepreneur Quotes
John Mayer's Quotes
"Number one thing you have to do before you set out on any other goal or any other course, is to define your expectations."
"I've stayed pretty true to whatever my instincts are as an artist."
"Show people what you can do."
John Mayer's Top 10 Entrepreneurship Rules For Business and Success
He's an American singer-songwriter and producer. By 2014, he had sold over 20 million albums worldwide. His secondary career pursuits include television hosting, comedy, and writing. He's John Mayer and here are his Top 10 Rules for Success.
Rule #1: Define Expectations
Number one thing you have to do before you set out on any other goal or any other course, is to define your expectations. Number one thing on the outset of every single project, record, tour. Define your expectations. Everyone in this room wants to make it.
But I question how you would recognize making it. What is making it? Well, what do you want to be? Who in here wants a record deal? Would it be nice? It'd be nice to have a record deal, right? We'd want a record deal. Okay, well, what does a record deal look like? What does making it look like? Would you want to sell a million copies? Two million copies? Well, okay, let's say selling two million copies is like selling 10 million copies, 10 years ago.
So let's say, you say to yourself, my expectation is that I want to be an artist and I want to put records out and I want to sell millions of copies. If that's your expectation, great. Then, you sort of skip straight to another questionnaire. You know, okay, if you answered yes to do I want to be a pop star, do I want to make music for as many people as possible? Now you have to, sort of, change your game to fit the expectation.
You now have to wonder about is your song shorter than four minutes? Do you get to your chorus fast enough? These are things you have to absolutely do. And you also have to compromise. And you also have to play the game. And by defining your expectations, if you decide that you want to be a pop star, that's not a dirty word. Just means, pop just means popular.
Frank Sinatra was a pop star. Jimi Hendrix was a pop star.  Lots of people were pop stars. What kind of pop star? Lots of people are jazz musicians. What kind of jazz musician? It can be, you can define the genre any way you want. So if you said you want to be a pop star, then you have to look at your songs. There's also people here who are a little dishonest about what they really want to be.
And I think if you want to be famous, if you want to make music for as many people as possible, just come out and say it. Don't say, "I want to be indie." "I'm just going to be an independent artist." And, really, secretly wish that you wanted to be a pop star.  Because from the very beginning it's disingenuous. There's nothing wrong with saying I want to play music for as many people as possible, without compromising the things that I have to be as an artist. And that's what I've done.
Sony Music doesn't come into the studio when I'm making a record but I also know what's going to be a hit or what stands the chance of being a hit, and what just doesn't. And it's a level of honesty with yourself that you have to have before you hand your music out to anybody else.
So that's sort of what I want to say about expectations. If you only recognize success as a record deal and a big fat Publishers Clearing House oversized Tiger Woods check. And a dinner and then going to the top of the roof and screaming, "I made it!"  Most of you will be stunning failures.
Rule #2: Stay True To Your Instincs
I've stayed pretty true to whatever my instincts are as an artist. Sometimes for worse, at first. Because I think when you do something that's out of the norm, you have to keep doing it for a little while to make it your own norm.
So it's an exciting idea to me that I could be putting a record out and being able to be my own person, to not have to think about what I can't say or can't do because I don't want to lose people's understanding of what I do as a convention, you know? So, I'm really excited about the idea of people going, "Oh, no, that's him, that's him."
Rule #3: Just Do It!
I think that I've got to make a record that is the ultimate, sort of, here I am. You know? So I think it's time to go back and, you know, it's like in the movies where the ex-marine grows the long beard and long hair and takes off to, like, Tibet or something.
And then there's always a moment, he's, "I don't do that any more."  And then he shows up at the Pentagon and he's totally clean shaven, and he's like, "Where do we start?"  I may be shaving the beard soon. I'm getting kind of this place in my life where if you can, man, just do it. You know? I went, I had this moment where, in my youth, I was really frenetic.
And everything was like bluh, bluh, bluh, bluh, bluh. And then I hit this mode where it was like less is more. And, now, as I get into my later 30s, I'm like, "If you can do it, do it all the time." You know?  Do it all the time, as long as you can do it. Do a, just shred. Show people what you can do. You know, so it's a sort of this arc also of how fancy you think you are, find yourself to be.
Rule #4: Keep Changing Positively
You know, people on the message boards and websites always talk about, "He's changing." You know? I don't think you could expect a 21-year-old kid to stay a 21-year-old kid when he's 31. So, yeah. The answer is yup. I've changed a lot. And I predict I will continue to change, you know? But that's not a dirty word. And that's not a dirty idea. As long as that change is reflected positively. And being on stage and playing. And continuing the story.
Rule #5: Pick Yourself Up
Interviewer: I think I'm right in saying there was some time when you considered quitting music. Is that true?
Yeah. Yeah, I've always thought I… There was one time in particular, yeah.
Interviewer: And sort of going on to studying design or something that's always been a passion of yours?
Yeah, I like, I really love design. Actually, I had just finished making Continuum. Handed it in. And my manager played it for the head of the label. And I was, "What'd he say? "What'd he say? "What'd he say?" And the call, I remember where I was, the call came in and he said, "He doesn't hear anything on it. "
He doesn't hear a hit. "Wants you to go back and write some more stuff." And I was just like, how can you not hear how special this record is? And I just thought, if I can't do this, if I can't do this, I'm done. And the record went on to be really, really successful.
And my most successful record to date, I think. And it taught me a big lesson, which is, like, listen to someone's record twice before, You give a point of view on it. So now if anyone ever plays me a song, I go, play it again. When people, a lot of times assume what it is they must be saying to you.
And so, but that, that day I'd thought I'm just going to go to Parsons and I love design. And I love where it's heading and I want to have something to do with it, and. But I'm still an amateur at it, but.
And how long did that feelings of disillusionment, well, that specific feeling of disillusionment last for?
Couple days.
Interviewer: Okay, right.
But then, you-
That's okay, then, yeah?
Yeah, couple days. Then you pick yourself up off the floor. But, I didn't say like, hey, I'm going to quit music and-
Interviewer: You didn't sign anything.
You know, go smoke crack. I said I'm going to quit music and go to school.  Which, I would've promptly dropped out of to start my own design company.  Because I have to do those kind of things. I can't actually follow the curriculum.
Rule #6: Start From Zero
I just feel like the process of starting over again, which you do every time you make a new record. You have to, kind of, it's a kind of a controlled demolition of what it was that you had. And maybe I'm a little, I don't know. Maybe I'm covering for the fact that I'm frightened about how do I follow up a record with another record. I don't. I demolish it. And follow up with a new first record.
You know, I've never made a second record in my life. I make new first records, you know? And I'm excited to, you know, demolish Continuum. You know, there's a little bit of murder involved in art. You kind of have to, it's a little murderous. You know, you have to kill what it was that was so alive in order to find new life somewhere else, you know? The only way I know how to preserve myself is to start the process over again.
I really am frightened by the process of making a record that people really enjoy or react to. It makes ripples in the world. And then go do it again. No. I'll do, I'll start from zero again. That I can do. To start from success and get more successful is kind of the recipe for disaster. The recipe for unhappiness, you know? I'm not going to ever make Room for Squares part two. Or Heavier Things part two. Or Continuum part two. You know? It's some other thing part one.
Rule #7: Work On Your Thing
Everything you learn, it's just raw information. What you should start doing is seeing yourself as a separate being from anyone else in this room. You, each and every one of you now, I want to go home and put an incorporated after your name in your head.
You are now a being, an incorp, you are incorporated. You are now going to take information and go, "Ah, I could use that for this and that and that." Don't show your cards to anybody else. Some guy comes along, he sounds like, he thinks he sounds better than. Eh, maybe you do, maybe you don't.
But work on your thing. And then you can figure out what makes you, you. Artistically. And then you can access information. When I go into the studio, when I sit in with an artist, I'm accessing information. I'm not access, it's like a library.
I go, I'm going to take this out, and this. It's sort of like being a DJ. Duh duh duh duh duh. This, this'll work, this'll work. But not by way of just playing everything. And that's what I wish people could do more. I don't know if you can do it real time.
I don't know, maybe this is just a time you get everything and you worry about sort of figuring it out later. But I think it'd be an interesting idea to look at the information, learn it, and then immediately start figuring out how you use it or how you don't use it.
You know, a drummer is overplaying. Guitar player is overplaying. Singers over-sing and songwriters over-write. So it's a matter of how you begin to shape. Anybody ever jam? And they jam too much and they run out of ideas. And they get that itchy feeling on the way home, like they just gave up too much. Like they just, somehow, sort of empty.
I played everything and I saw the end of my own musical existence from the dirt.  I was just ended up on the, in the rough of the golf course. I don't, ugh.  That is just a misappropriation of what you know. You've just, all of the sudden, gotten to the bottom of the trick bag and there was a hole in it. And you just go, ew, why did we, we jammed on E for an hour.
Rule #8: You're Never Going To Do It Seamlessly
I wrote, I don't want to bring her into the conversation. But I wrote this new up and coming Australian rapper. I don't want to give her name away, because there's so many of them so I, and I said, "This is it." I said, "Don't be upset that you're feeling "like you're just an inch away from having your cake here. "This is the new way it's going to be. "You're never going to do it seamlessly."
Interviewer: Success comes with hatred now.
Yeah, it just comes with… Yeah, that's how we learn about things now. If I write, hey, I'm John. I just want to let you know that this feeling you're having that you've become successful but the world won't stop hating on you. This is not a broken version of success. This is the new version of success.
Rule #9: Compromise
I have a certain gene in my body that allows me to understand what someone else is saying when they say, "We want to sell a lot of these things." Like, I don't see selling a bunch of something as the opposite of it being interesting or important or meaningful. I've always had… I've always seen it from both sides, you know? And it's a really interesting place that I'm in right now.
You do have to balance, you know? If you saw my iTunes playlist, I could, I could, I could have a conversation with anybody at Stereogum or Pitchfork, you know? But what I do with Columbia Records, as the artist that I am with the records that I make, under the contract that I have, I'm taking all of my influences and I'm trying to convert them into pop music.
That's my job right now. It's not the only thing I can do, and it's not the only thing I will do. But as long as I'm still trying to make pop songs, I want to play by pop rules, you know? I want to listen to Top 20 and figure out what's going on. I don't want to fall behind.
I'm trying to take all the elements of music that I love, that I'm well-versed in and convert them into music that a lot of people can get into. I don't know why I do that. A lot of people can't. A lot of people find the compromise maddening. I see it as another challenge, and I see it as another talent, you know? Like, the ultimate talent of restraint.
Rule #10: The Public Is Always Smarter Than You
Who in here thinks that the public is mostly dumb?  Do you think the public is mostly dumb? Let me tell you something. The public is about 300 million times smarter than you. Public is not dumb. For those of you who said, "Yes, I want to be a pop star." And "Yes, I would like to have a record deal." And "Yes, I'd like to make this happen."
The first thing you should know is that the public is always smarter than you. If you put a song out and you go  that's it. That's it. Watch it go. Light fuse. Stand back. Everybody, stand back. It's going to be a hit. It's going to be a hit. It's going to be a hit. And it goes like this.  Who is smarter than who?  Your big smart pop song went nowhere.
The public just told you, hey. They're smarter than you are on that one. Because you said you had it and they said, "I don't think so." And you didn't have it.  So they're smarter than you. And that's what you have to deal with. They're smarter.  Here's where the public is smarter than you. I wanted a song called Come Back To Bed, I thought it was going to be huge.
I thought it could change people's minds about stuff. No, I'm going to make you like stuff you don't like because it's good enough. Hey, I don't know about that. And the song didn't work and I was disheartened. And then they said, "What about Daughters?" "Could you put Daughters out?" Now, I had thought. Again, public's smarter than me.
I thought that that's just this little song that lives on the record. That's like track eight. It's track nine. It's the one you discover three months in, like, "Oh, this is here."  And they said, "No." They've researched it. They really want this to go. I think it can be a hit.
And I was like, "I don't want it to be a hit."  "I would rather not have a hit with this song. "Because this song is going to peg me forever "as sensitive, songwriter guy."  And I gave myself sort of a three strikes and you're out rule, and I thought Daughters would've been somewhat of the third strike.
And the worst thing I could've ever thought of was being the artist where they go, the record company says, "Look, you give us the three we want, and you know we want. "And you can do whatever you want to do." I'm sure there's some songs on Nickelback records that Nickelback loves.
Somewhere in the back there, nine, 10, 11.  I'm sure, now, you've got to imagine. You've got to imagine there's ones on the set list when they get up to it, they're like, "Yeah, I can't wait to play this one."  Thank God I was able to write those other three that I know they needed and I don't mind making but. Okay, you know?  So, I say, "Please."
I get on the phone with Don Ienner, at the time was, I think, sort of just the head of all music.  And I said, "Don, I can't do it. "Don, you realize if I do this, "I'm going to be sensitive singer-songwriter guy, "for the rest of my life and I'm too young.
"I'm too young to be anything."  "But a guy who can put out whatever he wants." I said, "Fine, fine." You know, I get it, I get it. We won't put it out. If you don't want it, we won't put it out. And it made it out. I don't know how. It leaked.  But how upset can I be because it won song of the year, that year, for Daughters.
Thank You
Thank you so much. I made this because Mineah asked me to. I hope I pronounced that properly. So if there's a famous entrepreneur that you want me to profile next, leave it in the comments below.
And I'll see what I can do. I'd also love to know which of John Mayer's top 10 rules meant the most to you, had the biggest impact. Leave it in the comments below. And I'll join in the discussion. Thank you so much. Continue to believe and I'll see you soon.
Summary
John Mayer's Rules
I hope you enjoyed this article, make sure to check my John Mayer video on his Top 10 Rules For Success as well.
---
You might also like
---