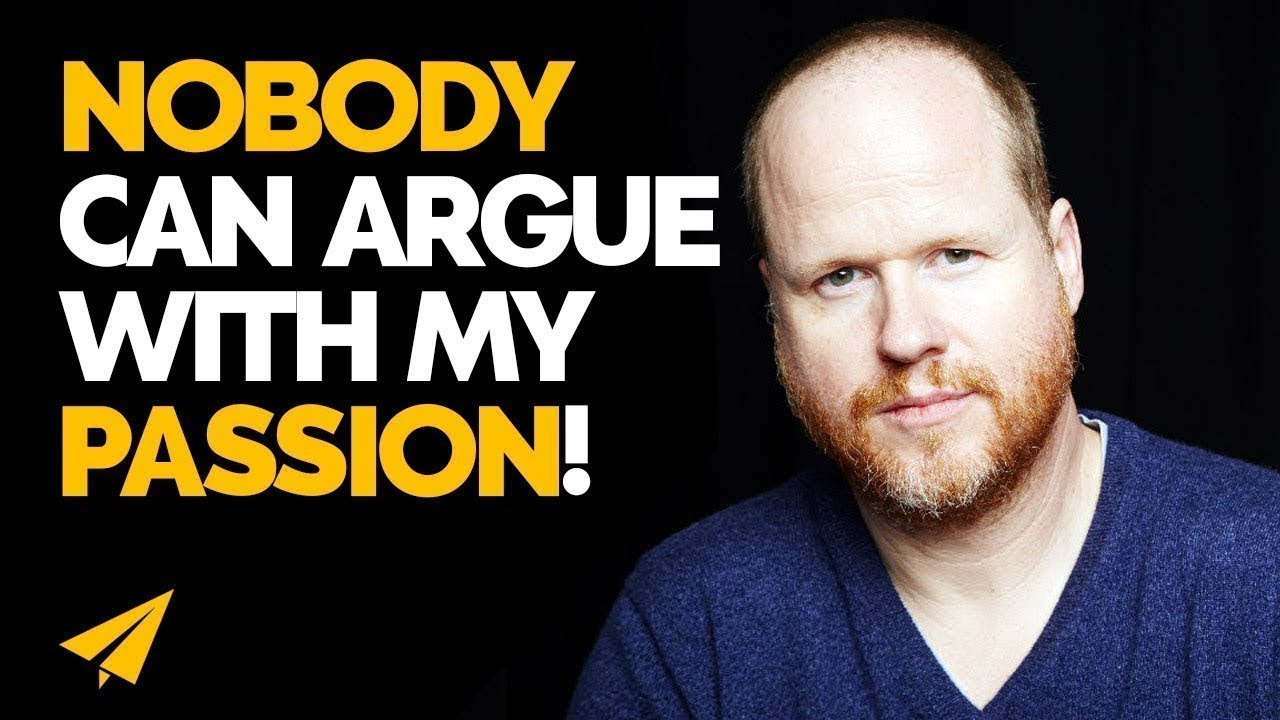 Famous Entrepreneur Quotes
Joss Whedon's Quotes
"To accept duality is to earn identity. And identity is something that you are constantly earning. It is not just who you are. It is a process that you must be active in."
"I never studied writing, I just sort of had to learn on the job."
"I treat film like the military. I always have."
Joss Whedon's Top 10 Entrepreneurship Rules For Business and Success
Today we're going to learn from director Joss Whedon and my take on his top ten rules for success.
Rule #1. Avoid Toxic People
Interviewer: Do you like actors?  Generally speaking?  I'll just, I'll be back in a couple of minutes.
The weird thing is-
Interviewer: La la la la la la.
As many of my best friends are actors as writers. I love actors, and I did not think… I had served… Again, in the old school, it's an adversarial relationship. And I've worked with my share of divas. But, I also have enormous respect for divas. They're usually people who do something extraordinary, and know it, and show up and do it. And you have to deal with a lot of other stuff. But they usually come in and say, you're going to have to deal with a lot of other stuff. I'm a diva. So here we go.
And then you get this beautiful work, and you're like, okay, thanks for the heads up. Really toxic people, I avoid. I cast for sanity. That's a very important thing to me. But toxic people are different than divas. Divas are complicated, but they know that there is a simplicity to what they're going to give you that you need and want. Truly toxic people are just about trying to tear something down. Whether it's somebody else in the thing. Whether it's the story. They're about power. Those people have no business in my life, and, as far as I'm concerned, in the industry.
Rule #2. #Believe
As a filmmaker, you have to… It's sort of the bad teacher thing. You have to be sure. When you're working for somebody else, that's it, they're the boss. I treat film like the military. I always have. Film and television. When I'm working for someone, and they're telling… If they're Henry Fonda in Fort Apache and they're making all the wrong decisions, I listen to them. Because someday, I'm going to take over, and I'm going to expect the same thing.
And it's not that I don't want dissent or I don't want a creative collaboration, that's very exciting for me. But you have to be in charge, know what you want, and know that you have the ability to get that. And requires a lot of fierceness and a lot of belief. More belief than other people are going to have in you. When I shot… The first thing I ever shot was a pilot presentation for Buffy, and it was a nightmare. None of the crew understood what I was trying to do, or thought I could do it.
And there was a point when I just wanted to fold. I was just… Can I please go home now? And be a writer. But I was miserable just being a writer because I wasn't creating the thing whole that I wanted to. And at some point in the shoot, I just said to myself, this is it, this is your pep talk. You're either going to go home and regret it for the rest of your life, or you're going to go in there and run this thing. And I never looked back.
Rule #3. Discover Your Love
Interviewer: Your first work, it was a television job. I think it's Roseanne, is that correct?
Joss: Yeah, that was my first job.
Interviewer: So was that, did you always want to do television? I know you come from a television family. Or did you go out to Hollywood to work in film or television? How did that work?
I would never do television. That was beneath me.  I studied film. And my best friend senior year used to taunt me. He's like, you're going to be a third generation television writer. I am not! Quit it. 3G TV.  He called me that all the time. And then I, I got out to Hollywood and discovered an incredible lack of money.
So I sort of started poking my nose around, and realized, oh, there's some very good television that's being made. And as soon as I started writing it, it was really the first writing I'd ever done. Other than my television specs that I wrote trying to get a job. That's when I fell in love with writing, was through television. And I had the privilege to work on Roseanne, which was the best show on. Really, it had a level of reality that no other show was really busting out just then.
Rule #4. Balance Your Art With What Sells
Interviewer: Was it difficult to push storyline like Willow and Tara's lesbian love on TV at the time?
No, we did it very gradually. I'm not sure they knew that that's what it was.  For sometime. Boy, that seems like a very intense spell they're casting. I'm like, yes!  Sorry, my voice is so loud in my ear that I… Again, I've always sort of approached things with the idea that whoever is giving me all that money to put it on is my partner. And that I'm not working against them. I'm trying to work with them.
I'm trying to find the space between my artistic expression, their commercial needs. And my artistic expression is commercial. I want to make things that people like. I'm not wearing a beret and sitting in a garret smoking.  'Cause it makes my stomach hurt. But, I understand what they need and what they want. And I like that. And I also think with audiences… I used to say, we could of made Buffy the lesbian separatist, but let's start with vampire slayer and let's see where it turns.
You always want to sort of get people at the edge of their comfort level. There are a lot of things that I do that people are like, whoa, that's pretty edgy. I'm like, really? I don't… It surprises me that it's not more mainstream.
Rule #5. Take The Path Less Traveled
Let's just say hypothetically that two roads diverged in a wood. And you took the path less traveled. Part of you is just going, look at that path! Over there is much better. Everybody's traveling on it, and it's paved. There's like a Starbucks every 50 yards. This is wrong. On this one, there's nettles and Robert Frost's body and… Somebody should have moved that, I think. This feels weird. And not only is your mind telling you this, it is on that other path, it is behaving as though it is on that path.
It is doing the opposite of what you are doing. And for your entire life, you will be doing, on some level, the opposite, not only of what you are doing, but of what you think are. That is just going to go on. What you do with all your heart, you will do the opposite of. And what you need to do is to honor that. To understand it. To unearth it. To listen to this other voice. All right, I'm losing this now. Otherwise it's coming off in a dramatic fashion at the wrong time.
I know, I worked on this hair for a long time, so. I had to bust it out. You have, which is a rare thing, the ability and the responsibility to listen to the dissent in yourself. To at least give it the floor. Okay, because it is the key, not only to consciousness, but to real growth. To accept duality is to earn identity. And identity is something that you are constantly earning. It is not just who you are. It is a process that you must be active in.
And it's not parroting your parents or even the thoughts of your learned teachers. It is now, more than ever, about understanding yourself so you can become yourself. And I talk about this contradiction and this tension, there's two thing I want to say about it. One, it never goes away. And if you think that achieving something, if you think that solving something, if you think a career or a relationship will quiet that voice, it will not.
If you think that happiness means total peace, you will never be happy. Peace comes from the acceptance of the part of you that can never be at peace, that will always be in conflict. If you accept that, everything gets a lot better. The other reason is because you are establishing your identities and your beliefs, you need to argue yourself down because somebody else will. Somebody's going to come at you, and whatever your belief, your idea, your ambition, somebody's going to question it. And unless you have first, you won't be able to answer back. You won't be able to hold your ground. You don't believe me, try taking a stand on just one leg. You need to see both sides.
Rule #6. Learn By Doing
Because I never studied writing, I just sort of had to learn on the job. My entire family, my mother, my father, everyone around them, teachers and writers. Very erudite, very articulate people. It was kind of hard for me to sort of find a voice. But it took me just training on the job, working relentlessly since the day I started, to sort of discover what it was that I was doing and sort of discover the structure behind the voices that I was creating.
Rule #7. Let Your Team Be Your Secret
Interviewer: How did you settle on Much Ado? Is it your favorite Shakespeare play, or is it just…
It's up there. It's not my very favorite. But it is, it's one we always talked about doing because we knew Amy and Alexis should definitely be Beatrice and Benedick. And it's all in one place. It's sort of low stress. But for years, I just didn't have a take on the material. And then, finally, when I realized I did, I said, okay, it's go time. And that really, that movie exists because of years and years of working with actors that I absolutely knew could do that as though it were live theater.
Could walk on set and never get it wrong. Because the schedule was exactly the same as a TV show. No, actually it was worse. It was actually tighter than a regular network TV show. Obviously the language slightly different. And no stage directions practically. So it was like a  ton of work everyday. You can only do that when you know you have an ensemble who is that is just strength to strength. So it's really them. They're my secret. I mean, mine, my secret.
Rule #8. Do Things Your Way
The pressure isn't greater if you have characters that already exist or, in the case of the Avengers, some of them had been cast and had their own films. Some of them were beloved from comics but we were reinventing them for the films. Meeting everybody's expectations really just means meeting your own. It means that you understand these voices, and that the people that you're making the film for hear them the same way you do.
The people at Marvel are very clear that when you make a film of a comic book or when you make a film with a character from another film, you cannot do exactly what was done before. You have to translate it to your own film. You do it in their style, in their sort of house style of Marvel, which I grew up with. And I feel I understand pretty well. But you have to make it personal. You have to translate it to a new audience, to somebody who hasn't seen or read or any of the other things, while keeping the essence of the thing.
Somebody will always argue. That's the way you do it. But nobody can argue with my passion for doing it. And I think that's what the people are really looking for, more than the specifics of well, in the comics, his costumes has epaulets up here. Why didn't you blah blah blah!
Rule #9. Recognize Your Mistakes
Interviewer: You had a really wonderful two years. You've had a –
It's over, is what you're saying.
Interviewer: No, no, no, no!
You had a good run, thank you for coming.
Interviewer: How do you feel about where you are right now? Are you-
That it's over.
Interviewer: Yeah, that's how we always feel, right?
Yeah. This is a bad one. I mean, I know that you get that after any project probably.
Interviewer: It's over. The jig is up. They're going to know.
Yep. It's worse this time. Partially because of the Ultron thing, which was difficult. And I… I should just say, because I feel like, I feel like part of… Ultron, I am very proud of. There were things that did not meet my expectations of myself. Then I was so beaten down by the process. Some of that was conflict with Marvel, which is inevitable. But a lot of it was about my own work. And then, and I was also exhausted.
And then we went right away and did publicity. I sort of created the narrative wherein I have not quite accomplished it. And people just ran with that. So it became, well, it's okay. It could be better, but it's not Joss' fault. And I think that did a disservice to the movie and to the studio and to myself. Ultimately, it was not the right way to be because I am very proud of it. The things about it that are wrong frustrate me enormously.
And I had probably more of those than the other movies I've made. But, I also got to make, for the second time, an absurdly personal movie where I got to talk about how I felt about humanity and what it means in very esoteric and bizarre ways. For hundreds of millions of dollars. The fact that Marvel gave me that opportunity twice is so bonkers and so beautiful. And the fact that I come off of it feeling like a miserable failure is also bonkers, but not in a cute way.
It becomes problematic. And i don't know what it's like for you. I took my first vacation, ever, after that movie. And I don't mean ever, but my first vacation that was more than two weeks in 25 years except for one 4 month vacation where I wrote the Buffy musical.  That was lonely. And so, I really set out to do nothing, to accomplish nothing. And I'm proud to say that I have truly accomplished nothing.
Interviewer: Did you get there?
Yeah, I really, I got to a higher state of  it all.
Interviewer: For you, that's a major departure.
I'm proud. And I'm also… But my resting state is not a good one.
Interviewer: You work hard.
I work hard. I love to work. I love the work that I do. And I'm very happy and grateful about it. When I'm not doing it, I remember that I hate myself. So it's not good so much to be… So the vacation's over. Now I'm writing again, and so things-
Interviewer: Are you back at it? Do you feel-
Oh yeah.
Rule #10. Give Great Speeches
When I was sitting where you guys are sitting, the speaker was Bill Cosby. Funny man Bill Cosby. He was very funny, and he was very brief, and I think him for that. But, he gave us a message that I really took with me, that a lot of us never forgot. About changing the world. He said, you're not going to change the world, so don't try. That was it. He didn't buy that back at all. And then he complained about buying his daughter a car, and we left.
And I remember thinking, I think I could do better. I think maybe I could be a little more inspiring than that. And so, what I'd like to say to all of you is that you are all going to die.  Okay, so, this is a good commencement speech 'cause I'm figuring it's got to go up from here. It can only get better, so this is good. I mean, it can't get more depressing.
You have, in fact, already begun to die. 'Kay. You look great. Don't get me wrong. And you are youth and beauty. You are at your physical peak. Your bodies have just gotten off the ski slope on the peak of growth and potential. And now comes the black diamond mogul run to the grave.
Thank You!
Thank you guys so much for watching. I made this video because TellingItLikeItIs2000 asked me to. If there's someone you'd like me to profile in the next top 10, check out the link in the description, and go and cast your vote. I'd also love to know what was your favorite message from this video? What did you learn from this video that you're going to immediately apply somehow in your life or in your business? Please leave it down in the comments below. I'm really curious to find out.
I also want to give a quick shout to Oskar Andermo. Oskar, thank you so much for picking up a copy of my book, Your One Word, doing a review on your YouTube channel, and posting it on your Twitter account as well. I really, really, really appreciate the support, man. And I'm so glad that you enjoyed the book.
Today's book report is the One Word by Evan Carmichael.
So thank you guys again for watching. I believe in you. I hope you continue to believe in yourself and whatever your one word is. Much love, I'll see you soon.
---
BONUS
Find The Heart Of The Thing
Audience member: If there's a story you like, it doesn't have to be Shakespeare, that you haven't written, it's a universe you haven't created, what about it has to be artistically fulfilling or challenging for you to pursue it? Because for me, what was surprising about you doing Shakespeare wasn't that it's not sci-fi or fantasy, it's that you, for the first time in a long time, worked on a project you hadn't written, and it wasn't a universe that you had created.
Yeah, really the only things I directed that I hadn't written at all were episodes of the Office and Glee because I loved those shows, and I knew the people who were doing them. I was going to say I had free time, but I'm pretty sure, I mean, my career was on the skids. Something like the Avengers, it's been cast, there's a whole huge history that I know. It's all… If you can't find your own way in, then you just don't do it.
The fact of the matter is, because I've been a script doctor, before I was a showrunner, I was used to coming in where things were already set. After the pilot of a show, a lot of the work's been done. And you're interpreting what you've got there. When you come in as a script doctor, they're like, and then he goes into a plane. I'm like, I have a way better idea that we already bought the plane. It's good. I know. It's good. I make it work.
I'm going to work with the plane. It's a good, it's a good idea. So, you sort of you have to find the heart of the thing. You find your heart of the thing. With Marvel, I said, look, I know what you want. This is what I want. I want to make a war movie. I want to make the Dirty Dozen. I want to make Blackhawk Down. I don't want to make any squeaky clean, perfect. I want to take a toll on these guys. And they're like, we get that, we love it.
Do it in the mighty Marvel manner, and everybody wins. So, we knew going in that I had my obsessions and that they fit in that universe With this, it's a question of interpreting his work the way I would, which is in a depressing fashion.  It's very easy to fall in love with something. What? The entire world is covered with water? Include me in.  And yes, you can get heartbroken, but you have to start that way.
The parameters, they always exist. If you're doing a genre, if you're doing… It's a comedy. They must laugh. Already the page is not totally blank. So, how much of it is filled in? Whether it's completely written like this. Whether it's, where there are a lot of elements that are set, like the Avengers. Or whether it's a show that's yours, but it's been on for three years. You always have to find the new way in.
Understand Big & SmallS
How do you go from super-big budget Avengers to this? Compressed, 12 day shoot in your home.
Honestly, there's no difference between the big movies and the little ones for me. You're always fighting everybody's schedule. In this case, because they all had day jobs. In the other case, because they were all famous. You're always getting your set at the last minute. You're always behind. You're always worried about the same things. You're always trying to communicate the same things. Shooting is shooting. Storytelling is storytelling.
Be A Storyteller
If you're not writing about yourself, why are you writing? For me, if you're not telling a story… Spinning a yarn is fine, and there are some people who are great at it. And they're great at things that I'm not great at. Like intricate heist plots and things. That I admire and envy, but… If you're sitting down to write something or make something that's going to take three years out of your life, why would you not want to tell people something that's important to you to say?
I don't mean a moral. I just mean an examination of the human condition. You want, you want to be able to talk about the politics of personality. And that's something it took me a while to find. I started to find it on Alien Resurrection, which is the last thing I wrote before Buffy, before the show. That was the first time I went, oh, this is a metaphor. And the only way this works is if I feel the way she feels.
And that was sort of the beginning of becoming a storyteller, instead of a yarn spinner. And to me, if I can't do that, if I can't make that connection, then I'm wasting people's time. And as much as I may look back at anything I've made and go, flawed, flawed, flawed, flawed, flawed, embarrassing, embarrassing, I never feel like I did that. I never feel like, well, I wasted some of his time. That's the biggest brag I'm going to give you.
Summary
Rule number two is my personal favorite, and I'd love to know which one you guys like the best.
Joss Whedon's Rules
BONUS
I hope you enjoyed this article, make sure to check my Joss Whedon video on his Top 10 Rules For Success as well.
---
You might also like
---