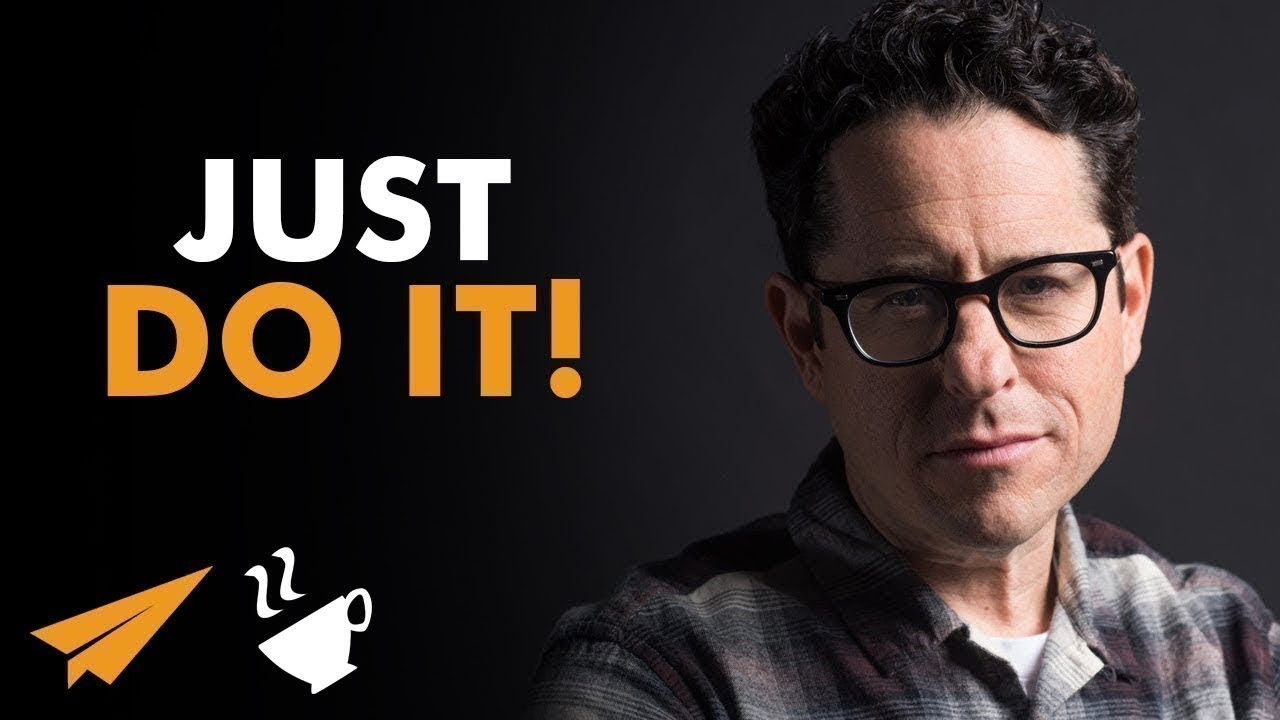 Good morning Believe Nation! 
Today's message is just do it. Over to you, J.J. Abrhams.
J.J. Abrhams.
Because the resources have been so limited for so long, there are a lot of people who would say, god, if I only had access to a camera I would make a movie. There's a lot of talk about it.
I remember when I was in college, I spent most of my time in my room writing screenplays. Really bad screenplays, but I was in my room doing that, when I probably should have been studying or something. There are a lot of people I remember at parties who would talk about writing and that they want to be a writer.
But I would also notice that they were out every time I happened to go out, they would always be out and I just know that their people who talk about what they'd do if, but they're not actually doing anything. And so, it's a lot easier actually, to write a screenplay than you think it is. Might not be good, but most people talk about writing screenplays but don't actually write them. The people who write them, you're already like in the top 10%, because you've actually written it.
…
Evan Carmichael
To achieve your goal in business, you need to think big and start small. To achieve your goal in business, you need to think big and start small. Be the CEO and the janitor, both. Too many entrepreneurs just want to be the CEO, just want to be the visionary, just want to come up with all the ideas. But you don't want to do any of the work and you need both.
You need the vision, you need the guidance, you need the high level thinking, but you need to do the work. The janitor does the work. And that's what so many entrepreneurs are missing. You just want to play in the big picture, but you don't actually want to get anything done.
And if that's you, then your ideas going to die with you. You're going to die this really bitter old person, who always had these big visionary ideas, but never had the team to do it.
Never had the resources to do it. Never had the support to do it and whatever excuse you want to throw out there. But really, it's because you didn't want to get down in the trenches and clean the toilet. You didn't want to do the grungy, grimey, hustle daily, in and out work.
And at the start, you need to do the work. Like, yes, as you get up, as you build a team, as you start having success, you can move higher and higher up the chain and just be more of that visionary.
"To achieve your goal in business, you need to think big and start small." – Evan Carmichael
But at the start, when it's just you, you got to do everything. You got to hustle it out. If I look at this YouTube channel, I started doing everything. In my first video, I collabed with a friend of mine, he helped me film it, but most of my videos at the start, were me.
Me with a camera, with no lighting and no microphone and sometimes it was wobbly and the focus was out and it was hard to see me. Me doing the editing, which was Windows Movie Maker at the beginning.
Very basic, very simple, very plain. Me doing the naming, me doing the tagging, me doing the promotion, me doing the background research, me doing the in front of the camera stuff, me doing the audio recording. Everything, me, it was me, I did everything.
I planned everything from a CEO level and then I did all the work from a janitor level. And as I built it up to the point where I started making some money, I started handing off some of those tasks. And that let me go from a video a week, to a video a day. And I moved closer and closer and closer up the chain to the point where now I'm guiding everything, I'm still the on camera talent. Right, I still do this work 'cause I love it.
Not only because I'm good at it and getting better, but I love it. This is what I love doing. I still review every video that goes out and all the research behind it, 'cause I love it, 'cause I learn from it. 'cause I care about the product that we're creating.
But my team puts all that together. You know, even this. We use Evernote, oh let me load it up. You know, I use Evernote here and I got a list of all the topics I need to talk about today.
All the topics, who I'm doing shout outs for, where the research is, what the clips is that I need to watch. All of that stuff, my team puts together for me. This thing gets filmed, I have Jason behind the camera filming it for me. He's going to send it to Christine, my video editor.
We've got three editors who are going to cut it all up, post to the YouTube channel, title it, descriptions, tags, playlists, all of that stuff that goes up. And I'm guiding it from a high level. But I built it up to that point. If I was just starting out and that was my idea. Like, I'm going to do this and I'm going to wait for other people to do things for me, it's not going to happen.
"To achieve your goal, you need to think big and act small." – Evan Carmichael
And so it's thinking big, I love it, think big, you need it, 'cause a lot of people don't think big enough and they stay stuck being a janitor for their entire life. Think big, it's great, but start. Be the janitor too and work your way up.
Add more value, focus on what you can add the most value to, so you can bring on people to alleviate some of the tasks for you and help you build closer to that big thing you want to do. To achieve your goal, you need to think big and act small.
…
So question day today is, I want an example task, from you guys, your CEO task and a janitor task. The big and the small.
Give one example of both that you're currently doing today in your business or plan to do today in your business, one CEO task, one janitor task. Write in the comments below and we'll join in the discussion.
I also want to give a quick shout out to Kate Maree O'Brien. Kate, thank you so much for picking up a copy of my book, Your One Word, I really appreciate the support and I hope you're enjoying it.
Thank you guys so much for watching, I believe in you. I hope you continue to believe in yourself and whatever your one word is and I'll see you again tomorrow morning for another shot of entspresso.
---
BONUS
James Cameron
Just do it, just pick up a camera and start shooting something. Don't wait to be asked because nobody's going to ask you and don't wait for the perfect conditions because they'll never be perfect.
It's a little bit like having a child. If you wait until the right time to have a child, you'll die childless. And I think film-making is very much the same thing, you just have to take the plunge and just start shooting something. Even if it's bad, you can always hide it, but you will learn something.
Steven Spielberg
Steven: It was a lot harder to get started when I was growing up and wanting to be a movie director, almost at 12 years old because when I first picked up a camera-
Tom: Where were you living when you first-
Steven: Scottsdale.
Tom: You were in Arizona?
Steven: I was looking for a way to fulfill the requirements to get a photography merit badge. I was in the Boy Scouts of America. And-
Tom: Did you want to be a filmmaker before?
Steven: No, I didn't want to be a filmmaker at all, I just wanted to be an Eagle Scout. That was my only aspiration, I wanted to get the highest rank I could in Scouting. And so on my way to being an Eagle Scout, I had to get a certain requisite amount of merit badges and one of them I wanted to get was photography.
And a requirement was, to tell a story with still photographs. And my Dad's camera broke, he did not have a still camera, like the Brownie Kodak that he had, wasn't working. But he did have an 8mm Kodak, 8mm movie camera and I went to the Scout Master and I said, can we change the rules, just so I can tell a story on film?
Because we don't have a still camera. And the Scout Master said, go ahead and do it. So, I got three minutes worth of film, which is, by the way, all those cameras used to take these little three minute rolls of film. And I made this Western on a weekend-
Tom: How did you edit? Did you camera cut?
Steven: In camera cut. You know a little shot, my friends in cowboy outfits robbing a stagecoach, which was sort of an exhibit outside of place called Pinnacle Peak Patio. A restaurant which is still there, outside of Scottsdale.
Tom: How did you know to camera cut?
Steven: I just figured, you know, you do a shot in this direction, the bad guys with their guns and masks on, my sisters played the damsels in distress in the stagecoach, giving away their costume jewelry, well, my mother's jewelry.
I didn't tell we took my Mom's jewelry, to give away to 12 year olds, you know, pretending to be robbers. And I made this little movie and then showed it to the Boy Scouts troop that weekend and they all went crazy for it. They screamed and applauded. I suddenly got bitten by that bug and I wanted to do this for the rest of my life.
It was like, became so clear to me. But it was hard then because to make movies, you had to pay for film, pay for developing of the film. So, I had to go to my Dad to say, Dad, I'll earn some money but I can't earn all the money, 'cause I have to go to school. I can't get a job to earn the money to pay for all this equipment.
So my Dad helped me. However, today it's easier. Today, everybody seems to have a camcorder. Everybody has some high digital camera and it's a lot easier to get your hands on-
Tom: You can buy that editing program for the computer.
Steven: You can buy a software program for the computer and go out and make a movie and tell a story and figure out who you are as a storyteller. And so in a sense, it's easier today for young people to at least prove to themselves what they want to do for the rest of their lives or at least in the interim of the rest of their lives.
And it's also, if you get bitten by that bug, you can make a lot of little movies and some how, those films will get seen by people, hopefully, that will hire you to do a music video someday, or a tv commercial or a television show, or someday, a feature film.
Henry Rollins
I was very headstrong young person and by 1983 or 4, had started my own publishing company, to publish my own books. Realizing that no one else will publish me and I was right about that. And so my first book, I saved my food money from Black Flag, a little here, a little there, and I saved up enough to make a fold and staple book.
I couldn't type, so I hand wrote out the things and I made a dummy that I could offset, print, fold, and staple. And I sold them for $2. Mainly gave them away, but I sold enough, and they blew out, 500 just went.
And then I took that money to make another print run of that and from that money, I made my first paperback and 33 years later, that's a fully staffed company with books in translation and hardcover editions and the whole nine yards.
But it started with, I'm going to do my thing. I'll be City Lights Junior, without the talent.
I did that at the same time as I was doing my first spokenword gigs and why did I have the gumption and the audacity to start my own book company?
Because I come from punk rock. I come from watching Ian MacKaye invent Dischord Records, on his Mom's kitchen table. I come from folding and gluing picture sleeves together. Black Flag had their own label, of course you'd do it yourself.
You want to make a book?
Sit down and write it, then go to the printing place.
Where's the printer?
Get the phonebook and find a printer. We make records, make some books. You just do it. It's like you don't even think about it, you just do it. I'm sure that writing is just awful, but I did it. And without even hesitation, I'm making my own book companies. Stop me, I dare you. I never thought about it twice. Just because DIY, man. Like, let your voice be heard.
---
You might also like
---
More from Entspresso
---
Today's message is be confident. Good morning believe nation, it's Evan. My one word is believe and I believe that …