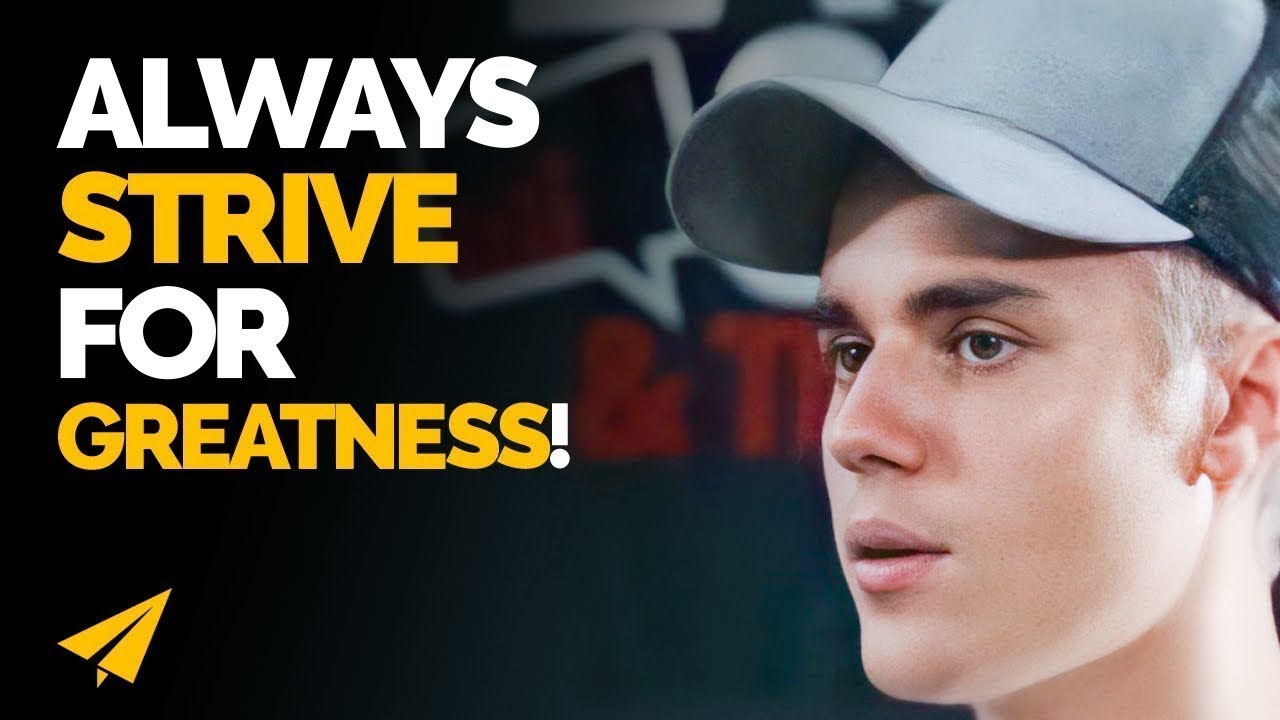 He's a Canadian singer and songwriter. He's the first artist to have seven songs from a debut album chart on the Billboard Hot 100. He's sold an estimated 100 million albums worldwide, making him one of the best selling artists of all time. He's Justin Bieber, and here's my take on his top 10 rules for success. 
Justin Bieber's Top 10 Entrepreneurship Rules For Business and Success
Rule #1: Show Some Love
Rule #2: Strive For Greatness
For sure, yeah, there's times where I'm just like, "Man, this is a lot, I just want to go home, "I'm just, like, exhausted, I'm tired," but I just also remember what I want in life and what I'm driving, like, striving for, and I'm striving for, um, the most, just the best career possible, and to have the most people be able to listen to my music and be touched by my music, so you got to do the other stuff that, not necessarily what you love, but it goes along with everything else.
Interviewer: What is your biggest regret?
My biggest regret is, uh, probably, um… I think everything that I did made me who I am today, and I have a story, and I just carry, there's a story in the Bible which talks about this dude who Jesus healed, and he said, "Pick up your mat and go," and so what that symbolizes, like, pick up your past, he was a paraplegic, and he's like, "Pick up this mat so you remember where you were." So, for me, I just remember where I was, and, you know, I'm not where I want to be necessarily, but I'm not where I used to be, and just keep it pushing.
Rule #3: Surround Yourself With Amazing People
Interviewer: You're a drummer.
Yeah.
Interviewer: I'm a drummer.
Really?
Interviewer: I am a drummer.
That's awesome.
Interviewer: You know what a paradiddle is and everything, right?
Yeah, yeah.
Interviewer: Just do a paradiddle right now, right. No way! Oh snap, this guy's a drummer, I like it! Okay, it wasn't just, like, a , your gig, sometimes you just tell the drummer, you go, "Take five, man, I got this," you start playin' it off, and now.
I've been playin' since I was two.
Interviewer: Really?
Yup.
Interviewer: So you're like a jack of all trades, I mean, you play guitar, you sing, you got rhythm, you play drums. What about doin', like, a solo album where you do everything on it? That ever crossed your mind?
That could be cool. I just, like, I'm so, like, there's so many amazing drummers and so many amazing guitar players, like, I'm not there yet. Like, I love playing guitar, I love drumming, but I'm not going to say that I'm excellent at it, like, I'm good, like, I'm really good…
Interviewer: It's something you love to do, right?
Yeah, they're, they're great, but like, there's people who, all they do is drum, all they do is play guitar, so I want those type of people on my album, you know?
Interviewer: Absolutely.
Rule #4: Show Your Emotions
It's like, people love vulnerability. 'Cause you're showing that you're human and you're showing that you're, like, you make mistakes and you are human and you, but it's just relatable.
Interviewer: There's strength in vulnerability, though, right?
Yeah.
Interviewer: There's strength in you coming out and explaining how vulnerable you are.
Yeah, for sure.
Interviewer: And how open you are.
For sure. And it takes a lot as a man, too, to be able to suck that pride up and not, and, because for a while I just, like, "You don't want to say sorry, you don't want to "feel like you're weak," you know, 'cause a lot of the times when you show, like, your emotions you feel weak, or people tell you that that's weak when you cry or when you do this.
I'm like, I'm a really emotional guy, so I'm like, I'm a crier, I'm someone who's, like, really, um, open with my emotions, and for a while I felt like I couldn't be, and I felt so guarded that I wasn't being able to be my true self, and like, that rock star lifestyle, that's just, like, it was cool and it was fun, it just wasn't me.
Rule #5: Have Confidence
Interviewer: One time, you're on stage and you're trying to, kick, like, a Jujube or something into the crowd, well, maybe you were on the side of the stage throwing it at 'em.
woman: What in the world are you talking about?
Yeah, we just were doin' crazy stuff, like, we used to have these, like, sound check parties, is that you're talkin' about?
Interviewer: Yeah, yeah, that's exactly what it was, yeah.
And before we do, like, weird games, and he'd throw somethin' to me, and I'd try to kick it, and I wouldn't stop until I got it. I'm like that type of dude. Like, the other day, I forget what it was, but they were like, "He's not going to stop," my boy's like, "He's just not going to stop, "he's going to do this until he makes it."
Interviewer: I saw it that day, so is it that competitiveness to where, like, when everybody's comin' down on you, you feel like the media isn't being fair to you, at some point, you got competitive and just started fightin' back, right?
Well, the thing is is that throughout it all, I always knew my talent level, and I knew what I was capable of, so I was never worried about coming back. You know, that might sound weird, and 'cause it was, I was such in a weird place, but I always knew what I was capable of, and at that time I was just growin' up and figuring myself out, and I just happened to be doin' it in a spotlight in front of people, so it was a little different.
You got to, you guys got to make your mistakes and no one got to see it, you know, and for me, it's like everyone gets to see it, and obviously I have more accessibility to do crazier stuff, 'cause I'm, you know, in this position, but yeah, dude, I just had to figure out what, like, I was, what kind of man I wanted to be.
Interviewer: And I thought, "Man, he's so lucky." Nothing happened, man, have you got any tips for me to try and get my luck.
I don't know if it's luck though, dude.
Interviewer: Just put me to bed. 
Rule #6: Break The Barriers
Of course, I'm making pop music, so it has to be popular, but what is popular, necessarily? Popular is popular when you make it popular. You know what I mean, it's not taking what's already popular and just, "Oh, this is popular, "I guess this is popular, too."
Interviewer: There's no stereotype for popular.
No, and I think when, like, I just want to break those barriers, we're already breaking the barriers with having EDM and pop mixed and playing on Top 40 radio, you know what I mean? So if we continue to just break those barriers, I think there's only goin' up from here.
Rule #7: Show The World Your Creativity
Woman Interviewer: So you just finished an album, right, just a few days ago, in Aussie? How hard is it to actually just finish an album and be like, "It's done, no more touch ups, no more credits."
It is, it's just, 'cause it never feels like it's done, right, it just never feels like it's quite good enough, and you just have to get it to a point where you're just, like, fine with it, and so I'm at the point where I'm just like, "It's as good as it's going to get "for right now, and I just want the world to hear it."
Interviewer: Who do you show it to? Like, do you show it to your mom, you know, do you get a few friends around?
I show it to all the people in my circle, and all the people who I respect and care what they think, but at the end of the day, I don't really take what they say, and it doesn't really matter to me, because everyone's creativity is their own creativity, so if you don't like it, that doesn't mean that this person over here is not going to like it, it's just a personal preference.
Rule #8: Find Success In The Work
Interviewer: How do you, Justin Bieber, measure success, do you measure it, like, what is, like, winning to you?
I mean, creating something that you love, or doing something that you love and being passionate about it, and like, it's not like I have to get a number one to succeed with this song, like, I succeeded when I recorded it, you know, 'cause I was able to do what I loved, and put it on pen and paper, and yeah.
Interviewer: And when you're making those songs and writing those songs and recording them, do you ever think about, "Oh, I wonder if the "public'll like this, or I wonder if fans will like it."
Yep, all the time. All the time, yeah, 'cause you never know what people are going to like, and, uh, I've, I've just got the point where just accepting what I feel, and just goin' with my gut.
Rule #9: Choose The Right Mentor
Interviewer: Now, all this happened because you were discovered in 2007 on your own YouTube channel.
Yeah, on my own YouTube in Canada, yeah.
Interviewer: So if kids want to set up a YouTube channel, do you have any tips for them?
I would just say, learn how to tag the video right, because that really, like, just put, like, cute kittens, 'cause a lot of people search cute kittens.
Interviewer: Would you say that's the number one, cute kittens?
Yeah, just tag yourself as, even if you don't have any cute kittens in the video, just say cute kittens, and I'm sure you'll get some likes.
Interviewer: Okay, and then so, this guy sees one of your videos, and is he still your manager?
Scooter's still my manager, yep.
Interviewer: And how does it work, your relationship with Scooter? Does he do everything you say, do you do everything he says? Have you had a row, did you split up, did you get back together, are your songs about him?
My songs aren't about him, no, he's someone who's probably one of the most talented businessmen that I've ever met, but he's also someone who really cares. You know, it's not all about the money for him, it's about being passionate about what he loves, and you got a great family and someone who will just, yeah, he's awesome.
Rule #10: Have Fun
---
Thank You
Thank you guys, I made this because Rodrigo Niz asked me to, so if there's a famous entrepreneur that you want me to profile next, leave it down in the comments below, and I'll see what I can do.
I'd also love to know, what did Justin say that really had an impact on you, what words of wisdom kind of left a mark on you, leave it down in the comments, I'm going to join in the discussion, finally, I want to give a quick shout out to Kelly Quittenton, I hope I pronounced that okay.
Kelly bought 10 copies of my book. Thank you so much, Kelly, it really, really, really means a lot to me, so thank you guys again for watching, I believe in you, I hope you continue to believe in yourself, and whatever your one word is, much love, I'll see you soon.
---
BONUS
Stand For Something
Ignore The Stereotypes
Interviewer: What surprised you the most of actually being in person and working with Justin Bieber, you know, from all the stuff, you know, all the stereotypes and everything you hear on the media or whatever, maybe, what surprised you the most?
Justin Bieber Working Mate: Doesn't even matter what anybody says, he's the most talented, gifted kid I've ever seen, like, everything, he can skateboard, he can, like, beat everyone at ping pong and pool. He got like, when I got the, I actually showed him the Isle Hawk, and he got right on it, was doin', like, one footed tricks, and like, he's just so talented and competitive, and wants to be good at everything.
He's also a really polite, sweet person as well, like, bringin' my friends into the studio, and just other, you know, artists that I bring on to the project to help collaborate on the record, he's just, you know, he's on fire right now, and I think he's reinspired.
Interviewer: During that experience that you had with Justin Bieber, is there a story that you think will stand out? That you'll be telling in the future to, like, your grandchildren and whatnot, like something that went down in studio that was hilarious or so weird or funky that went down?
Justin Bieber Working Mate: On the real, I'm decent at skateboarding, for not being, like a skateboarder, he almost beat me in a game of Skate.
Interviewer: Straight up.
Woman: Almost being the key word.
Justin Bieber Working Mate: Almost. It's debatable, but he, you know, like you have Horse when you play basketball, there's Skate, so you land a trick, or you do a trick, you land it, if the other person doesn't land it, you get a letter, S-K-A-T-E. So we were playin' Skate, and he almost beat me, and I was really surprised that Justin Bieber almost beat me at a game of Skate.
That's what I'm saying, he's good at everything. He freestyles, like, sometimes we'll just make a beat, and then he'll get in the booth and just start freestyling, hilarious, like, comedian, and we'll just be sittin' there in stitches for, like, 10 minutes, not getting any work done, 'cause he's just, like, tellin' jokes.
Justin: I love that, I love that guy. That made me melt.
---
You might also like
---
More from Motivation
---
Watch Evan Carmichael's Top 10 Rules For Success video. Famous Entrepreneur Quotes Evan Carmichael's Quotes "Changing my environment had a dramatic impact …
Watch Mark Hamill's Top 10 Rules For Success video. Famous Entrepreneur Quotes Mark Hamill's Quotes "I love the allure, the danger, of …
Watch Brandon Beck's Top 10 Rules For Success video. Famous Entrepreneur Quotes Brandon Beck's Quotes "Whether you think you can do it, …