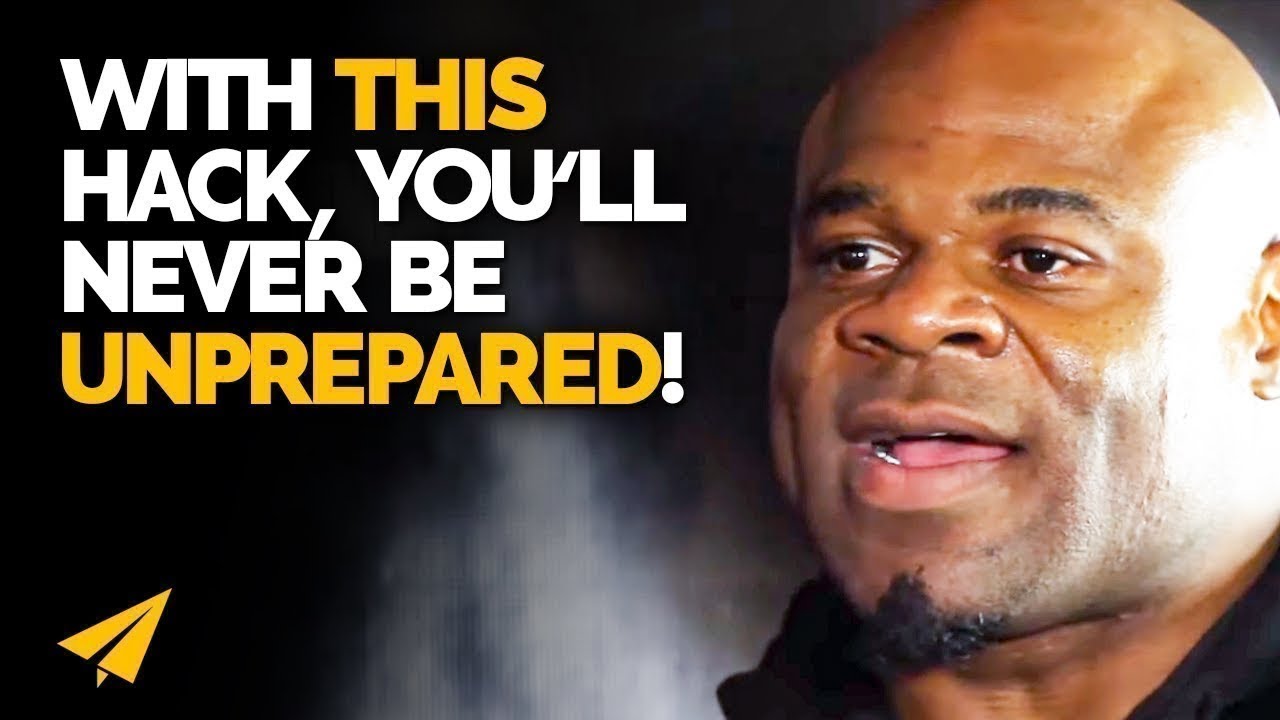 It's always worth it to do your best, and to believe in something, and to work towards the attainment of the goal.
There's a saying that says, "You could lead a horse to the water,"
Interviewer: But you can't…
"But you can't make them drink."
Plan, you plan. "But what about if this comes up?"
"You don't get caught off guard. Proper preparation prevents poor performance. You know, if you work hard, and your work is recognized, you know, the sky's the limit." – Kai Greene
Evan: He's an American professional body builder, personal trainer, artist and actor.
His most recent victory was the 2016 Arnold Classic. He also came second place in the 2012, 2013, and 2014 Mr. Olympia.
He's Kai Greene, and here's my take on his top ten rules for success. Rule #2 is my personal favorite, and make sure to stick around all the way to the end for some special bonus clips. Also, once Kai is talking, if he says something that really resonates with you, please leave it in the comments below, and put quotes around it so other people can be inspired as well. Enjoy.
Rule #1: Keep Going
2015 Mr. Olympia is fastly approaching and I am regrettably of the realization that I am not going to be allowed to compete. Let me just say that I have, I have invested more than 20 years of my life in the belief in the idea of being able to come to the Olympia, and to do an absolute best, despite whatever the opposition, whatever's said, whatever the beliefs are, onstage, offstage, whatever the oppositionary forces have been, my resolve has been to respond as a champion, and just aim to represent the better thought of what that means to me.
You don't get this far, you don't get to this point, and just stop. It doesn't happen like that. I am… I'm not a victim, I'm not a… They ain't going to break me, and I don't want to speak negatively at anybody. I don't want to speak negatively about anything, you know.
Let me just say that there's more going on than, than I'm able to say. It's not fair. I can't say that. What they're doing, what's being done, why it's actually happening, it is what it is.
You know, we talk about overcoming objections, and a lot of times we don't know exactly what those objections will be, and sometimes they can come up, and they can be so overwhelming that, wow, we didn't anticipate that, we didn't know, but we just… We got to still aim to do, and still believe and recognize that there are things that are…
"It's always worth it to do your best, and to believe in something, and to work towards the attainment of the goal, and if it is that you have to expand your vision, then you climb higher and you do that, and you don't be afraid to." – Kai Greene
2015 Olympia weekend is going to come I am a champion, as are you, not because of the trophies and titles, but because of the obstacles that you overcome, and the effort that you exert to find what it is to be your best, and to aim to do it because you decide to, and recognize that it is your right , and your responsibility to do so.
Rule #2: Believe
There's a lot of work that we're responsible for that other people can't do, you know. There's a saying that says, "You can lead a horse to the water,"
Interviewer: But you can't…
"But you can't make them drink." In the presence of common sense and rational thinking, when even in the throes of your despair, it is your responsibility, if you are willing to still commit to saving your own life, to hear that, and just walk towards that voice, you know.
So, you know, I want to recognize personal responsibility, you know, and in what we try to do here today, one of things that make, you know, body building a significant vehicle for therapy, and maybe even a tool, you know, towards personal development is just that.
You know, in order to be able to do this effectively, you have to recognize your personal responsibility.
"So, with that said, you know, I am going to submit to you that the word believe, believe is work." – Kai Greene
You can substitute work for believe, you know, because when I'm working, what are you working for? If you're working without a belief in the idea that you going to get paid, then what is your work for? What is the purpose?
So, I believe that, you know, to talk about believing is to talk about being willing to do the work.
Rule #3: Set Goals
First, let me say that I think the goals pretty much set the tone for everything else. So, you know, I guess when you think about goal setting, and when you really allow your goals to start becoming the lead to manage your steps, then your life path starts to become guided, and not just haphazard, and by chance.
You're goals become the predetermined address that will serve as a destination and end result, and now, with at least that, you're able to make decisions and map out a course, step by step if you will, that will help get you there.
The really cool thing about goal setting is that even if you do not have all the information beyond the address, like what streets, when and where to turn, with having the address, you can always type in GPS coordinate, and pretty much take advantage of other sensibilities that can help point you in the right direction.
A lot of times, you don't really need to have all of the guess work predetermined and already figured out, once you have the address, you're that much closer to being able to get where you're trying to go. As an athlete on stage, that's kind of what I'm using to help get me where I feel I need to be to perform at the maximum efficiency.
"So, yeah, goal setting is very, very, very important, and it's been very, very critical in helping me get from the beginning of my career to where I am presently." – Kai Greene
Rule #4: Plan To Prapare
Still don't feel like you've quite arrived at the right answer, right? You know, is this… "Okay, should I do three of these, or is it six? "Or is it 45 minutes, or is it an hour? "So I just go ahead and finish, you know, "get the two-hour session in.
"Hey, I feel this way. "Do I need to stop? "No, you know what, I know I feel this way, "but I need to continue. "Is it healthier for me to stop? "Oh no, no, I'm good, I'm good, I got it. "Let me continue, let me push it. "I know I said I was only going to have "this many grams of carbs today, "but is that light-headedness, "or is it that I just really want more carbs?" It's troubleshooting all day. "Should I take an extra two grams of protein? "Will it really matter? "How much sodium? "Dammit, you know, you can't eat out anymore. "I have two meals with me and then, you know, "the rest, you know, I can eat out for these next two meals."
No, you cook every meal. You prepare for all day. Your steps do not happen randomly by chance. Plan, you plan. "But what about if this comes up?" You don't get caught off guard. Proper preparation prevents poor performance.
"It's your responsibility to plan, to prepare. This is your dream." – Kai Greene
Rule #5: Manage Yourself
The achieving great things though comes from, you know, the ability to manage yourself very, very, very well, you know, or at least well enough where you almost become compulsive about getting certain things done, you know.
You have to set a standard for yourself that is very, very, very high, you know, and you have to manage yourself to keep your thoughts where they need to be in order to allow you to be successful at what you're trying to do.
One way you can say "Absolutely, I can," is not with your mouth, but with your actions, and actions are the product of thought, so if you're continuing to think like I was saying when we were training, "Am I doing this as good as I can? "Can I command more from myself? "Am I connecting with this muscle "as intensely as I can connect? "Am I training hard enough?" You know, "Can I train harder?"
Rule #6: Stay Focused
Obstacles really don't matter. They really just don't, no more than where you come from, what you had, what you have, what you didn't have. All that stuff becomes so what?
People that are concerned with results, and the person that's working with their mind fixed on the end result being success are a lot less concerned about the problems, and they're more willing to explore solutions, and if need be, create them.
That is, probably, the best use of your energy. Arnold Schwarzenegger was said to once give a seminar somewhere. I think they reference it in either the, the book The Education of a Bodybuilder, or Arnold Schwarzenegger's Encyclopedia of Bodybuilding.
One time giving a seminar, it was said that, he talked about focusing on his goal, and how the only time you can begin to really assess the enormity of an obstacle, was to have to first take your eye off your goal.
That's the end of my Arnold Schwarzenegger quote, but I guess in recalling that at this moment, what I realize is, you know, if I'm an NFL outside linebacker looking to try to put a sack on the quarterback of the opposing team, if I am looking at the size of the lineman in front of me looking to stop me, the defenders looking to stop me from getting to the quarterback, if I start taking into account, "Wow, how big is his hands," and "How much does this guy weigh," and "Man, look at the size of his neck," chances are, in order to make all of those assessments, I can't be looking at the quarterback behind him anymore, and if my responsibility in this play was to put pressure on the quarterback, and even better, put my hands on the quarterback, cause a fumble to stop the play, then I'm going to be rendered ineffective, not by anything the lineman has done, but because I have now taken my eye off of the goal in order to assess the size and weight of the obstacle in front of me.
Successful people, I imagine, have to worry less about what the size of the obstacles are, the finances or the lack thereof, and all the other things that we can say represent the size and weight of the opposition.
What the successful person is going to aim to do, and what all of us that would like to be successful would, probably, want to adopt as a part of our philosophy would be to worry less about the obstacles, and fix our thoughts on the goal.
"Worry less about the obstacles, and fix our thoughts on the goal." – Kai Greene
Rules #6 Just Do it
It's one thing to philosophize about training strategies and to, you know, compare this philosophy versus another, you know, argue about, you know, how many grams versus how many grams is…
But then there's something to be said about doing the damn thing.
You know, just do it.
You know, stop talking, stop trying to sound smart. You meet these people that want to engage you in these conversations, and one-up the professional body builder. "Ah, I know more about nutrition," well then, dude, I mean… I'm not… Straight. I'm not where I'm at because I know more about nutrition than everybody else on the planet.
You know, in fact, I daresay that the top body building athletes that are onstage are not the man onstage… You make a right here. Because they know more about training science and nutrition than the average person sitting in the audience. A lot of time, the difference between the person in the audience and the person that's onstage doing it, is the use of the knowledge.
Rule #8: Give Your All
Success is not based on genetics. It's not based on how nice this car is. It's not based on how pretty my face is, how small my nose may need to look, or, you know, whether or not I'm the right complexion.
I have an eight inch scar down the side of my face, but I have a camera in front of me more often than not, which just means that, you know, if you work hard, and your work is recognized, you know, the sky's the limit.
For all those people out there that think they're ugly and everything, Ima hold it down for you, but more importantly, you know, you can still be a success.
For all those people that think, "Well, I'm too short," well, I'm holding down for you. More importantly, you can still be a success.
"Find the things that you're excited about, and that you can give your all, and you can work really hard towards attaining. String those days of efficiency, efficient action together, and success can happen even for you." Kai Greene
Rule #9: Do What You Love
This is my life, but this is also me living it. You tune in, and what you should walk away from, what I would want you most to walk away with, is the idea of, "Yo, "but what can I do? "What am I doing with my life? "Am I living it or am I just, "you know, going to some hum-drum job "that I don't really want to be at "doing some minuscule task, "getting paid to be a mindless drone," you know, "Or am I out there living life "on my terms "they way I want to live it, "doing the things that I want to do?"
Make no mistake about it. As hard as this is, as hard as this is, this is what I want to do. This is what I want to do, you know, and some people can make fun of it. They can crack jokes. They can sit back and analyze, and, you know, criticize, and make all the fun they want, but I'm living my life. I'm doing it. What are you?
Rule #10: Save Your Own Life
The mind is everything.
"If you don't believe you can do something, then you can't." – Kai Greene
If you believe that your father was a bum, and he left you, or your mother wasn't any good, if you believe that your upbringing was substandard, and therefore, you have to walk around as a refugee from that crazy situation for the rest of your life, forever bearing the burden of that experience, then that will be your life.
It's like you have to save your own life. Nobody's going to be able to save it for you, so we have to do what we have to do, no matter what it is.
Evan: Thank you guys so much for watching. I made this video because Abdullah Aqili asked me to, so if there's a famous entrepreneur that you want me to profile next, leave it in the comments below and I'll see what I can do. I'd also love to know what did Kai say that had the biggest impact on you?
What was the biggest take away lesson that you're going to immediately apply to your life or to your business? Leave it in the comments, and I'm going to join in the discussion.
Finally, I wanted to give a quick shout out to Kris Schantz from happyworker.com. Kris, thank you so much for picking up a copy of my book, Your One Word, and posting the picture on Twitter. I love the picture, and it really, really, really means a lot to me. So thank you guys again for watching. I believe in you. I hope you continue to believe in yourself, and whatever your one word is. Much love. I'll see you soon.
---
BONUS
Discipline Yourself
Those star moments, that, you know, fill the highlight reels, and, you know, leave an audience in awe to watch. "Oh, wow, play that again. "I want to see that."
Those seconds are built on thousands and thousands and thousands of hours that a lot of people wouldn't think are worth, you know, adding to a highlight reel.
Basic fundamentals being applied over and over and over and over again. Getting up a certain time, doing certain things, cooking your meals, going to, you know, do your cardio, walking through the disciplines, keeping the checklists, and staying on top of them, those are the things that, you know, when you string them together, start to create a day of efficient action.
The more likely you are to string those days of efficient action together, the more likely it will be that you can set up your own success.
Refuse To Give Up
I refuse to believe today will be just another day in my life. All that I am, all that I will become, will be written through my thoughts, and my actions.
This is our show, all right? Our show.
♫ Take me to church ♫ I worship like a dog at the shrine of your lies ♫ I'll tell you my sins and you can sharpen your knife ♫ Offer me that deathless death ♫ Good God, let me give you my life
I've conditioned my mind, trained my body, sacrificed my soul.
We know we're better than this. Let's show it now. Let's go.
There will be obstacles, doubters, mistakes, but nothing comes to those who wait.
Every champion was once a contender that refused to give up.
♫ Take me to church, I worship–
♫ Like you ♫ Be strong ♫ To hold the powers of the sun ♫ To dream ♫ Believe ♫ In strength, now I'm the only one ♫ Only one ♫ I was an ordinary boy ♫ Until I broke the rules my life destroyed ♫ My life destroyed ♫ Until I woke awake ♫ To scream my mind ♫ I shout, the ground shakes ♫ How much can I take ♫ My mind will break ♫ Will it break ♫ Can I take ♫ Can I be your superhero ♫ Superhero (electronic rock music) ♫ Can I be your superhero ♫ Superhero ♫ Superhero ♫ Superhero ♫ Fly up ♫ Away ♫ It's the first time of today ♫ Today ♫ To dream ♫ Believe ♫ You are the strength ♫ You're all I need ♫ Need ♫ Need ♫ Oh, going to give it a shot ♫ Only one of me ♫ To shoot you all from the enemy ♫ Your superhero ♫ Your superhero (electronic rock music) ♫ Can I be your superhero ♫ Superhero ♫ Superhero ♫ Superhero ♫ Can I be your superhero
---
You might also like
---
More from Kai Greene
---
Hello Believe Nation. My name is Evan Carmichael. My one word is believe and I believe that entrepreneurs will solve …
Hello, Believe nation! Today we're going to talk about how you can develop discipline. And as always, guys, as you're watching if …
"Do what I love." "Choose something that you love to do."  "I really love what I'm doing." "This is what I want to …