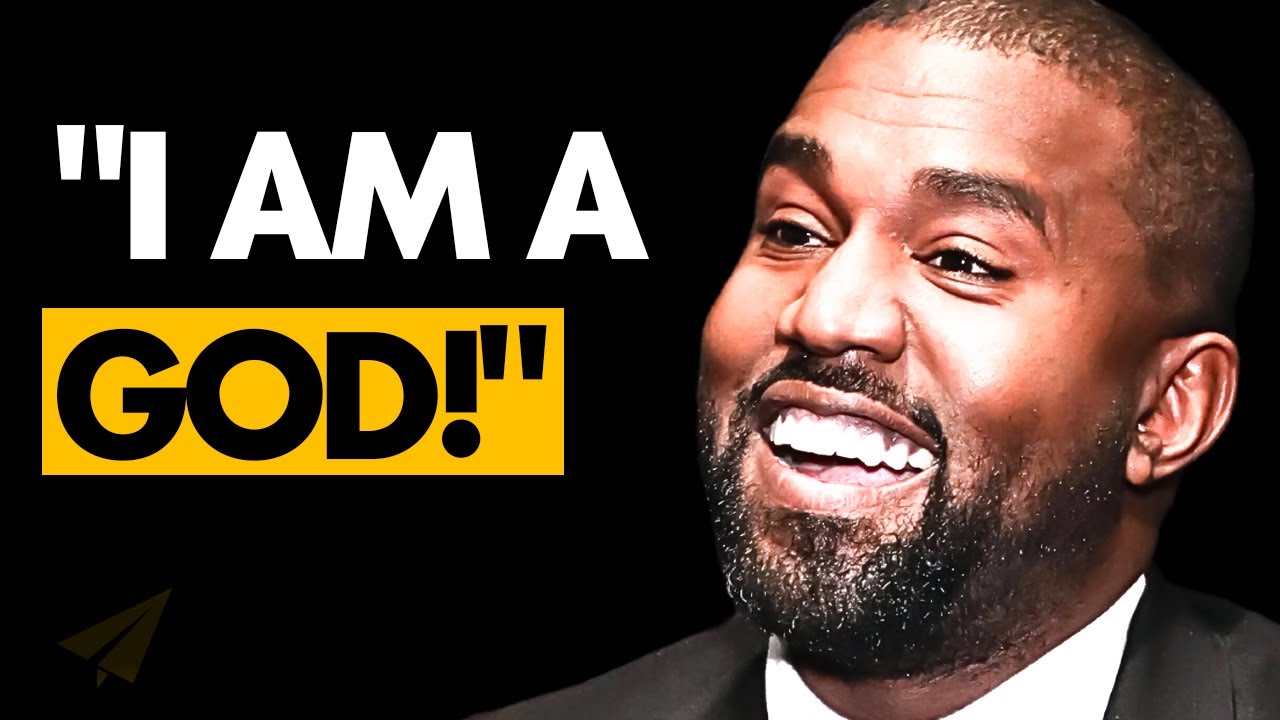 When I had my accident… I found out, at that moment, nothin' in life is promised, except death.
When someone comes up and says somethin' like, I am a god, everybody says, who does he think he is? I just told you who I thought I was, a god! I just told you! That's who I think I am!
To this date, they do not understand who I am. They will not understand, 'til after I'm gone.
Kanye West's Top 10 Rules For Success – Volume 2
Evan: He's an American rapper, songwriter, record producer, fashion designer, and entrepreneur.
He's among the most acclaimed musicians of the 21st century, and is one of the bestselling artists of all time.
He's also been included in a number of the Forbes annual lists.
He's Kanye West, and here's my take on his top ten rules for success, volume two.
And as always, guys, if you hear something' that really resonates with you, please leave it down in the comments below.
Put quotes around it as well, so other people can be inspired.
Also, when you write it down, you're much more likely to lock it in for yourself as well. Enjoy.
---
WEST'S RULES
1. Be hungry
2. Appreciate every moment
3. Add value
4. Define who you are
5. Think differently
6. Become exceptional
7. Push yourself to the next level
8. You can do anything
9. Find your true love
10. Inspire
BONUS
* Pick your audience
* Stop complaining
Rule #1. Be Hungry
Man, I just had the hunger. Like, my mother… Never raised me to ask for a handout. Like, a lot of people that got into this game, they walkin' around with somebody else's chain on, or drivin' somebody else's car, and didn't even pay for the shoes that they got on their feet.
My mother had a decent job. You know what I'm sayin'? But, she gave me a little allowance, 15, 20 dollars a week, and I had to go out and get my own job at age 15.
Matter of fact, at 14, I was cuttin' hair in a barbershop. So, it was instilled in me, to go out, and just get it. And that, that made me be a leader, around a lot of black men. Like, even with my father.
I had two fathers in my life. I had my real father, that I was in contact with, and my stepfather, that stayed there with my mother, and everybody was instillin' that responsibility in me, that nothin' in life is given to you.
A lot of times, I feel like a lot of people just rappin', 'cause it's free. You know what I'm sayin'? What you got to do, especially now, with Jay writin' his rhymes in his head.
People ain't got to pay for paper no more. Everybody just feel like they feelin' just, you know what I'm sayin', come out and be a rapper out the blue.
At least with a production, you have to go up and figure out a way to get your equipment up, and go buy records, and do different things. So, I'm talkin' about the work ethic is so serious. And up here, at Bassline, up at the Roc, people work, the work ethic is crazy!
That's why I feel like we re-killin' the game right now. That's why we cuttin' edge. That's why we on flex, every week, just crushin' labels. That's why all you hear, practically, is the Roc.
Rule #2. Appreciate Every Moment
When I had my accident… I found out at that moment, nothin' in life is promised, except death. If you have the opportunity to play this game of life, you need to appreciate every moment.
A lot of people don't appreciate their moment, until it's passed.  And then, you got to tell those Al Bundy stories, you remember when I… But…
Right now, is my time, and my moment, thanks to the fans, thanks to the accident,  thanks to God, thanks to Roc-A-Fella, Jay-Z, Dame Dash, G, my mother, Rhymefest, everyone that's helped me, and I plan to celebrate. I plan to celebrate, and scream, and pop champagne, every chance I get,  'cause I'm at the Grammys, baby! I know, I know every, I know everybody asked me the question.
They wanted to know, I know he's going to wil' out, I know he's going to do somethin' crazy! Everybody want to know what I would do, if I didn't win.  I guess we'll never know.
Rule #3. Add Value
You don't realize, I am so frustrated. Like, I am so frustrated. Like, I am so, I've got so much I want to give. I've got ideas on color palettes. I've got ideas on silhouettes. And I've got a million people tellin' me why I can't do it. You know, that I'm not a real designer, I'm not this.
I'm not a real rapper, either! I'm not a real musician, either! Like, I don't know how to play the piano!  Like, I'm a artist! I went to art college! I went to art college, and was looked at like I'm soft, 'cause I like more Italian clothes. You know what I'm sayin'? When I'm rappin' in front a camera, and my pants is tight…
Tryna spit a verse for cam! You know, so, that's the same, when I'm sittin' there, you know, like, sittin' there, at a fashion show. Like… I'm there, because I appreciate Phoebe Philo.
I appreciate Raf Simons. I appreciate Riccardo Tisci, and I look at them as my peers, as creative people, who dedicate their entire life to making something better for the world. Let me explain what anybody, that knows a artist, and you know someone that's giving that.
If you know a artist, there's only one thing you can say, give, or ask them, when you see them. There are two words. Thank you. There's no, why didn't you do this? Yo, I want that! What's up with… No! We dedicate our entire life to making our current time in civilization better, to adding something to the culture. And there is only two words that you can say. Thank you.
Rule #4. Define Who You Are
Interviewer: You've kind of equated yourself to all these different people. You know, da Vinci, Walt Disney, Steve Jobs, Michelangelo. And he's asked, how would you define a genius, in that context, but also, why do you feel the need to call yourself that?
Because, otherwise, I'm called celebrity. I'm called nigger. I'm called rapper. And when they use the words celebrity, nigger, or rapper, it's not in a positive way.
And all these things, all these words can be used in a extremely positive way. What's up, my nigga? You know, but that's not the way it's used. So, I have to define who I am. You know, all of my aspirations are things that currently only 60 year old white people do.
So, I have to redefine, and let people know, exactly who I am. And it's not letting them know by, you know, wearing a suit, by letting them know by wearing a Rolex, or letting them know by, you know, bragging about how much money a sponsorship made on top of a rap. It's letting them know by saying, let's start with this. I'm a creative genius.  And it's proven.
Yeah.
And I will continue to prove it.
Rule #5. Think Differently
Interviewer: You know, six albums, original albums of your own, a Throne record, various records with GOOD Music, to talk about, man. But seriously, Yeezus, bravo dude. I mean, that is one of the most creative records, you know, of any genre I've heard in a very, very long time. And, just in terms of your output, the most exciting-sounding record, I think, man.
Oh, thank you very much. Yeah, I feel, you know, I was able to start just making exactly what was in my mind, again, not havin' to speak with the textures of the time.
'Cause you know, Cruel Summer is definitely Kanye West, and it's somethin' kind of weird and off about Mercy, like when it has the high-pitch,  that type of sound, and it sounds like art, still, a little bit, even though it's, obviously, was a radio smash.
But, it still, when I get into the idea, like the trap drums, and things like that, there are certain songs that are blatant radio hits, it's like I'm speaking with today's textures, and that's, you look, if you look at it 200 years from now, it's not going to stand out, in the way that 808s, or Yeezus stands out, and completely can push, or redefine, or make people say, hey, I completely hate that, or I completely love that, but, let me just think differently, because everybody is bound to these, no pun intended, they're bound to 16 bars, eight bars, and you know, the normal radio, the radio thing.
I was talkin' to Frank Ocean about this, and said, my mom got arrested for the sit-ins. And now, we're more like the sit-outs. Like, sit-off of radio.
Yeah.
And say, hey radio, come to us.
[Zane] Yeah.
You know, we need to find something new, because it's being controlled in a way, and manufactured in a way that, you know, really awesome artists can make amazing music, and not break, as far pass. It's like somethin' that's very formulaic.
So, it always feels like a duty to you, in a weird way, having the people's ear, having people's attention, and for great music, to be able to say, well, if I'm not challenging them enough, if I'm not challenging myself, not challenging radio, what am I doing?
Yeah. Well, I'm not tryin' to regurgitate myself. I showed people that I understand how to make perfect. You know, Dark Fantasy could be considered to be perfect to you. I say, I know how to make perfect.
But, that's not what I'm here to do. I'm here to crack, and crack the pavement, and make new grounds, sonically, in society, culturally.
Rule #6. Become Exceptional
Some people say, everyone was born an artist. And, in society, their parents, they beat it out of them. You know, there's times, there was someone, after I said I was going to run for president…
That showed me, like a video tape, of somebody makin' fun of me, about that concept. And I was thinkin' like, wow. If this person was doing this from my age of three, I would have never been me. And… You know, people say, a genius is kids with good parents.
So… How do you nurture the things that people would call weird, and… To something that could be, considered to be, to something that would be exceptional? Like, so many movies are based on… This antihero that's up against all odds, doing the exceptional.
Rule #7. Push Yourself To The Next Level
I was always rappin'. And it just so happened that really, really phenomenal rappers got to rap on my beats before I got a chance to.
So, that pushed me into the classification of a producer. But, I'm a rapper from the heart. Like, I got somethin' to say. You know what I'm sayin'? And people like, yo, what you finna rap about? You never sold crack out your house, or a put a gat to a mouth, and put your fist to your spouse.
So, how you gon' move the crowd? I bet a thousand that you get booed out. You know what I'm sayin'? Like now, the rap game has changed so much, it go from Tribe Called Quest, to Onyx, to Swizz Beatz, to Roc-A-Fella, to the Bad Boys.
So many different sounds, and there's, you know, it's like, almost playing double dutch. Like, where do you get in the game? You're tryna, like, yo, how does my style fit into what I'm doin' right now?
So, I'm lucky that I had the opportunity to have a plateau to stand on, now that my style of beats is the most popular style on the radio right now, that I turned on hit beats that I could have sworn I did 'em, but I just didn't get no check for it.
That's a Swizz Beatz quote right there, "I could have sworn I did the beat. "I just didn't get no check for it!" So now, that my style is, now, it's like, the world can accept me. It's a lot of people, it's like you just got to get in where you fit in. You never know how you get in.
You might be somebody's guy, and you end up bein' better than that person, and shinin' over that person, and you might be a intern, or… It's like the question is, how do you get into this industry? How do you get into the shoes I'm in right now? I'm just happy to be here.
But, as an artist, I'm not finna waste this opportunity. I'm finna take this to the next level. Like, I remember when Pac first got out of jail, and said, "Yo man, Snoop, Snoop is killin' the game. "Man, I'm finna take Death Row to the next level." I'm like, what? Tupac finna do better than Snoop? Come on, now! But now, look.
Rule #8. You Can Do Anything
We got this new thing, called classism! It's racism's cousin! This is what we do, to hold people back! This is what we do, and we got this other thing that's also been workin' for a long time, where you don't have to be racist anymore! It's called self-hate! It works on a self! It's like real estate of racism.
Where, just like that, when someone comes up, and says somethin' like, I am a god, everybody says, who does he think he is? I just told you who I thought I was, a god! I just told you! That's who I think I am!
Would it been better if I had a song that said, I am a nigga? Or, if I had a song that said, I'm a gangsta? Or, if I had a song that said, I am a pimp?
All those colors and patinas fit better, on a person like me, right? But, to say that you are a god, especially when you got shipped over to the country that you're in, and your last name is a slave owner's? How could you say that? How could you have that mentality?
[Zane] I mean, I know in the past, you've talked about building hotels, doing things that are beyond people's normal frame of reference.
They know you as Kanye West, an artist. They know that you're moving into fashion. But, these things, I guess, in a way, are hard for people to comprehend, because they don't have that level of drive.
Do you know what I mean? Has it always been like this for you? Have you always felt like you can set your mind to anything, and you will achieve it, ultimately?
I always feel like I can do anything. That's the main thing people are controlled by! Thoughts, their perception of themselves!
They're slowed down by their perception of themselves! If you're taught you can't do anything, you won't do anything. I was taught I could do everything! And I'm Kanye West, at age 36.  So, just watch the next ten years!
Rule #9. Find Your True Love
Originally, I went to art school. I had scholarships at a bunch of different art schools. Everybody thought I was going to be a artist.
Sway: When did you do some of these pieces right here?
Kanye: Back in '94, '95. Most of these, yeah.
Okay, what's this? You got a blue ribbon on this one.
Kanye: That's 'cause I won.
Sway: Congratulations.
Kanye: I remember this. I was really into anime, and Japanese art.
Sway: This one is kind of eerie.
It was a good exercise that the teacher gave us. And it's not very good, but, since there was a dude, lookin' like he was dead, I just put my name on it, and put 1977 to 1995, which is the year which I actually drew it. And somebody should have killed me for how bad this actually was, but…
But, this is almost like a premonition of a sort, because, you know, you were like this, at the end of your car accident. You were in a bed, like this, and you thought it was your death bed.
Kanye: Right. So, I would never draw myself dead, ever again.
Sway: You ever find time to do this anymore?
Kanye: Seldomly. Now, I draw, I just use it as a language. Like, I want it to look like this. I love to draw, but I just love music more. See, my thing, thing about the drawings, is I couldn't turn 'em up loud enough.
I wanted to do somethin' where people have it all, all the time. And basically, now, what my music is, is a soundtrack to millions of peoples' lives. You couldn't get that feeling from art school. I couldn't get it.
Rule #10. Inspire
39 year old Kanye West, talkin' to you right now. Play this shit back in ten years. I build things that mean things to people. I make the Christmas presents.
To this date, they do not understand who I am. They will not understand, 'til after I'm gone! So, you ask me, who do I look up to? I'm like, I'm inspired by Walt Disney.
I'm inspired by Howard Hughes. I'm inspired by Henry Ford. I'm inspired by Steve Jobs. For me, money is not my definition of success. Inspiring people is a definition of success, doing things to the maximum! I want to change the definition of status quo.
And that's what I want. I want my shoes, I want as many people to be able to have them, as possible. Because, in a hundred years from now, everyone in this room will be dead. And what did you do, while you were here?
Thank You!
Thank you guys so much for watching! I'd love to know, what did you think of this video? And what do you think, in general, about the volume two series? Leave it down in the comments below. I'm super curious to find out.
Also, I'd love to know, what did you learn from Kanye, in this video? What lessons stuck out the most for you, that you're going to immediately apply to your life, or to your business somehow? Please leave it in the comments below, and I'll join in the discussion.
Finally, I want to give a quick shout out to Michael. Thank you so much, Michael, for picking up a copy of my book, Your One Word. It really, really, really means a lot to me, and I hope you're enjoying the read.
So, thank you guys, again, for watching. I believe in you. I hope you continue to believe in yourself, and whatever your one word is. Much love. I'll see you soon.
---
BONUS
Pick Your Audience
I remember, back in grammar school, we used to have rap groups, and I had to write the raps for all the rap groups. I remember this one time, we was tryna do a talent show.
This is where I learned pick your audience. You know what I'm sayin'? Like, you got to figure out who you were actually rappin' to, because I had my music teacher, who is my favorite teacher in the world, Ms. Morgan, and you know what I'm sayin', she was like, it's kind of like the Lane Bryant size, or whatever, you know what I'm sayin'?
And we got up there, and we thinkin' we finna perform Fat Girls are Back for the talent show. So, of course, we didn't make it. At that point, I was like… You know what I'm sayin'? Figure out who you rappin' to.
Stop Complaining
And it's like, do I worry about being in the public eye, and raising kids? Yeah. Any situation you're in, you're going to worry about raising kids. But, there's champagne problems, too.
There's people who can't feed their kids. That's somethin' more to worry about. So, I'm not going to sit here, and complain about the so-called issues I have. These aren't real issues.
There's people at war. There's people tryna make it to London right now. There's, you know what I mean? It's like, it's really f****** serious!
You guys talk to me about some celeb s***, you know?  It's that, that's just not real s***! You know what I mean? It's fine.
It's stuff, I'm mad, I'm upset, I'm this. Man, oh, they got that wrong about me. You know what, I'm alive. I'm breathin'. I did a show. We're sellin'. We're doin' a second collection. I have no problems.
---
You might also like
---
More from Kanye West
---
What's up believe nation? I made the Did You Know series to try to learn a little bit more about some …