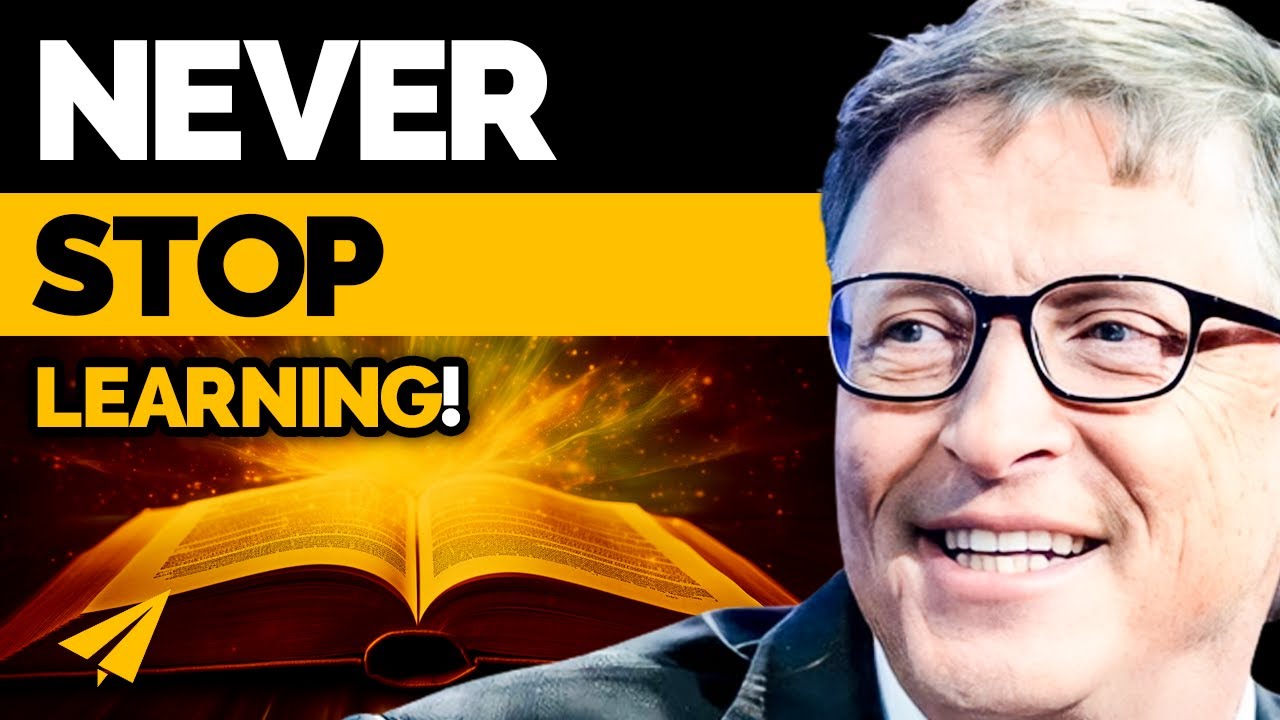 Learning. Learn as much as you can. Learn something. Learn it all. Learning. Learning. Learn. Learn.
Hello, Believe Nation. Today I'm going to give you some extra motivation for how you can keep learning.
And as always, as people are talking to say something that really resonates with you, please leave it in the comments below and put quotes around it so other people can be inspired as well. Enjoy!
Bill Gates
Interviewer: So you went to Harvard and you dropped out. Have you ever thought how your life could be better off if you had gotten your Harvard degree?
Well I'm a weird dropout because I take college courses all the time, I love learning company courses and things, so I love being a student and there were smart people around and they fed you and they gave you these nice grades that made you feel smart, so I feel it was unfortunate that I didn't get to stay there, but I don't think I missed any knowledge because whatever I needed to learn, I was still in a learning mode.
Vin Diesel
Interviewer: If you could talk to your younger self, knowing what you know, and those days when you thought, "Maybe it's not going to happen." What would you tell yourself?
Play it cool. I'd say, I'd say, "Play it cool and learn as much " as you can because everything you learn, you're going to need. "You won't have enough time to learn. "
"Everything is an education." Vin Diesel
Tiger Woods
You should learn something from each and every single round you play in, every single round you should learn something, whether it's one thing, it might be 20 things.
Learn something for each and every round. And I've done that, every round that I've played, I've come back home, I've critiqued my round, I've looked at it from the mental and mechanical side, what went wrong, what went right, and apply it to the next day.
Tony Hawk
Interviewer: What is it that makes you real special champion?
Well, I just, I never, well for one, I never quit and never stopped skating, I mean, I never took a hiatus of, say, five years and came like, "This seems hot now" and then came back into it.
So I have that consistency but I think that for me, I really liked learning new techniques. And a lot of people, if they're seeing this one side of skating or this one set of tricks and don't want to branch out because they're afraid they won't look cool doing it or whatever, I always wanted to try the different techniques, even if I stumble on them.
I knew that in the end, it would help me be more well-rounded and I think that's probably what it is, is that I just wanted to try it and learn it all.
A.P.J. Abdul Kalam
Learning, learning uses creativity. Creativity leads to thinking. Thinking provides knowledge. Knowledge makes you great.
Cris Martin
Interviewer: Did you have a sense that Coldplay has reached a stage where you just didn't want it to be that band? Like you wanted something else?
No, we reached a stage where we thought, "We can't get much bigger so we have to try and get better." And it's that whole thing of quantity or quality. We thought, "Well, we need to practice a bit and improve" and I was feeling bad because I'm sure there's some 16-year-olds or kids who say they like Coldplay and then took some abuse for it in the playground and so I had a feeling about 18 months ago, I really would like to make them proud by trying to improve.
Pitbull
I came aboard a slogan and I tell it to my kids all the time, I say, "There's no losing, only learning, " there's on failure, only opportunities, "and there's no problems, only solutions."
"So to me, what failure is, failure is the mother of all success" – Pitbull
if it wasn't for Michael Jordan getting cut from his ninth-grade basketball team, he wouldn't have became Michael Jordan. You know, if it wasn't for, I seen an article the other day where they were talking about Oprah Winfrey and how she got fired because she wasn't good for television.
You know, you got people like Walt Disney who got fired, if I'm not mistaken, from a newspaper, saying he had no imagination. These are the same people that I got to deal with, telling me what's not a hit record.
Interviewer: So what do you tell 'em, you tell 'em?
You know, that all they can do is learn and come back bigger, better, stronger, 'cause all it's going to do is lead you in the right direction.
So if you're always winning, then you don't really understand what it is to win, you got to take those losses, you got to take those hits, it's got to be the valleys, the peaks, the ups, the downs, in order for you to, when it does happen, you go, wow. This is what it's all about, and not only that, it's never about making it, guys, it's always about maintaining it, that's the toughest part.
Mark Wahlberg
Interviewer: What one quality do you think you've had that made you and gave you and allowed you, pushed you, to achieve what you have?
I think my willingness to learn, I'm pretty relentless when it comes to that, I certainly knew everything about growing up on the street and you know, what it took to survive on the street corner in Dorcester but this is a whole new world to me so just being able to take advantage of the things that I've seen and the things that I've been exposed to now with my career, has really been.
Neil Patel
I continually learn from my mistakes and other people's mistakes. See, entrepreneurs think that, hey, to create that billion dollar company, or hundred million dollar company or even million dollar company, you have to be really smart, and sure, brains is part of it, luck is a huge component, but what I've learned over the years is, everyone, no matter how smart you are, you're going to fail many times and you're going to make mistakes, just look at Mark Zuckerberg.
Facebook worked out, his version of SnapChat that was a copycat, did not work out, right? So there's other areas in which Facebook failed but Facebook overall as a company has done great.
"Just because you're smart doesn't mean you're always going to succeed with everything you try or touch." – Neil Patel
But every time you do something, you will learn new things, you'll make mistakes, and if you learn from these mistakes and avoid making 'em over and over again, you'll actually increase your odds of succeeding as time goes on, and the best way to do this is not just to learn from your mistakes, but it's also to learn from the mistakes of others.
Rockefeller, Carnegie, all these people who were entrepreneurs years ago, in the 1800s, 1900s, they themselves used business principles and concepts that are still applicable in today's world.
Sure, we have the internet, but the same strategies and concepts that they used are still applicable, right? So learn from their mistakes, learn what worked for them, what didn't work for them, why, and bring that into what you're doing today.
Myles Munroe
Interviewer: As you look back over your life, if there's just one thing that you could do differently, what would it be?
Hmm. That's always a tough question, I get that question asked a lot. I'm not sure, you know, because everything that happened in my life produced me, even the negatives, even the things that I might have failed in, the things I made mistakes with, they were fantastic classrooms for me and I believe the best thing in life to do is not to regret and try to change what happened, but to interpret it properly, maximize it and use it to serve other people and that's what I want to do with my past.
Evan: Thank you guys so much for watching. I hope you enjoyed. I'd love to know whose message had the biggest impact on you, what was the clip that left you wanting to make an immediate impact, and what are some of the challenges that you have in staying motivated to keep learning? Leave that in the comments below, super curious to find out, and I'm going to join in the discussion. I also want to give a quick shoutout to Shlomo Awoke, thank you so much for that Instagram picture and for picking up a copy of my book, Your One Word, it really really really means a lot to me. So thank you guys again for watching, I believe in you, I hope you continue to believe in yourself and whatever your one word is, much love, I'll see you soon.
---
You might also like
---
More from Motivation
---
Watch Evan Carmichael's Top 10 Rules For Success video. Famous Entrepreneur Quotes Evan Carmichael's Quotes "Changing my environment had a dramatic impact …
Watch Mark Hamill's Top 10 Rules For Success video. Famous Entrepreneur Quotes Mark Hamill's Quotes "I love the allure, the danger, of …
Watch Brandon Beck's Top 10 Rules For Success video. Famous Entrepreneur Quotes Brandon Beck's Quotes "Whether you think you can do it, …