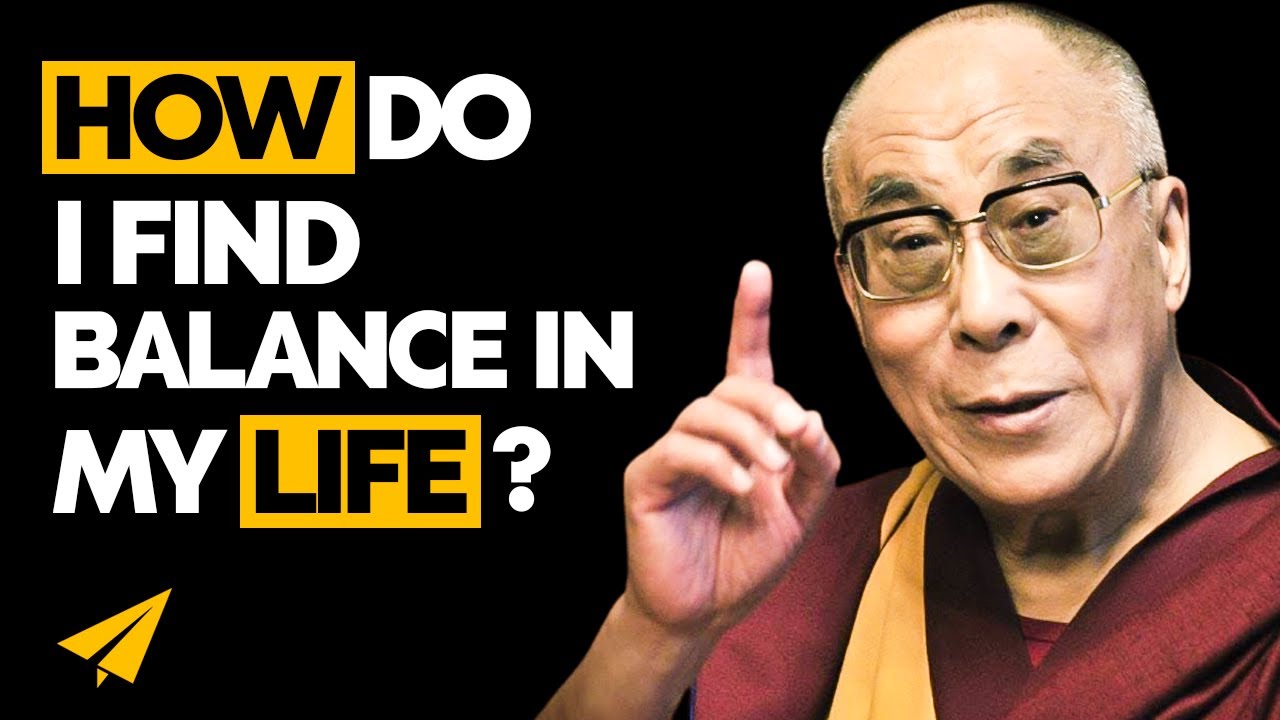 I believe that entrepreneurs will solve all of the world's major problems. So, to help you on your journey, today's message is keep things in perspective.
Keep Things in Perspective
Dalai Lama
Success? That all so relative. Some feel it, in some which you can tell, and some feel failure, so difficult to say. I hope all human life like that, some part failure, some part achieve.  It is wrong, to pick up one thing, then say all rest success is wrong. And pick up one thing, of failure, that also wrong. Things are relative.
---
Here is my take about Keep Things in Perspective
I think one of the hardest things that people have a hard time grasping about me, and the people on my team, is the ability to pull from both ends that seem opposite, but really, I find, come together.
To be very humble, and feel like I know nothing, and also feel very confident, and feel like I know a lot, Right, just depending on what the circumstances are.
And so, as an example, look at my YouTube channel. I'm always struggling to get better and feel like I have a lot of work to do.
And I feel like, I have a really good channel, and I'm super proud of everything that we've done.
Both, at the same time. I hold both concepts in my head at the same time.
And so, depending on who I'm talking to, I might be really hard on myself. I might be saying, my channel, I need to get better.
I need to create better content.
I need to research to be better.
I need to be better in front of the camera.
I need my editing to be better.
I need everything about my channel to be better.
Because yeah, we've hit a quarter million, or three quarters of million subscribers, but I know I can do so much more. I need to get really, really, really good. I look at who else is out there.
I look at Les Brown, and Tony Robbins and I see their ability to connect and reach people, and I want to do that.
I need to hone my skills and get better. Just drive and improve. And a lot of times people look at me and say, like, that's okay, this is crazy.
 I'm doing is meaningful and having a huge impact.
You should be proud of yourself, like, look at what you've done. You've got 100,000,000 views on your youtube channel. You've got 750,000 plus subscribers.
You're making three videos a day where most people can't even do one a week.
Like, why are you so hard on yourself?
Your channel's really good! And then my default thinking is well, I know my channel's amazing.
My channel's insanely good. I think my channel's the best channel in the world.
I think I might be the first YouTuber to win a Nobel Prize for entrepreneurship.
Like, it's awesome.
The work I'm doing is meaningful and having a huge impact.
It's just pulling from both spectrums, like I am so proud of everything that me and my team make, and so filled with confidence in what we're doing, and I know that the impact is real.
And, what we do sucks. It isn't good enough. It needs to get better, consistently.
I think that perspective helps.
I think you have to be able to pull from both sides. I think it applies to a lot of things in life. I look at leadership. I look at the people under me on my team.
I look at sometimes I need to push them harder.
You don't need to be that hard on yourself
Sometimes, they might be like they're amazing and you say, well, you know what, you kind of suck. Like, let's go, I know you can do way better.
Sometimes, I need to build them up and say, listen, you're amazing, but why are you so hard on yourself, depending on what they need in the moment.
You know, Alex, who comes in who's a part of Toronto Dance Salsa. If he comes in and he's really low and feeling down, I need to build him back up and say, you are really good, like, you're a really good instructor.
You don't need to be that hard on yourself because the negative energy prevents him from doing amazing things.
Sometimes he comes in so hot, he's like, I'm the best thing ever, and you know what, you suck, dude.
Like, here are all the things that you need to off and get better at, because the positive energy, again, prevents him from going off and doing great things.
When you can hold both, when you can stay balanced, when you can either be in the middle or pull from both ends at the same time, I think that's where you not just have more success, but you also feel more grounded, more happy, more secure, less concerned about other people's thoughts, less insecure about yourself, and your ideas, and where you're going.
So, finding ways constantly to both be grateful for everything you have.
I'm so grateful for everything in my life.
I think I have such an amazing life. I don't want anybody else's life out there. I want my life. I love this life, it's great.
And, I want to do more. I want to help more. I need to push harder.
So, it's both, constantly.
You need both.
I think if you are only pushing, only pushing, pushing, pushing, pushing, then you're never happy.
You're never happy, and there's always a place to push, right? There's always something else you can do when you're never happy with what you've done.
And, if you're only happy, and you're only grateful, and you're only playing down here, then you feel great and you feel blessed, which is awesome, but then you're not contributing enough.
Like, I feel if you have the ability to help, then you have a responsibility to help as well.
If you have all this great natural talent and ability, and you're able to work hard to be able to improve other people's lives but you're not because you're just happy relaxed, laid back, I don't think that's a fulfilling life either.
I think you need both.
You need the gratitude and you need the push, that I'm not good enough.
I have everything I need and I have nothing, both, same time, right.
And so, keeping things in perspective, I think, maybe, when people meet me it's one of the hardest things to wrap their heads around.
I'm having a discussion still with Alex around today, and he's still confused by some of the things I'm saying, and we've been working together for a while now, but I think it's super important.
And, if you can find that perspective and keep that balance, it'll help you be that best version of yourself.
---
Question Of The Day
The question day-to-day is, I'm curious, what are two opposite ideas that you hold at the same time that the outside world may look at you and think you're crazy, Like, how can you believe this, and this, but you see them as just opposite sides of the coin, and you can hold both at the same time.
What are those two thoughts for you? I'm really curious to find out and I hope you'll share it down in the comments below.
I also want to give a quick shoutout to Erik Peterson. Erik, thank you so much for picking up a copy of my book, Your One Word. I really appreciate the support, man, and I hope you enjoy the read.
So, thank you guys so much for watching. I believe in you. I hope you continue to believe in yourself and whatever your one word is. Much love, and I'll see you again tomorrow morning for another shot of Espresso.
---
BONUS
Jean-Claude Biver
I talk to the mountain. I have a mountain next to my home that is called wa-she-de-lay.
It goes up to two, it's very low. It goes up to 2,000 and four, or 2,500 meters. Or I talk to the dom-de-me-de, which is 4,000 meters, which is a little bit further away from my home, which I see every morning.
I see those two mountains. And I say to these two mountains, mountain, I have a problem. But, when I look at you, you are 37 million old.  I'm a little guy.
I'm a little guy here with little problems, can you help me? They would say, come on. Look, what we have already seen in so many years, your problem is a none-no problem. Come on, get up.
Simon Cowell
Interviewer: 13 years ago you were completely bust, gone, no money. You had five pounds, you know, seven dollars left in your hand. You used it for a taxi back to your parents. And your career in the record business had just come to a sudden shuddering halt. Here you are, 13 years later, you're worth hundreds of millions of dollars. Life's taken a huge turn upwards, but I get the sense with you that what happened to you 13 years ago still defines you now.
Yeah, I mean, it wasn't the best of times, but, then again, when I look back on it, it wasn't the worst of times, you know.
Because, I think, particularly here in Hollywood, where most people get it wrong is they're afraid of losing what they've got.
They're just terrified of losing their fame, as you said, power, money. But actually, once you've lost it, you can always get it back again.
I mean, it's not the end of the world. I mean, being ill's worse. So, because I've actually faced what are most people's worst fears, and recovered from it, it's not as bad as you think.
You know, I didn't lose my confidence. My friends were still my friends. I've lived with my parents. I just saw it as a challenge that I've got to get myself back on my feet again.
Interviewer: What advice do your parents give you then?
They were really, honest to god, they were just cool about it. They were parents.
They just wanted to look after me. Lived with them for a while.
My dad lent me some money to pay the bank, then eventually I managed to pay my dad back.
You know, it was what any parent would do. But, like I said, it wasn't the worst time in my life, and actually when I look back on it now, I still smile because, you know, I bought this beat up old British sports car, worked 18 hours a day, and I was so determined, Piers, just to get it right this time 'cause I knew why I'd got it wrong.
Now, I find it much easier to deal with things.
Interviewer: If that wasn't the worst time in your life, what was?
When my dad died was the worst time in my life. As you know, you and I discussed that.
It was just that, like, getting ill, losing a parent or losing somebody close to you, that's the worst thing that could ever happen in your life. And all the things that I worry about now, just trivial.
I mean, even the whole kind of Idol, X Factor thing, I laugh about it because it's such a high-class problem. My show's better than your show. It's like, but we both got a show.
Salman Khan
Keep things in perspective. I know we all say it, but really you just have to keep reinforcing it.
Everyone in this audience, knock on wood, you're going to do just fine. You're going to have your four-bedroom house.
You're going to have your car with power windows. You'll be able to go to Sea World whenever you want to.
But, along that way, there are going to be ups and downs.
And, actually, those ups and downs tend to happen a lot when you go to transition points, when you're entering the workforce, you're entering some type of a new phase in your life.
You just always have to keep on the long-term game, the end game.
I'll tell you myself, I've gone through some fairly dramatic ones right when I was out the gate.
This was 1998, I had just graduated, I was a few months older than most of you all, and some computer magazine had seen something I had done, and they wrote this neat profile about me.
They called it Future so Bright. I saw that magazine, I was very proud of it. I was like, aw look, I'm set.
I have this career ahead of me. I'm already profiled in a magazine. And, frankly, I got kind of in to myself.
And, that's okay, you can enjoy your successes, but I really didn't have any perspective, and, frankly, it was a dangerous thing to happen.
"Along that way, there are going to be ups and downs. And, actually, those ups and downs tend to happen a lot when you go to transition points, when you're entering the workforce, you're entering some type of a new phase in your life." – Salman Khan
To really put things in perspective, and I'm happy it did happen, two months later I switched jobs, higher salary, I thought I was on the fast track. I had a new boss, and on the first three days of work he spent an hour just completely castigating me.
Essentially, telling me that I was not worth his time. That I was incompetent as far as he was concerned.
You can imagine, you know, I was like a lot of, successful whole life, fancy degrees from fancy universities.
Two months ago I was profiled in a magazine, and then now all of the sudden, almost not even 23 years old, I was back in a hotel room in the middle of nowhere crying. Not knowing what I was going to do with my life.
Convinced that it was all the end of everything, that everything was for naught. You know, you get through them.
You wake up in the morning, things look a little bit better. A week later, things look a little better.
You start circulating your resume around. I did find another job two months later. And, it's okay.
The one thing I want to stress, because I've gone through ups and downs, and you only have one perspective for your own life, but I suspect many of you all are going to have higher ups than I've had, and many of you all are going to have lower downs. I worry about that sometimes.
The ones of you who have higher ups, just keep them in perspective. It's inevitable, some of you are going to race ahead and be so successful that none of us can imagine it right now. But, keep them in perspective.
Enjoy the successes, but when your ego starts feeling a little bit large, keep in mind the sun will supernova one day.
The galaxies will collide. We are these small little mammals on this small planet, or, you know, there's 200 billion stars in the galaxy, in just our galaxy alone. Just have peace in the little success.
When you have a hard time, and you will, and those who go through painful periods, you might stumble and start your first few times out the gate, also keep in perspective that those stresses, put them in perspective of the universe.
They are small. They're going to be things that you'll be able to laugh about, talk about, 10, 15 years from now, or hopefully 10, 15 days from now.
---
---
You might also like
---
More from Dalai Lama
---
Good morning, Believe Nation. My name is Aleks, and my one word is belong, and I believe the world would …
If you do wrong things mainly harming other, you get negative consequences. Some say something good person, some say bad person, …