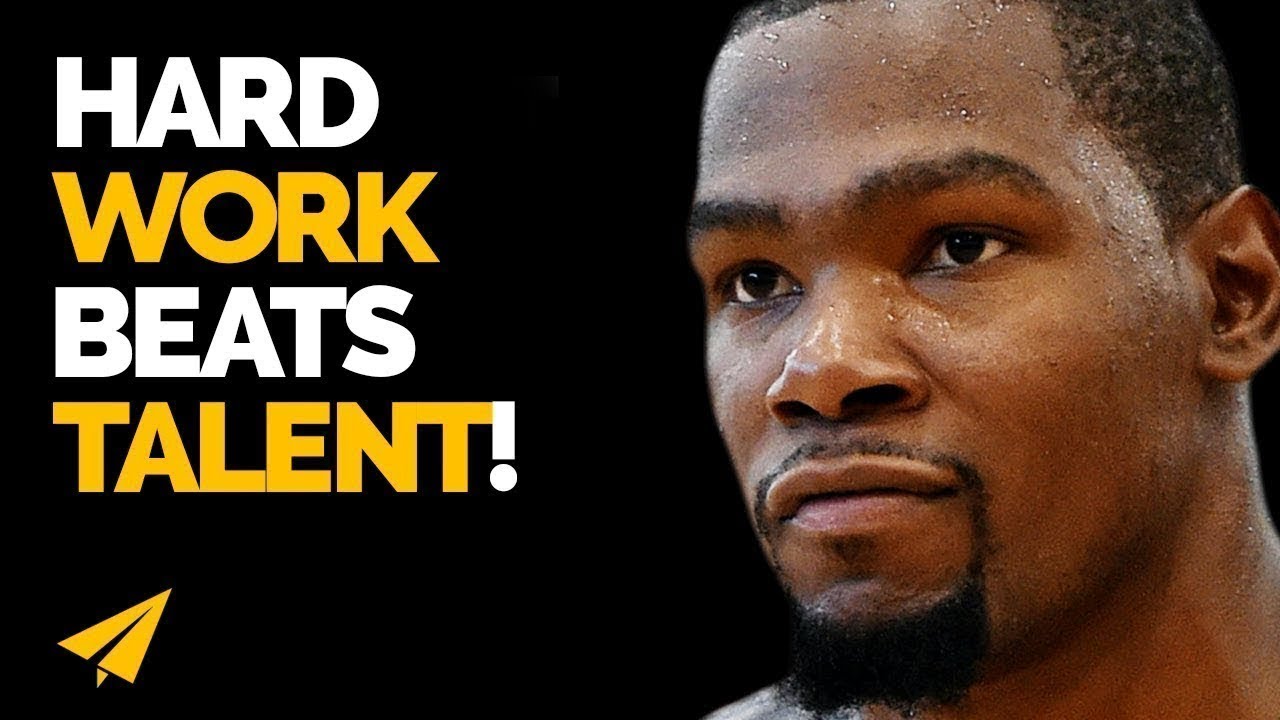 He's an American professional basketball player for the Oklahoma City Thunder of the NBA. He's won an NBA Most-Valuable Player award, four NBA scoring titles, and the Rookie of the Year award. He's been selected to six all-NBA teams and seven All-Star teams. He's Kevin Durant and here's my take on his top ten rules for success.
Kevin Durant's Top 10 Rules For Business and Success
Rule #1: Persevere
I come from a small, county outside of Washington D.C., called P.G. county. Me, my mom, my brother, we moved so many different places growin' up, and, it felt like a box. It felt like there was no gettin' out. I loved basketball so much, I loved playin' it, I just never thought I could make it to college, NBA, or stand up here today in front of you guys and be a NBA MVP.
So many people believed in me when I didn't believe in myself. So many people doubted me and motivated me every single day to be who I am. I failed so many times and got back up. I've been through the toughest times with my family. But, I'm still standin'.
Rule #2: Be Patient
It was kind of tough knowin' that sometimes I would work so hard than everyone else and I wasn't reapin' the benefits of it. I wasn't gettin' any better as quickly as I wanted to, but I stayed patient, and that was one big thing for me, is knowin' when to stay patient, that everything's going to come around.
And I think that, you know, with that patience I gained as a kid, it's helpin' me in the NBA right now. For me, it's just, always, always workin' hard and always tryin' to get better. And knowin' I can get better, knowin' that I'm not there where I want to be yet, so, I have a long ways to go.
Rule #3: Never Settle
Interviewer: Kevin, this is your quote, "I've been second my whole life, "I was the second best player in high school, "second pick in the draft, "second in the MVP voting three times, "I came in second in the finals, I'm tired of being second. "I'm not going to settle for that, I'm done with it." Stand by that?
Definitely. I means people just always say that, "It's cool, you're top three, that's cool. "It's all right to be a top three player in the world. "Millions of people in this world and you can be the top three, that's pretty cool." I mean I'm just tired of settlin' for that. Tired of sayin' that, tired of hearin' it.
Rule #4: Love What You Do
Announcer: All right let's go.
Crowd Member: Let's go alright?
I work out on the court on drills, but pick-up is where I hone my instincts for the game.
Announcer: On his knees, up his throat.
I love bein' around the atmosphere. I love bein' around basketball players, I love to hear the people talk trash to me when I'm out in the neighborhood playin'. I love it, that's the best part of the summer to me.
Rule #5: Don't get Complacement
But, it's just a matter of me, you know, continuin' to learn the game and watch and try to get better each and every day. And, not being complacent, and I think that's the biggest thing, wanted to be great, but, in this game it's half and half mental and physical, maybe more mental than physical.
So I got to get my mind right and be able to handle a whole season and the playoffs, to be a good player. But with me, it's just, all about progressin' and knowin' what I need to work on and work on it.
Rule #6: Want It Bad Enough
Oh, it was historical. I think about that run all the time. Oklahoma City is all about, first off natural disasters, and Oklahoma City bombin', just to put it out there, to be real, I mean, that's what the city was known for.
And to win a Western Conference title Championship with a group of young guys. The city's never seen anything like it and it's somethin" I'm always goin' to remember.
Reporter: But the Thunder lost the NBA title to the Miami Heat and Lebron James in five games. Kevin Durant was second again, and there to console him was the same person who made him do push-ups in the middle of the night, 12 years earlier.
Interviewer: Long hug with your Mom, after you all didn't make it there, and you hugged her long and hard.
Well, first off, that was just a thank you. My mom, she was always there at the right time, man. And a lot of people got on me for cryin' on national TV, but, when you want somethin' that bad, it was just like, I didn't care.
Rule #7: Appreciate Every Moment
You know, in the first few games of the playoffs I was just so excited to be a part of that atmosphere again, and to be back on that level, it was just amazin'. I appreciate every single moment, I always refer back to me bein' injured because that was the first time something got taken away from me I loved so much, and it just made me appreciate every moment, you know.
Because we can easily talk about the end result of things, but that whole journey… We talk about the end result if it's not where it should be then it's a failure, but I look at it like, look, this is an important part of my life, this memory is somethin' I'm always going to carry, and it was just great to be a part of, to be on the court playin' in that atmosphere again.
Rule #8: Work Hard
To always do it for the love, no matter what it is, and work hard, it may sound cliche, but hard work really does payoff in whatever you're doin'. That's the motto I use, if you set small goals and try to reach them and that's when big goals start to come around and, before you know it, you're goin' to start risin' the totem pole.
Rule #9: Stay In The Moment
I just try to make it about the team, make it about my teammates, it's not fair to the organization and to my teammates to be distracted. I have to be the best me I can be, and, I think, I was proud of how I was able to stay in the moment, that's been a struggle for me as a young player in this league.
So I was stayin' conscious of bein' in the moment and I was proud of how I stayed there, especially throughout the playoffs and the regular season. It was just all about worryin' about today and once tomorrow get there, I'll worry about that. That's who I've been the last few years, just takin' it day by day.
Rule #10: Be Grateful
The odds were stacked against us, single parent with two boys, by the time we were 21 years old, everybody told us, "We weren't supposed to be here." We moved from apartment to apartment, by ourselves.
One of the best memories I had, is when we moved into our first apartment, no bed, no furniture and we just all sat in the living room and just hugged each other, because, we thought we'd made it.
And when something good happens to you, I don't know about you guys, but I tend to look back to what brought me here. And you wake me up in the middle of the night, in the summertimes, makin' me run up the hill, makin' me do push-ups, screamin' at me from the sidelines of my games at eight or nine years old.
We wasn't supposed to be here. You made us believe, you kept us off the street, put clothes on our backs, food on the table. When you didn't eat, you made sure we ate. You went to sleep hungry. You sacrificed for us.  You're the real MVP.
---
Thank you guys so much. We made this because Robin Sharma asked us to. If you'd like us to profile someone else, leave a message in the comments below.
I'd also love to know which of the top 10 rules meant the most to you, had the biggest impact, leave in the comments and we'll join in the discussion. So thank you guys, continue to believe, and we'll see you soon.
---
BONUS
Be Versatile
My game is based upon bein' versatile, I think, you know, my biggest attribute, is scorin' the basketball. I think I find the rim in different ways. I think I'm a shot maker. I can play inside and out, I'm still workin' on both parts of my game, I'm far from where I want to be. But, with my length and my size, I can play inside and out.
Think About The Future
I think about the future a lot, the steps I have to take now for us to, maybe, be a championship team. Or, what it's goin' to look like for me in three or four years, what I'm be doin', or where I'm be at. What team I'm play for.
Inspire Others
I never thought I'd be able to impact people, the way I have so far. I take pride in that. I'm just a regular guy, I play ball on TV sometimes. And knowin' I can give 'em hope and inspire 'em, has been somethin' that's been like a dream come true.
Player: One, two, three!
Crowd: Strong and kind!
---
You might also like
---
More from Kevin Durant
---
Hello, Believe Nation. Today we're going to talk about how you can be hungry. And as always, guys, as you're watching …