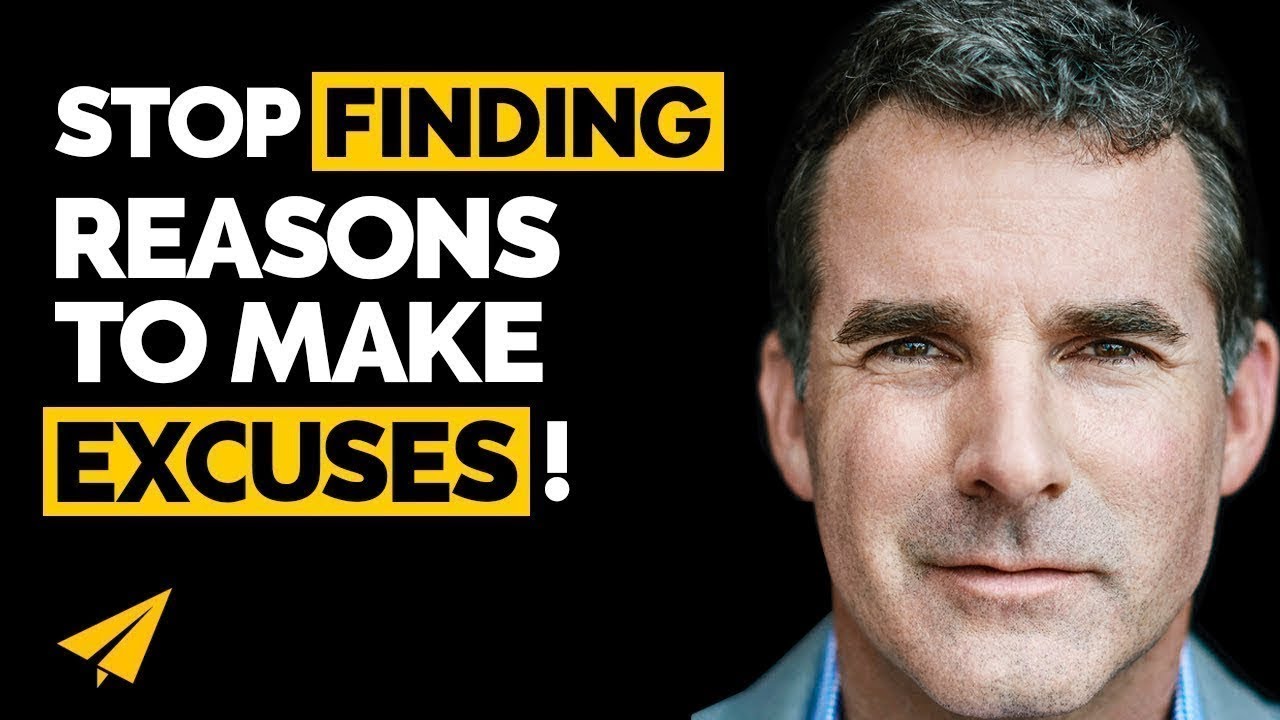 He's an American businessman, CEO and founder of Under Armour. He has a net worth of 3.2 billion dollars. In 2012, he was named number three on Forbes 40 Under 40 list. He's Kevin Plank, and here are his top 10 rules for success.
Kevin Plank's Top 10 Rules For Business and Success
Rule #1: We Control Our Own destiny
I think we control our own destiny and so, whether David makes it or not has nothing to do with the size or might of Goliath. And if you're thinking like that, you'll probably always be able to find a reason and frankly, an excuse and some lame answer as to why you can't win. Because the markets aren't good.
I was in the middle of this through 2000 and the first crash and people are going, "Market's terrible, market's terrible!" I'm like, "I'm sellin' stretchy t-shirts." Nothing to do with the financial crisis. Sports are going to be played and kids will wear it, or they won't.
And I think anybody can look and find, but I challenge all of us to say, "Stop finding reasons to find and make excuses." That we affectionately, at Under Armour, call loser talk. And, I don't know. You've got to just will it and focus on making it happen.
Rule #2: Perfection Is The Enemy Of Innovation
There's a saying, it was actually attributed to the chairman of Sony several years ago. And it said that, perfection is the enemy of innovation. Perfection is the enemy of innovation. And what that effectively means is that, how many entrepreneurs are sitting out there with a great idea, tinkering in their garage right now, waiting to get this concept out there, waiting to get the idea out there.
But it's not quite perfect yet. The criteria that we use at Under Armour whenever we look at a product, or whenever we decide to do something, is that it must be better than what's currently available on the market. It may not be the perfect vision of what we have, but sometimes you have to get in the game in order to make it improve.
Don't ever settle. Don't ever let a product just be okay, or just barely good enough. But I challenge all of us to think in that way, as to good.
Rule #3: Don't Get Complacent
Leader is required. It's in the word, it's to lead. And it's to lead by example and it's to have and set a vision, and all those kind of things that you need. But it's to make sure that you never limit the idea or the opportunity. What I find myself doing more often than not, is ensuring that we have enough runway in front of us.
Ensuring that we are thinking about things big enough. Because, you can become complacent. Your job is to push your company, but it's not just to show up and say, "I want 20% more." More importantly you need to set an expectation, and set a path and a vision that allows people to achieve that at the same time.
Rule #4: Find Your Dart Vader
I can remember those early days when you want to be big. You're constantly projecting yourself as the company you're going to be. And whether it was 1996, and we're starting out with 17 thousand dollars in revenues and you've got that, "We're going to beat those bad guys."
Whatever your industry is, whoever the big one you can point at. And it's good to have a nemesis. Luke Skywalker wouldn't be him if he didn't have Darth Vader. And so you need to decide and define, who's your Darth Vader. And then you typically put a, put them over the dart board and you throw darts at them, you think about them.
But you understand that in order for you to be successful it's got nothing to do with anybody else. And frankly, the games that we all are typically playing are not zero-sum games either. And so in order for us to win, which is still part of the ethos and philosophy we take at Under Armour today, it's not a matter, necessarily, of someone else loosing.
In sporting goods, the pie was about this big. And you'd look and people were constantly trying to take shares from each other, back and forth. And when we got into it, and the thing that allowed us for our breakthrough, was we effectively went and made our own pie.
And with that we created this new category and it gave us the legs to think about, not necessarily how we compared to somebody else, but the opportunity that we had. I think when comparing what we were doing versus compared to what we felt the opportunity was.
Rule #5: Why Not Us?
I was lucky enough to not listen to people. I was lucky enough to use this statement that I framed my thinking back then, and hopefully still today. I was always smart enough to be naive enough to not know we could not accomplish. I was always smart enough to be naive enough to not know we could not accomplish.
Why not us? Because anybody smart I talked to said, "Are you crazy? "You're going to go against these behemoths in this industry? "You know how big these other brands are? "The guys out West, the guys in Germany? "It's a dangerous category."
The fact is I didn't care. All I knew is that I was going to make the worlds greatest t-shirt. And it started out making the worlds greatest t-shirt for football players. That quickly grew to baseball players, lacrosse players, hockey players. On and on and on. Great product always wins and we are fortunate to have that.
Rule #6: Work With Great People
And so the hardest thing that any organization has is getting the people right, right? And so, I'm very fortunate because the first decision that I made was to hire my first partner, which was Kip Fulks, right? And getting Kip in, and then I trusted that Kip would hire two great people. And they would hire three great people.
And on and on and on. Along the way, you get to establish and you get to build a culture. And that's something that takes a long, long time to do. And, it's something that you better be good at because you're never done. Particularly in a growing company.
Rule #7: Be Famous For One Thing
I would tell you, that the number one key to Under Armour's success, to any new company's success, plain and simple, is focus. And the thing lost in the first ten years that we don't get credit for at Under Armor was that, from 1996 to really, 2000, we had one product.
Great entrepreneurs take one product and say, we're going to be great for this. And most importantly, we're going to be famous for one thing. And that is the greatest advice I can give you because so often, you get caught up with trying to keep up with the Jones' and going, "But they're doing this, and they're doing that." And it's like, they're also 150 times your size.
You're not in the same league. You need to become great at one thing. And that's where, at Under Armour, when the first five years, it was. Where today, we're on, I think it's over the 60th different iteration of that first short sleeved, wicking, compression t-shirt that I made.
And so often you see people going, "You've got to make a long sleeve. "You've got to make one for womens. "You've got to make one here." And I was like, "I have to make this product great." And we literally sold it and made it, and made it over and over.
And it was never frankly, done. And that's what allowed us, from that t-shirt. And like, "You should make shoes, you should make shoes, "you should make shoes." And I'm going, "We're not ready to make shoes." And it wasn't until 2006 when we finally launched shoes. Ten years into our company.
And then frankly, it's not even really until now, and getting better, ten years after beginning to make them, and eight years after selling them, where I think we're really beginning to see scale in ability to be great in footwear.
And it took us becoming famous in one thing first. Before you just start running off on a number of ideas that aren't the most important thing to the success of your business.
Rule #8: Make Fast Decisions
You know speed and the ability to make fast decisions. You know, smarts is something you never want to turn your back on. But if I had to choose, I would probably take speed. Especially in starting a business and being an entrepreneur.
There's so many great ideas right now that are sitting in a basement or an attic, where the entrepreneur is just timid or afraid to get out to market. 'Cause they think it's not perfect. It's not right, it's not ready to go. And the one you learn in business is that version two is always going to be better than version one.
You can say, "I want to wait, I want to hold back. "I'm just not ready." But to go and to move forward. And I've had to make decision as a company that I didn't believe were always the perfect decisions.
But I believe they were probably the best decisions for us as a company and us as a brand. And sometimes that better decision, is just making a decision.
Rule #9: Have Fight Like Family Mentality
That it is absolutely, in any good company, there must be a fight-like-family mentality. Where you sit at that table and every idea is out there. And whether it's me pushing them, 'cause I'm tryin' to get my company ready for the scale of growth that we're about to see. And tryin' to prepare and get yourself in front of that.
Because many of you will be faced, where, typically in any business, one is lagging the other. I say one, is that you sort of have front end and you have back end. And there this constant natural tension between people saying, "We have all the facilities, we can do it, we have to." And I'm one of those that believes in, like, you've got to sell it first.
You've got to push it and we're going to figure out how to make it. We're going to figure out how to get there. And there's times where we've gotten too big on the other side. But the bigger box, the bigger warehouse you build, you're typically filling it with stuff you don't need.
And if there's any two things going to kill you in business, it is people and it is inventory. And be incredibly sensible to both of them. And for the entrepreneur in here that may be in a fund raise or going in a fund raise, or thinking about a fund raise and it's the worst thing I think I see is, companies, new companies that become perpetual money raisers.
If you need money, why don't you do yourself a favor you keep the equity, and if you need money, go sell the stuff in your warehouse. Go sell your product. And if you can't sell your product then there's probably something wrong with the business.
Because there's nothing more fundamental than, is someone willing to take cash out of their pocket and put it in your hand, and receive your good. And if you can't answer that question of, does your product sell, you need to have a faster conversation.
Rule #10: Give It A Shot
If you are sitting on an idea whether it's on your laptop, whether it's in your garage, whether it's in your basement, whether it's in the back of your car, give it a shot, right? And the best advice I ever received, find out if your product can sell. Don't let anybody talk you out of it. Give it a chance. Try. Make it happen.
This is our greatest asset as a Nation, and one that we have to continue to encourage. You don't have to go broke, you don't have to bet everything on it. But you can start one day at a time, taking a chance, and seeing if you too can build a great company.
---
Thank you so much. I made this because KeeganTG asked me to. So if there's a famous entrepreneur you want me to profile next, leave it in the comments below and I'll see what I can do. I'd also love to know which of the top ten rules meant the most to you.
As in, it had the biggest impact for you. Leave it in the comments below and I'm going to join in the discussion. Thank you guys. Continue to Believe. And I'll see you soon.
---
You might also like
---