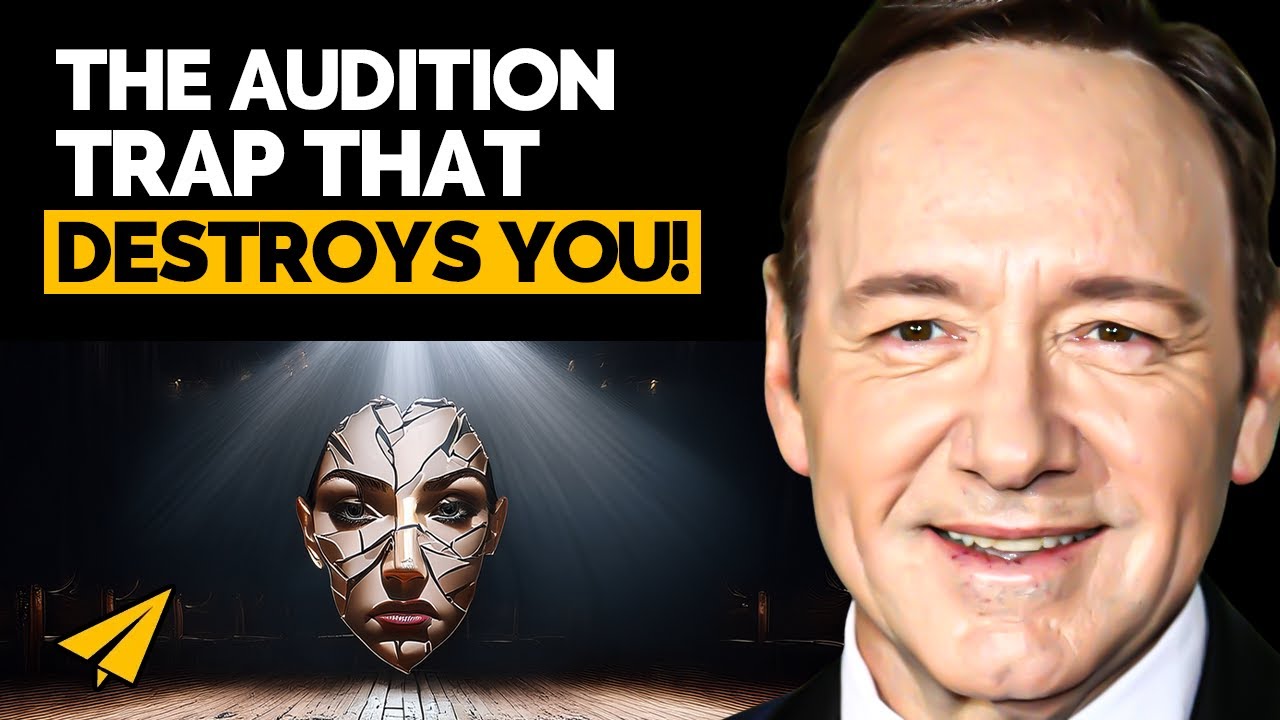 Famous Entrepreneur Quotes
Kevin Spacey's Quotes
"To want, and to be ambitious, and to want to be successful is not enough."
"Very often the thing that actors tend to do, is I think they tend to focus on the wrong thing."
"The only thing that interests me is what scares me."
Kevin Spacey's Top 10 Entrepreneurship Rules For Business and Success
He's an American actor, film director, producer, comedian, and singer. He began his career as a stage actor in the 1980s. Since 2013, he's played Frank Underwood on the Netflix series House of Cards, for which he's won numerous awards. He's Kevin Spacey, and here's my take on his top 10 rules for success.
Rule #1: Learn Storytelling
Well we all are in the business of storytelling. I mean it's not just exclusive for people like me who are in the entertainment business. I think that, no matter what business you're in, no matter what you're selling or doing. Why is it certain businesses can hover above their competition? I mean is Starbucks really serving the best cup of coffee? Maybe not. I mean, I like a Caramel Macchiato myself.
But is American Express really the best return rate on a credit card? Hmm, probably not. But it's the story they manage to tell. And I think that the more that we think about that, the more that we. Sometimes we see commercials, and we see stuff and we just go, it's a turn off. But somehow, those people that manage to tell a story, manage to even temporarily move us in a certain way, that we remember. We don't feel like we're being sold, we feel like we're being told something that we can connect to. So I've always been driven by that very idea, that very notion.
Rule #2: Find Your Why
Man: Can we help us appreciate this early experience, these lean years, these very difficult years leading up to the ultimate prize.
There is no prize, out there. The only prize is this one, and what you feel, and what you want to accomplish. And if you can, as you start out, these what could be lean years or could be fat years. I feel that I very often watch a lot of young people sort of meander around without any idea about why they're doing what they're doing.
I mean, to want and to be ambitious, and to want to be successful, is not enough. That's just desire. To know what you want, to understand why you're doing it, to dedicate every breath in your body to achieve. If you feel you have something to give, if you feel that your particular talent is worth developing, is worth caring for, then there's nothing you can' achieve.
Rule #3: Don't Compare Yourself To Others
And I think that when I was beginning as an actor, I was fortunate to have gone to Julliard, when I did go study drama, with a great number of actors and actresses who were going on to become very well known, very quickly. And I wasn't. I think the sort of greatest lesson I came out of about that, was that comparing yourself to other people is a real mistake. I mean my struggle wasn't any worse or less, or whatever than anyone else's. It was just mine.
Rule #4: Take The Long View
I think the audition process is no different than going for a meeting as a cinematographer, if you want to be in any of the disciplines of this industry. Very often, the thing that actors tend to do, is I think they tend to focus on the wrong thing. So if I were to say to you, what do you think the purpose of an audition is, what would your answer be? What's the purpose of an audition?
Audience Member: To live truthfully in the moment
To live truthfully in the moment, very nice. Most people would say to get the  job.  Alright. That is a very, very, very dangerous place to start, to want to get the job. Now, look, let's face facts. If you get the job, how great. That's  great, it's icing on the cake; it's fantastic.
But I believe that if actors were better willing to adopt a philosophy that it is an opportunity to walk into a room, and to begin a relationship that may not pay off with that particular job. Sometimes actors are so nervous, and they want that job so much or they can't pay their  rent. They got to get that  job. I got to get that  job. Hi, hi, hi. Well we see that. You know, the director sees that.
So the problem with that is that you're not being yourself. You can't be truthful in the moment when you're focus is on the result instead of what, on that day at that moment, is the beginning of a process. Can I work with this actor, the director's thinking. Does this actor pay attention? Do they listen? And when I give them direction, do they actually change anything? Do they take direction? Go that way.
And if you can stand in a room and say, I may be raw, I may be undeveloped, I may have no experience, but I trust myself enough, and I believe in myself enough on this day, that I want to introduce myself to this director, casting director, producer, assistant, and by the way, be really nice to the assistants. Because no one behind that table is any different than you.
Everyone behind that table is just as ambitious as you are. That director wants to be doing better things. That casting director wants to be a director. That assistant wants to be the casting director. Everybody wants to be somewhere else in 10 years, just like you do. So we're all in the same boat. And it's sometimes hard to believe this. No matter how rude they might be, no matter how; 'cause some of them are just; they're  in those kinds of situations.
My point is this. They're on your side. Because they have to cast this thing. And because people are fundamentally lazy, they'd rather be home smoking pot and watching TV.  They want you to be good. They want you to solve their problem. And too often, I think people don't realize that you have to take the long view. The short view is I want this job, I need this job, I want this job.
The long view is, I have a chance to meet someone I may admire, someone I could work with. But I may not be right for this job on this day. That has nothing to do with my talent. It could be a thousand reasons why you don't get a job. But if I'm good enough, if I stand on that stage and I show them where my talent is on this day, I walk out that door, they might look at each other and go, "She's really good. "She's really good. "She's not right for this, but she's really good." And the next time they do a film, or the next time they do a play, they'll bring you back.
And someday along that long road, you may get that job. But it's about relationships, and it's about trusting yourself in where you are. And realizing you are good enough for where you are right now on that day. And I believe in the long view.
Rule #5: Create Great Content
And I also believe that audiences have remarkable attention spans. You know, there's always this sort of argument. You sometimes see it in the way movies are cut. Where there's a cut every three seconds, because God forbid something isn't happening on screen; something isn't distracting.
But if you go back and look at the great movies, there's just a camera, capturing people in a space. That is compelling. And I believe audiences, actually at the end of the day, they don't care about platforms. They don't care that it's on Netflix or on Instagram, or a six second Vine, or a 13 hour mini-series on PBS.
They want good stories. If we give them great content, not just to fill the time, but great content that are great stories, they will watch it on whatever platform it's on.
Interviewer: But there is something different in a story, a complexity that's possible, obviously with time. And do you think that there is, if you like, a swing back against short, snappier, bite-size pieces of content, to something that is much more textured?
No, I actually think there's room for all of it. And I think that that's why we're seeing so many different kinds of platforms emerge. You know, people are adapting storytelling for the platform that they're on. And that's actually kind of exciting, and opening up new doors.
Rule #6: Enjoy Living
I travel, I play a lot of tennis, I play a lot of ping-pong, I see a lot of friends and make a lot of dinners. I enjoy my life. In fact, in the last seven years I've carved out more time for me than I think ever before in my life. I think you have to. I think it's hugely important to be able to balance your life with your work.
I'm loving living life, and I think it's just hugely important. I'm fortunate, I don't have a nine to five job, but this job does require an enormous amount of my attention, and I live full-time in London. And I only leave London if I'm going to make a movie.
But even if I'm able to carve out two hours in the middle of the afternoon to go play tennis, or go to a gallery or take a walk, that's hugely valuable. Even a two-day weekend can feel like a five-day holiday.
Rule #7: Collaborate
Interviewer: You've worked with unbelievable directors and other actors, and on great work, Mamas work, O'Neill. Can you just talk about that, at all about the collaboration.
Well that is it. That is the key to doing anything, and doing it well. Either in film or in theater. You know it's about bringing all the elements together. And if you are fortunate enough to not be driven by your own ego, and not believe that all your ideas are the only good ones, and are open to suggestion and to criticism, that's not a good idea.
Don't play it that way. That doesn't serve the writing. As long as actors, and to a large degree directors, our job is to serve the writer. Serve the writing. If you serve the writing, you will ultimately serve yourself. I think we have gone through a couple of decades where actors have been spending more time serving themselves.
And they have forgotten that it is about the writing. It is about finding out the world that a writer wants to create, and doing everything you can to give the director as many choices as they possibly can have in editing. And collaborating and being open about it, and loving that aspect of it.
Because it's so incredible. If you A, trust the people that you work with, and bring an atmosphere of openness and humor to the proceedings so that everybody wants to come to work everyday and do their best job. So it is about collaboration.
Rule #8: Challenge Yourself
There's lots of films that people know that are always sort of mentioned as, wasn't that your favorite? I hope I haven't done it yet. And every time I take on something, the only thing that interests me is what scares me. The only thing that interests me is what I think I can't do.
Rule #9: Stay Focused
Well when you're doing a TV show, you know everyday is a different day in the sense that it's never the same. And you might be shooting two scenes, you might have one scene, you might have five scenes. So your level of preparation is different every time.
Generally, I'm up early, I exercise, I run, I do whatever it is I'm doing in terms of my physical life other than playing tennis, which I stack up during the course of a week, quite a lot of if I can. And you know, get to set, depending on your call time, but very often it's very early.
And then you try to be there and be alert and awake, and alive and ready to go every hour of the day. And if you work 12 hours, then you have to be alert every one of those hours. It's an important thing to stay focused.
Rule #10: Have Fun
Interviewer: When someone has the gift, I cannot resist. I am told that you are so adept at it. If our audience closes its eyes, they will actually have the impression that I am privileged to interview some people who might otherwise never have appeared on this stage. Our guest is Jimmy Stewart. And Mr. Stewart, generations of actors have admired your naturalism, and your simplicity. Now is that just Jimmy Stewart, or is it Jimmy Stewart playing a kind of Jimmy Stewart?
Well now, Jimmy, I know what you're saying. I'm aware of what you're trying to say. And the answer is yes.
Interviewer: You can all testify now to the fact that I have interviewed Jimmy Stewart. Here I am; this is after all a kind of interview show, a talk show. And Johnny, you reigned for years as king of talk show hosts.
Oh now we're talking.
Interviewer: What was the secret of your success?
You know Jimmy, I'd love to answer you that, but I don't work on Mondays.
Interviewer: I understand that you have conducted a long correspondence with Kevin Spacey, and that he approached you once, Ms. Hepburn. And I would like to know, what's that story. Do you actually correspond?
He's a stalker.  He just won't leave me alone.
Interviewer: When he writes to you, what do you respond?
He writes letters, and goes on and on about himself. And I just say, "Good for you."
Interviewer: I would like to ask you please, because you are a very good director, as well as a wonderful actor Mr. Eastwood. What is the word of advice for our many directors out there in our school.
Well I'd say get it done by four, so you can hit the links.
Interviewer: Mr. Gielgud, am I on the right track. Mr. Gielgud, American actors envy you. Your impeccable diction, how did you acquire it.
Oh went to school, you know, trained for years and years.
Interviewer: Marlon.  English actors do not admire your diction. How did you acquire it? Could it by any chance have been a result of your training at the Actor's Studio?
Listen, I didn't learn twiddly twat at the Actor's Studio.   And frankly, I'm just sick and tired of all you cats just living off my name forever. So leave me alone, and bring me the Doritos would you?
Interviewer: Mr. Walken, you are.  You are, despite what was just said, a distinguished member of the Actor's Studio, and this is your second time on this stage. Do you have a response for Marlon.
Well you know. He's just stoned you know. You got to forgive him, you know. He's crazy that way.
Interviewer: I'm going to call on another member of the Actor's Studio, distinguished member of the Actor's Studio, to respond. Mr. Pacino. You've already been immortalized by Kevin Spacey on Saturday Night Live. We all saw that. How did you feel about it? Were you pleased?
Oh funny.
Interviewer: Didn't bother you at all?
No. Can I get a cappuccino?
Interviewer: I know that like so many of our students who remember your evening here on this stage with us. Kevin Spacey often looks to you Jack Lemmon for professional wisdom. What is your final word tonight? What is your advice to our youngsters?
I wish to hell he'd stop calling me, and leave me the alone.
---
Thank you guys so much. I made this because Dante Deluca asked me to. So if there's a famous entrepreneur that you want me to profile next, leave it in the comments below, and I'll see what I can do.
Finally, I wanted to give a quick shout out to Anna Weber from SuccessfullyPublished.com.
Anna, thank you so much for buying my book. It really means a lot to me. Thank you guys. Continue to believe, or whatever your one word is, and I'll see you soon.
---
BONUS
Find Mentors
I can tell you the moment I did the very first thing in drama class where we had to do a pantomime to music. And I created a western scene where I was riding a horse, I had a six gun, and it was to the music from Dueling Banjos. So the horse got faster and faster as I went.
And everybody applauded and laughed. And I was like, well that's a sound I like. And then the drama teacher there, who was really remarkable, and a great mentor, then led me toward a workshop, that was being run by one of my idols, which was Jack Lemmon.
I mean his work in Some Like It Hot, or the Apartment, The Odd Couple; some of the finest work I'd ever seen. He just did comedy and drama brilliantly. He was a kind of every man. So he was running this workshop at the  Perform in 1974, and I got a chance to go.
And one of the things we had to do, was we had to do scenes. And Mr. Lemmon was going to critique our scenes. And so I did a scene; I was very shy, I was very nervous. And he came up to me after I did my scene, he put his hand on my shoulder and he said, "That was a touch of terrific."  He said, "No, I'm not kidding, what's your name?" I said, "Kevin." He said, "This young actor has been doing "what I've been talking about all afternoon. "
He was connected to the material. "I'm telling you that you should go to New York, "and you should study to be an actor, "because this is what you were meant to do with you life." And I was 13 years old. And it is kind of extraordinary that sometimes in life, a teacher, a parent, an adult, mentor, can say just the right words to a young person, at just the right moment, and it can be life changing.
And it was life changing for me, because I did go to New York, I did study at Julliard for two years, and then I began my career as an actor in the theater in New york. And then 12 years later, after we had met in 1974, I found out that Jack Lemmon was coming to Broadway to do a production of Eugene O'Neill's Long Day's Journey in Tonight.
And I felt at 26, I was the right age to play one of his sons. And I particularly wanted to play the role of the alcoholic, Jamie Tyrone. So I tried and tried and tried to get an audition. I couldn't get an audition. I finally had to sort of sneak my way in. And I finally got an audition with Jonathan Miller, who was going to direct the production, the great British director. And then I had to audition with Jack.
So once again, after we had met 12 years before, I found myself in a room with Jack Lemmon doing a scene; or we did like four scenes together. And I was relentless with him. I'd prepared for this audition, unlike anything I'd ever prepared for. I was toppling over his lines, I was pushing him.
I wanted this part so bad. And at the end of it, Jack Lemmon once again walked up to me, put his hand on my shoulder, and said, "That was a touch of terrific." He goes, "You know what, I never thought we'd find the right kid, but Jesus Christ what the hell was that?" And I won the role. And I got to spend the next year of my life working on stage with my idol.
And he then became the greatest mentor I could have hoped to have had. A father figure. And really somebody who, was such an extraordinary example of a man who had reached absolute the heights in his profession, but it never went to his head. He was the sweetest man, and we then ended up doing three films together, with Glen Gray, Glen Ross, which he used to love to call Gene Berry, Glenn Close. It's easier to say.
And you know, there's really not a day that goes by where the influence he had, the lessons he; just by example that he taught. I've always sort of gone through my life feeling like if I just keep a little twist of Lemmon in my heart, then I'm going to be okay.
Be Grateful
We were talking about this outside in the hallway. 'Cause we were talking about Sean, about how sometimes you can love what you do, and be good at it. But sometimes you don't have to love what you do, and still be good at it.
Interviewer: That's Sean and acting.
Yeah, we were having this discussion out there. And right now, not everything is great. I certainly want things; I fight for things to be better, and I fight to do things better in myself. But I also feel like I've been given so much opportunity that even to start to whiff of a sort of whine or complain, as certain other people do, who I know. Little whining hosts.  I feel that it's disenchanting.
Interviewer: If I saw someone like that I'd shoot 'em on sight.
Smack 'em, right. So I feel like the best thing that I can do is be grateful, and honor it, and continue to try to do the best work I can. And I'm fortunate that every time someone says oh no he's not the right guy for that, and I'm able to go out and prove that I can do it.
Summary
Rule number eight is my personal favorite, and I'd love to know which one you guys like the best.
Kevin Spacey's Rules
BONUS

I hope you enjoyed this article, make sure to check my Kevin Spacey video on his Top 10 Rules For Success as well.

---
You might also like
---
More from Kevin Spacey
---
Watch Be Truly FULFILLED - Tony Robbins Entspresso video. Good morning, Believe Nation. My name is Evan Carmichael. My one …
Hello believe nation, my name is Evan Charmichael, my one word is Believe, and I believe that entrepreneurs are going …