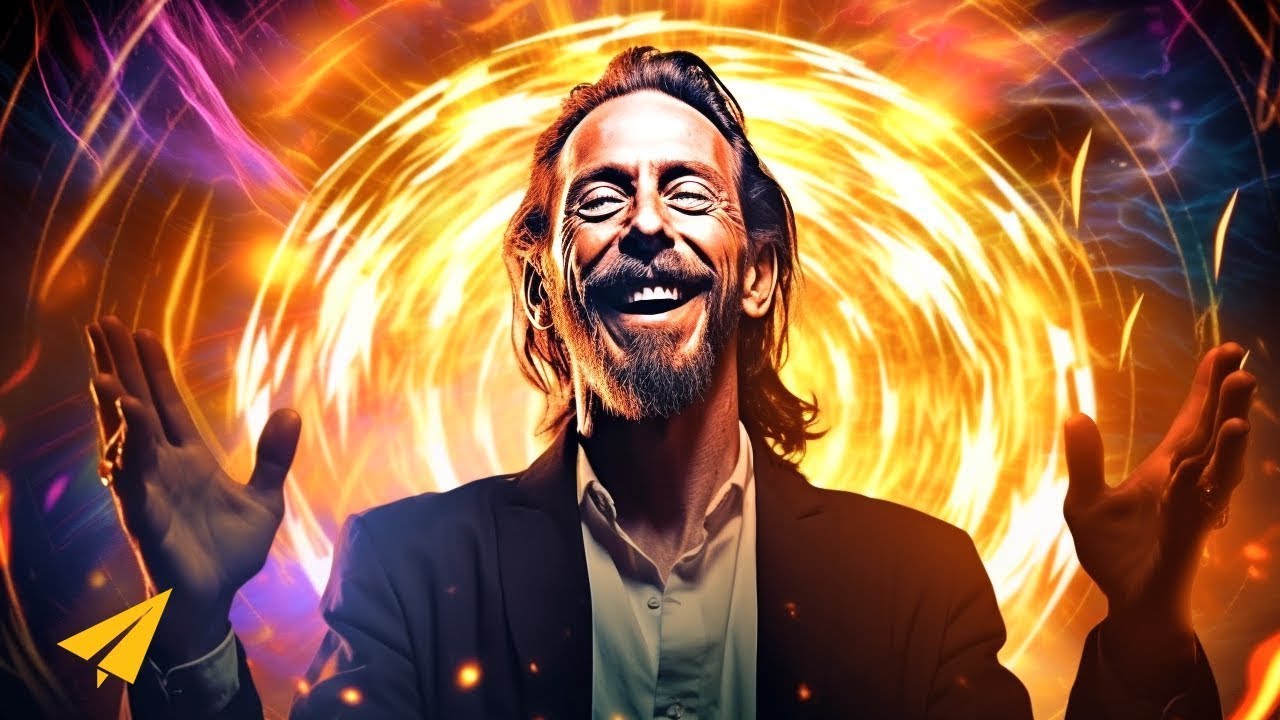 Good morning, Believe Nation!
Today's message is know what you really want. Over to you Alan Watts.
Alan Watts
Alan Watts: Saint Paul said that the laborer is worthy of his hire. And I as a philosopher, mere philosopher dealing in higher things, always insist that I be paid for my work. And I get the highest fee I can get. And people say, "Oh you're just out for money." I say, "That's none of your business."
Because I give most of it away, my own needs being extremely simple. Although I enjoy good food, I don't even own a television set. And you know it's a very simple life but I've got enough. And enough is as good as a feast. You see a lot of people don't feel happy unless they have another thing beyond money which is called status.
And status, to a very large extent in our economy, consists in conspicuous consumption, in having this thing and that thing and the other thing and having a swimming pool, a Ferrari, a certain kind of clothes, a certain kind of house with an enormous ranch-style picture window and so on and so on and so on.
And we think we need all that because we've been persuaded by a certain kind of propaganda that that's how we ought to live. Because we haven't been asked ourselves whether that was what we really wanted. In other words, we've been propagandized into thinking what we wanted.
Evan Carmichael
I think a lot of people in entrepreneurship are being sold a pipe dream. I think a lot of the videos, a lot of people talking about entrepreneurship are talking talking about the Entrepreneur Lifestyle where all you want are Ferraris and private jets and islands and all of the things that money can buy and the path to do that is entrepreneurship. And it's easy to buy into that.
It's easy to spend money on courses and programs, but it's a lie. If you look at the people who have had the most success at entrepreneurship, none of them had that as their ambition. None of the people you look up to had massive success in any industry started with a dream board, a vision board, of having a Ferrari on it. If that is your goal, you will never get there. The most successful entrepreneurs have an absolute passion for changing the way something is done in their industry.
So you have to tap into what that is. Otherwise you're going to fail. It's like looking at Lebron James and seeing this guy who has a lot of money, who's driving nice cars, who's wearing nice clothes and like, "I want the Lebron James lifestyle. "I want to look like, I want to dress like that guy. "I want to be the man like Lebron James "when I walk off an airplane and I'm all pimped out "in the latest suit. "That's what I want to be like." How did Lebron James get there? By working his face off.
By caring about the game of basketball and by going all in on that. If you look at basketball as a way just to make money and look like Lebron James, you will never put in the work to actually be great at basketball because that's not what you care about. Lebron doesn't care about the suits. Lebron cares about winning championships And the suits are a nice byproduct of it. You get the difference? Lebron doesn't care about just getting the next Ferrari in his collection or buying the next shoe that comes out.
Those are nice perks. Not that those are bad but it's not the ultimate goal. The goal is win championships. That's what you have to be "all in" at if you want to be successful. So equate that back to your business. If you are starting a business just to achieve a yacht and a Ferrari and a private island on your vision board, you're not going to get there. Cause you won't put in the work.
You have to want to win championships, or whatever that equivalent is, in your industry. You want to stomp in your industry. And the side benefit of all of that is the cars, is the material wealth, is whatever you want. But it can't be number one. So I'd encourage you to dramatically reevaluate where your priorities are, and until you set them straight, you're never going to achieve what you have the potential to achieve.
Question Of The Day
So the question today is I'm curious. What is the equivalent of winning championship rings in your industry?
What does that look like for you?
Leave it in the comments below. I'm curious to find out. I also want to give a quick shout out to David Msn. David, thank you so much for picking up a copy of my book Your One Word. Really means a lot to me man. I hope you're enjoying the read in your planet, your life, and your business. I appreciate the support.
Thank you guys again for watching. I hope you have an amazing day. I believe in you and hope you continue to believe in yourself, and I'll see you again tomorrow morning for another shot of espresso.
---
BONUS
Know What Your Really Want
David Allen
I think people need to get, sit down and clarify what experiences are you really looking for in your life. And that doesn't necessarily mean, it can include lots of money, but it can also include what do you want to experience with that money. A sense of freedom, a sense of service, a sense of providing value to the world, a sense of self-confidence and self-efficacy.
What is it that you're after? So this in my own explorations and the whole personal growth and self awareness game for years, I've been involved in that pretty seriously. You know there's an exercise that says, "What do you want?" "I want a red Porsche." "Great, what experience do you think that's going to give you?" "Freedom and a sense of fun, whatever." And then the people get the red Porsche, and they're worried about somebody going to dent it. And they can't afford the payments on it.
They didn't really get the experience they were looking for. What happened? They got the symbol, but they didn't get the inner experience. But if you want the experience of freedom and fun, you can have that this afternoon. It doesn't mean you shouldn't have the red Porsche. But it just means that if you start to focus on the inner experience. What would climbing the corporate ladder give you as an inner experience? Why do you want that? What's important to you about that? And it could be, "I want to provide for my family for after I'm gone."
So there's a sense of building wealth or building net worth or building assets for people around you that matter to you. There's no right or wrong about any of your answers to this, but I think getting clear about whether you want to do that or whether you want to get there because you want to be able to impact a much larger segment of the world for doing good, or taking it over, I don't know, for whatever you want.
But I think that's the key is being able to externalize and start to become objective about, well, what is it that you're after. Just crafting your own ideal scene not only of the things you want which is fine. Don't stop that. As a matter of fact, don't feel embarrassed that you want a red Porsche.
So there's nothing wrong with any of that material stuff that you might want, but it's also true that it's a real good idea to just sit down and say, "Let me just lay it out, all out." And then use that as a map to then guide you in terms of your intuitive decision making. Don't think you have to work at it that hard, but I think you do need to be conscious about it and validate it in some part of yourself.
Robert Green
The difference between people who are successful and not is those who are successful seem to know from the age of seven or eight, maybe older, they're very in tune with what they love. I compare it to a voice inside their head, not literally a voice, but something saying you really are drawn to this subject. And they hear it throughout their life. For me, it was writing and books since I was a kid. And you know any time I deviated from that love and went into something else, I just was so unhappy. I knew that I wasn't doing the right thing. And so it's just like this voice that keeps drawing you back to what you really really love.
Reed Hastings
Well, I would say I've always believed that a strong mission statement's really important, and I have to say we've never succeeded at it. It's like this odd thing you know. We've had 'em every year for 15 years and they're constantly different, and now we're all so cynical. We're like, "Come on we're trying to make people happy." I mean that's the fundamental thing in a consumer service.
We're trying to be better, and us and Disney and mission aren't that different just a bunch of different tactics at it. But we're an emotional product. We cater to the things that are important but not necessary. And I love that part about it cause when you're selling milk or penicillin, you're selling something somebody needs.
And we get to sell something you want, okay, that you choose to do because it's really cool. It's human to be entertained and connect to people over entertainment. And so we celebrate that a lot and we want to change the industry but in terms of a mission statement like so many companies have …
You know Facebook talks about a more connected and open world and you see that phrase again and again and again and it's a powerful mantra. We don't have an equivalent and I think we probably would have been stronger if we do. In the early days it was to connect people with movies they'll love.
And it's okay but it's kind of like a long kind of awkward phrase, connect people with movies they'll love. And it's just not punchy. And then we used it, we had tee shirts, and then it didn't really motivate anyone. It didn't really stick. But we knew we were trying to make people happy with DVDs and then eventually with streaming and original content.
---
You might also like
---