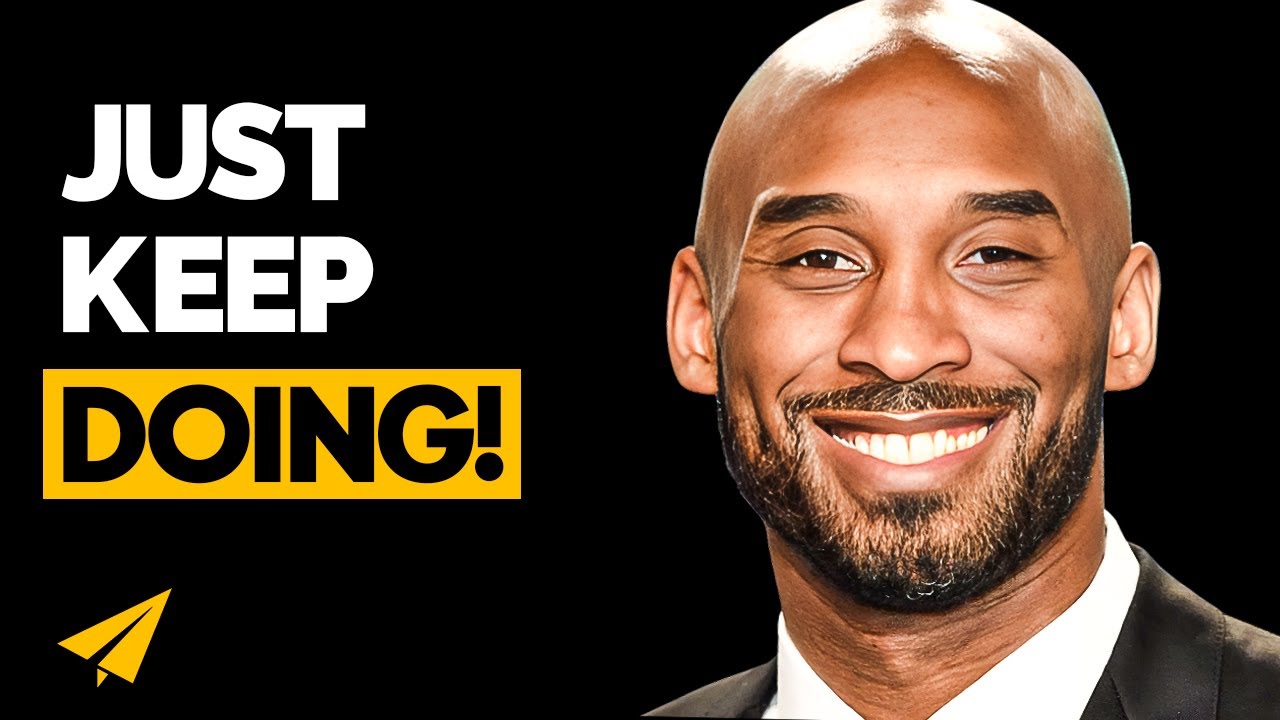 He's a basketball player who currently plays for the LA Lakers. He's a 17 time NBA All Star. He became the youngest player in NBA history to reach 30,000 career points. He's Kobe Bryant, and here are his top 10 rules for success.
Kobe Bryant's Top 10 Rules For Business and Success
Rule #1: Make Sacrifices
There's a choice we have to make as people, as individuals. If you want to be great at something, you have to make inherent sacrifices that come along with that. Family time, hanging out with your friends.
It was at the age of 18, I knew that I was not going to be stopped. This was my life. We all can be masters at our craft, but you have to make sacrifices that come along with making that decision.
Rule #2: One Move At A Time
Once you have the passion, a thing that you're passionate about now, you can look at other people, or other entities, or other things, or works of art. You can draw things from that to help you be better at what you do, by looking for those common denominators.
Johnny wanted to know how do I prepare. How do I prepare? How do I study? How do I view the game? How do you build your game? My response is much like the way he builds products. You think sequentially. You look at the end result that you want to create, but in order to create that, there's so many little things that go into this massive entity or device.
It's no different than building my basketball game. You start with what you want your game to be? What would make your game most unstoppable or hard to deal with? Now you work backwards from there and you start building it one piece at a time, one move at a time, one counter at a time. There's a lot of similarities there.
Rule #3: Trust Your Skills
You just got to have the fearlessness to really take those shots. Because you miss those shots, then you have to deal with the criticism, you have to deal with.
Interviewer: Us taking about it, right?
Right! And a lot of times, a lot of people kind of get a little apprehensive about taking those shots because of that.
Interviewer 2: While we mentioned it, it seemed like you started smiling already just thinking about the word criticism!
It's always been a myth to me as to why certain people don't really like those situations because of the pressure. Because we've all lost games before. So it's not like by you missing that shot, you're about to face something that you will never face again or haven't faced in the past. We've all come up short at one time or another. You just got to kind of let it all hang out, and trust your skills and trust the work that you put in.
Rule #4: Use Your Scars As A Weapon
So that means taking things, using things in your life that are scars. Using those moments as a weapon, right? Using basketball as kind of like a vehicle through which to express yourself. So at that moment, for us to face the Celtics again, it's not about the Celtics.
It's not about your opponent. It's about you. It's about you taking your inner struggles, and channeling that through the game as a way to unleash. So now it became a matter of how do I express that to them, how do I get them to that point where they figure this out for themselves. Because I can't say "Hey listen, I need you to play harder."
Interviewer: So what'd you do?
Well, I had to share my story. I had to open up to them, and let them know, I've dealt with things. This is the things that I use. This is how I go about focus. This is how I deal with adversity. This is how I deal with arguing with my wife the day of the game, and showing up to the game and still having that focus to be able to play. I use those things to open up with them, and then in turn, they were able to take those stories and make them their own.
Rule #5: Focus On Each Day
Well, you just got to put one foot in front of the other, and sometimes I think, even for myself, it's easy to become distracted a little bit, and start trying to look at what the final pictures going to look like. When you do that, you can easily become frustrated with where you are at the moment.
My advice is just to focus on each day and have a plan in place of how you want to improve and how you want to get better, and you stick to that plan and trust the fact that every day that you stick to the plan will get you to your end result.
Rule #6: Don't be Afraid Of Confrontation
I'm not going to be afraid of confrontation to get us to where we need to go. I think there's a big misconception when people think winning or success comes from everybody putting their arms around each other and singing Kumbaya and patting them on the back when they mess up, and that's just not reality.
If you're going to be a leader, you're not going to please everybody. You got to hold people accountable, even if you have that moment of being uncomfortable. I always compare it to sitting across from somebody at a dinner table, if we're sitting across from each other.
Would you rather sit with a person that's going to be afraid to tell you have something in between your teeth, and let you walk around the restaurant smiling like that when you got stuff in between your teeth, or would you rather sit with somebody that's not afraid to have that moment of being uncomfortable to tell you "You have something in your teeth,"  so you can get it out and don't look like an idiot in front of everybody else, right? I'ma tell you if you have something in your teeth!
Interviewer: No matter what, even if it hurts my feelings?
I'ma tell you you have something in your teeth. I'ma tell you and then it's your choice if you want to get it out or you just want to leave it there and look like an idiot.
Rule #7: Be Competitive When It's Hard
It's everybody who wants to compete, and I think it's knowing how to compete. True competitive instinct really kicks in when you're down. A lot of people are competitive at things that are rolling their way, and… things that they're actually good at. But it takes a true competitive person when things are down like this to really step up to the plate and grab for it.
Rule #8: Just keep Going
It's of upmost importance, like I was such a diehard fan, Laker fan growing up, man. And just my personality, for me to ask for a trade or to go play some place else, to try to chase a championship, that's not me, man. That's not what my career has been about, that's not who I am. I stay with it.
If the stuff that I've been through in my life and been through in my career has taught me anything, it's the fact that you'll have good moments, you'll have bad moments, you'll have great moments, you'll have horrible moments, you just keep going through all of it, and things work themselves out.
Rule #9: Thrive On Being An Outsider
I've always had some of my best performances on the road.
Crowd Chants: Kobe sucks! Kobe sucks!
When the fans boo, I actually love it. I thrive on it. They don't understand who I am.  Not only am I comfortable being an outsider, that has become a source of motivation for me. So when I go to these places and you boo, it actually comforts me.
Rule #10: Compete With Yourself
Man: That he gets to the gym at 4:30 in the morning to see Kobe just drenched in sweat, like he jumped in a pool, and then Kobe wants to make him do conditioning and weights for a couple hours. So then when the trainer goes to sleep after, for a few hours, he comes back in the gym at like 11 a.m.
And he sees that Kobe never left the gym at all because he had to make sure that he made 800 shots before he left, after he's been working out for hours and hours. Like "You think this is new to me?" This is an excerpt from Shaq's book, talking about Kobe.
Look, they had a feud, so he says, "He was so young and so immature in some ways, but I can tell you this, everything Kobe is doing now, he told me all the way back then he was going to do it. We were sitting on the bus once, and he told me I'm going to be the #1 scorer for the Lakers, I'm going to win five or six championships, and I'm going to be the best player in the game.
And I was like 'Okay, whatever.' Then he looked me right in the eye and said, 'I'm going to be the Will Smith of the NBA.'" Shaq used to say, he would catch Kobe Bryant on the gym, in the court, without a ball practicing plays. This is who he is. It's just ingrained in him to do what ever he can for a slight edge.
And Shaq said, "This is funny looking, but, ya know, it probably helped him." See a lot of people say that they're going to do something. Kobe Bryant does it. Talk is cheap, but Kobe did it, because he competes with himself every single day. He wants more out of himself every single day.
It's that competitive drive to be the best that carries him. Carries him through practices. It carries him through the weight training sessions, conditioning. Making sure he gets 800 shots every day. It carries him to work on his craft when no one is watching.
Thank You
Thank you guys. So if there's a famous entrepreneur you want me to profile next, leave it in the comments below, and I'll see what I can do.
I'd also love to know which of Kobe Bryant's Top 10 Rules mean the most to you/you're going to implement on. Leave it in the comments, I'm going to join the discussion. Thank you guys, continue to believe, and I'll see ya soon.
---
You might also like
---