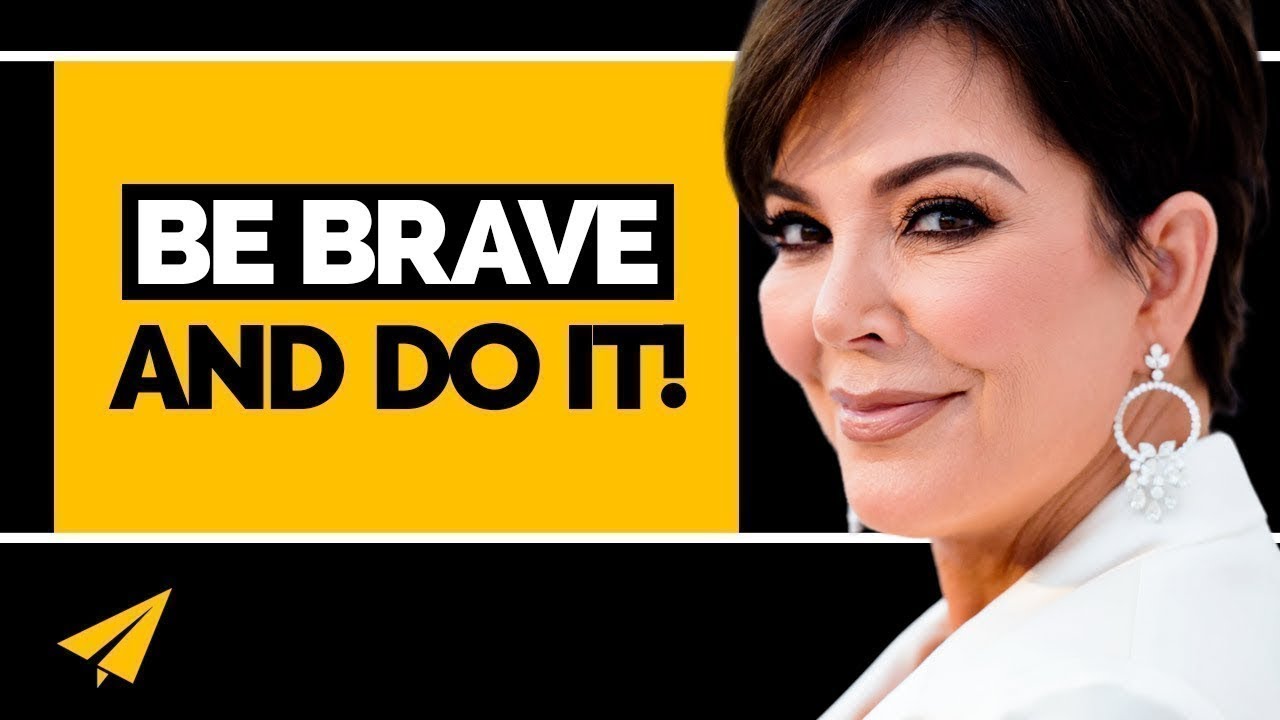 Famous Entrepreneur Quotes
Kris Jenner's Quotes
"You need something to be excited about when you wake up in the morning, and something that you're doing that has a purpose."
"Balance is important. I think that you have to remember to find some time for yourself."
"I have a strong will, and I'm very determined. "
Kris Jenner's Top 10 Entrepreneurship Rules For Business and Success
She worked as a flight attendant for a year in 1976. Jenner runs her own production company, Jenner Communications, which is based in Los Angeles. Since the start of Keeping Up with the Kardashians, she has managed her daughter Kim's career. He's Kris Jennerand here's my take on her top 10 rules for success. 
Rule #1: Do What You Love
You need something to be excited about when you wake up in the morning, and something that you're doing that has a purpose. And if you do something that you love, and you have this amazing energy behind it, it's like, it makes life so much better. And you can develop something, and create a career for yourself out of something that you love to do.
Rule #2: Associate With Like-Minded People
A lot of how you live your life and how you succeed in life is who you associate yourself with, and who your friends are. And my parents taught me that my whole life, and I heard my friends' parents say it, and then Robert Kardashian drilled it into my older four kids, most of their lives, and it just was ringing true, it's like you associate and hang out with people that are like minded, or that you want to be like. And then you go out and do it.
Rule #3: Be The Best You Can Be
Balance is important. I think that you have to remember to find some time for yourself, because if you're not the best that you can be, then you're not good to anyone else. So I think balance is about finding and catching yourself, making, scheduling, like I'll schedule a massage.
It sounds silly, but I carry all my stress in my neck, so I just, if I can get that relief, once a week, or once every two weeks, I feel really blessed. So I think you have to find the thing, whether it's exercise, I exercise every morning, it changes my whole day.
If I don't exercise, I'm thrown off. So I think that you have to listen to your body, and do what makes you feel your best so that you can do your best. Otherwise, you're no good to anybody else.
Rule #4: Show Up Prepared
I have a young daughter, Kendall, who's 16 years old. Her dream in life is to be a model. That's all she's ever wanted to be. And now she's going to be on the cover of a major magazine in September. The girls were just on the cover of Teen Vogue.
Kendall and Kylie are getting one of the most incredible business educations that I think is possible in the history of all little at that age, because they're constantly, they go to their business meetings, there's one business meeting they went to with Ryan Seacrest, and his whole team, Adam Sher and everybody.
And they were at this long conference table, and after the meeting, Ryan was like, wow, that blew me away. They were amazing, because they show up, they are ready for the meeting, they've done their homework, and they've got all these things that they're working on right now that's going to blow you away when you hear about it in six months.
Rule #5: Work Hard
I'd raised four kids in this opulent lifestyle with this amazing, anything they wanted, there was never a fear of, a money thing, they had their very privileged lives, and so then when I got married the second time, and it wasn't the same pocketbook, it was much different, and I was faced with, I've got to learn how to get it together, and so the fear was that I would disappoint anybody, because I am a people pleaser, but I'm also very, I have a strong will.
And I'm very determined, so once I set my mind to something, and I knew that this had to happen, and then I found a way to make a change, and that's what was so rewarding and satisfying, because I would work so hard all day long, things started to happen, because I figured out a way to have an income for my family, and then the hard work didn't scare me, because every time I would go to bed at night, and put my head on the pillow, I was like, this is so, I had such a great day, this felt so good, and I worked so hard.
Rule #6: Laugh At Yourself
Ellen: Kylie had a pop up store in New York, which I heard, and the turnout was really crazy.
There were thousands of people that showed up. And it was quite the scene there in New York City, but it turned out really well.
Ellen: I mean, look at that, people were there days before it opened.
There was one woman who camped out there with her kids for like three days before it opened, and I felt so bad, but Kylie's so proud of those shops. And she has mostly an e-commerce business.
So to do this is just something she likes to do, she's going to, she thinks, I think she thinks that she's going to go on, on a national tour now, so she'll do the different cities, and she's having a really good time.
Ellen: But she's selling things with your face on it.  Did you know that? Like, there's a lighter right here, by the way, it's like $12 for that lighter.  Did you know that?
I did not know she was doing any merch with my face on it until it came out and she kind of did it, and surprised me, and I was like, oh boy!
Ellen: I mean, doesn't she have to ask your permission?
Well, I could sue here.
Ellen: Exactly, exactly.
Yeah, yeah. This is a major lawsuit.
Ellen: That's why I'm having you here, to educate you that you should.
Thank you, Ellen.
Ellen: But I think it's just crazy that she's putting….
She, you got to laugh at yourself. I mean, when I saw this, I was, I thought it was so funny. That one's a little X-rated.
Ellen: That's blurred out because she's saying hello!
But she does, her and I have a really good relationship and all my kids have such great senses of humor, and we're so silly all the time, and you have to have a good sense of humor and not take yourself so seriously.
Rule #7: Be Very Organized
Interviewer: How do you manage being a mother, wife, and such a huge businesswoman? How does it all happen?
It's, I feel sometimes like I have a different job every day, which I enjoy, because there's a lot of diversity, and there's always something different, and I think that when you're passionate about something, it comes easy, but the key is being very organized, making a lot of lists, and I'm a control freak, so sometime it's hard to give things up.
Rule #8: Be Persistent
When I do something, I don't really think of, I always look at the glass half full. I try to have a positive attitude. I try to see through the mud, and say, this could be a really great thing, because I'm going to do it different, or I'm going to make this work.
I'm always very, I'm very stubborn, for one. And I don't like to let things go. So if I start doing something and it's not going well, I think I'm so persistent that I will do it until I feel like it's good or right.
Rule #9: Find Your Dream
Interviewer: So you have this next generation, and the two younger ones, in the spotlight as well. Is that going to keep your family relevant for another 15 years?
Well, here's the thing about that question. I don't, it's not about keeping the family relevant. It's about, and this is what I've always taught my children. Find your dream. What's your passion?
Rule #10: Have Fun
Thank You
Thank you guys so much. I made this because Jaye Cherie asked me to. If there's someone you'd like to vote on for the next top 10, check out the link in the description, and go and have your say.
Finally, I want to give a quick shout out to Jane Cassell. Jane, thank you so much for picking up a copy of my book Your One Word, and for posting it on your social media accounts, on your LinkedIn. I really appreciate the support, and I'm so glad that you enjoyed the reading.
So thank you guys. I believe in you. I hope you continue to believe in yourself, and whatever your one word is, much love. I'll see you soon.
---
BONUS
Keep Learning
Interviewer: What motivates you to keep going? Because you really don't have to do anything if you don't want to, you know?
You know what? I think that for me, it keeps me alive, like inside. Spiritually and just with my passion about what I want to be able to teach someone else, and I think that it's important when they asked me to do this, I thought, wow, what a great opportunity.
I thought it was a such a perfect idea for a private school to be able to bring this to, I thought I had something to share. You know, I've had to kind of figure it out myself, from the ground up, taking kind of nothing and making a business out of it, and figuring it out, and if I have anything to offer somebody else, it would be so exciting for me to be able to do that.
Instead of just my five kids, I can only bitch at them for so many hours a day before they just tune me out, but to be able to have it as an organized education and come in from time to time and be able to give a seminar or lecture, and be a part of such an amazing process, especially an international school, because I love traveling so much, and I love learning something new every day.
As long as you can keep on learning and then to be able to share something with someone else, I think that's amazing.
Summary
Kris Jenner's Rules
BONUS
I hope you enjoyed this article, make sure to check my Kris Jenner video on his Top 10 Rules For Success as well.
---
You might also like
---