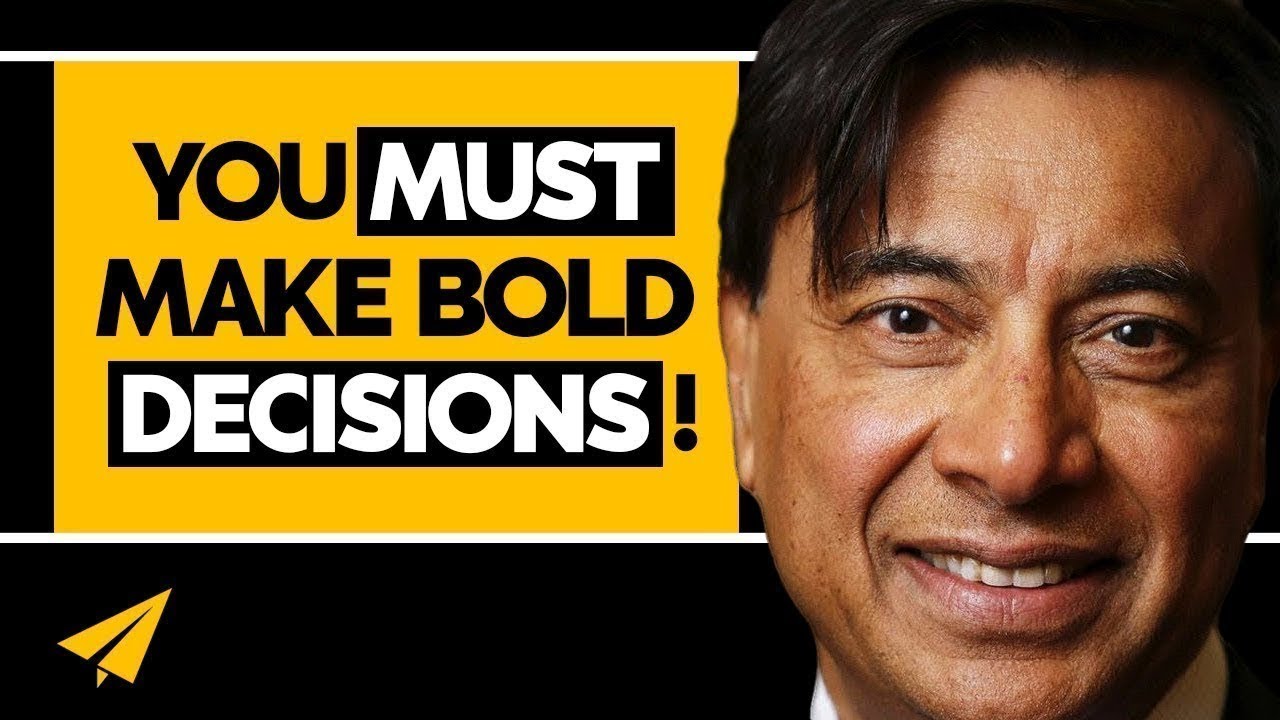 He's an Indian steel magnate based in the United Kingdom. He's the chairman and CEO of the world's largest steel-making company. As of December 2015, he was listed by Forbes to have a net worth of $9.5 billion dollars. He's Lakshmi Mittal and here are his top 10 rules for success.
Lakshmi Mittal's Top 10 Rules For Business and Success
Rule #1: Knowledge Is The Key
There is so much of knowledge available today instantly. And knowledge is the key. If you have the knowledge, if you have ambition. If you are determined, if you are focused. If you are committed. Use this knowledge to grow. Everyone can do it and this is what I would like to say to all young men in India.
Rule #2: Take Bold Decisions
I say bold decisions have to be very transformative. And it has to succeed. And bold decisions are not easy to take. So these young people have to have a lot of experience. They have to have determination. They have to have a commitment. And they have to think through those issues very carefully.
Bold decisions are not free of risk, so they should analyze the risk very carefully. But definitely bold decisions could be a very transformative decision in the business. I would encourage young people to continue to analyze their situation and make bold decisions because otherwise you cannot make a step change in your career.
Rule #3: Be Responsible
Being responsible is is vital to a company's long term success. I have always believed this because being responsible not only has benefits for society, it has clear benefits for the business. Let me give you two examples.
First our success in reducing our own emissions has cost-benefits. Secondly, in developing new and innovative products we help our customers improve their performance and we maintain our market leading positions.
Rule #4: Don't Set High Goals
Interviewer: Did you ever foresee the kind of success you've had? When you were in Indonesia, did you ever foresee it?
I never expected that we would be here. And I'm not a person who sets very high goals.
Interviewer: You don't set high goals?
My goalpost keeps on changing as we move forward in the life. Then you're not very disappointed if you don't succeed.
Woman: It's always been one step forward.
Always make a small step forward and you become stronger in confidence. Then you change your goalpost. So it gives you more pleasure than setting up a very high goal when you don't reach them.
Woman: I don't think we ever talked of moving forward more than a year ahead.
Interviewer: Is that right?
For the last couple of years, we have been thinking more 5 year strategy or 10 year strategy.
Interviewer: Yeah, I'm talking of those days.
In the beginning, do a more short-term view.
Rule #5: Seize The Opportunities
This challenging time gives us a lot of experience. There are two kinds of situations. One, what are the bold decisions we could have taken in the crisis? And a lot of companies took the opportunity of taking bold decisions during a crisis and reshaped their business model for the future.
They have skimmed off some of the excess, they've reduced their cost, they have flexibilized their fixed costs and expenses. They have started spending a lot of money on innovation and for the future. They have started diversifying to emerging markets.
There has been a lot of bold decisions taken during the crisis. And in most crisis, I see that companies need to take bold decisions to design their business model for the next 20 years, looking at the growth areas, looking at opportunities. So, I believe that during the crisis and post-crisis, always there has been and there will be exciting opportunities.
Rule #6: Prove Your Critics Wrong
This really goes back to when I was 16 years old. I passed my Hindi schooling, then applied for admission in St. Xavier's. Since I came from Hindi school, Father Julius at the time was the principal, felt that I would not be able to fit in English medium college, though I was top in my class in school.
I got admission into other colleges, but I really wanted to study in St. Xavier's, so I kept on knocking on his door everyday, till he finally gave it up. And I promised him that I would be a good student.
Interviewer: And how did this experience shape you as a business person? Breaking down doors, breaking ceilings, is that something you learned at St. Xavier's?
I found it a challenge for me to prove Fr. Julius wrong, that coming from Hindi medium school cannot do well in English medium college. And that challenge really gave me a lot of learnings.
I determined myself that I would prove him wrong and I really dedicated myself, committed to myself, that I have to accept this challenge and continue to work hard, focus on the studies, and this is a good learning in the business life.
That, first of all, you have to have commitment, dedication, and passion for what you are doing. I just said everyone works hard, but something needs to differentiate yourself with some others, is focus, dedication, commitment, and continue to work hard.
Rule #7: Don't Lose Focus
I don't like to get addicted to any one hobby. For example, I started playing golf. I like it, I like it a lot. Everyday in the morning I would go and practice. One day I realized that I am getting addicted to golf.
So one day in the morning I was driving to golf course and suddenly I realized that this is not right. So I turned back the car and since then I never played again.
Interviewer: So you don't have any addictions?
I don't like addiction. I think it could distract me from my focus.
Rule #8: Get Experience
We are not born with the poorness. We could be born with the boldness, not with the poorness. It is not that something only you learn from education. Education is only one enabler. But you have to have experience, you have to have experience of success, which means you gain some confidence.
Then you have to have your small goals, small goals set up in your life, and if you succeed, if you think that you are more confident than before, you want to take bold decisions in the future.
Rule #9: Lead By Example
I will always be concerned about health and safety until we reach the place of zero accidents and zero fatalities. There are very number of fatalities again in 2012 and this is not only tragic but not acceptable. We have to remain dedicated to addressing this problem.
I want our senior leaders to lead by example. That's why I have asked my colleagues on GB and MMC to spend more time on the show floor and promote increased training and awareness for both our employees and our contractors. This is how we will drive further improvement.
Rule #10: Do Thing Differently
I was in talk show with other business man from India. When I was talking to him I realized that a condition is way to grow. I realized that life is very short and if you have to really do something, you have to do very quickly. If you have to grow, you have to do something differently than what everyone else has been doing.
I started thinking, if I start building this tea plant it would take years. How many of these tea plants, how many companies you can build. If I have to succeed in my life, I have to find a formula which is different. Which keeps me ahead of my competition and my colleagues.
That's how I thought that we should acquire companies, merge, consolidate them, reduce their costs, make them very efficient.
Interviewer: And a turnaround became like a science.
I would say that, yeah, science and art, it is a mixture of science and art. Every company has different issue. It's not that there is a formula which you apply.
Interviewer: You can apply on everyone?
Yeah, it is not controlled water here.
Interviewer: But the pattern, you establish this pattern and you applied it in different countries, different markets.
Yes.
Interviewer: And that was the genesis of your empire.
Yes.
Thank You
Thank you so much.
We made this because John Simon asked up to. If you have a famous entrepreneur you'd like a video made of, leave a comment below.
I'd also love to know which of the top 10 rules meant the most to you, had the biggest impact on you today, leave it in the comments, we'll join in the discussion. Thank you so much, continue to believe, and we'll see you soon.
---
You might also like
---