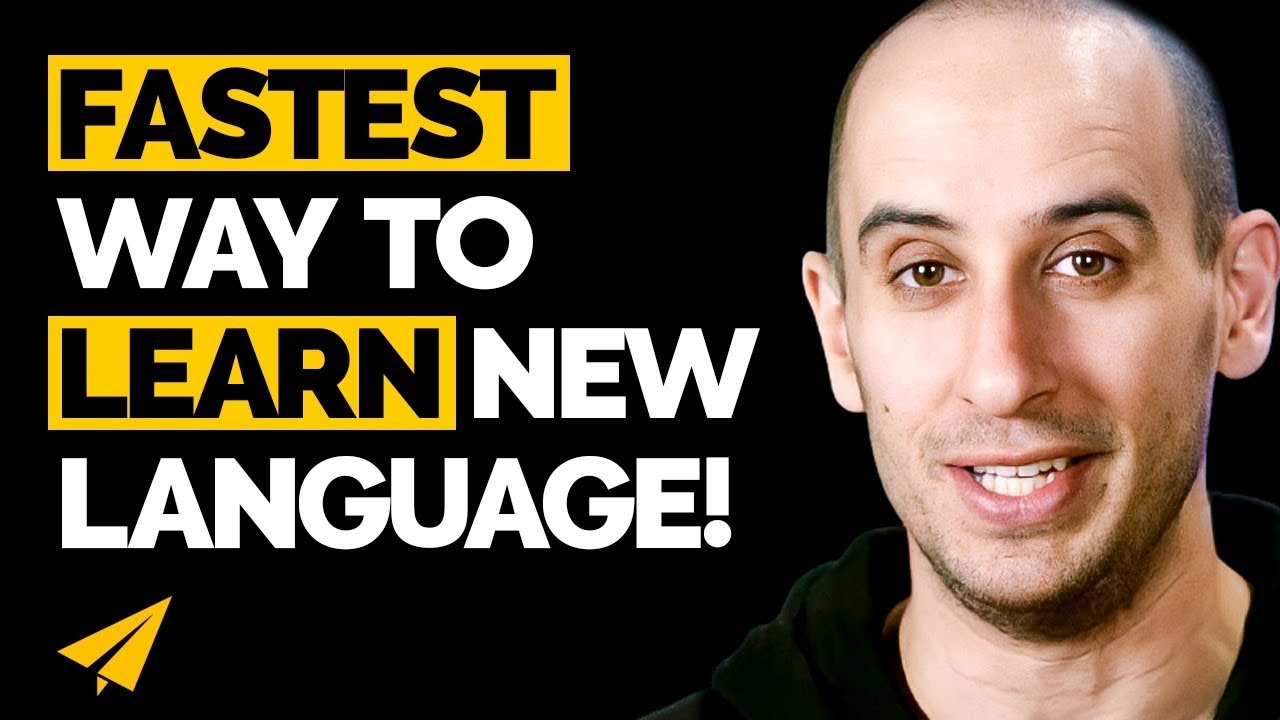 Good morning, Believe Nation! I'm Evan Carmichael! My one word is believe, and I believe that entrepreneurs are going to solve all of the world's major problems! I started the Believe Life Series, to try to step outside just the world of entrepreneurship, and learn from different areas, to try to help us become better, more well-rounded individuals, who can go out, and have a big impact.
So, in today's episode, we're going to learn how you can learn a new language. Rule number two is my personal favorite, and I'd love to know one you guys like the best. And as always, guys, as you're watching, if someone says something that really resonates with you, please leave it down, in the comments below, and put quotes around it, so other people can be inspired. And when you write it down for yourself, it's much more likely to stick, for you, as well. Enjoy.
Learn By Watching TV
Jack Ma
People did not know about me, is people see learning from tourists, but, thinks there's no way to learn English at that time. There is no teachers in our city, who can teach people to speak English! So, I listen to the BBC, and Voice of America. And there, every evening, nine o'clock, or eight o'clock, to nine o'clock, I open my video. From the first Monday, Wednesday, and Friday, I listen to the VOA.
The first book I heard about, is The Adventure of Tom Sawyer's. And sometimes, if the signal is better, I can listen to the BBC English World News. So, by listening to them, and there's English programs for those two radios.
So, this struck me, that today, there's so many kids, in the rural areas, in the poor areas. There is no education. If we can use that types of radio, how about using the Internet, your mobile phone, iPad. It's much more fancier, and more, that can give the kids a much better opportunity.
DamonAndJo
Either, you have a favorite TV show. You have a favorite Netflix series. And the best part is, you can probably find those equivalents in foreign languages, people!
Or, I'd recommend cooking shows, House Hunters, The Voice, these things that you don't really need to have a high level of language, to follow along.
But, you can still follow along. Like, smiles and expressions. Oh, it's French!  You always watch that French House Hunters show!
You know what I love more than House Hunters? House Hunters International. But, you know what I love even more, than House Hunters International?
House Hunters International, in French!
Exactly! It's called Recherche appartement ou maison.
It's weird, I never watch TV. But, when I do, it's usually cartoons. And I watch different language versions of cartoons I already know. So, I watch an episode of Hey Arnold. Hey Arnold, in French, because I know what happened, in English, in that episode.
It's not like you're completely lost. And if you were to watch a crime, scandalous series, you're not going to get that.
I don't even understand that in English! I honestly don't!
#Believe
TheUrbanEve
The second thing, which I find really important, to learn a language, is believe. Believe, believe, believe. Because, if you do not have this base, it won't go anywhere, I tell you. So, believe. Believe that, in yourself, in your ability, that you can learn it. Because, if you don't believe it from the start, you will not be successful in learning. If you're, let's say, starting out with Spanish, and you're saying, oh my gosh, this is so difficult, you're already failing, because, you're speaking the words, already, that you won't succeed.
And this is so true, because, I see it when people start off, for example, German. German, okay, it's a difficult language. But, if you are like, oh my gosh, it's so difficult, I'm never going to learn it. I hear so many people saying that. Even if they're really interested into learning the language, but, they're saying those words, like, I don't know why you even start. Because, if you don't have self-belief, that you can do it, even though it's difficult, then…
Where is the point in starting? And there's even studies that prove the people, like polyglots, for example, and people who have a harder time learning languages, the main difference between them, is basically that the people, who have the ability to learn many languages, they are motivated, and also, they believe. They believe in themselves, and their ability, that they can do it, actually.
So, if I go on, and for example, like my example with Portuguese, I started learning Portuguese by myself. And I had the belief, like no moment, I was like, no, I'm never going to learn this. I'm never going to be fluent. And from the beginning, I was like, okay, I want to learn this, I'm going to learn it, and I will. And that's it. And I learned it.
Have A Strong Reason
Matthew and Michael Youlden
Matthew: I think what's relay important is to always have a goal. Whether it's a professional goal or because you are going to Spain for a year and need to learn Spanish. We have so many personal goals in life for example, I always wanted to go to Wales on holiday, maybe for a few weeks. So you decide, OK, I know they speak English but I've heard they also speak welsh so I'm going to learn welsh.
Michael: Yeah, it depends. There are people whose goal is to learn Chinese because there are so many Mandarin speaker out there anyway. I always think it's nice to combine it, whether, like Matthew said it's personal goal, whether you want to set up a business in the Far East or even just because it's something that interest you. Our parents have asked sometimes "Why do you want to learn Breton? Why not learn Japanese?" I don't want to learn Japanese because of a market. I'd like to learn all of these languages but I don't learn them becasue of factors that other people are imposing on me. I like to learn a languages becasue it interest me, becasue the culture interest me, because even silly things like the wat it's written I find fascinating.
Matthew: Yeah, you have to have a reason to learn this particular languages even if it's just so you can got o a restaurant and order tapas in Spanish here in Berlin or in Paris. And if that's your goal, you have to continue pursuing it until at some point you'll be able to say "How cool, I can now go to a restaurants and order my tapas in Spanish!"
Be Creative
Trixi
Many people say that you should switch your mobile phone settings to a foreign language, to get used to it. But, I actually don't consider this a good advice. At least, not for status. I mean, everything in your cellphone is pretty technical. And a thing that you want to learn first, how to talk to people, before you learn that Bildschirmeinstellungen means Display Settings.  Bildschirmeinstellungen!
These long, complicated words, may discourage you. So, my advice would be, do the same language switch thing with a game you play. This doesn't work for any kind of game, of course. If you would switch, for example, Skyrim, to German, you will learn words like, Orkischer Zweihander Mugdigkeit! Which is the Orcish Greatsword of Rariness.
And it is pretty awesome to know that. But, when would you ever need this in a conversation?  Orkischer Zweihander Mugdigkeit! Aw, she's so cute! So, if you choose a game, make sure it plays in our modern time. Or, it at least, uses our modern language. A point and click adventure, for example. Maybe, one that you like. Monkey Island! You cannot Monkey Island often enough! Or, for example, The Sims, to get into contact with normal life happenings.
There, you encounter daily life vocabulary, in its natural context, which makes it easier to remember, and also easier to guess what it could mean. Just make sure you don't end up speaking Simlish.  Again, write everything down, that you consider helpful. To easily learn a first set of vocabulary, that will come in handy, for normal conversations, buy sticky notes. Write the German, and English words, for everything in your flat, or house, on them, and pin each of them onto the item it refers to. Of course, not in fashion, that they will come off too easily, or, are always in the way.
If you have a pet, that's not an appropriate item for this method. And also, for example, for the mouse of your computer, cups, or forks. This is just not possible. So, find things that this trick actually works with. It helps you with seeing the word, over and over again. And to learn it, and memorize it, without much effort. For the other everyday items, you can craft little flashcards with pictures, like these I did. And whenever you have some free minutes, just grab one, and learn with it.
Talking about vocabulary, don't just write things down, and try to hammer the words in your head. The better, and funnier way, is to invent little stories. For instance, the cow, means die Kuh, in German. If you're going to remember, well, try that. How is the animal called, in English? Cow? And what sound does a cow make? Moo? Exactly! And now, just put these two together.  Kuh?  Mind…  Blown. Of course, this doesn't work for every single word. But, just give your imagination a try.
Keep It Simple
Tim Ferriss
Tim: Languages, Material vs. Method. I, like many people, came with the conclusion, that I was terrible at languages! I suffered through Spanish, for junior high, first year of high school, and the sum total of my knowledge was, pretty much…   And I wouldn't even catch the response. Sad state of affairs. Then, I transferred to a different school, sophomore year, and I had a choice of other languages.
And most of my friends were taking Japanese. So, I thought, why not punish myself? I'll do Japanese. Six months later, I had the chance to go to Japan. And my teachers assured me. They said, "Don't worry. "You'll have Japanese language classes, every day, "to help you cope. "It'd be an amazing experience." My first overseas experience, in fact. So, my parents encouraged me to do it. I left.
I arrived in Tokyo, amazing. Couldn't believe I was on the other side of the world. Met my host family, things went quite well, I think, all things considered. My first evening, before my first day of school, I said to my mother, very politely, please wake me up, at 8:00 AM. So…  But, I didn't say , I said , pretty close. But, I said, please rape me, at 8:00 AM.  You've never seen a more confused Japanese woman.
And I walked into school. And a teacher came up to me, and handed me a piece of paper, and I couldn't read any of it. Hieroglyphics. It could've been, because it was kanji. So, Chinese characters, adapted into the Japanese language. I asked him what this said. And he goes, "Ah, okay, okay."  And, so on. And it came to me, in waves.  There had been something lost in translation.
The Japanese classes, were not Japanese instruction classes, per say. They were the normal high school curriculum for Japanese students. The other 4,999 students in the school, who were Japanese, besides the American. And,  that's pretty much my response.  And that set me on this panic-driven search for the perfect language method. I tried everything. I went to Kinokuniya. I tried every possible book, every possible CD. Nothing worked, until I found this.
This is the Joyo kanji hyo. This is a tablet, rather, or a poster, of the 1,945 common use characters, as determined by the Ministry of Education, in 1981. Many of the publications in Japan, limit themselves to these characters, to facilitate literacy, and some were required to. And this became my holy grail, my Rosetta Stone. And as soon as I focused on this material, I took off. And I ended up being able to read Asahi Shinbun, Asahi newspaper, about six months later.
So, a total of 11 months later. And went, from Japanese I, to Japanese VI. Ended up doing translation work, at age 16, when I returned to the US. And… Have continued to apply this material over method approach, to close to a dozen languages now. Someone who was terrible at languages.  And any given time, speak, read, and write, five or six.  And this brings us to the point, which is, it's often times, what you do, not how you do it, that is the determining factor.
This is the difference between being effective, doing the right things, and being efficient. Doing things well, whether, or not they're important. And you can also do this with grammar. I came up with these six sentences, after much experimentation. Having a native speaker allow you to deconstruct their grammar, by translating these sentences, into past, present, future, will show you the subject, object, verb, placement of indirect/direct objects, gender, and so forth. From that point, you can then, if you want to acquire multiple languages, alternate them, so there's no interference. And we can talk about that, if anyone's interested. And now, I love languages.
Thank You!
Thank you guys so much for watching! I'd love to know what did you think of this video, what was the biggest takeaway that you're going to immediately apply, somehow in your life. Or, maybe your business. Let me know! Leave it down, in the comments below! I'm really curious to find out.
I also want to give a quick shout out to Bo Hawkins, from 4minutemasters.com! Bo, thank you so much, for picking up a copy of my book, Your One Word, and doing that fun interview together! I really appreciate the support, man. And I'm hoping you are enjoying the read.
So, thank you guys so much for watching! I hope you have an amazing day! I believe in you. I hope you continue to believe in yourself! And whatever your one word is, much love. I'll see you soon.
---
BONUS
Sid Efromovich
See, I always thought I had this thing, that was a little bit of Sid craziness, that I did. And then, I realized how useful it was. I always did, what I like to call, shower conversations.  And shower conversations are exactly what they sound like. When I was learning a new language, I would stay in the shower, for a few minutes, and I remember having all these discussions! I remember, when I was learning Chinese, and I would haggle, and try get two yuan more, to get that wonderful dumpling, and getting the discount.
Or, I would go to Roma, and I would ask for directions, to the best piazza! It was amazing. And the beautiful thing about a shower conversation, is that it allows you to find, wherever you have a gap, in your knowledge. Because, you're having the conversation on both ends. For example, it's easy to ask for directions. How about receiving them? Or, even better, giving directions. Well, the shower conversation forces you to have both sides of the conversation.
And you don't need to have them in the shower! The wonderful thing about them as well, is that you can have them anywhere! So, you can have them in the shower, in your apartment, walking down the streets, in the subway. And seriously, if you're in the subway, speaking to yourself, in a foreign language, in New York. You'll fit right in.
You're fine!  And it's great, because it doesn't, you don't depend on anything, or anyone, to get your practice. And I did this for years. And later on, I found out, that professional athletes to do it, too! Michael Phelps is known to visualize every single one of his races, several times over, before jumping in the water! Worked great for him! And it works great for me, too. So, it would work for you as well.
Matthew Youlden
Now, when it comes to learning a language, perhaps, the most crucial element, is time. And by time, I don't mean years, upon years, of endless learning, as some people still like to think. How long does it take, to learn a language? How about, if I were to tell you, that 30 minutes, per day, a great and effective start. Now, 30 minutes, these are minutes that we all have. Be it ten in the morning, ten in the afternoon, ten in the evening, or 30 minutes, in simply one go.
On the way to work, to university, to school, out in the evening, meeting friends, whilst on the train, or a bus. We all have these minutes, that we can commit to learn. Furthermore, by learning, for small periods, and at regular intervals, we won't feel so overwhelmed by the language. And, even better, learning for regular periods, means that it's more effective.
Because, chances are, that if you're learning for once a week, or once a fortnight, by the time you next come to learn, you'll already have forgotten what you initially learned. The goal, therefore, is to fit language learning into our daily routines, and not the other way around. And by doing this, there's no reason why, after simply one month, you can't get by in your new language.
Chris Lonsdale
Chris: A third action, start mixing! You probably have never thought of this! But, if you got ten verbs, ten nouns, and ten adjectives, you can say 1,000 different things! Right, language is a creative process! What do babies do? Okay, me, ba, now! Okay, that's how they communicate! So, start mixing, get creative, have fun with it! It doesn't have to be perfect! It just has to work! And when you're doing this, you focus on the core! What does that mean?
Well, with every language, there's high frequency content! In English, 1,000 words covers 85 percent of anything you're ever going to say, in daily communication! 3,000 words gives you 98 percent of anything you're going to say, in daily conversation! You got 3,000 words! You're speakin' the language! The rest is icing on the cake! And when you're just beginning with a new language, start with your tool box!
Week number one! In your new language, you say things like, how do you say that? I don't understand. Repeat that, please! What does that mean? All in your target language! You're using it as a tool, making it useful to you! It's relevant to learn other things about the language! By week two, you should be saying things like, me, this, you, that, give, you know, hot!
Simple pronouns, simple nouns! Simple verbs, simple adjectives! Communicating like a baby! And by the third, or fourth week, you're getting into what I call, glue words! Although, but, therefore! These are logical transformers, that tie bits of a language together, allowing you to make more complex meaning! At that point, you're talking!
---
You might also like
---
More from Believe Life
---
Today we're going to learn how to communicate effectively.  Good morning, Believe Nation. It's Evan. My one word is believe, …
Today, we're going to talk about how you can create a massive action plan. Good morning, believe nation. My name …
Today we're helping you to stay motivated, and to learn how to motivate yourself! How to MOTIVATE Yourself - #BelieveLife Why MotivationGrid We're all …