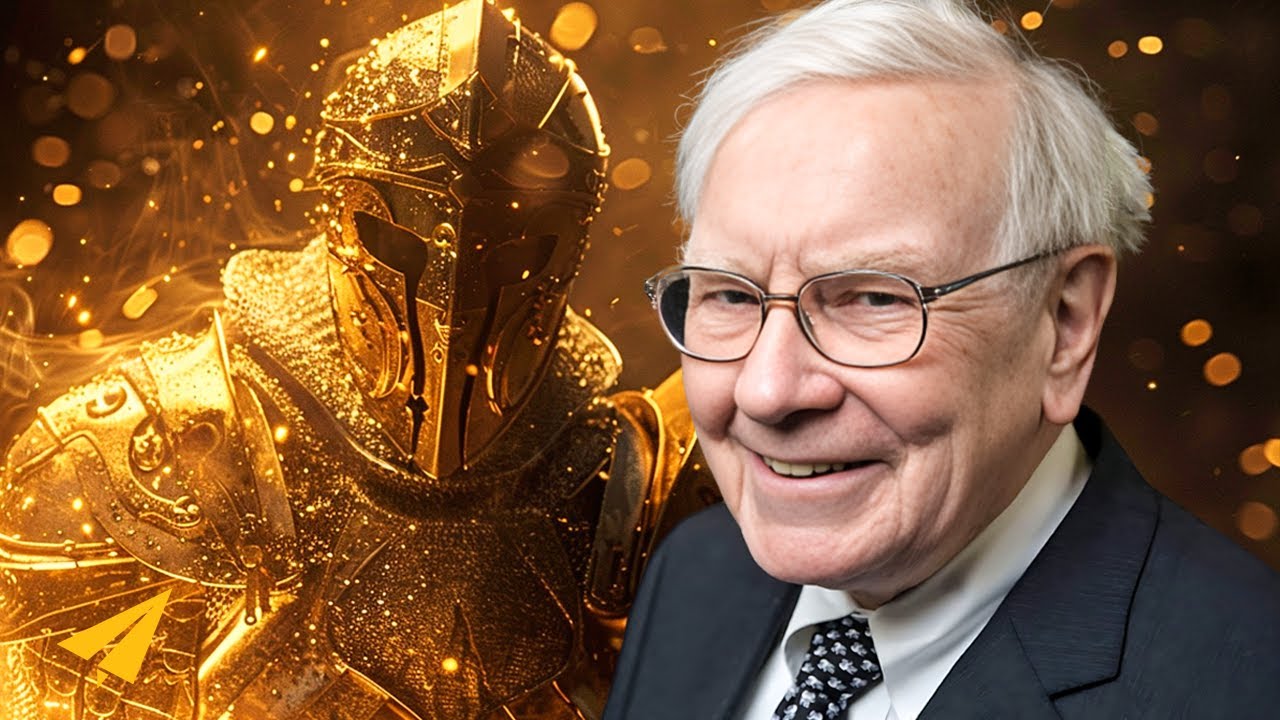 Hello Believe Nation. My name is Evan Carmichael. My one word is believe and I believe that entrepreneurs are going to solve all the major problems of the world. So to help you on your journey today, we're going to cover how you can learn from your mistakes.
And as always guys, if you hear something that really resonates with you, please leave it down in the Comments below. Put quotes around it so other people can be inspired as well. And when you write it down, it's much more likely to stick for yourself too, enjoy.
Learn from Your MISTAKES
Warren Buffet
I was just wondering, what would you consider to be the worst investment you've ever made?
The worst investment I've ever made? How long do you have?  Why, I've made some very bad ones but that doesn't really bother me. It may bother the shareholders, but that's another question. You're going to make mistakes in life. There's no question about it.
You don't want to make them on the big decisions, you know? Who you marry and things like that. So there's no way I'm going to make a lot of business and investment decisions without making some mistakes. I may try to minimize them. I don't dwell on them at all. I don't look back. The biggest mistakes are the ones that actually don't show up. They're mistakes of omission rather than commission.
We've never lost that much money on any one investment. But it's the things that I knew enough to do that I didn't do. We have missed profits of as much as you know, maybe 10 billion dollars and things. That I knew enough to do, and I didn't do. Now, the fact that I didn't buy Microsoft way back, is not a foregone opportunity cause I didn't know enough to make that decision.
But there have been other investments where I did know enough to make the decision and for one reason or another, I either didn't do it at all or I did it on a small scale. I was sucking my thumb when I should have been writing checks, you know basically. And those don't show up. There's no place where it shows missed opportunities but I've missed some big ones.
The triumphs in life are partly triumphs because you know that everything isn't going to be a triumph. And I would never get too hung up on mistakes. I know a lot of people that really agonize over 'em. And it just isn't worth it. I mean, tomorrow's another day and you live it forward and just go on to the next thing.
Gary Vaynerchuck
So many people come up to me and say, Gary it's so hard. I look at their Instagram and they're not posting any of their content with hashtags, which is a by accident way to pick up exposure in a world where they have no money.
When you have no money, when I took over my dad's business, I did three million dollars a year, 10% gross profit, $300,000 before expenses. My first year Marketing budget was $14,000. When you have no money, and I built that business from a three to $60 million business in five years. I had to make every penny perfect. So I was right about e-mail marketing and '96.
And I was right and because of that, I had 91% open rates. When Google Ad Words came out, the day it came out, I paid five cents a click for words before anybody bid me up and I was super right and that worked.
How much is that luck verses preparation and do you ever get anything wrong? What do you do when you make a mistake?
I get everything wrong, it's just that I can't recall it, cause once it's wrong, I'm moving on to the next thing. Like, dwelling on what you've fucked up on, is the quickest way for the next thing not to work, right?
So I think I do everything, I mean you know this, this is a fun thing to say. Some people in the back know this. I was a break-out YouTube star in the first year, 2006. I decided that the right strategy was to leave YouTube completely and go to Vidler because Vidler offered me equity in their company.
And I've left an enormous amount of attention, I deviated from my intention thesis to do short term economics and equity in a company. And I lost, I lost. When DRock finally came into my life two years ago and we started to try to build up my YouTube for the first time, I was sitting on 40,000 followers in a world where I could have had millions if I just stayed the course.
So I make mistakes all the time. I'm re-orging VaynerMedia every day cause it's based on a mistake I made the prior year. I just don't give a fuck about my mistakes. Everybody else cares about your mistakes. If you're worried about your own mistakes, you've already lost.
Drake
You know, I never want to be always right cause then I can't grow, I can't learn. So, I have no desire to be always right, I need mistakes you know? And luckily enough, and knock on this moving piano here that my mistakes are never crucial enough for me to be like, man, you know? They're always great learning experiences.
Shaquille O'neal
Before you succeed, you must first learn to fail. You know, a lot of people have failed and get down on themselves but the best of sports stars learn from their mistakes. You know, I should have did this, okay we'll do that next year. And just keep learning until you get to the point to where you're the champion.
Then everybody has to compete you. Took me eight years before I got my first championship. Then after that, I won three in a row, lost two, then I got another one and then kept losing, so it's not easy. But you know, it's not a specific time period of how long it takes you, just have to learn from your mistakes. You make mistakes and then just try to capitalize on that.
Ariana Grande
Narrator: Earlier this summer, you were in a donut shop, you were in California. You said some hurtful things about Americans and about people's weight. A lot of people watching felt offended by your words. What do you want to say?
First of all, I mean my behavior was very offensive and I apologize to those. No excuse or there's nothing to justify it. But, you know I think that as human beings, we all say and do things that we don't mean at all, sometimes. And we have to learn from it, I mean that's part of our process. We have to learn from our mistakes and that's how we grow.
Neil Patel
I continually learn from my mistakes and other people's mistakes. See, entrepreneurs think that, hey to create that blend, our company, our hundred million dollar company, or even million dollar company, you have to be very smart, and sure, brains is part of it, luck is a huge component.
But what I've learned over the years is, everyone, no matter how smart you are, you're going to fail many times and you're going to make mistakes. Just look at Mark Zuckerberg. Facebook worked out. His version of Snapchat, that was a copycat, did not work out, right? So there's other areas in which Facebook failed.
But Facebook overall as a company has done great. Just because you're smart doesn't mean you're always going to succeed with everything you try or touch. But, every time you do something, you will learn new things, you'll make mistakes and if you learn from these mistakes and avoid making them over and over again, you'll actually increase your odds of succeeding as time goes on.
And the best way to do this is not just to learn from your mistakes but it's also to learn from the mistakes of others. Rockefeller, Carnegie, all these people who are entrepreneurs, years ago in the 1800's, 1900's, they themselves used business principals and concepts that are still applicable in today's world. Sure, we have the Internet. But the same strategies and concepts that they used are still applicable, right? So learn from their mistakes, learn what worked for them, what didn't work for them, why? And bring that into what you're doing today.
Chris Sacca
You haven't gotten every investment right? Tell me about the worst misses that you've had or sort of, the biggest setbacks there.
Every investment you get into, you're getting in there because you think you have an airtight thesis for why this thing is going to work out, you're convicted, you're passionate, you're putting not just your money in, but all your time and effort and your own brand and your reputation is on the line.
And more often than not, we're wrong. But even more painful are some of these ones where I didn't invest at all, and they've gone on to be the mega unicorns. I think about Airbnb. When they told me the pitch about renting out a room in somebody else's house while the owner was still there, I literally looked those guys in the eye and I said, you guys, this is so dangerous, man.
Somebody's going to get raped or murdered and the blood is going to be on your hands, I think this is just a really bad idea. I think they're currently raising at a 20 billion dollar evaluation now, so my fund probably missed out on hundreds of millions of dollars as a result of that, right?
Neil Strauss
You have to learn from your mistakes. I have this attitude that no situation is impossible. There is nothing impossible. They're just continued seas and obstacles to get around. So if I went out and, I'm just tryin' to think of obstacles. Let's just say you did an opener and she'd hear it already. You did your lines, she'd heard it already because your friend just approached her with it 10 minutes ago.
Do you run screaming? Maybe that happens the first time. The second time, you say, if that happens again, what do I do? You say, oh my God, you must have met my friend, that's really funny, we were just talking about that. Bam, problem solved. Whatever it may be. Say you, any problem has a solution.
So I kind of have that attitude. You know, what if she's with eight guys? What if you know, she is on her way out the door? Any problem is going to have a solution. So you have to have that attitude. And, if something goes wrong, and I'm saying this in a positive way, not a negative self-esteem way, but if something goes wrong, it's always your fault, that's what I feel like.
Without being hard on myself, if something goes wrong, it's never her fault. She's not a bitch, she is not mean, she is not uptight, I did something wrong to make her uncomfortable. So for example, with the openers, I would start out, walking up and saying hey guys, I want to get an opinion on something, I've got this question I'm trying to ask and I'd start asking it. And I noticed they weren't really listening, they were tuning me out, they were kind of giving me bad body language.
So I realized, what are they thinking? Why is that happening? Well it's happening because I'm standing around, they don't know when I'm going to leave. So I added what's called a time constraint. I'd walk in, I'd say, I want to get a quick opinion on something, by the way I can only stay for a second, cause I got to re-join my friends over there, you know, problem solved.
So, anytime somethin' went wrong, or maybe I would do everything, and I felt like I was doing it perfectly, but people weren't interested, while I was doing it, doing all the right things but I was doing it in a very needy way. A lot of people will read the material and they'll say, this doesn't work. Everything works.
What I say is going to be different than what Zan says and different from what someone else says. But it all works, you just have to do it right. So for example, the opinion openers we're talking about, an opinion opener is how we start a conversation.
If you go and you say, can I ask you a question on something and then they say, no we're talking, get lost. Well, the opinion openers don't work, you just did it wrong. You walk and you say, hey guys I want to ask a quick question on something. Now you haven't asked them a yes no question and it's going to work.
So there's so many little subtleties, does that make sense? Okay so there's somebody else, I saw somebody looking at me strangely, so there's so many little subtleties that you have to work in and it's always, always got to be your fault if it's not working.
And not in a negative way, not in being hard on yourself. It's feedback so you can improve yourself. That whole idea, there's no such thing as failure, but only learning lessons. That's what I did but you know what? I'm a guy who's hard on myself. But I'm hard on myself cause it makes me excel usually.
Richard DeVos
It's been a long time since I told stories about my boat. But Jay and I bought a schooner, the schooner Elizabeth. And this is the bell off from it and it's only important because the boat sank. She was kind of a nice little boat but she leaked a lot.
That was our first big sailing experiences. But we bought it, we went on it, and we sank and owned many boats since then. You learn from mistakes. You got to start with faith and belief in yourself but that's somethin' you got to make it your business to do.
Timothy Sykes
Knowledge is priceless okay? Even when you make mistakes and you learn from your mistakes. I lost half a million dollars on one stock, I invested in my best friend's dad's company, which basically invented print at home ticketing.
They went bankrupt and CEO, evil person.  CEO bought them in bankruptcy, changed the company name, kept all the same contracts, they re-sold the company for like, 30 million. I would have made like, 10 million but I got wiped out.
It was a good lesson for me, I broke my trading rules and I didn't really know, you know, at the time, I was like, batting a thousand and I had that loss. So your losses, your mistakes make you better. I tell this story about Pete Sampras, you know Pete Sampras?
Yes.
All right, when he was a junior in I don't know, I want to say like, '13, '14', '15, he was one of the top ranked players in the U.S. But his coach had a radical transformation plan to get him to number one. And he said Pete, hit the ball as hard as you can. Do you remember this story?
No I don't.
He hit the ball as hard as he can and Pete's like, but I'm not going to be able to control it if I do that. I was a tennis player so I hear this story. And the coach is like, do you trust me? And Pete's like, yeah I do. So hit the ball as hard as you can.
So for like, I want to say six, nine months, maybe even a year, Pete hit the ball as hard as he could and the balls were flying out, his ranking dropped, he was like, number six, he dropped to like, 200. He was just like, nobody right?
But then he gradually learned control and he became number one far and above anybody else. So, sometimes you have to lose or lose your stature at first. And then come back stronger. And come back so much better.
But it's tough for people to accept because people just want success. They think it's like, gradually building but they don't, you know success, there's an info-graphic that I post on Instagram and it's like, this is success.
Yeah exactly.
But eventually you learn everything. So if you make 50 mistakes, you learn 50 things not to do, that makes you wiser. But most people learn what not to do and then they give up. Like, heh this is so frustrating. So you can't ever give up.
Thank You!
Thank you guys so much for watching. I hope you enjoyed. I'd love to know, what was your biggest takeaway from this video? What are you going to immediately apply somehow to your life or to your business? Leave it down in the comments below, I'm super curious to find out.
I also want to give a quick shout out to Craig Severinsen from Bright Works PR. Craig, thank you so much for picking up a copy of my book, Your One Word. I really, really, really appreciate it and I hope you're enjoying the read.
So thank you guys again for watching. I believe in you, I hope you get from me to believe in yourself and whatever your one word is, much love, I'll see you soon.
---
You might also like
---
More from Ariana Grande
---
Good morning Believe Nation! Today's message is find who you are. Over to you Gwen Stefani. Gwen Stefani What did I do …
Why hold back? You can, you have one life, just have fun and be yourself, and don't worry about the …
Good morning, Believe Nation! Today's message is Be Yourself. Over to you, Ariana Grande. Be yourself, you know, in your most genuine …