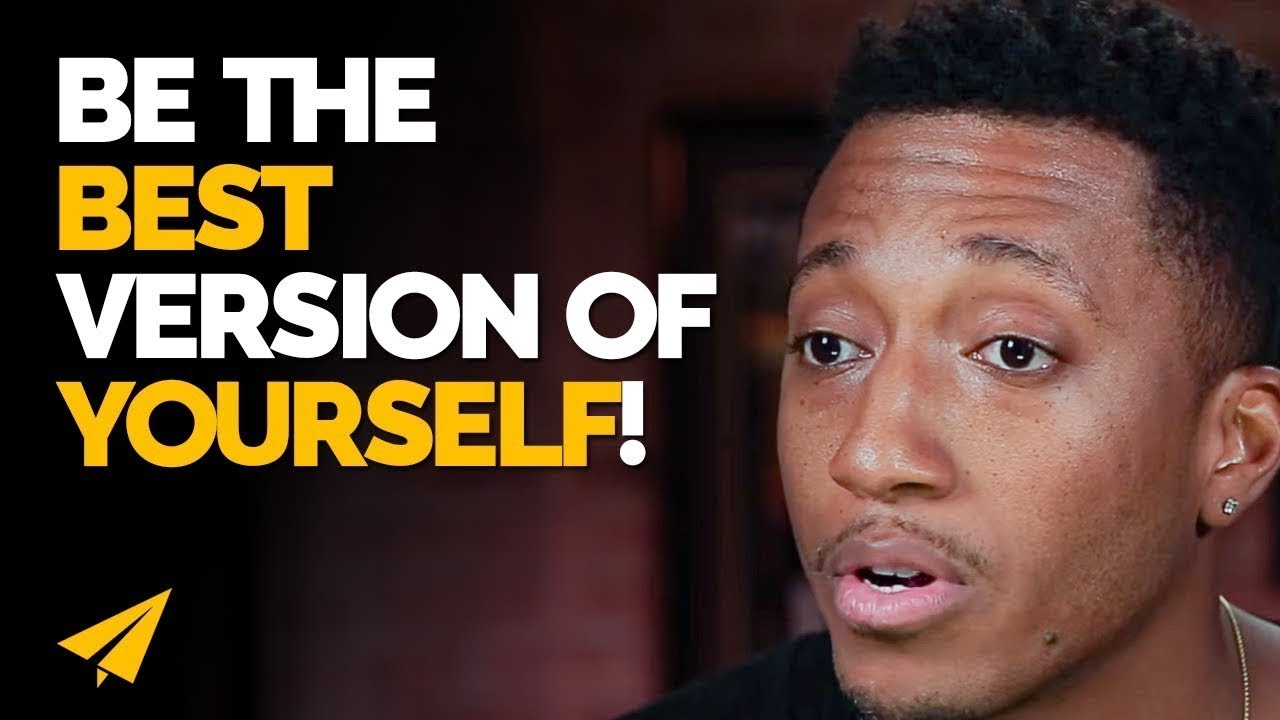 "'Cause I was so worried about being accepted. These people to accept me. These people to accept me. And when the don't, you die."
"I'm like a cultural anthropologist, man. I just love to just sit and soak up stuff."
"It's better to create something that other people criticize than to create nothing and criticize others. "
– Lecrae
Evan: Hello Believe Nation. I'm Evan Carmichael. My one word is believe and I believe that entrepreneurs are going to solve all of the major problems of the world. So to help you on your journey, today we're going to learn from hip-hop artist Lecrae and my take on his top ten rules for success. Rule number six is my personal favorite and I'd love to know which one you guys like the best. And as always guys, as you're watching if you hear something that really resonates with you please leave it down in the comments below, put quotes around it so other people can be inspired and when you write it down it's much more likely to stick for yourself as well. Enjoy.
Lecrae's Top 10 Rules For Success
Rule #1: Compete Against Yourself
Just one thing I learned about success. Success, you know, stop comparing yourself to everybody else 'cause that ain't going to make you. Success is not what you do compared to them it's what you do compared to what you do you was made to do.
So you got to compete against yourself and push yourself to the limits that you need to run toward. What was you made to do? Go do that and don't let anybody dissuade you. Don't let anybody say you can't do it, man. Just keep pushing, keep going.
Rule #2: Brace Yourself For Struggle
I would tell myself to brace yourself for a real struggle, for real pain, for death, for loss, for hurt. And then as an artist I would tell myself, you know, what I say and I put on the back of the book, too. If you live for people's acceptance you'll die from their rejection. And that's what I would tell people because I'd tell myself 'cause I was so worried about being accepted. These people to accept me.
These people to accept me. And when they don't, you die, you crumble inside, you devastated but if you already know who you are, like I feel like I'm made in God's image, my worth and value cannot be tainted. You can't add to my work, you can't take away from it. I was born with it.
And so I don't have to fight for your approval or your acceptance and I want my younger self to know that. Be confident in who God made me to be and be the best me I could be.
Rule #3: Be Authentic
You know, my album, book probably be correlated, it's anomaly because I feel like I exist as an anomaly. Nobody knows what to do with me a lot of times. Know what I'm saying? It's like gospel's like wait, no he's, what is going on? I don't get it.
And hip-hop is like wait, isn't he? You know, so nobody really knows like what's happening with this dude. Yet and still, there's a lane that I'm running in. You know what I mean? So it's an anomaly. So I'm just kind of like trying to help people understand like how I can run in the lane that I'm running in and still be authentically me without feeling like I have to be this or that. But I'm something different all together.
Man: Are you surprised with the amount of love that you got?
Man: It's your seventh album. It's your seventh album, it's a big step.
Number one on iTunes right now, it's crazy. Blowing my mind. It blows my mind. I don't get it.
Woman:
I'm being honest, I don't get it. I'm just grateful to do music, man. Just trying to be authentic, trying to be myself. Be yourself because you know, you the best you they'll ever be. You're a terrible somebody else.
Man:
Trying to be somebody, you're going be found out and it's not going to be, you can't keep that up. It's a act and you can't keep that act up. It's going to drain you. So be yourself because somebody's always going to be willing to invest in something authentic at some time. Not only, man, it was really like me saying I'm an anomaly. I hold a unique space and I'm not trying to be anything except myself. I think people just…
I just want people to embrace being outsiders, embrace you are the best you they'll ever be. You're a terrible somebody else. So just run in your lane, run your race and be who you were made to be. So that's kind of the theme of the album. It went on to become the number one album on Billboard which was amazing.
Won a Grammy which was amazing. And then I just kind of, you know, kept trying to continue to inspire people with that type of mentality of be yourself. Your wounds, your scars. I got war wounds and I don't mind sharing 'em with people and I talk about it and I think people gravitate to that.
Rule #4: Learn From Your Mistakes
Let's just talk about the reality that even if you're a positive person and you're spreading positivity, you still go through things, you still have temptations, all of that still happens. How do you deal with that as Lecrae.
You know, for me, it's realizing I'm not my failures. You know what I mean? I think a lot of times you look at yourself and you say man, I messed up, I failed. Or you say I am a failure and that's not true. Those are mistakes. Like I say in my song, I count every loss as a lesson. You know what I'm saying? It's a lesson you learn from it and you move forward. So I don't try to be perfect. I don't try to live my life like I have it all together.
I try to walk in a direction of being perfected. I try to stay humble, stay learning, and staying growing, and I keep a lot of people around me who going to keep me out of the nonsense that I probably shouldn't get myself into. You are what you eat. You are who you hang out with. You know what I mean? And that's really what's worked for me.
Rule #5: Stretch Yourself Creatively
I think for me, man, I love to… Creatively I think I love to just experience culture. I'm like cultural anthropologist, man. I just love to just sit and soak up stuff. You mess around and see me with my headphones on listening to just merengue all day long or something like that. A lot of people have checked out my iPod and said like why do you have this? Like where did you get this from?
You know what I'm saying? I just love to just hear new things that are creatively inspire me. And then in hip-hop it's tough because I feel like it's just been at a stagnant place and I hear a lot of great truth communicated from the Christian hip-hop community. But me and Flame were just talking about it. We just like to see artists stretch themselves creatively because I don't think it's as… Hip-hop is not as just this grimy, underground, it doesn't have to be polished, it doesn't have to be musical sound anymore.
It's grown and it's matured to become a popular platform for the whole world to view. From Africa to dog-gone Europe. And so I think you can't just… I think you do have to think through that and you do have to be more creative and so you know, I just want to stretch myself in that way, in that capacity.
Rule #6: #Believe In Yourself
We have a lot of listeners and we have a lot of people that want to do their own thing as far as their label is concerned. What made you decide to go out and say this is what I need to do for myself because I know this is what the world needs to hear?
I think it just came down to realizing that we have something unique and sometimes people don't believe in what you're doing and they don't want to invest in what you're doing. So you have to invest in yourself and you have to believe in yourself and create it and push it solo and not worry about if someone's going to come alongside or support you. Because you know what you have is real and authentic and legit and people resonate with it.
That inspired me to just keep pushing. And everybody that I hired I looked up to, like Lucy, like Diddy, you hear all the stories of how nobody believed in 'em and they just had to keep working. And that's what happened for us and we just kept working and believe in what we had to offer the world. And it was successful.
Rule #7: Ignore The #Littleman
Negativity in hip-hop. You see a lot of it, obviously in social media you see a lot of division. People going back and forth at each other. It always kind of startles me, you know, grown men will have problems with each other.
That's just going to happen, right? But it's kind of like you're in the hood, trying to get out of the hood, do better for your family, your mother, and everybody and then you finally do better but it's almost like you're going backwards-like. You're trying to mess it up for the whole culture. What's some of your thoughts on that? When you see people on social media riffing and beefing and going at each other? Kind of just putting that negativity out there?
I think, man, you know, it's part of maturity. It's part of us just learning to grow up. Stop being crabs in a barrel. Learn how to support each other. Learn how to just be a real community 'cause that's how you win is you stand on each other's shoulders and not tear each other down all the time. And as it pertains to haters and people just always who got something negative to say, you know, I just said this a little while ago, I said it's better to create something that other people criticize than to create nothing and criticize others.
You know what I'm saying? So it's like somebody always going to have something to say. I mean you doing something right. If somebody got something negative to say about what you got going on, that's okay. Keep doing your thing 'cause they spending all their energy talking about what you're doing not doing something. And so I'm like, man, it's just going to be the reality but just keep your positive, keep your pushing and don't even give them the time of day.
Rule #8: Be Consistent
When you're looking all this like Mase, right? And Mase was a pastor, he had a congregation and he taught that congregation and it was positive and then he came back into rapping and the rap that he's doing is not necessarily Christian rap.
Secular.
Yeah, it's very secular.
Lecrae: It is very secular, yeah.
How do you feel about things of that nature?
I think, man, I'm about being consistent. I'm not an advocate and that's for anybody. It's just Mase or whoever. It's about you know, you don't want to create confusion. Like where do you stand? Or what side of the fence are you playing here?
And just be consistent. I think nobody… And that's really what I'm trying to do in a lot of ways is show people, like listen man, you can still hold on to your faith and your core values and beliefs and make music that is not necessarily explicitly let's walk through Jonah. You know what I mean?
Man:
Without just being like contrary to what you believe. You know what I'm saying? It's like for me to make a street record doesn't mean I got to start misogynizing women and
Both: And shoot people.
You know what I mean?
Rule #9: Care About Your Fans
Man: You're in an interesting situation right now because for a lot of people you're still a new artist but you've been doing this. So how does that kind of like work as an introduction to people as you know, but still have this big fan base?
I don't mind people seeing me as as new artist. You know what I mean? 'Cause it keep you hungry. It keep you on your ground and keep you humble, keep you working hard. So I'm not like man, I been here. What you talking about?
You know, I'm like, hey man, I'm just grateful that I got a new fan today. You know, it just keeps it all in perspective and plus it's like that's when people arrive for you. When you care about your fans and you show 'em love and you appreciate 'em. But when you like, you know… I don't understand people be arguing with fans all day long. Get off the internet. Go make some music.
Rule #10: See Struggles As Strengths
See, some people don't like being broke because they feel like something wrong with being broke. But just 'cause you financially broke don't mean you're not rich in other areas of life.  I been broke before. Matter of fact, I grew up on government assistance. You all may not know what that's like over here but… But I been broke and being broke financially made me rich in character. Made me rich in loyalty.
You got to be rich in loyalty when you broke 'cause you got to depend on somebody to take you everywhere. Hey, you got my ride bro? I got your back for life dog. So you know, the best way I could put it is like being broke made me rich. You feel me? I'm rich in areas of life that I wouldn't be rich in. That struggle and that grind made me something, made me who I am.  Somebody say being broke made me rich.
Crowd: Being broke made me rich.
Come on, say being broke made me rich.
Crowd: Being broke made me rich.
Thank You!
Thank you guys so much for watching. I made this video because HardworkDedication asked me to. So if there's a famous entrepreneur that you want me to profile next, check out the link in the description and go and cast your vote.
I also want to give a quick shout out to Geoff Whaley. Geoff, thank you so much for picking up a copy of my book, Your One Word, and posting that review on your blog. I really appreciate the support and I'm glad you enjoyed the read. So thank you guys again for watching. I believe in you. I hope you continue to believe in yourself and whatever your one word is. Much love, I'll see you soon.
---
BONUS
Stick to your mission
I have thought about that time period in my life. That was my first music video.  And I think people like me you can't throw away. But you know who changed a lot. You're right, I did change. Change is good, you feeling me?  Hopefully you've changed.  Hopefully you change your clothes when you get home.  There ain't nothing wrong with change. Matter of fact, maturity is not how much you know it's how much what you know has changed you. That's what maturity is like. But even though I may change and music may change, my style may change, my hair may change, my mission ain't never going to change.
Create opportunities
You know I'm more about creating opportunities. We built the studio. We got a facility in Atlanta. You know what I mean? A label. We try to hire people. You know what I'm saying? I'm like trying to create opportunities and build stuff. For me, like I say, I can't take it with me when I go so let me invest, let me create a legacy, let me build something that's bigger than me, beyond me.
Change your environment
I had a young homey and he was in a juvenile detention center, in the system for a while, but his brother was a college student. And you know, I asked him, I said, the dude who was locked up, I said man, why you in the situation you in? You know, like the way your life is? He said man, 'cause my daddy was like this. This was my dad. My dad was always on drugs, always in and out of prison.
So then I asked his brother, I said man, why are you a college graduate? You know you're doing what you doing and everything else? He said 'cause my daddy was always in and out of jail and I wanted to do something different. And so man, I just had to look at my environment and my surroundings and say do I want to repeat the stuff that I'm seeing or do I want to be something different than everything that's going on around me? And for me, you know, I just got tired of busting my head. Got tired of being in low places and making bad decisions and you know, police bringing you home.
It wasn't productive and I'm grateful I had good grandmother, good mother who just was praying for me and just like man, trying to stay on my head and I just had an eye-opening transformation at like 19. And I just got the wheels turning. I said I'm not going back. You know what I mean? Like I'm just going to do something different with my life and that was it man.
---
You might also like
---
More from Lecrae
---
Good morning Believe Nation, my name is Evan Carmichael, my one word is believe and I believe that entrepreneurs are …