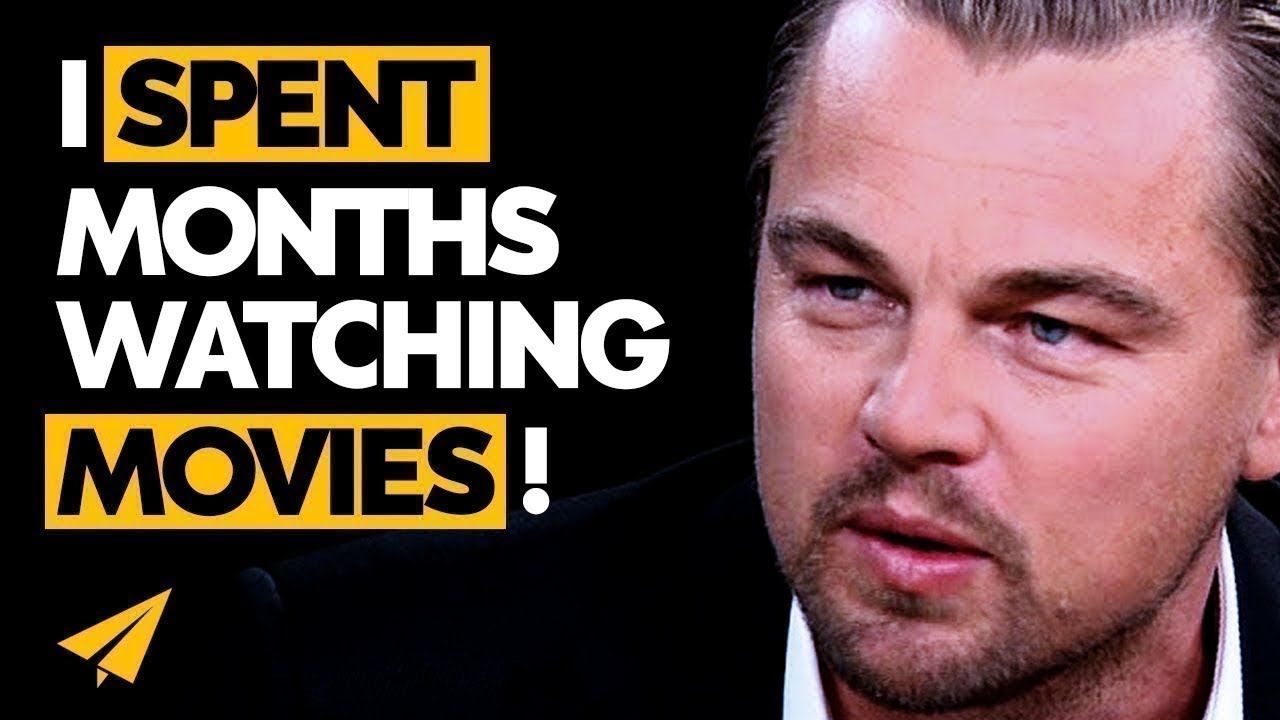 He's an American actor and film producer. He achieved international fame with James Cameron's epic romance, Titanic, in 1997. He's been nominated for six Academy Awards. And, in 2016, won the Academy Award for best actor for his movie, The Revenant. Here's Leonardo DiCaprio and here's my take on his top 10 rules for success.
Leonardo DiCaprio's Top 10 Rules For Business and Success
Rule #1: Stand Out From The Crowd
Interviewer: Do you remember the audition when you first met DeNiro?
That was, yeah, I mean, that one of those incredible auditions that came around that I supposed every kid had been waiting for for a long period of time, because it's just not that often that you get a starring role above Robert DeNiro and this incredible screenplay, and with Ellen Barkin and Michael Caton-Jones. I mean, it was just, everyone was sort of feending for this role.
And I got down, I suppose, to the final five. And it was like a last sort of day. Toby was there and I do remember thinking to myself, "I got to do something. "I got to do something to stand out." And in the audition it was Art Linson, Michael Caton-Jones.
Art Linson was the producer, and DeNiro. And I remember it was a mustard jar scene. And he had to jam a mustard jar in my eye repeatedly. It was an abuse scene. And the script sort of didn't call for it, but I got up, he said, "Now, is it empty? "Is it empty?" And I got up and I screamed, "No!" Like, completely unnecessary, but I screamed in his face.
And I sat there,  you know, with my head looking like a red tomato and everyone started laughing at me in the entire room, DeNiro, everybody was in hysterics. And I sat there frozen just thinking, "Oh, my God, I just screwed this entire "opportunity up."
And I just sat there frozen. And then, Bob, in traditional DeNiro fashion kind of just looked at me and went, "It's good, was good."  And then we carried on doing the scene. And I actually had dinner with DeNiro recently and he told me, "You know, I was the one who said, "I was the one who said you should get the job."
Rule #2: Be Proud Of Your Work
I'm very proud that a movie like this got made. It's very, very, very rare to see films that are this ambitious coming out of the Hollywood studio system. So I'm sort of on a tirade trying to promote this film, 'cause I just want to see more films like this out there, as a fan of movies.
But as far as awards are concerned, you know, the truth is there's a lot of peace of mind in it, because you really realize that you ultimately have no control over these things.
Interviewer: Is it something you hope for or set off to the side.
Like I said, you know, honestly, I do these movies because I really love movies, and I want to make great movies. All that stuff is totally beyond your control, it really is.
Rule #3: Have Fun
Rule #4: Stay Hungry
Interviewer: Has acting turned out to be all that you wanted it to be?
It's incredible. It's incredible. I never knew that I could do it as a career. I never knew. It was the first memory that had. It's the first thing I can thing of is saying, "I want to be an actor." to my parents. And if I hadn't lived in Los Angeles and been in such close proximity to sort of the mecca of movie making.
If I didn't have parents that said, "Okay, we'll drive you to auditions." We didn't have the economic means to move camp from Idaho to Los Angeles because some snotty 10-year-old kid says, "I want to be an actor!"  We did it, and after school I got to go on auditions.
But it always, and I've said this before, it felt like an elite group of people and it felt like I would never belong to them. So once I got the opportunity to, for example, get the movie This Boy's Life with Robert DeNiro. I said, wow, now I'm able to… I might be able to steer the course of my career.
I might be able to have a career similar to these guys that I so admire. And that, I knew at 15-years-old, was the biggest gift in the world. And that's never left me. I've never, I've never, that thirst or that hunger for wanting to give one great performance that I'm truly satisfied with, or be in one movie that I said, "I love this film."
Is something that I don't know will ever be quenched. I don't know. And I think that's a good thing, because it keeps pushing me, you know? Constantly dissatisfied, in other words.
Rule #5: Always Be Improving
I mean, I never went to a formal acting. It was only until really The Aviator that I started working with Larry Moss. It was the first film that I produced, that I had thought of, it was sort of my concept. And I felt like I needed to brush up on my technique.
So that's when I really started doing formal training. And it was an amazing experience with him. I mean, it was more than learning how to be a better actor. He was a life coach. It was like , he's like, the first day, he was like, "All right, you want to go over this stuff?" I'm, like, "Yeah, yeah, let's do it." And he's like, "Okay, you're Howard Hughes, "you're in your plane, this is your cocoon, "this is your sanctuary. "
Show me how you fly a plane." I'm like, "Well,  I haven't really." He's like, "Come on. "Basically sit in that chair and do it for me right now." I'm like, "Well, I haven't quite prepared." He's like, "Don't you pull that  with me."  He's like, "You get in that God damn cockpit right now "and you show me who the hell Howard Hughes is.
"You do it in front of me right now." I'm like, "Okay, ."  I mean, and from there, we started working on breaking down the script in a way that I'd never had before.
Interviewer: I have to say I'm impressed, because most people don't get an Oscar nomination and have many hit films behind them and then choose to go see an acting coach.
I think everyone can always brush up on their technique. It is, you know, what we do takes a lot of research. I mean, if you really want to inhabit a role, it takes a lot of work and training and I think it's incredibly important to constantly, no matter how successful you are, it's incredibly important.
Rule #6: Surround Yourself With Great People
You know, what gives me strength all the time is to be able to have formulated a group of people around me that are my friends and my family. Those two words are meshed, in my opinion. But it's given me a grounding that, as insane as my life can be sometimes, is always refreshing and they're always so honest with me, and I'm so thankful for that.
Rule #7: Find Great Opportunities
Everything, at the end of the day, when you're making a movie, starts with the material and how well-written the script is. I've never seen a silk purse made from a sow's ear. I've never seen it happen wherein a crap script with crap characters, a director somehow found a way to make a masterpiece out of it.
And that's the constant struggle that we all sort of have as actors, is finding those gems. And that's why people grab onto them like vultures. When you find a great piece of material, or great script. It's like, you should see what happens. It's like pirana feeding fest.  Everyone wants it.
Rule #8: Be Driven
Being an actor is the first thing that I remember wanting to do in life. I remember 14, 15-years-old, watching some classic films. Well, spending months and months watching all the great classics, all the great performers of the past and being so incredibly inspired by them and saying to myself, "One day, I want to come close to doing something that good. So I think that thirst, or that drive, to just achieve what I believe is something as good as those heroes that I have is what continues to make me want to do this.
Rule #9: Have Conviction
Interviewer: After This Boy's Life, you went on to play Arnie Grape in What's Eating Gilbert Grape? And this was a turning point. I know.   This was a turning point in a lot of ways because I understand you actually turned down another movie just for the opportunity. I don't even think you had an audition lined up for Gilbert Grape.
I did have an audition lined up for it, yeah. No, it was one of those situations where I did this movie, This Boy's Life, and it hadn't come out yet, but there was this one role that I wanted to play desperately, but I started to get offers, offers for other movies, and there as a big Disney movie they wanted me to do.
And I don't know where I got those little balls at 16-years-old to say, "No, I'm going to wait it out "because I want to audition for this other film." But, if there's one thing that I'm really proud of in my entire career, it's that moment, at 16 to say that and do that and have that sort of conviction of what I wanted to do. That's the one thing I'm really proud of.
Interviewer: 'Cause the other movie was an offer, wasn't it?
Yeah, it was for a lot of money  at that time, which sounded great at the time. But I said no, yeah.
Rule #10: Tell Great Stories
Ellen: So you've always been like a daredevil, but you've done, I think I've talked to you about you swim with sharks, or you have. And you jump out of an airplane. On a regular basis or will you do it again?
When both parachutes don't open, you tend to not go repeat something like that.
Ellen: What are you talking about? Well, then how'd you get down?
I had,  I jumped out of the airplane and then my first chute didn't open, they cut, it's tandem so somebody's on your back. They cut that line. We started free-falling towards earth and that's when you get the 8 by 10 glossies of your whole life flashing before your eyes.
And then the second one was tangled as well. And I saw all my friends sort of popping off with their parachutes. And I'm still plummeting towards planet Earth. And then that as tangled for about a good, I don't know, 20, 30, seconds.
And then he untangled it. And then he told me, "Oh, you're probably going to break your legs now "because we're going to too fast." So it was one of the worst experiences of my life  and I'll never do it again.
Ellen: And did you break your legs?
I did not break my legs.
Ellen: Wow, so he's whispering in your ear, or yelling.
He was screaming.
Ellen: Screaming, You're going to break your legs.
You're going to break your legs.
Ellen: What? I can't hear you! Wow, that's just horrible. So what's the scariest thing you've ever done?
I was on a plane to Russia and the engine exploded. I was looking out the window and the entire engine just turned into a fireball. It was right after Sully had that incident happen to him where the geese flew into both engines.
Ellen: Right, and he landed on the river.
Yeah. This happened in one of the engines. And I was the only person there that seemed to see this, but it was a flaming fireball. It was all Russian passengers. And I kind of felt like I'd already died and gone to heaven 'cause no one said anything.
And I was screaming at the top of my lungs saying, "What the hell is going one here?" And people just kind of looked back and the stewardess came out and said, "We seem to have a slight problem here."  And a Russian guy finally said, "What is the problem?"  And they said, "Well, we lost one of our engines."
And said,  he goes, "How many engines did we have?" She goes, "Well, we had two "now we have one."  And he proceeded to say, "That is not good. "that is not good."  And we basically dumped fuel for 45 minutes and did an emergency landing and all our tires exploded and there was 100 different ambulances there and it was on CNN. And that was another bummer.
Thank You
Thank you guys so much. I made this because Jacob Salem asked me to. So if there's a famous entrepreneur that you want me to profile next, leave it in the comments below and I'll see what I can do.
Leave it in the comments below and I will join in the discussion. Thank you so much. Continue to believe and I'll see you soon.
---
BONUS
Stick With It
I always felt like outsider because I knew of people that were in the industry, I just didn't know how to get into it. And I remember going to different agents when I was nine or 10-years-old. I was rejected twice. I remember there was like this sort of cattle call of kids and I lined up.
It was like a prison photo or something like that.  And I'm standing there like this And I had this crazy break dancing haircut from when I was break dancing. And I kind of dressed in hip-hop clothing. And I remember they went, "Yes, yes." Went to me went, "Nope, yes, yes, "nope, yes, yes."And that was it, so I got rejected a couple times.
And then I just kept asking and asking and asking. I remember my dad saying, "Just stick with it. "Some day you'll have your day." And then I came back, I think two years later and finally got an agent.
Learn From Successful People
Meryl Streep and Diane Keaton were just my two favorite actresses of all time, even before I did this film. And Meryl is just such presence when you work with her. I mean, she throws you so many curve balls all the time. You've got to be on your toes with her, because she may do something completely different the next take, and you got to sort of be prepared. So anytime you work with people of that caliber, you learn a lot.
Make Art For A Cause
Making The Revenant was about man's relationsihp to the natural world, a world that we collectively felt in 2015 as the hottest year in recorded history. Our production needed to move to the southern tip of this planet just to be able to find snow. Climate change is real. It is happening right now. It is the most urgent threat facing our entire species and we need to work collectively together and stop procrastinating.
We need to support leaders around the world who do not speak for the big polluters or the big corporations, but who speak for all of humanity, for the indigenous people of the world, for the billions and billions of underprivileged people who will be most affected by this, for our children's children, and for those people out there whose voices have been drowned out by the politics of greed.
I thank you all for this amazing award tonight. Let us not take this planet for granted. I do not take tonight for granted. Thank you so very much.
---
You might also like
---
More from Leonardo DiCaprio
---
Hello, Believe Nation. Today we're going to talk about how you can be hungry. And as always, guys, as you're watching …