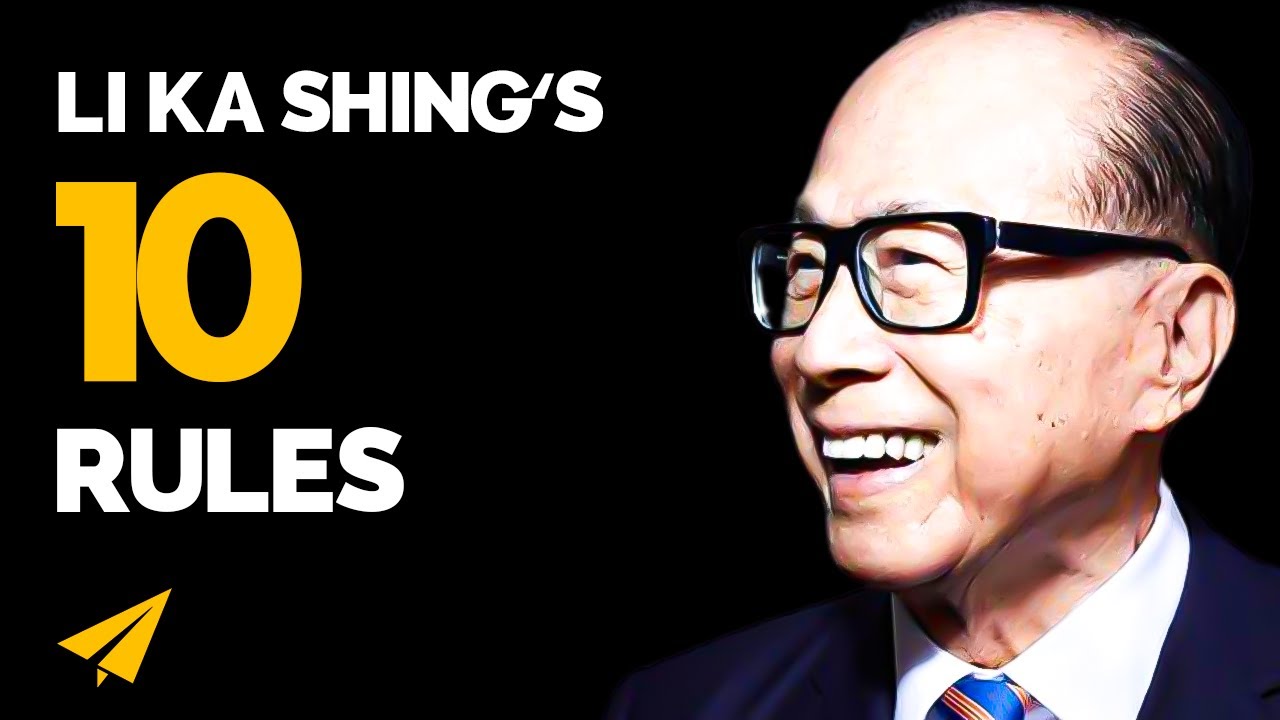 He's a Hong Kong business magnate, investor, and philanthropist. According to Bloomberg, he's the richest person in Asia. He was listed by Forbes of having a fortune of over $34 billion. He's Li Ka Shing, and here are his top ten rules for success.
Li Ka Shing's Top 10 Rules For Business and Success
Rule #1: Devote Yourself To Work
I was voted 'Man of the year', in 80's, radio television Hong Kong interviewed me, I said Something that I still remember.
Interviewer: Mr. Li, how much is your success is due to good fortune?
I cannot deny it's the time that create heroes. I was being modest then. Today I can be frank. When I started my business, I almost certainly did not rely on luck. I relied on work, hard work and ability to make money. It's very important to devote yourself to work. You need to be interested in your business. If you are interested in your business, you are bound to do well.
Rule #2: Give Your Employees A Sense Of Belonging
In a small business, a family business you've got to do everything personally. But when the company is big, you need to give your staff a sense of belonging and make them feel at case. That's vital. All my senior staff get along very well with me. That's gratifying. The secret of management is simply identifying and making use of talent.
Rule #3: Don't Waste Your Money
Some morning I was trying to get my car key from my pocket and accidentally dropped a two-dollar coin, it rolled to beneath the car, if the car was moved, the coin well fall into the drain. So I squatted down to try to take the coin back, not wanting to lose it. The guard saw me doing that come up to ask me, 'Mr. Li, what's up?', I said I dropped a coin. He then give me some help. The coin was picked up, I got two dollars back and gave him one hundred dollars.
Why did I do that?, If I hadn't picked up the coin, when the car moved the coin will drop into the drain and would be lost forever. But I got it back and gave the guard one hundred dollars, which could not be lost because he would make use of it. In a world, money may be spent but never squandered.
Rule #4: Acquire Knowledge
I became an apprentice at the age of 12. By the time I was 15, I had to support my entire family, thus depriving me of a formal education, at the time I was very certain that I must work hard and acquire knowledge to have good prospects. I bought second-hand books, whenever i had spare money and absorbed them before trading them for more books.
Even today i still read every night before going to sleep. Knowledge does not guarantee a life of riches, but it does open up more opportunities and recognizing opportunities is really the best that you can expect.
Rule #5: Map Out Your Strategy
All my senior staff know I demand efficiency, before a meeting, the other side know what's going on and I know what they've done. Everybody is well prepared and no time should be wasted. Some people only know how to complain, hoping you will help to solve their problems. Frankly, if they are fully prepared, they make the best suggestions.
Simply speaking, you are the commander in chief, the head of a group of armies. You can never be better with a machine gun  than a machine-gunner  or better than a gunner at operating a canon. But as commander, you don't do these things. Your job is mapping out strategy. So good organisation is very important.
Rule #6: Be Prepared For Rainy Days
Be prepared for rainy days. No matter how well you're doing you've got to be prepared. In the past years, when the stock market, the property market and the general economy were in the doldrums, we increased our investments. One of the reasons was that we are always prepared. We don't get carried away when times are good and get to pessimistic when times are bad.
Rule #7: Strive For Improvement
When I was young, I appeared humble but was inwardly very arrogant. Why was I arrogant? When my colleagues went to play, I went to study. We'd all had very little education. But they remained the same, while I was becoming increasingly knowledgeable.
We were doing similar work, but I was striving for improvement all the time. So when I went into a business, I reminded myself that if I allowed myself to be arrogant, I'd fall one day. And so I named my company Cheung Kong. The Yangtse River doesn't pick and choose it's tributaries. Waters from small streams and springs are just pulled over. Otherwise there wouldn't be any Yangtse, would there?
Rule #8: Look Beyond Money
There are things that might bring in a lot of money but I wouldn't do. A person has to be able to look beyond money, as long as we can keep our dignity, life becomes more meaningful.
Rule #9: Fight For Your Principles
What am I after? As a Hong Kong citizen, I do things for myself as well as for Hong Kong, I have several principles.
One: A liberal economy that allows free movement of assets and remittances that do not require official approval.
Two: Freedom of personal movement and I'm very insistent on this.
Three: Permanent resident status and I argued about this point. What did I argue for? As long as you lived a full seven years in Hong Kong, regardless of what happens afterwards you may have integrated and returned, you are considered the same as all Hong Kong residents and may keep your permanent resident status.
Rule #10: Contribute To The World
My life differs from the lives of most people in that, I didn't have a childhood. War broke out when I was ten, I was constantly on the move. First just to make a living and later for my career. In this life of mine, I think if I make up for what I lost in my youth. Like education and medical health, if I can make some contribution in such areas as long as I'm up to it.
I would like to do more. Some twenty years ago, when my sons were small a summer day it was we came to this lake and went Kayaking. The hills have remained the same, as has the environment. One hundred. One thousand years from now, they will remain the same but the people now will not be there.
When you think that life is but a short journey, you'll hope to make the most of the time when you're still able to work, to sow good seeds in the world. This is worth doing.
Thank You
Thank you so much. We made this because Wei Yung asked us to. If you'd like to see someone else to be profiled, please let us know in the comments and we'll see what we can do.
We'd also like to know which one of Li Ka Shing's Top Ten Rules meant the most to you. Leave it in the comments below and we'll join the discussion.
Thank you so much. Continue to believe, and we'll see you soon.
---
You might also like
---