Image Credit: Space App Challenge via rencsaridogan.com
It's been several years since the National Aeronautics and Space Administration (NASA) introduced the Apps Challenge and we already feel closer to space than we have ever been. There has never been a period in history when we felt the impact of space technology so much that we feel like we're touching it. NASA's challenge has developed a global partnership network and keeps expanding it every year. For instance, the challenge in Ukraine received a decent support from Noosphere Ventures through Max Polyakov in 2017.
This year's hackathon is a testament that is more to expect and also a big reminder that NASA is really working. We don't feel the distance anymore. If we aren't there yet, then we are very close.
NASA's Space Apps Challenge is not merely a competition; it is an experience of the wonderment of space technology. They do this by trying to find solutions to existing space challenges that the industry's experts are currently working on. And the collaboration with Max Polyakov from Noosphere Ventures made it happen in Ukraine.
The teams which consisted of scientists, technologists, storytellers, builders, makers and programmers from different parts of the world converged to challenge each other in various issues concerning our survival. They were to suggest solutions to current world issues concerning universal hunger, natural disasters, migration of invasive species, energy consumption and the ice caps. Altogether, there were 15 thousand participants in 160 different locations.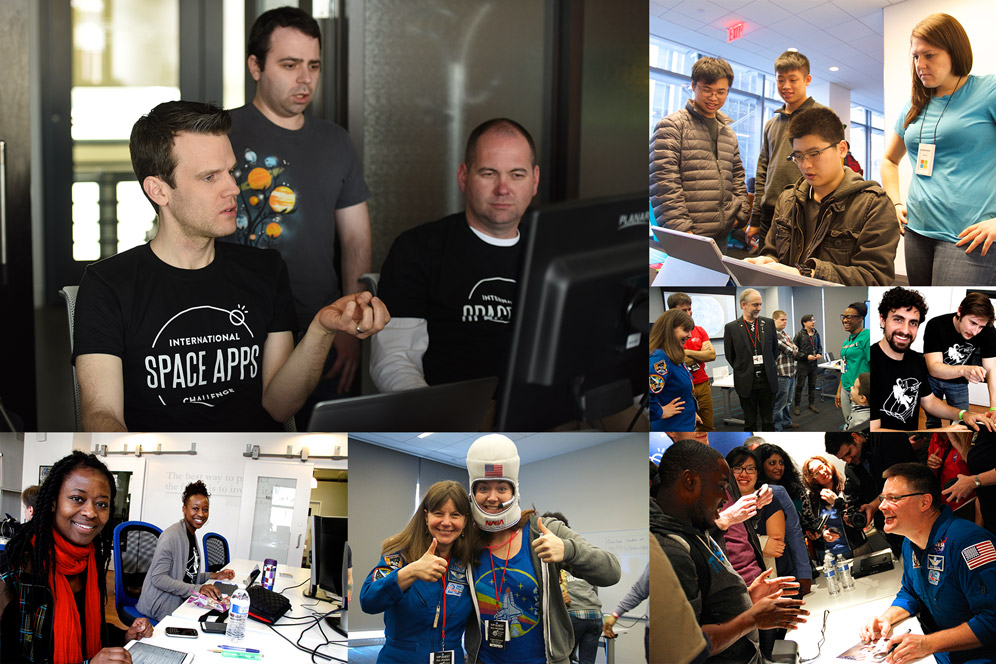 Image Credit: Space App Challenge via 2016.spaceappschallenge.org

The Managing Partner for Noosphere Ventures, Max Polyakov revealed the major reason behind organizing of such competitions. According to him, by making some of their cumbersome data accessible to non-professionals and allowing them share their ideas, NASA can benefit from the talents of many tech savvy amateurs.

In an attempt to let the whole world know about these stories, NASA is collaborating with a storytelling expert from SecondMuse, Davar Ardalan. Her job is to inform and educate the general public about how their local communities are being affected by the apps, and how it is bringing them closer to space. Few of these stories are described as follows.

Just recently, a launch simulator was built by the DREAM SPACE SIMULATORteam. The simulator worked by combining the physical impact of a rotating chair and the vision of a VR headset.

The team even took a bolder step by creating their own VR control glove that makes virtual stimulus possible during the experience. Data and telemetry from NASA were used for the launch experience which made it possible for players to feel as if they were actually in space.

Also from the University of Moratuwa, Sri Lanka, is the SPACEGO team which comprised of several students. The app enables players to have a tangible space experience of circling around the earth. Of course, this is not real, but maybe close. Data and telemetry were used to make it possible.

Another great team that also came out from the host city is the SPACER team. Their app do more than just emulating an environment in space, it makes the experience tangible and more personal.

This year's competition in Ukraine was a huge success, thanks to Noosphere Ventures through Max Polyakov. It was the first time the hackathon was held in Dnipro, Ukraine.

From every indication, it is obvious that these technological innovations are not only helping NASA, but humanity as well. We are all excited about the tales these technologies are telling us, as well as about the amount of companies like Max Polyakov's Noosphere Ventures that foster the Space Apps movement.