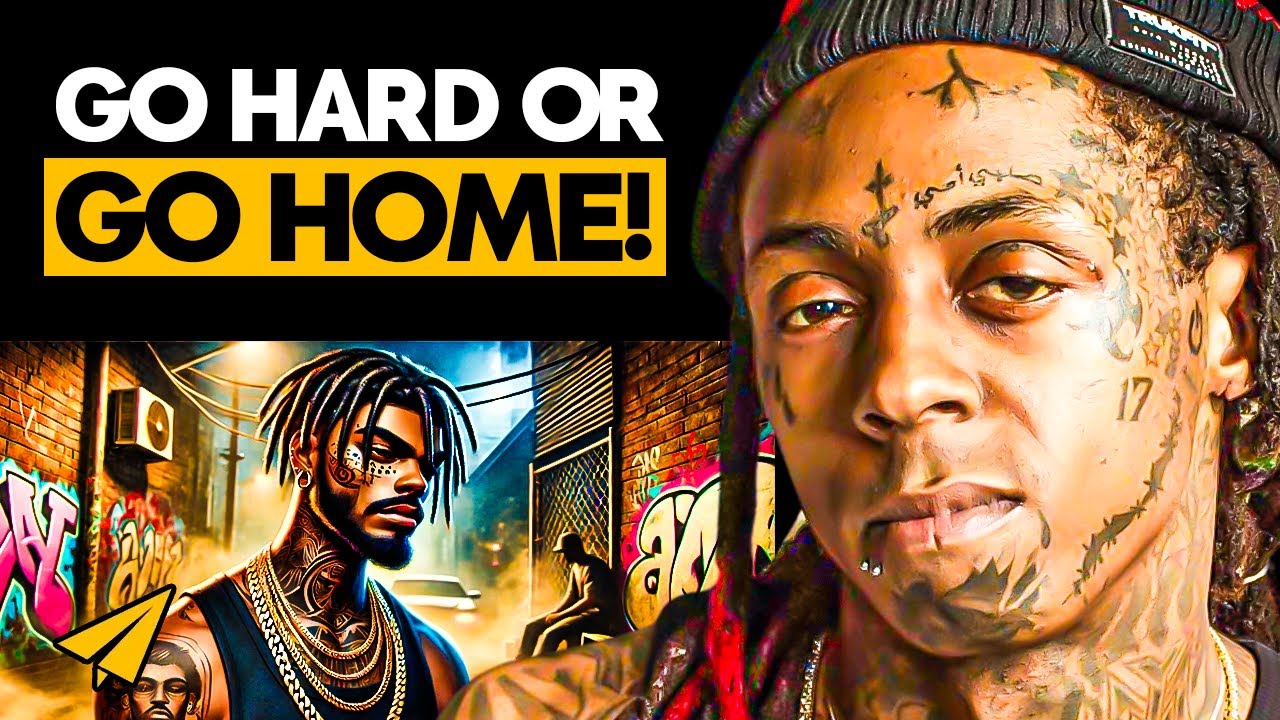 He's an American hip-hop recording artist. He's also the CEO of his own label, Young Money Entertainment. He has sold over 100 million records worldwide. He's Lil Wayne, and here's my take on his top 10 rules for success. 
Lil Wayne's Top 10 Rules For Business and Success
Rule #1: Give It Your All
I go hard in the paint with this rap. Real hard. I take it real seriously. I take every single thing I do, every word, every letter, every sentence, every phrase, every quote, every chorus, every verse, every bridge, every intro, every outro personally. So if you're of fan of me, then know that you get the full me because I give my all to my music. You dig?
Rule #2: Stand Out
You got to stand out, you know? You got to stand, like I said earlier, you don't want to look or sound or feel like nobody else. I like when it's my turn, if I only got eight seconds of the song, I want that to be the most memorable eight seconds of the song. Thank God every time that part come on, all I got to do is put my mic to the crowd. They already know that I am the beast.
Rule #3: Work Hard
Interviewer: Why do you think your music is really sort of hitting this stride?
Well I work very, very hard, Ms. Katie.
Interviewer: You love to work.
I love to work. We don't approach things like we're good. We just approach things like we're going to work, and we're going to work hard. Watch And hard work pays off. If you work that hard, you're going to get good. And good turns to great. And hopefully I'm the definition of that.
Interviewer: Do you think you're great?
I do.
Rule #4: Do What You Love
Interviewer: Now Wayne, for the last two years you've blessed the streets with the freestyles, the collaborations, the features. Not many MCs would want to do that. A lot of people want to hold back their lyrics. What inspires you to spit so much in such a short space of time?
Man, I can't help it, I think. I can't help it, no matter what. I breathe it, I live it. I get it. The best way I can explain it is what's your best thing you do? Whatever your favorite thing to do, if it's to count the numbers on the wall, whatever it is, whatever that feeling is you get every single time you do that or hear that or say that, that's the exact same feeling I get when it's time to go in that booth. Anything that has to do with creativity, anything I do with music, that's how I've laid it.
Rule #5: Persevere
Interviewer: Message to upcoming artist today just basically people trying to make it in the world.
Message to the upcoming artist. If you are an artist, please don't ever stop your craft. Don't let nothing stop your craft. What I mean by that is example. My mom tried to stop my craft, and I still did me. When my mom took my tablet, I stopped writing and just kept it up here.
You know what I'm saying? So if you're an artist and you do it, everything is going to come in your way. Every obstacle you have, if that's what you want to do, then you got to do it. And then at the end of it, you're going to be like I went through all that and made it here. Dig?
Rule #6: Be Real
I said you know what? The only way I won't be able to rap anything I've written again is to record everything I've written all at once. So therefore I have no more written material.
Man: You could hear the songs ripping. You could hear the pages ripping, as he's going through all these last raps, and that was the last time he ever wrote anything down.
When I stopped writing, I noticed that everything was real now. I can't speak about nothing but what's real because I can't write nothing down.
Man: That changed Wayne as an artist. He started pouring all his feeling out. Everything what's on his heart, everything what's in his head, he just started putting it out. 
Rule #7: Remember Your Why?
I was also saying I picked up a guitar and I put out a rock album. I just want you to know that I'm a very passionate man at whatever I do. I just want you to understand and to ask yourself at all times what's the reason you're doing or trying to do or saying you do what you do? Because my reason for picking up that guitar, because I wanted to learn how to play a guitar and sing it to a woman.
That was my reason. Period. I ain't want nobody to say, "Oh Weezy be rocking out." I would want to be able to pick up a guitar and sing to a woman. It just turned out to be something else. I put out a rock album. It went gold. I bet you your girlfriend know how to sing Prom Queen.
I bet you you know what Drop the World is. That's from off my rock album. It worked. I'm passion. I want you to understand that. If you're going to try to do something, I ain't telling you don't go out there and pick up a guitar. I'm not telling you don't go out there and switch you style.
I'm not telling you don't go out there and try to make a new song where you're singing. I'm not telling you don't do that, because it might work for you. Because I did it, and it worked for me. And I wasn't the first to do it, but it worked for me. And now everybody else is trying to do it. It's not working for everybody, that's okay. Just remember why you did it.
Rule #8: Create What You Like
I think you, I think originality period could crack not only the U.K., anywhere. Originality, people strayed away from that. Every time people do music or anything they do now, they do it like someone who has done it before, or they do it like what they think the people want.
I don't do that. I do what I know is nice to me. I do what I think is cool. And if you don't think it's cool, then I think you're not cool. So if you approach it with that attitude, then I don't think you could ever lose.
Rule #9: Be Determined
Interviewer: Now you've got, you're working crazy. I've seen you do four videos today. I only saw four and I'm exhausted. I was falling asleep with the back men. Man, how do you do it right now?
Oh man, determination. You set a goal, and I'm one of those people that actually don't stop until the goal is done. So I set that goal. I had to finish it.
Rule #10: Express Yourself
In New Orleans, reality is handed to you very, very early. That's the difference between New Orleans and everywhere else.And the word today and the word forever is kids.
Interviewer: The song you're singing at the GRAMMYs is about Katrina, right? And in that song, you write, I knew some people who were in that pool, right? Are you still angry about it?
Angry isn't the word.
Interviewer: How do you feel about playing that song at the GRAMMYs?
I can't wait.
Thank You
Thank you guys so much. I made this because Janet or Jeanette Sedano asked me to. If there's a famous entrepreneur that you want me to profile next, leave it down in the comments below, and I'll see what I can do.
Leave in the comments. I will join in the discussion. I also want to give a quick shot out to Justin Morgan from newfuturebuilder.com.
Justin, thank you so much for picking up a copy of my book. Thank you guys. Continue to believe or whatever your one word is, and I'll see you soon.
---
Bonus
Be Your Own Person
Interviewer: Where did you get the name Lil Wayne? And by the way, do I call you Wayne, Weezy, Lil?
Lil Wayne. Wayne is fine. Wayne is so perfect.
Interviewer: But your real name's Dwayne, right?
Real name.
Interviewer: So why'd you drop the D?
I'll tell you right here on TV I dropped the D because I'm a junior, and my father is living, and he's not in my life. And he's never been in my life. So I don't want to be Dwayne. I'd rather be Wayne.
Interviewer: Does he know that?
He knows now.
Avoid Mediocrity
Pete: Is that an interview that you actually gave with Katie Couric?
Is that an interview that I actually gave with Katie Couric? What's your name again?
Pete: Well that's not the question.
What is his name?
Man: It's Pete Ross.
Huh?
Man: Pete Ross.
Pete Ross, that's a stupid-ass question. You just saw me on there giving an interview with her
Pete: Okay. So that was you. Isn't it something that you would remember if your album, Tha Carter III, was the biggest-selling album of the year in 2008?
Isn't it something that I would remember that?
Pete: Yes.
Isn't that a personal opinion-type question? Because I would be actually answering a question to isn't it something, that's my question? Isn't it something?
Pete: That you would remember.
Isn't it something? That's the question I have to answer, your Honor? Isn't it something?
Judge: Do the best to try to answer it.
Yeah, it's something out of your ass. That's my answer. Yeah, it is something out of your ass.
Pete: Have you ever hired a photographer to photograph an event?
Have I ever hired a photographer to photograph an event? Sorry sir, no. I'm a superstar. People hire them themselves to photograph me. We don't hire them.
Pete: How would you describe your image in the media?
How would I describe my image in the media?
Pete: Yes.
I wouldn't describe it.
Pete: Well how would you describe it if you had to?
I don't have to.
Pete: Well what image are you portraying in the media?
I don't portray anything. I am who I am, and you guys portray what you get.
Pete: Who are you? Who's the real?
I am Dwayne Michael Carter, Jr.
Pete: Okay. Do you like to portray yourself.
I just answered that and said that I don't like to portray myself as nobody. I completely be Dwayne Michael Carter, Jr. I don't portray myself as anything. An image is self-described.
Pete: Well you have to wait until I'm done with the question.
I don't have to wait until anything. Honestly, I mean, this guy right here may tell me that I have to wait. But personally, I don't have to do nothing.
Tonight say hell yeah.
Crowd: Hell yeah.
Hold on one second. Hold on one second, one second, one second, one second. Don't throw no ice at me, homie. Don't throw no ice at me, because listen, listen, not none of these security, none of these niggas around me. It'll be me that you up.
Be Yourself
Interviewer: Tell me how did you guys connect, because you all are friends and he's been a big influence on. You know Lil Wayne and I are like this.
Drake: I know, I know that's your dawg.
Interviewer: Yeah, that's my dawg. He kept saying to me, "I'm a gangsta, Ms. Katie."
Drake: I remember, I remember the interview. I watched it. It was great.
Interviewer: But how did you guys get to know each other?
Drake: We were introduced through another gentleman from Houston. His name is Jas Prince. He found me on Myspace and loved my music on Myspace, and he was like, "Man, I know Lil Wayne "and I'm going to play him your music one day," and I was just like yeah right, you know.
I didn't buy it at first. And then, I'll never forget. We formed a relationship, and we used to talk and chop it up. Chop it up is like converse.
Interviewer: Thank you. I kind of figured that. But thanks for the translation. Thank you, Drake.
Drake: And so we would talk, and he called me one day. I was in the barber shop getting my hair cut. But he called me from his number. But it was like . And the phone rang, and I picked it up. And it was like, "Yo." And I was like, you probably know that voice.
I was like hello? It was like, "Yo, what's up?" I was like this doesn't sound like my friend. And he's like, "Yo, what's up, it's Weezy." And it ended up being Wayne. And he was like I'm starting this thing called Young Money and I'd really love for you to be a part of it.
So I want to fly you out to Houston and meet you. And he did just that the day after. And that formed our relationship. And I was like this quiet kid in the corner of the bus while everything was going on around me. Tha Carter III was just, I think it was like maybe two or three weeks away from coming out and what a time, what a time.
Interviewer: What kind of advice did he give you or how did he help you kind of take your music to the next step?
Drake: The greatest advice Wayne has ever given me, and it's a constant. It's less of advice and more of a constant reminder which I love him so much for saying this to me, is he's always just like man, please be yourself.
Please don't ever try and be me or anybody else. Don't ever go get tattoos. You don't have to dress any different. Because from the day Wayne met me until now, I haven't changed anything about myself. He met me, and he really liked the kid that he met.
Interviewer: How old were you then? How old were you, Drake, when you met him?
Drake: That was about, I'd say it was like two years ago?
Interviewer: Yeah, two or three, when that album came out. Yeah.
Drake: Yep, two years ago. And he was like don't stop smiling either. Don't try and get mean or aggressive. He's like just be you, man. Just be you and rap about life and women and family and just love life and be happy.
Be that guy. Be the guy that I could never be, because he can't be that guy. Because he has tattoos all over his face, then he has dreads, and he has diamonds in his mouth, and he's a completely different person.
---
You might also like
---