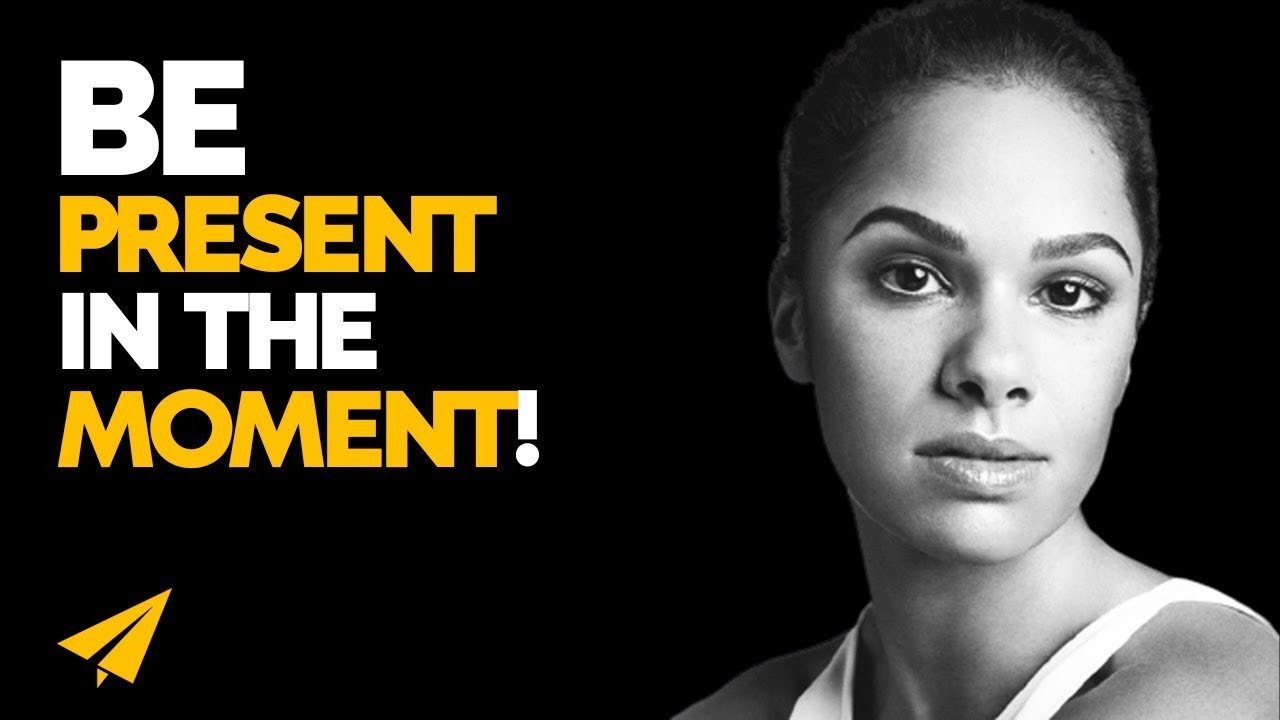 Good morning, believe nation.
Today's message is live in the moment. Over to you, Misty Copeland.
I think that when I was younger, I was just, you know, you get so like, antsy, and you just want the good things to come, and it's hard to enjoy the process, and I think that's something that I really understand and appreciate now.
I mean, my life is so chaotic with just being busy all the time, that I literally just take everything one step at a time.
Like, even when I'm on the stage, and I'm like, I can't think about third act, I'm in second act now and I'm going to think about the pique arabesque I'm about to do, not about the, you know, the, the pirouettes I'm going to do in two seconds.
So it's literally just like, taking everything, you know, just pacing yourself in one thing at a time.
---
Evan Carmichael
If you can't learn to appreciate the moment, you'll never be happy. I think one of the things that we, as entrepreneurs, are great at, is being frustrated with the status quo, is wanting more, it's wanting to change something, wanting to change the way an industry is done, because we're so angry and frustrated with how it's currently being done. And that's great, and that's a strength, and that's a tool, and we should lean in on it.
At the same time though, I want you to be grateful for what you do have, to recognize the abundance of opportunities and wealth that you have already living. The fact that you are living, and watching this video, and have access to YouTube, puts you ahead of, still, most of the world. And, recognizing that, and being so grateful that if, even if you never accomplish any more of your goals, that you have an amazing life.
I think it's helpful. Now, I don't think it's, only focus on how great everything is, 'cause then, you don't do anything else. Right, you don't want to change things. That little bit of frustration is good, but I think you need both; I think too many people don't lean too hard, on the negative, on the frustration, on the way things are currently done, and if that's all you are chasing, then you'll never be happy.
Enjoy what's happening right now
There's a great story from Thich Nhat Hanh, where he's talking about washing the dishes to wash the dishes. He's doing this retreat with his students, and at the end of every night, they would go over to his place, and he would make them dinner, and then he would wash the plates. And, one of the guys who came to his session said, hey, let me wash the plates for you. You did a lot of work, you helped us out, you fed us, how about I wash the plates for you.
And he told them that, if you're going to wash the plates, then you need to wash the plates. You wash the plates to wash the plates, and what that means is, so many times, when people are washing the plates, what are you doing? You're thinking of what's next, and you're not actually focused on washing the plates. You're thinking about the conversations you're going to have after you finish washing the dishes.
"If you can't learn to appreciate the moment, you'll never be happy." – Evan Carmichael
And then, when you're having the conversations after, you're thinking about what you're going to do later on that night. And when you're actually doing that thing, later on that night, you're thinking about what's going to happen tomorrow. We're so focused on always thinking about what's next, that we don't take the time to enjoy what's happening right now. I'm enjoying making this video for you right now.
Be grateful, and mindful in the moment, for everything that you do have
I'm entirely focused on just making this video. I'm not thinking about the next video that I'm going to do. I'm not thinking about how I'm going to spend my evening. I'm here, trying to be with you, in this moment. And the more time you can spend being in the moment, it helps you be a happier and healthier entrepreneur. I think, too often, we're focused just on thinking about what's happening next, and we don't actually get to spend time enjoying our family, enjoying our customers, enjoying the work and the process that we're doing.
So if you can take all of that, and learn to be present, and yes, focus on the frustrations, so that it helps you become a better entrepreneur, but at the same time, be grateful, and mindful in the moment, for everything that you do have. I think it'll make you happier, healthier, and a more successful entrepreneur.
Question of The Day
So the question of the day today, is, I'm curious, what do you do to be present, in the moment? Curious to find out, leave it in the comments below. I also want to give a quick shout-out to Peter. Peter, thank you so much for picking up a copy of my book, Your One Word, it really, really means a lot to me, man, and I hope you're enjoying the read. So thank you guys again, for watching. I believe in you. I hope you continue to believe in yourself, and whatever your one word is. Much love, and I'll see you guys again tomorrow morning, for another shot of Entspresso.
---
BONUS
Chris Martin
Interviewer: A Head Full of Dreams, the tour is going on now, you just got off the South American line. I mean, the crowds, the show, does it ever, how do you keep it fresh? Because, it's not your first rodeo, it's your thousands, ten-thousands, I mean, you've been doing it.
Well, here's how we keep it fresh: Bruce Springsteen, apparently, I don't know if he really does or not, used to say to the rest of the E Street Band, this could be someone's first show and it could be someone's last show. So, let's treat it like that.
So, I have that inspiration, and then some other things in my life, that just make me, every time, before we go on stage, I really think about like, who's showed up, how much they've been through to get there, and, also for us, at the moment, we're just so into it.
We took a break from touring, on the last album we did, called Ghost Stories, so we're so excited to be there, and we know that nothing lasts forever, so I think that we're just really, more than ever, living in the moment, and trying to appreciate the fact that, for some people, it's their first show, and some people, you know, you know.
Interviewer: And, that has to be a perspective that, that's not immediate, right? You learn that perspective.
You have to work to that perspective.
Interviewer: Yeah.
We definitely went through a period, about 10 years ago, of feeling like, what are we doing? You know, questioning everything, and not really able to take in the joy of it.
Interviewer: That must have been hard.
I mean, everything's in perspective, but for us, as a band, it was a bit hard, like, what are we, you know. But, slowly, just, you keep going, and you find great people who come in and help you out, and teach you things. And I think, the more that you let in, it's very easy right now, with social media, to let in anything negative, you know. Whatever you do, someone is going to slag it off, online.
Interviewer: Well, you're not on social media at all.
Personally, we are as a band. I don't really personally do it. I'm not that good at selfies.
Interviewer: That's the honest answer.
That's the reason.
Interviewer: Yeah.
So I made a decision that, well, you know, it's easy to take in the bad stuff, so I'm going to really take in the good stuff, and appreciate, these people have shown up, and they want to sing our songs together, and that's great, I'm into it.
Interviewer: It can't ever get old.
So it's very fresh. It never gets old. That's the thing, it never gets old.
Selena Gomez
You're not meant to put a goal on your life. You're not meant to say, once I get there, I'll have it all. I think that that's the biggest lesson I've needed to learn, is how to be present, in that moment, and to know that I'm always going to strive for something.
I think everybody who's watched my story, they've seen that not everything has kind of been handed to me, and I've been honest about everything. Some of the things that haven't been me, in the past, and other things, I've been so passionate about, and so spot-on with.
So, if anything, that's what Revival represents. It's that, I feel the most confident I've ever felt, and it goes like that.  It's like, it's constantly changing, and I don't know, I think that's just, that's what I want it to feel like.
Paulo Coelho
Interviewer: Your background is fairly well documented, the things you went through, which have shaped you. How much of that is really behind you? How much do those ghosts still haunt you? The involvement in, you know, issues that got you in prison, and tortured, and, you know, the drug use, and so on.
I am myself, and my circumstance. I think that, like a Spanish philosopher, used to say, so, who am I? I'm a sum of all the experience that I lived, in my life. That said, of course, I don't look back, because if I look back, I may become a start of salt.
So I try to live my life here, but it is the sum of difficult moments, good moments, experiences that I had in my life, that brought me here, in front of this camera, talking to you. You don't live your life, in this capitalistic sense, that to accumulate knowledge, as you accumulate money.
No, no, no, no, no. Life is about the present moment. And, you're here, you're here now, and then you have an idea, or have something, but that may be a root in your past, but you don't know, so what I try to do, is to live my life as full, as intensely, as I can.
---
You might also like
---
More from Chris Martin
---
Today's message is live in the moment. Good morning, Believe Nation! It's Evan. My one word is believe. And I …
Evan: He's an English singer, songwriter, record producer and co-founder of Coldplay. He achieved world wide fame with the band's …
Good morning Believe Nation! Today's message is express your true self. Over to you, Chris Martin. The idea of ghost stories for …