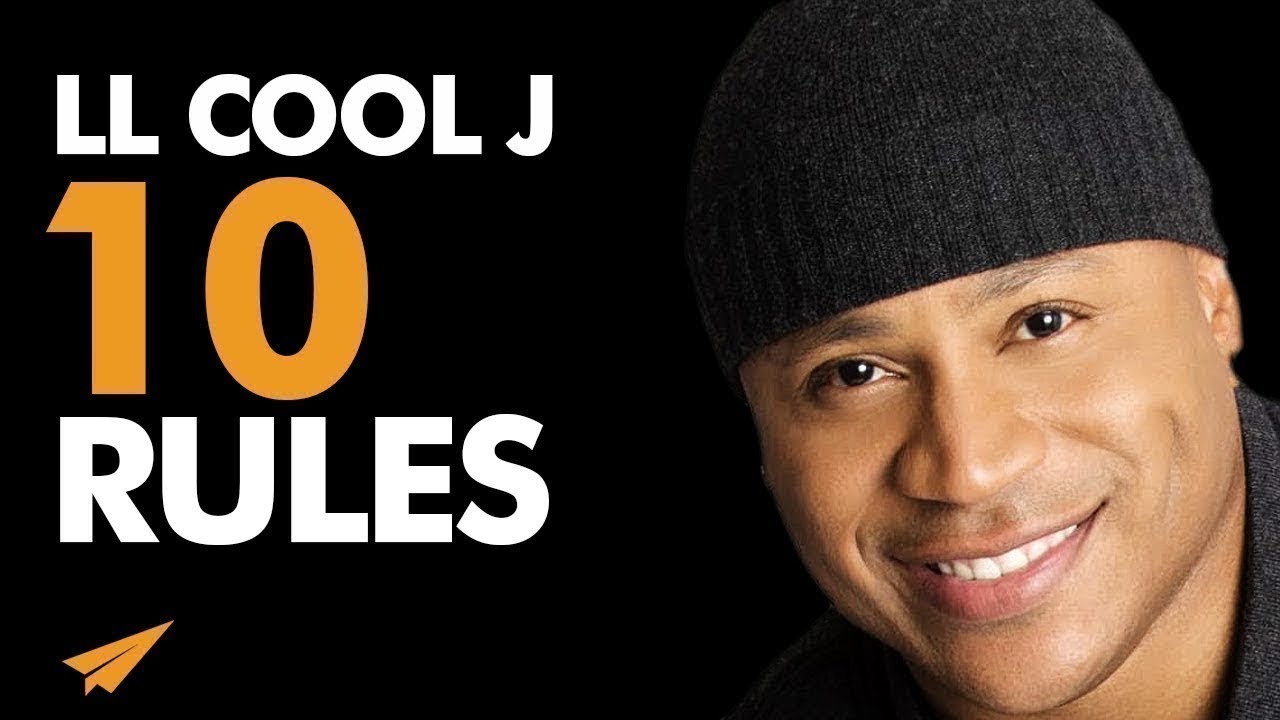 "Sometimes, an indirect route is the quickest way to get there."
"Do something that you know you can do and go for it at 150 million percent."
"I just wanted to be the best, be hot, and just have something hot, hear my voice on the radio."
"You don't have to stop. It's just a matter of you caring enough to always pay attention."
– LL Cool J
LL Cool J's Top 10 Rules For Business and Success
He's an American hip hop recording artist and actor from Queens, New York. He's known as one of the forefathers of pop rap. He's released 13 studio albums and two greatest hits compilations. He's LL Cool J, and here are his top 10 rules for success.
Rule #1: Be Patient
You know, where I come from, people are very passionate. Hot blooded. They want it. They want it now! I need it right away! Everyone's looking for a shortcut, but sometimes an indirect route is the quickest way to get there.
Sometimes you've got to take a little longer to achieve the things you will achieve in life. So don't be in a hurry. Be patient. Be patient. Everybody wants everything now. We live in a society where there's instant gratification. Instagram, insta-this. Be patient.
Rule #2: Get Confidence
Interviewer: A lot of kids, when they're growing up, there's a lot of stuff they think that they can't do. They're told they can't be this, they can't be that.
What you have to do is, if you're in a situation like that, you have to gain focus in yourself and go forward yourself. Don't listen.
Interviewer: How would you tell somebody to do that if they don't have that power, they think they're not capable of it?
You got to get confidence and find something that you do feel confident about. Find something that you feel confident you can achieve. Do something that you know you can do and go for it at 150 million percent.
Interviewer: So how did you know it was music?
That's what I like. I know. It's what I love.
Interviewer: For real, from the first time?
Absolutely.
Rule #3: Be Passionate
For me, it doesn't matter what I do. I could do all of the Hollywood stuff and I do all that, and everybody knows about that part of my life. Yeah, all of that. But you know what? There is nothing on earth more fun and crazy and wild for me than just getting on the records and rhyming and hear my joint on the radio, hear my joint at a club.
Yo, look, I could host a zillion Grammys. I could do TV shows or shoot bazookas and blow cars up and do all of that, but none of that gives me the adrenaline rush and the thrill that music gives me. You know what I'm saying? And so when you put your heart and soul and your passion into something, I can't walk away from that just because it never was business for me. It was always personal.
You know what I'm saying? Music was always personal to me and I know that's almost weird and that everywhere it's all about being a businessman, but for me, music was always personal. I just wanted to be the best, be hot, and just have something hot, hear my voice on the radio, be heard, and just feel it.
Rule #4: Keep It Fresh
That's what my whole career is based on, you know. Longevity, versatility, originality, you know what I'm saying? Giving them the longevity, but being versatile enough to adapt as time moves on. And then being original enough, not being a follower, not being a guy that, you know, you're leading the pack and then when things switch up, all the sudden you start following. But actually keeping it fresh, still believing in your taste.
You know what I'm saying? I got a lot of little young homies that stay around me and a lot of little cats that I hang out with and stuff like that, but just believing in yourself and doing what you love. That's the thing I love about this culture. You don't have to stop. It's just a matter of you caring enough to always pay attention.
Rule #5: Let The Chips Fall
Well, see, with me, I don't concentrate on black or pop. I make an LL record, I make the best record I can make, I put it out there and present it to the people. You know? I mean, it's like a painting. I mean, if 500 people get online to see my painting today the next painting is 5,000, and the next painting is 3,000, and the next painting is 40,000 and the next painting is 2,000 that's just the way it is.
You know, I'm interested in radio play, but at the same time, I just make what I make, and I don't know how to cross over. I don't know how to go pop. I just make my records and let the chips fall.
Rule #6: You Can Do Anything
I got a line on the album, I don't remember the exact line, but I was just basically saying that when my first album dropped, Jordan was a rookie. You know what I'm saying? You know what I'm saying, just to put it in perspective, my first album cover, I had the first ever pair of Jordans from the first release.
This is my first one, and you know, it's crazy, because it just shows you that you can do anything you put your mind to, you know what I'm saying, there's no limitations to this.
Rule #7: Take Care Of Your Own Life
There was a point when I started hearing, "You know, you're having tax problems." But my father was running my whole financial life. He was dealing with the checks, he was dealing with everything. I hardly was doing anything, and around that time, I was starting to get back with the mother of my children.
And I remember looking at my son and saying to myself, you know, how can I look at this young man here and tell him I'm his father if I'm not even taking care of myself? I have all these people around me telling me what to do and what not to do. Who I should be with, and who I shouldn't be with.
And I have a son here who's going to depend on me to take care of him and look out for him, raise him. Dad, you're fired. You, my assistant, you're fired too. You, you're fired. Everybody's fired. Yeah, hello? Yeah, I'm trying to figure out where the GD program is. Oh, I know where it is.
My uncle tells me, I go out there. I join in. You understand what I'm saying? It's like there's a period, you know, you got to take control, you got to take the reins. Yes, I have people in my life that help me, because you know, wise men attains wise counsel, obviously. And you want to have that mastermind principle going on.
You want to have a lot of people around you, have a think tank flowing. But at the same time, you got to be able to take care of your own life, and that was what was important to me. I decided, you know what, I want to be able to take care of my own life. I have to be able to be in charge, on some level, of my own life.
Rule #8: Pursue Your Dreams
I guess what it all boils down to at the end of the day is how bad you want it, how hard are you willing to work for it and what are you willing to sacrifice to get it? You don't have to sacrifice your integrity. You don't have to sacrifice who you are as a human being, the principles, the values that are instilled in you by your mentors or your family. You may have to sacrifice some sleep.
The successful people in this room lost a lot of sleep. Oh, yeah. They're tired now; look at them. Bags under their eyes; "Oh, God, when's he going to finish? "Jesus. "Oh, my God. "I love the kids, but God." Which, you know, that's really what it's about. Just believing in yourself.
So I say that to say this: Keep going after your dreams, keep going after your goals, pursue them relentlessly. Dig deep down into your soul. Hold onto that dream that's inside of you. Don't let go no matter what. Be like a pit bull. Be like a tiger. Just attack your dreams with aggression and power, but be polite while you're doing it. Have faith in yourself. Have faith in your god. Listen to your mentors, and love you.
Rule #9: Maximize Your Potential
You know, my mother used to tell me, "Todd, you can do "anything you put your mind to." And my grandmother used to tell me, "If a task "is once begun, never leave it til it's done. "be thy labor great or small, do it well or not at all."
And I kind of grew up with that mantra. I grew up believing that you can do anything you put your mind to. And I don't, no matter what, I am extremely determined.
Interviewer: That need to succeed never goes away, right?
It's not just a general succeed for the sake of succeeding. It's a desire to create, you know what I'm saying? To use the godly power and talent that was instilled in me to the best of my ability, to maximize my potential. Because if I'm not here to maximize my potential, then what am I on earth for?
Rule #10: Live A Complete Life
Interviewer: How do you set goals for yourself?
Decide what you want to do and do it.
Interviewer: Do they change all the time?
The quicker you set your goals, the quicker you'll achieve them. As you achieve them, they change.
Interviewer: So what would make you, when you go to bed at night, what makes you think yeah, I'm successful?
I don't feel like I'm successful. Success, to me, is living a complete life, being rich physically, mentally, and spiritually, and dying rich physically, mentally, and spiritually, and then ascending to a higher place. That's success.
Because you could say you're successful and then next day lose what you thought made you successful. So you're not successful til you went 360 degrees full cipher, the full cycle, and die. Then you're successful because you completed life. You were successful with the whole thing.
Interviewer: Where'd you get that?
Me.
Interviewer: Yeah? Is that something that came from your mom or your parents or?
Mm-mm.
Interviewer: Really? Because it does ascribe to some certain religious ideas.
For me, this is something I feel inside. My life force tells me that.
Thank You
Thank you so much. We made this because Rodney asked us to. If you have another entrepreneur you want us to profile, leave it in the comments below. I'd also love to know which of LL Cool J's top 10 rules hit you the hardest. Leave it in the comments below and join in the discussion. Thank you so much. Continue to believe and we'll see you soon.
---
You might also like
---
More from LL Cool J
---
Good morning Believe Nation, my name is Evan Carmichael. My one word is believe and I believe that entrepreneurs will …