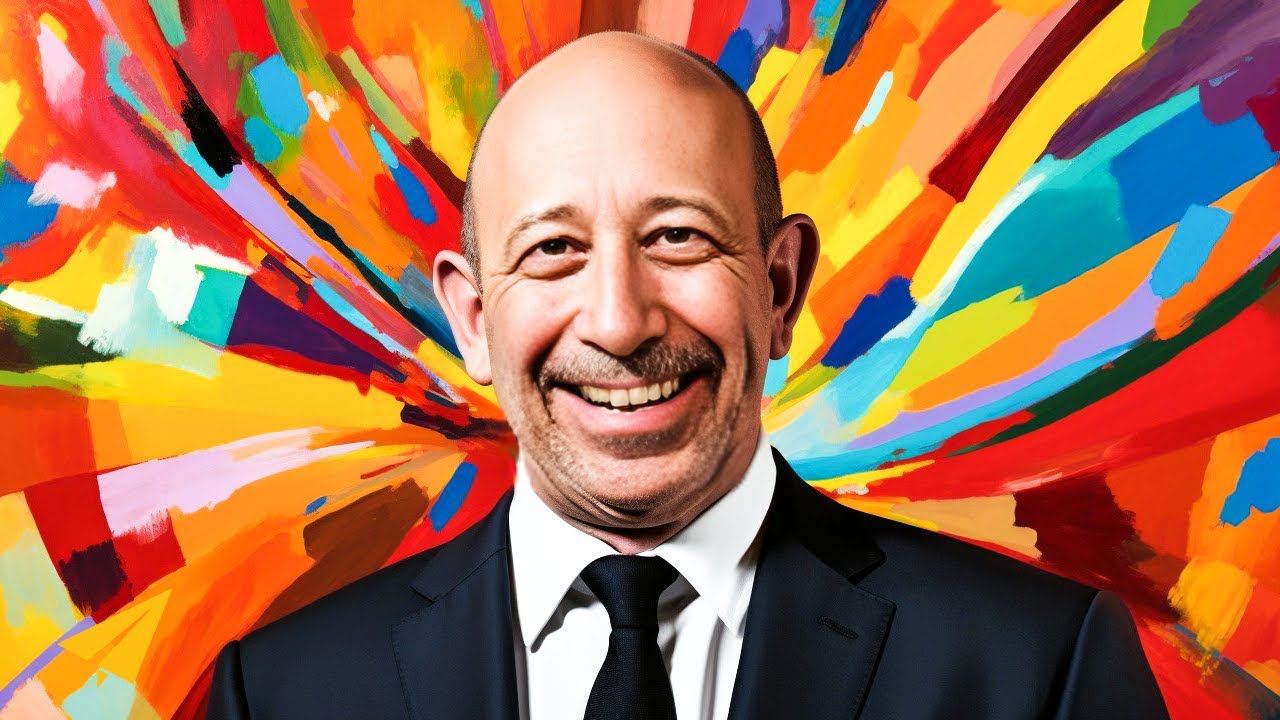 "Life is corked. I'm sure all of you have your lives planned out, and the one thing I can absolutely guarantee is it won't work out that way."
"I accept the world as it is, and I go forward."
"If you don't have passion for your work or the drive to make a better life for your kids and your own, then you won't have what it takes to keep you going."
– Lloyd Blankfein
Lloyd Blankfein's Top 10 Rules For Business and Success
He's an American business executive. He's a CEO and chairman of Goldman Sachs. He's one of the highest paid executives on Wall Street. He's Lloyd Blankfein, and here are his top 10 rules for success.
Rule #1: Life Is Unpredictable
Life is corked. I'm sure all of you have your lives planned out, and the one thing I can absolutely guarantee is it won't work out that way 'cause just things happen. First of all, the world changes in the world of Oz so whatever plans you're making, it's based on a static world that won't be there because things will happen, and you'll change, or maybe you won't even change, maybe you just misidentifying yourself now. We don't know, which is a perfectly appropriate way to be when you're young or in my age 'cause who knows?
Rule #2: Go Forward
Interviewer: What would you change about the way that you ended up as the CEO of Goldman Sachs?
You know, I don't have that. You know how the mayor just said he looks forward and the next day is going to be better? And I think a kar-ler-i of that is I accept the world as it is, and I go forward. I mean I could do an archeological dig but I can't go back and change it so I don't spend a lot of time fussing about it.
I want to learn from it but I don't want to wring my hands and incriminate so it's never, "I wish I were taller, "I wish I could run faster." Wish I had a lower handicap.  I have plenty of handicap but not the low one in golf that I want.
But I don't spend a lot of time thinking about that but if you put me to it, I'd tell you another thing that anybody who had a chance to revisit the past with what he knows now would be crazy not to do it but it's just not available so how much time are you going to spend on it?
Rule #3: Have Passion
In my career, I've been fortunate to know and work with many of this country's top CEOs and business leaders. I'm always struck by a certain passion that defines them. While they may be wealthy and powerful, their passion goes beyond money and power. I won't stand here and tell you that those are bad things.
They're pretty good but only if you have a larger purpose in mind. If you don't have passion for your work or the drive to make a better life for your kids and your own, then you won't have what it takes to keep you going.
Rule #4: Be Flexible And Nimble
You're going to have to be flexible and nimble in your life. That's the characteristic you want to get. It's not important whether you know what the product is, or sure, or what's hot and what's not, or how to execute this particular thing. You need to learn business, and you need to learn how to question and have an open mind.
You need to know the process of thinking about things. You notice how people can go around and be an investor in the industry, turn around and without doing anything, be a great investor in another industry, or some CEO who one day is running Ford Motor Company, and then can run Boeing or different industries? The most important thing is not the particular characteristics of a particular industry or thing, it's how to be a good CEO just like it's how to have presentation skills, how to be a good manager, how to be a good subordinate, how to be a good partner, how to use people, how to be usable by people.
And those are the things that you have to learn. Now you can only learn it. You can't learn it abstractly, and you can't really learn it in school. You have to learn it by doing but you have to take those lessons and extrapolate it. So the things that I did in the markets. And the context of even in investment banking and advisory, those are entirely different things 30 years ago than they are today.
They're different five years ago than they are today. We talk about time of great change. Okay. Every time is a time of great change. And I will tell you, and the technology is driving it. And you don't know. Everybody always remembers getting it right when they thought forward because you always acquire it, after acquired information always affects your views.
You don't remember what you used to think. And so that's just the nature of things. And the people who'd be successful in their lives are the people who are the most flexible, who can absorb the most, who are open to learn, who are coachable, who are not too proud to dig in to new things.
Rule #5: Have A Thick Skin
Who was an entrepreneur where everything is a smooth ride, and you go through these things, and I tell you and you get criticized and you have to have a thick skin. And by the way, you don't buy a thick skin, and you don't even know you have it until somebody starts to try to puncture it, and then you discover what you're made of.
Rule #6: Be A Complete Person
Be a well-rounded, complete person. Many of you will go for further educational career training. Of course, it's important to learn the things that you need to make a living but don't forget to read and to learn history, literature, and about current events. You'll be more interesting to others, more interesting to yourself, and you'll be more successful in your job. Most of the books I've read didn't apply directly to my job or industry but I've applied their lessons in unexpected ways.
Rule #7: Live In The Moment
If you're an Olympic athlete or something like you get to the high, you also have to peak at the time it's an Olympic year. Yeah, you could be the fastest runner in the world, and it's an off year, and so by the time you get to the Olympics three years later, you aren't anymore so there's a lot of luck involved in things in the world.
I never lived my life thinking about my next job because I was always in the last job I could have as far as I could tell, and I think it's a huge advantage for you to live in the moment, and not to be seething too much. I mean obviously you plan even though your plans never work out but the secret is to do a great job with what you're doing.
You know, what you should do is you should perform as if you were in your next job but not seethe with the ambition to get there, and project that. You make people nervous as hell and you kill yourself. When I was in high school, I went to, because you heard all those advisory boards, I was at, went to Harvard College, Harvard Law School, and when I went to the college from the high school I came from, it never dawned on me that I'd get into that kind of an Ivy League.
It just didn't happen but I applied, and I never thought about it after really I applied 'cause it wasn't on my scope, and so when I got a letter, I didn't have any anxiety to it, and when I got that letter, I just was like ecstatic and like this, and then my mind opened up.
Even the process of that was great. When I was in college, and I applied to law school, I went down to the mailbox every day. I knew the consequences of it. I was with a bunch of people who also wanted it, were vying for it, and I was like torturing myself over, and I was imagining what if I do get in, what if I don't get in, what are the consequence of getting in or not? And I tell you it affected my life, and it affected the functionality.
That's a difference. I tell you if you could approach every opportunity like I did the college one, you'll be better and you'll be happier, and if you live the life tormented about what are my prospects for the next one, when life is random, and there's some chance involved in things, you're going to be tortured.
Rule #8: Learn From History
Being successful in business means part of it is try to guess what's going to happen, part of it is trying to guess the future. History is as important as economics. Right? In other words, being able to see, "Gee, this period of time, "it's not the same as the 1980s but it's like it."
I remember another time when politics were poisoned, or this or that, or this situation in the world today, or the conflict we're seeing in the Middle East, how was that in the temperament of the times, and the reaction it produces compared to the period of time when everybody was worried about the rise of Russia, or the rise of, what's that like? In other words, nothing is new.
Everything of course is different but the cycles repeat, and I think the study of history gives you a feeling, knowing that nothing stays the same and everything is evolved, nothing is static, that's an important lesson to learn. If I want to be good in economics, I'd want to know economic history.
If I want to be a good scientist, I want to know the history of science, and that would maybe help me understand the receptivity of the world to advances today and why some things get accepted and why some things don't. Yeah. I thought so. Anyway that's just my prejudice and my background has made me appreciate knowing the history of things and not just the science of things.
Rule #9: Do What You Love
After college, I went to law school for three years, and then into my dream job at a big New York law firm but even though it had been my dream, I didn't like it once I got there. For the first time, I was feeling financially secure but I knew I wasn't passionate enough about what I was doing, and because I didn't love it, I would never be fulfilled from it, or be really good at it.
Someone who loved it more would have greater enthusiasm and focus. For some, it was fun. For me, it was always going to be a horrible chore. After five years in a law firm, I decided I wanted to try something different. I came home and told my wife I was quitting and she cried  and not out of happiness.
Anyway it worked out. I got a new job at a small Wall Street having been rejected at every other one. We got put out by a larger firm, and I ended up remaining at that large firm Goldman Sachs.
Rule #10: Hire The Right People
Hear the question, why do you think Goldman Sachs is better than everybody else?
Interviewer: I do what I assume. I assume you had the best people.
'Cause we recruit and hire the best people, and more importantly because we retain them, and the reason why we retain them, and the reason why we get the best people is, and I believe this. Because we get people who are really interested in doing something that they think is good for the public, for the world they're in.
You mentioned earlier my predecessors who became secretaries of treasury. I could take you back and give you 100. The people we get, a kind of person at Goldman Sachs, who really wants to be an influential person, who wants to do something that's important, who feels that the job-
Interviewer: Who would make a lot of money and then go out and do good?
The people that we have would like to do well for themselves also but most of them, at the height of their careers, go into public service. I mean the record is repeated not just in the US but all around the world, not just at the top of the firm but in the middle of the firm.
Interviewer: So you're saying the secret to Goldman Sachs is that they hire the right people?
Right, we hire the right people, and retain the right people, and at certain times, lose the right people and make room for other right people to come in.
Thank You
Thank you so much. I made this because Martel Thomas asked me to. So if there's a famous entrepreneur that you want me to profile next, leave it in the comments below, and I'll see what I can do. I also love to know which of the top 10 rules today hit you the hardest, meant the most to you.
Leave it in the comments below. Join the discussion. And my personal goal in this channel is to hit one million subscribers so anything you can think of to help share the videos, spread the message, tweet it @ThePlaylist, I'd really, really appreciate it. Thank you, guys, continue to believe, and I'll see you soon.
---
You might also like
---
More from Lloyd Blankfein
---
Good morning Believe Nation. My name is Lily Ma and my one word is extraordinary. I believe that people are …