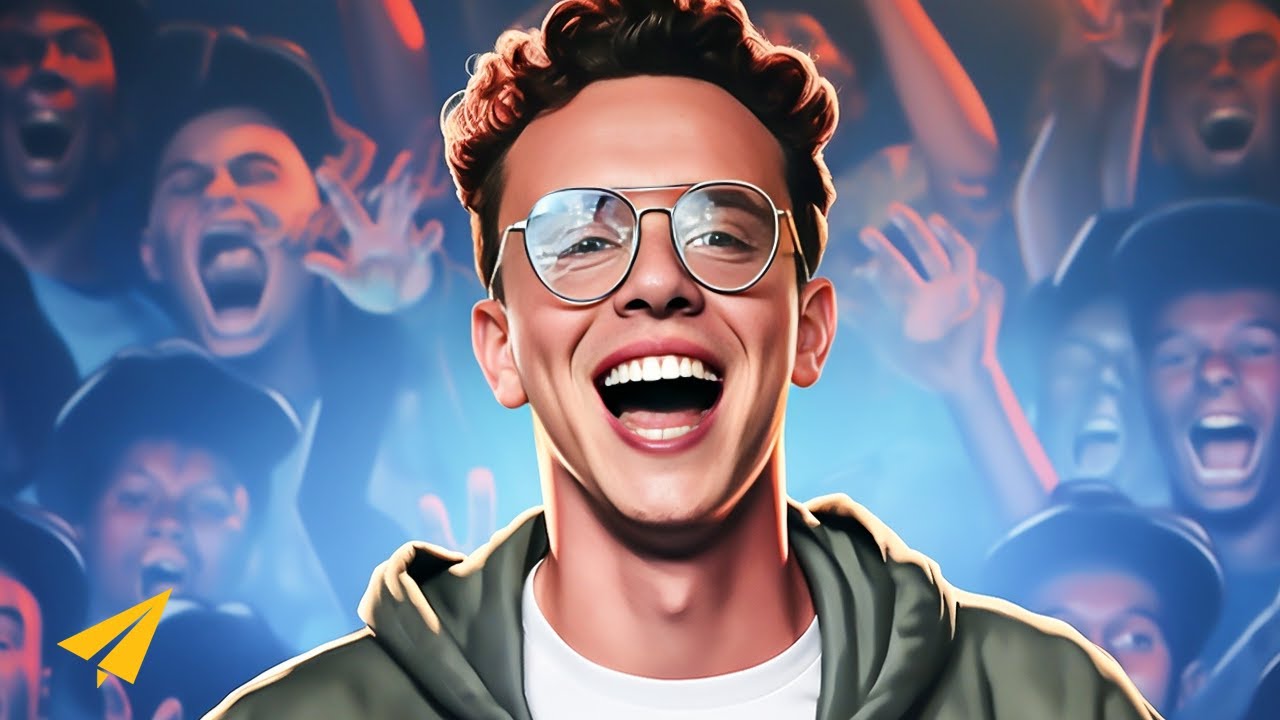 He's an American rapper, singer, songwriter and record producer. His debut studio album Under Pressure was released in October of 2014 to critical success. Under Pressure debuted at number four on the US Billboard 200 chart. Here's Logic and here's my take on his top 10 rules of success. 
Logic's Top 10 Rules For Business and Success
Rule #1: Don't Listen To The Haters
In hip hop it's like, yo, he's gay as  dog. Like  that dude, you know what I mean? Why don't you like him? You know what? He can rap, he got a good story, his flows are cool, for sure. I just don't like him though. And it's like so ignorant, it's crazy.
So yeah, years ago, when I first got on blogs and I'd be excited, I'd read comments. But now it's just like there's no point to read comments. It's either too positive, which can lead you to be  headed, or it's too negative, which could make you try to create music to get them to stop hating on you.
It's like somebody being like, "Yeah, he should rap like this, he should rap like that. "I don't like the way he raps." And then the person changes up how they rap to try to make that person like them. And then they're like "Man, he ain't even bein' himself," after you change, so it's like you can't win, man.
You can't win, no matter what you do. So for me, I don't listen to the hate, I don't listen to the love too much. I just take it all in stride. I love what I do. And as long as I can wake up every day and feel that, I feel like I'm doing the right thing.
Rule #2: Focus On Your Brand
I don't do something just for validation or to look like a nice guy. I do my best to just shut the hell up and real G's moving sounds like lasagna, right? So I just try to do the best that I can and not try to profit from it. But with this tour, it was different.
So I was like, man, I'm literally going to travel across the entire country, from Los Angeles, California to New York City, stop at every possible door that I can, shake every single hand, hug every person, kiss every baby, and play my album.
I didn't have a release party, I didn't have a whole bunch of people in the industry coming and schmoozing at my stuff, like, "Oh yeah, yeah, this album's cool." But they're really there to talk to each other. No, I went to focus on the fans.
And don't get me wrong, industry is fun and that's cool, and listening parties are cool and all, but I wanted to focus on what was most important to me, and has always been most important, is my brand. You know what I'm saying? And the people that care about my music most.
Rule #3: Do What You Love
Don't ever do anything just for the money, 'cause if you do it just for the money, you'll never be happy. Do what you love because if you do what you love, and you wake up every day doing that, it doesn't matter because you'll be happy. Which I think is 100% true to an extent.
Sure, you could wake up and just paint every day, but you got to pay your bills. You know what I mean? Like, there's a way you got to do it. Sure, waking up and painting every day, but if painting isn't paying your bills … So it's just like, yo, make a way for painting to pay your bills.
You see what I'm saying? Like maybe you paint for ad companies or this or that on the side, so then you can paint whatever the hell you want during the … You know what I mean? So just, whatever it is, do what you love. And that's the biggest thing, That's my whole thing: Do what you love.
Rule #4: #Believe In Honor And Valor
Interviewer: Like, you are a very friendly person who's from a relatively tough circumstance. What made you that way?
I think I actually believe that you're a product of your environment. You see what I'm saying? So we had it really bad, and my sisters got pregnant, and my brothers were selling drugs, and these are the things that they saw, and they went that route. You know, I actually have a song on the album … 'Cause I've talked about my dad's drug abuse for many years now.
And I really delve into it on the album, and one of the things that I … You know, he called me and was like, "You know, I really wish you would stop talking about that." And I was like, "I wish you "had been a father and been there, and I would wish "that you would understand that by me writing this "is ten times better than me using those same drugs "and inflicting them upon myself to get over it.
"So maybe you should not be so selfish and realize that", what I'm saying as far as being a product of your environment is, where they may have chosen the wrong path per se, I saw it and it made me go in a right direction. I guess it's just up to God, not to sound cliche again, but that's what that is.
Radio Interviewer: But it's also up to you. You were a kid that made that decision. You were like, "Ah, I'm not going to do that."
Yeah, yeah, but I just believe in honor and valor, man. You know, we live in like this demographic … I'm not talking about the purists, I'm not talking about people like yourself, but a lot of hiphop is really just, it's like real terrible. The consumer! 'Cause all they care about is like. It's like, it's almost I'd be more legitimately acceptable if I was 6'2″, black, with dreads, and toting guns, and then people'd be like, "Oh he's a real rapper."
As opposed to like, carrying myself with grace, and speaking how I speak, and not trying to throw the accent on everything. I'm just me, man, and I think if anything that's going to be more authentic in the long run, rather than trying to pretend to be someone I'm not. I've gone through those same experiences.
I was taught and cooked crack in my kitchen from 12 to … Like, in my teenage years to learn and see what these things were about and understand, 'cause they were going on in my household. But I don't glorify it. I'm not like, "Yeah, we cookin' crack, we got this." I'm like, damn, why was I 12-years-old and my sister's baby daddy was showing me how to cook crack, like, where were my parents, you know what I mean? And explaining that side of things.
Rule #5: Be A Good Person
All the negative experiences that I might have gone through, or whatever the case may be, built a much more positive person, you know what I mean? 'Cause that's why I'm so positive all the time. I like to tell people, you know, I'll go on Twitter and I'll say my whole motto, which is peace, love, and positivity. Follow your dreams. Do what you love in life, whatever that might be. And you know, I've been saying it for years, and it started with me telling myself 'cause nobody else was telling me.
Nobody was telling me to follow my dreams, or that I could do it or that I could be somebody. And then it ended up me telling myself this in songs, I ended up telling millions of people that listen to it, which is really crazy. And just always doing my best to be a good person. 'Cause when I first started, like, imagine going somewhere and meeting somebody in the industry, and they walk past you, and don't even look you in the face or talk to you or say hello, and then you start to get a buzz but people still aren't sure who you are, and then it's like, "Oh this is Logic, he's got so and so, "such amount of views on YouTube," and they're like, "Oh, what's up?" But it's like, "Nah, yo." So me, I do my best to treat everybody with the same respect. I treat you like I would treat my garbage man or the President, it's just the same.
Rule #6: Put Things In Perspective
Interviewer: Do you feel underrated as a rapper?
Not as of lately. Like, which is crazy. For a long time, for years, man, I was pissed. So a song on the album called "Buried Alive" is about that exact thing. It's about, like, me going, "How come he gets the so and so cosign?" Or "How come he gets that?" or "How come they get that?" And I can tour the world, I can sell out shows, I got fans, I got this, what the , man? Like being angry! I had a friend tell me, she basically said, those same people who have the cosigns and have the looks are the same people who are going, "How come I ain't got fans like this then? "How come I can't tour on my own? "How come I can't this? "Like, what the !" So it kind of put things in perspective for me and let me go, "Okay, I don't have it yet, but if I keep fighting, I keep working hard, I keep staying on this path, it's going to happen." And as of late, within the last few months, man, just from releasing the singles and the music videos, and this solid body of work, I've truly began to get what I deserve.
Rule #7: Be Inspired By Legends
Male Radio Host: Even on this album, you sound a lot like Kendrick, a lot like Cole, even Drake at times.
At times, I guess you could say that. But even, you know, you could say the same thing about Nas on the album, you could say the same thing about Wutang, about all these different incredible legends, and legends that I've met and that have commended me for essentially having so much of the culture, both new and old, in my music, and having a respect, and not being scared to just be myself, and wearing these influences.
These are all people that made me who I am, that I'm inspired by or, you know, want to do my best to understand this game as a whole. And that's another thing that really set me free, especially on this album, I was like, "I don't give a damn."
Female Radio Host: What people say?
Yeah, like, you listen to Sam Smith, right, and he just did a Hotline Bling cover, you know what I mean? You listen to Kanye, he does 808s where, you know, some of those songs, production had been done before, or lyrics, like literally damn near exactly the same, and we praise because you know, well, he is a genius, but I like to think he's a musical genius, but, you know what I'm saying, since he's a legend, nobody wants to say anything about it. I've learned that from Kanye, to take from others and be inspired.
Rule #8: Don't Try To Fit In
I remember when I was seven years old, before the did the English dub of Akira, I saw it when I was a kid, I didn't know what it was. It was terrifying, disturbing, and very beautiful all at the same time. And then so when kind of digging into this album, I was like, man, that's where I really want to take it.
I want to just be fully creative, you know? And it's like, man, you know what? Who cares what's this, what's that, or if I got to fit in with this person or that person. Then I realized, like, all my fans, most of them motherfuckers don't fit in with nobody, and then they fit in with everybody else on my planet.
You know what I mean? Like, all the fans, so many people. Like, I watch the fan submissions, 'cause you know I'm doing this tour, Fan Tour. And they're like, "Your music is amazing, "but honestly, dude, it's your message, "and the people I've met because of your music." And it's like, whoa, that's crazy. That's what matters the most.
Rule #9: Be Yourself
You know, my whole mentality has been just like, "I don't give a , like I don't give a damn about nothing, man." Like, I used to care so much what people thought, because I love this culture, I really love this culture, but this culture is also really  up, so I was like, "You know what?  it! I'm just going to be me, I'm going to do me," So when I tell myself I'm going to create an album about anime and space and , I was like, "I'm going to do it, but I'm going to do it in a way "where if you don't give a damn about this, "you can just skip it, and enjoy the music."
Rule #10: Be Positive
I believed a lot of people really loved that album, they love my music and what I represent and this and that, whatever the case may be, but I think I cared so much and I wanted to be respected by everybody, that I kind of lost sight. Like, look man,  everybody.
Just do it 'cause you love it. And that's what this whole album is about. This album is about, so even though it's really tight that you know, I could have an interview with Ali Shaheed Muhammad, and he gives me props, and loves the fact that I took from A Tribe Called Quest, Midnight Marauders, with the whole Thalia computer program thing, and praised me for it, and I'm like, "Wow, thank you so much."
Or sitting down with The RZA and having dinner, and him hitting me up, and being like, "Whoa, you're the reason I got into this, you want to…" And then, so it's like, when I think about those things, bro, like, and the fact that I'm just myself, and when you don't give a damn, you don't give a , and all you care about is the message, and just the positivity, like, how could negativity ever bring you down? Only if you let. Only if you give it power.
---
Thank You
Thank you guys so much. I made this because Life asked me to, so if there's a famous entrepreneur that you want me to profile next, leave it down in the comments below, and I'll see what I can do. I also want to know which of Logic's top ten rules had the biggest impact on you and why, which of the clips resonated most with you, leave it in the comments below, and I will join in the discussion. Finally I want to give a quick shout out to Catherine Pare.
Catherine, thank you so much for picking up a copy of my book. Thank you guys. Continue to believe, or whatever your one word is, and I'll see you soon.
---
You might also like
---
More from Logic
---
Hello, Believe Nation. Today, we're going to talk about how you can keep things in perspective. And as always, guys …
Good morning, Believe Nation. Today's message is Put Things in Perspective. Over to you, Jean-Claude Biver. Interviewer: What do you do …