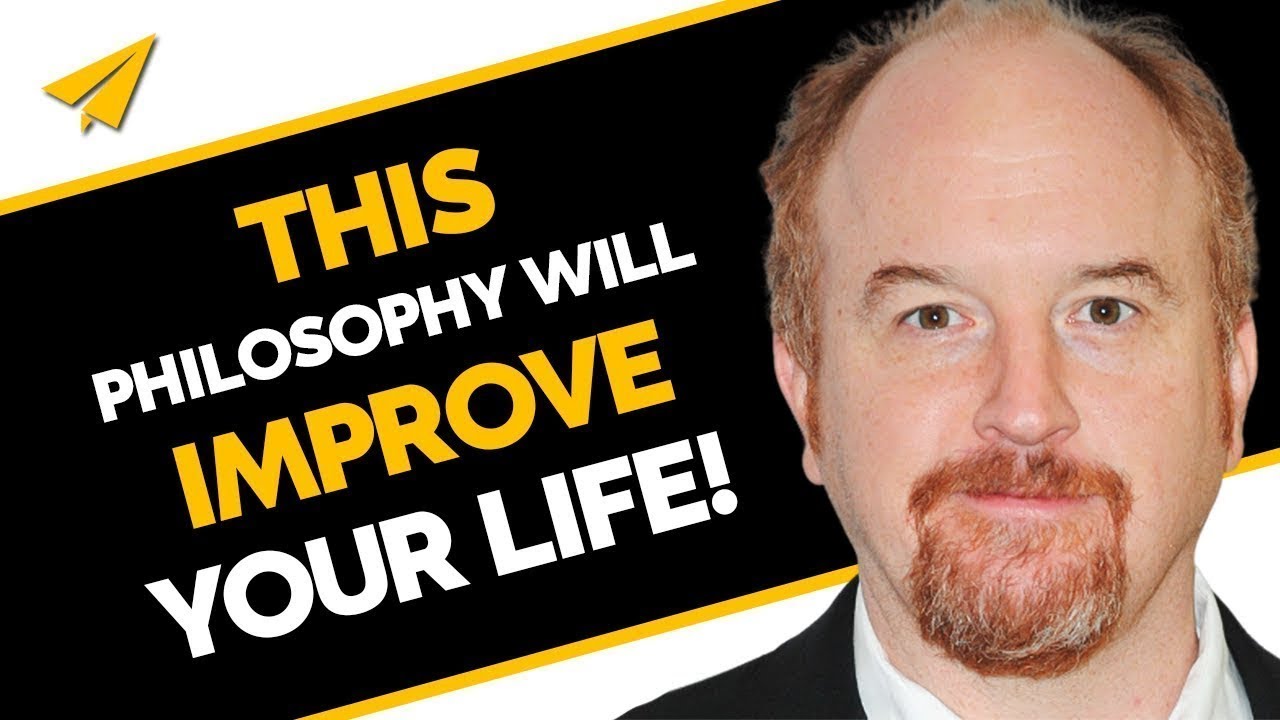 I'm definitely a comedian. I can say that one thing with confidence.
15,000 people laughing at your jokes. That's kind of an amazing feeling.
I want to do a better show every time I'm on stage.
Do a set tonight, and I ain't wastin any time. I got a list of stuff I want to try. I want to make sure that this set makes me better.
There's a huge challenge in not having your old act. But I think you rise to the occasion.
This movie is unreleasable.  You have wasted my money.
Well geez, it's only this. And I'm like, well that's more money than my dad made in his life.
Anytime you see me do an event where some stranger says something to me, it's me.
I say out loud, I'll never do the same hour in a year. And then inside, I'm going oh geez,
Oh god, why did I say that?
Why did I say that?
You get to be on Earth. First of all, oh my god,  what a location. 
Louis C.K.'s Top 10 Rules For Success
Evan: He's an American comedian, actor, writer, director, and producer.
He's the creator, star, and executive producer of FX's series, Louie.
He's considered one of the greatest standup comedians of all time.
He's Louis C.K., and here are his Top 10 Rules for Success.
---
Louis C.K.'s Rules
Try new things
You can't please everybody
Always try to improve
Don't waste time
Get rid of your best weapons
Survive failure
Be interested
Be calm
Use pressure to motivate you
Appreciate life
Rule #1. Try New Things
I never keep trying what … Like standup is always the standby for me. Like that's what I do.
The meal ticket.
That's, yeah.
Yeah.
That's what I am. I'm a comic. I'm a comedian. So anything else I do, it's like if I make a movie, I would never say I'm a film maker. I would never call myself that. I'm a comedian who made a movie, you know?
Right.
I'm definitely a comedian.
Yeah.
I can say that one thing with confidence. But so I've tried T.V., and I try it and it doesn't work and then I go back to comedy. And if something I'm doing as a standup leads me back to like, hey this might be a show, then I'll try. I'll try anything that I think might be good. I don't care about like, well I failed at it before. You know what I mean? Who cares? Try it again. I mean there's always a reason
I love that philosophy.
Well also
Well you were …
The first time I did a pilot, the very first time I got a deal to do a pilot for a sitcom,
Yeah.
I wrote it and they really liked it and it got close, and then they said we're not going to make the pilot.
That was Saint Louie?
No, it was before that.
Oh. It was a whole other thing. And then, I wrote Saint Louie with this other guy and they made the pilot. We got to shoot a pilot. It was so exciting. And I shot a pilot and then they said, "we're not going to make the show." All right. Third time around, made a pilot, and got one season of Lucky Louie on the air. And then that's all they wanted. There's a limit to everything. You can't think everything's just going to be everything forever.
Yeah.
That was the limit of that one. I did one season. Okay. And now I've done Louie, and it's gone three seasons. So I got a little further each time. I pushed the ball a little further ahead each time. I mean, not doing something cause it didn't work would be like if you're a quarterback and you go the line of scrimmage at the 25 or wherever the guy ran it to and you hand the ball off and the guy pushes it eight yards and you're like, well we didn't score a touchdown, so I'll go home.
You know?
Right.
I mean, there's no point.
But at the same time,
You keep pushing.
Rule #2. You Can't Please Everybody
15,000 people laughing at your jokes, that's kind of an amazing feeling. But also having them sit there looking at you listening is really great too. But I always see, I've done it three times now and it was the same every time that they're all laughing, the show's going great, but what I see are there's at least, in 15,000 people, there's like a thousand disappointed people.  There's like a thousand people
No.
And they're dotted. I see 'em all.
You see them …
I see 'em still today. But during the show, I see them, just guys going like, ehh …
Yeah.
Those are the ones that you really see. Everyone's going, yay! And I'm just, ah, I'm sorry buddy.
You're certain that you're reading their disappointment accurately?
Absolutely.  I'm 100% sure.
Well, I'm not sure that's true, but I share the feeling. I know that … Hell, I know it here tonight.
Well the more people you reach and the more people that see you, the more people are going to think that you suck. That's just the law of mathematics.
Yes, but
You can't please everybody.
Let me explain it to you this way.
Yeah.
If, in fact, that's true, why would those people go to the trouble of ordering the tickets online and showing up?
Cause they're just miserable
I don't know. I don't know, they just like to go to … That's not their fault.
Well no, okay.
It's not their fault. I don't know, they heard I was good.
Case closed.
They heard I was good.
Rule #3. Always Try To Improve
Well it's not about not killing, it's about doing the best show that you can do and it's about staying at the edge of your … I want to do a better show every time I'm on stage. I mean, part of it is that I want what I do to keep getting better. Unless you think you're the best comedian that ever could poss
like, you're a perfect crystalline diamond of a comedian that couldn't possibly be improved upon, every molecule has been compressed together to the point there's no air in it.
Host: Right, right.
You're a black hole of a comic that can't, there's just no room for improvement. You know, you've folded the samurai sword a thousand times and just can't fold anymore.
Host:  No. So you got to keep trying. I mean, I think a lot of people in show business and comedy even, especially, are very lazy and they just sort of think that you just get up there and then you wait for your manager to get you a better one. A better shot. But it's something you got to really, to me, I mean for me, I just want to keep working at it. I wouldn't like it if I stopped trying really hard. It isn't a neurosis, like oh geez, I hope they like me. It's this is what I do, I got to do it really well.
Rule #4. Don't Waste Time
So when did you get to the point where … You know, struggling to get better, make a living, figure out how to deal with hecklers, like a million things to, all right, I'm good at this, now I'm going to try to be great at this.
Well that was when I saw him do that, that was a big deal. I was writing for T.V. then, so I was a little more
Spread out.
Focused on that.
Yeah.
But I started going back out to clubs again and then my life changed in its own way. I had kids and I grew up also. So I just, you know, everybody grows up at a different time.
Yeah.
I grew up when I had kids and started really thinking about standup. When I had kids, it made a big difference for me cause when I went out to do a set, it wasn't a social event. It was until that point, you just go to the Comedy Cellar, have a falafel at the comedy table,
Host: Yeah.
Run down and do your set, bull  with some comics. It was a lot of wasting time.
Yeah.
And it didn't really matter how the set was, that was just the job. I'm just going to go on and do my time, tell the same jokes, maybe do one new joke. But now it's like, I've got kids and getting out of the house is a big deal.
Yeah.
I can do a set tonight and I ain't wastin any time. I got a list of stuff I want to try. I want to make sure that this set makes me better. I started to think every set I do has to make me a better comic.
Rule #5. Get Rid Of Your Best Weapons
There's a huge challenge in not having your old act. But I think you rise to the occasion. And you don't rise to the occasion if you don't put the void there. But …
What is
If you take away your old material from yourself, like one thing I started doing when I was developing hours is I'd take my closing bit and I'd open with it.
Right.
Just to  with myself.
Right, right
Just cause then I have to follow my strongest bit.
That's how he got good. You see this attitude?
I, you know …
He's a tough guy.
I've been watching him.
Yeah. He's a tough guy.
Well cause then the end of your act cauterizes. It gets stronger just cause you don't have a choice.  You know what I mean?
Cauterizes.
So that's why I started doing that. You get rid of all your best weapons and you have to, you know, or else you're dead.
Host: But don't you think sometimes
So they bring something out of you.
Host: When we discussed …
Rule #6. Survive Failure
I wrote and directed Pootie Tang.
But then didn't the studio lose faith in you during it?
Yes, they sure did, yeah.
And they took you off the film.
Yes, they took me off the, well I had already shot it and it was during the editing process. They hated my cut, they fired my editor, got another guy, let me do one more cut.
Host: Chris Rock was the star.
He was one of the stars, yeah.
Host: He read the script, he liked it. I assume the studio read the script and liked it.
Yeah, yeah.
Wasn't that a character that was sort of on the Chris Rock show?
Yeah, Pootie Tang
Host: Pootie Tang.
Was the character we did on the Chris Rock show.
Right, and you worked on that show, and you said hey, I
But yeah, I created the character there, yes
Host: I'm going to make a movie about Pootie Tang.
Well Chris asked me do you think there's a movie in that guy. And I said that's a little nutty but I'll try it.
You should have called me. I would have told you no.
Well of course you're going to say yes. You
I wanted to make movies, yeah. Very badly.
And so the net with that show was very popular. The studio was probably excited about it.
Sure.
You go out you shoot the thing, you write the thing, you do all of it. And at what point does the studio say, listen, you're ?  What have you done here?
I remember that point. It was a great moment in my life.
Who comes to see you?
They summon you. I got flown out to L.A.
Nice. Are you thinking, wow, I'm getting flown to L.A.
First class.
They don't even tell you.
First class. I have no idea. Well I kind of smelled somethin, but they took me to Paramount. You know those gates. It's like you feel like that you're going to the White House. And I went to John Goldwyn's office. He was Samuel Goldwyn's grandson.
He's a big guy. I know that.
Yeah. And so I'm in his office. I'm in the most important office at Paramount. He was running the studio at the time and he just … I remember I walked in and he's shaking a little because he's so mad. And he just almost, everybody was there that was involved in the movie. He just unloaded on me and said, "this movie is unreleasable!  You have wasted my money! This is irresponsible. I have a problem with everyone here." And then this guy who was the President of M.T.V Films who they said, "well John, I don't think you really got the film." "How dare you say that to me!"
Host: Ohh god! And starts screaming at company presidents cause of my movie.
Woman: Wow!
There was nothing redeemable about the work. Now did
Not to him but here's the thing is to me,
Host: How do you go on in show business after something like that?
Well that, I'll never forget that moment. Cause I feel my whole … All I wanted to do is make movies at the time and it was being destroyed  by Samuel Goldwyn's grandson.
Host: He knows something.
Yeah, a little bit.
Host: Right?
And I'm sitting there, but a part of me was outside of my body going, you are in the Paramount big office being yelled at. But I said, how  cool is this?
Really? You were able to
Yes. I was able to enjoy it.
Host: You turned it into a positive.
Woman: Wow.
Absolutely, because who gets to have that very rare, beautiful experience to get to heaven?
You know, I read How to Make Friends and Influence People. But for you to have such a positive attitude as your career is …
Woman: That's amazing.
Well to me, the key is like surviving failure is a great … It's a very great experience to have.
Host: Tell me about
Yeah look, I went through all of that Howard, and the press … I grew up watching Siskell and Ebert on PBS, you know when it was that show. And so I always dreamed when I was kid, someday Roger Ebert and that other dude is dead, they're going to look at me through the camera and say something about my movie. And here was Roger Ebert saying, "Pootie Tang is so bad I don't even understand what it is. This isn't even a movie. It's not even complete."
Howard: But like he's like, why don't they shoot the director?
Yeah, he was like so hateful. And I'm having the experience of becoming famous for making a movie everyone unanimously thinks is awful.
Rule #7. Be Interested
There are some people who like to just show up and do a show and get a check.
Interviewer: Yeah.
And they don't think about, like I'm interested in everything. Like when I tour and they tell me, hey you're doing the Chicago Theater and here's how much you're making, they tell me this big exciting number.
Then I go, I ask them, well how much are the tickets? And then they go well, in order to pay you that they're charging 50 bucks a ticket. I don't want people to pay 50 bucks a ticket to see me. How much do I get paid if they pay 30 bucks a ticket? Well geez, it's only this.
And I'm like, well that's more money than my dad made in his life.  I mean, I'll take it. And also, once I started looking at it that way, I learned stuff. Like I learned that if you ask for a high guarantee for a live show, you drive up the ticket price cause the risk is higher.
But if you tell the theater, look, don't guarantee me anything. Only pay me if we make money. Then the price of the tickets come down and they don't have to advertise as much because they're not as afraid that they're going to lose … Do you understand what I'm saying?
Interviewer: Yeah, totally.
So and if you work in a theater without a guarantee, you actually get paid more because the show costs less. It costs less for the advertising, all that stuff. So if you sell it out, you will make more money. So I started learning about that stuff. Like, really interesting to me.
Rule #8. Be Calm
Like the story I tell on Conan about the guy next to me on the airplane when the internet shuts down suddenly. There wasn't anybody next to me on that plane. That was me. There was nobody next to me. People don't talk to me on airplanes.
Anytime you see me doing a bit where some stranger said something to me, it's me. The fact is, I was really upset that the internet shut down. I was livid. And then I caught myself and said, wait a minute, what are you upset about?
This was incredible that this was possible even. And I sort of started, it was kind of like an epiphany for me. I started seeing things differently, like realizing that when we get to a gate and they go we need ten minutes because the guy at the gate, the plane at our gate hasn't backed out yet. And I go, okay, come on. Like that was me. Let's go! Why? It's actually not going to get me there quicker.
It's not going to get, you know what I mean? Like I'm losing nothing. I just feel bad. But if you can just like take a breath and calm down and go, you know this is as good as they make these right now. This is as good as it is. And it's pretty goddamned great. But somehow, we don't, ehh. Doesn't make us happy, and that's too bad. I always think that means people are bad people. It means that they're unhappy.
I see it in their faces all the time
They just want jetpacks. That they have all this great , and if you had a jet pack, you'd be like, I have the  jet pack. I can't believe I got this jet pack. Who's your service provider on your jet pack, cause …
Do they make the new one? I hate this thing. It sucks. And then we'd all sit there and talk about that. Part of me feels like that if people have to go back to basics a little bit. They'll start to see that, cause there's no …
You have a job and then you don't even make enough for the  you even own. You have a house full and a car and a house of all this  you can't have. You can't afford it. And you don't even get the pride of saying like, I have this job and because of it I have that car. I have this job and because of it I have custody of this car that the bank is paying somebody else for. And if they ever come callin, I'm going to go to jail.
It's really a  life I think that we're living right now. And I feel bad for people, cause I see it in their faces all the time. So that's really more what it was about. I didn't mean to say we're a  generation. I meant to say that we're a  generation.
Rule #9. Use Pressure To Motivate You
So you never got worried about tapping out?
Yeah, of course. I'm terrified of tapping out.
Yeah.
But that's a motivating fear. That's pressure.
Yeah.
I like pressure. I learned that from Billie Jean King.
Billie Jean King!
One of my heroes. Yes. One of my heroes.
Really? Yes. I remember as a kid watching a press conference with Billie Jean King and Bobby Riggs
Interviewer: Yeah.
When they were doing Battle of the Sexes. I was so fascinated by that, cause I was raised by a single mom and I have three older sisters. So I've always identified with women taking care of  and I never saw women as weak. I only ever knew my strong working single mother. So watching Billie Jean King field this horrible, just misogyny was fascinating cause of the way she carried it. That's what made it work. Cause he would sit there going, you know, why don't you all get back in the kitchen?
That's right, I forgot he did that.
It was amazing.
Yeah.
And he'd have two girls in bikinis with big tits. I mean there's no bigger insult to a working woman than chicks with tits. And he'd sit there and he'd go like, yeah, this is what a woman is. What's your problem or whatever. And the way she carried it was amazing. She didn't sit there and turn red and be like Wilma and get angry. She just sat there like this. And then they asked her, how do you feel when he says all this? And she smiled and she said, all it does is put a lot of pressure on me. And I love pressure. And she had this big smile on her face. She said I love pressure. And I thought, oh my, I never forgot it. I thought, oh my god. How do you love, what does that mean? Like I thought really carefully about that. She really did. She was like come on, keep it comin. I love it. I love it. I want this pressure. Cause she knows how to turn pressure into hard work. She knows how to, it motivates her.
Yeah.
She knows that the heat from pressure is going to make her work harder so she's like, go ahead. The more he said the more she had to win. There's no way. She had so much to lose that she knew she'd play better. So that's the way I do it. I think, like I say out loud, I'll never do the same hour in a year. And then inside I'm going, oh
Oh god, why did I say that?
Why did I say that? And then it pushes me.
Rule #10. Appreciate Life
Don't tape shit on your … Life is short. Life is very short. I like life. I like it. I feel like even if it ends up being short, I got lucky to have it cause life is an amazing gift when you think about what you get with a basic life. Not even a particularly lucky life or a healthy life. If you have a life, it's an … Here's your boiler plate deal with life. This is basic cable, what you get  when you get life. You get to be on Earth. First of all, oh my god, what a location!  This is Earth and for trillions of miles in every direction, it  sucks so bad.  It's so  that your eyes bolt out of your head cause it sucks so bad. You get to be on Earth and look at . As long as you're not blind or whatever it is,  you get to be here, you get to eat food. You get to put bacon in your mouth. I mean  when you have bacon in your mouth, it doesn't matter who's president or anything. You just, ahhhh.  Ahhhhh. Every time I'm eating bacon, I think, I could die right now and I mean it. That's how good life is.
Thank You!
Thank you so much for watching. I made this video because Arlington Gutierrez asked me to. So if there's a famous entrepreneur that you want me to profile next, leave it in the comments below and I'll see what I can do.
I'd also love to know which of the 10 rules had the biggest impact on you. Leave it in the comments and we'll join the discussion. Thank you so much for watching. Continue to believe, and I'll see you soon.
---
Bunos
Speak From The Heart
I started doing right out of high school. Started doing standup. Didn't go to college, didn't pursue anything else professionally, really. Started doing standup. First time I went on stage, I did a minute and a half and I bombed. It was terrible. But I wanted it so badly that I kept trying and I learned how to write jokes and I just had jokes. Kind of funny thoughts. About, I don't know, 15 years later,  I had been going in a circle that didn't take me anywhere. Nobody gave a  who I was, and I didn't either. I honestly didn't. I used to hear my acts and go, this is  and I hate it. But I been doin this for 15 years and stopping now is like getting out of prison.
Like what do you do after 15 years of standup comedy? How do you reenter the workforce?  So I was in a really bad place. I hated my act. I'd been doing the same hour of comedy for 15 years, and it was . I promise you. And I was working places like Chinese restaurants. So this is  I was. I'd do a show in a Chinese restaurant where they don't even know there's a show going to happen. They're there to eat, and all of sudden you go, hey everybody and people are like, I'm eating.
I don't want to be forced to sit in, uggghhh. So I was doing a Chinese restaurant called The Kowloon in Boston, in Saugus, Massachusetts. And I was sitting in my car after the show just feeling like I'd, this was all a big mistake. I'm not good enough. And I felt like my jokes were a trap. And I listened to a CD of George talking about comedy and workshopping it and talking about it seriously.
And the thing that blew me away about this fellow was that he just kept putting out specials. Every year, there'd be a new George Carlin special, a new George Carlin out and they just kept coming. And each one was deeper than the next, and I just thought, how can he do that? And it made me literally cry that I could never do that. I was telling the same jokes for 15 years. So I'm listening and they ask him, how do you do all this material?
And I'm like, ehh … And I hear him and he says, well I just decided every year I'd be working on that year's special. And I'd do the special and then I'd just chuck out the material. And I start again with nothing. And I thought, that's crazy. How do you throw away? It took me 15 years to build this  hour.  If I throw it away, I got nothin. But he gave me the courage to try. And also, I was desperate. What the fuck else was I going to do?
This idea that you throw everything away and you start over again. And I thought, well okay. When you're done telling jokes about airplanes and dogs, and you throw those away, what do you got left? You can only dig deeper. Start talking about your feelings and who you are. And then you do those jokes, and they're gone. You got to dig deeper, so then you start thinkin about your fears and your nightmares and doin jokes about that, and then they're gone. And then you start going into just weird .
Yeah, eventually you get to your balls. But there's a whole  it's a process that I watched him do my whole life and I started to try to do it. And I started to think, what do I, cause he says whatever he wants. What do I really want to say that I'm afraid to say? And at the time I was a father. I am still a father.  But at the time I didn't start, I didn't take off yet. Jury's out. My oldest is eight. I could still split. So far I'm still there.
I was having a hard time being a father and I wanted to say it on stage. And one night I thought, forget all the old jokes. I'm going to start again. And I thought of first thing, I said I can't have sex with my with my daughter. With my wife because we have a baby and our baby's a  . It's just what I was feeling and I said it and the audience went, whoa! And I thought, oh, I'm somewhere new now. And I said  And I said something like, I never used to get babies in the garbage, but now I understand it.  And they did that. And I thought, I'd rather have that than the  laughter from my 15 year old jokes.
---
You might also like
---