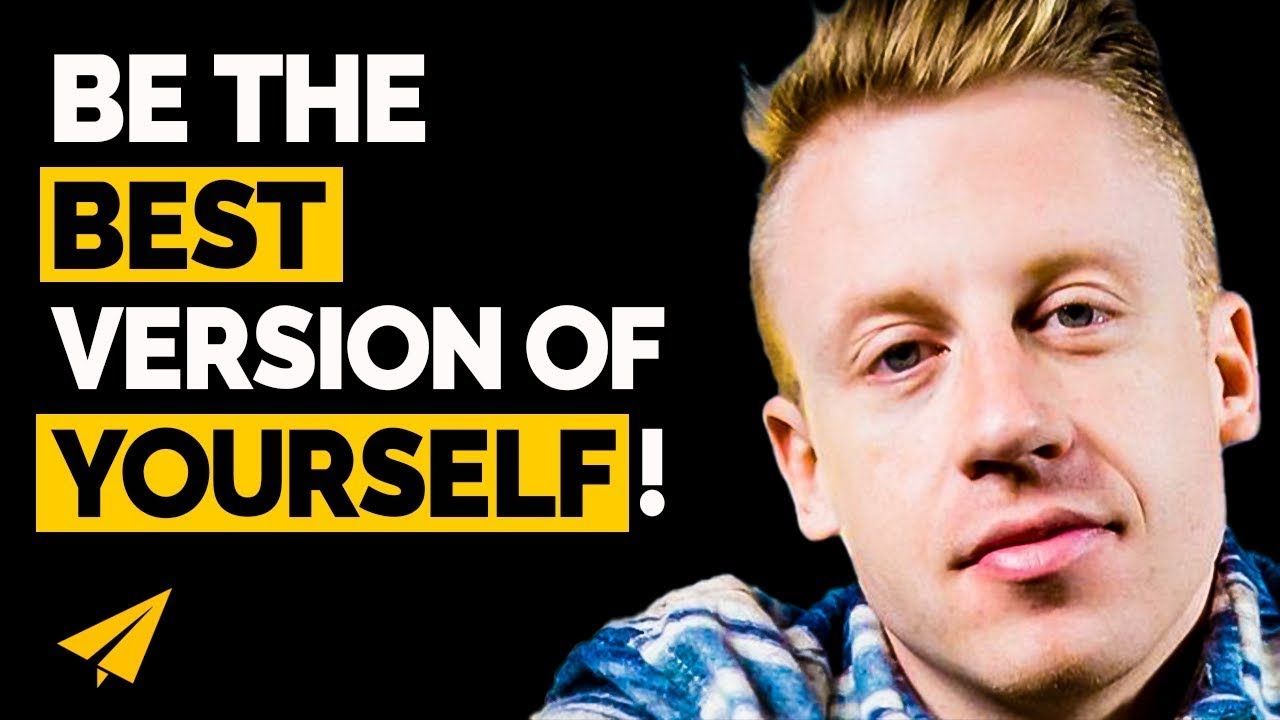 He's an American rapper from Seattle, Washington. Since 2000, he has independently released one mix tape, three EP's, and four albums. His single, Thrift Shop, hit number one on the US Billboard Hot 100 in 2013. He's Macklemore, and here are his top 10 rules for success.
Macklemore's Top 10 Entrepreneurship Rules For Business and Success
Rule #1: Be Who You Are
Don't let people's outside perspectives change what you do, change who you are, dictate your happiness, dictate your level of self-worth, affect your self-esteem. As an artist, that's easier said than done. The public's perception does weigh on you.
The box that they put you in does affect you. I think that it's a constant fight to remember why you make music, who you do it for, why it's important, and to follow your process, and to not let anybody's outside opinion dictate who you are. You know it.
Rule #2: Live In The Moment
I think that the easiest thing to do is to not live presently. In life, we are consistently in the past, in the future, anywhere but right now. I think for myself as a performer, it is important to slow down, and remember what I'm doing, why I'm here, remember the words that I wrote, the feeling that I had when I wrote them, and deliver that in the same emotion that I had when I was in that moment writing the music.
Rule #3: Find Balance
Both Ryan and I are, at times, I don't want to say envious, but we look at other people. Like, you take Kendrick. Kendrick is a rapper. Kendrick is in the studio right now. I guarantee it. He's not thinking about that the merch design that we have right now isn't fitting on a tank top the way that it should.
It's a blessing and a curse. You know, we both, we are the output in terms of anything creative. If it's a music video, if it's directing, if it's writing a treatment, if it's being a character in the music video, we are everything. Same thing with their merch, same thing with just the ideas that we have full circle in terms of running a business.
So, that's taking away time that we could be working on our specific crafts, producing and rapping. So, I think that it's a balance. We both enjoy business. We both enjoy being holistically creative. That's a fulfilling thing. I don't want to be in the studio every single day, all the time.
I want to be picking fonts. I want to be with Ryan, color editing a music video. That's something that we both enjoy. So, it's a balance, and I think that we wear enough hats that we can bounce around and be inspired. It comes at a sacrifice.
Rule #4: Care About Your Art
You know, we never set out to be like, yo we're going to make this song about thrift shops, and it's going to go multi-platinum, and it's going to, we didn't have, in our minds, any songs that would ever work at radio.
So, I think we went into the same process with this one. Maybe nothing ends up on the radio. That's great. No, it's truly because the art is what matters, and not sales, and not the radio. We care about the art.
If that's the compromise of not tapping back into a pop audience, or not being in arenas, or not being in theaters, or whatever, we're going to make the art that we want to make.
Rule #5: Don't Let Perfection Stop You
As a songwriter, you strive for that perfection. The thing that can kill you with it, and that I learned from that website that I went to, the thing that can kill you with it is if you let that perfectionism stop you from beginning in the first place. So much of what goes into making a song, it takes courage, it takes battling some fear.
If you have a good song, you've got to write another good song. There's expectation. The pressure, first and foremost, comes from yourself, so staring in front of a blank piece of paper is a challenging thing, and it always has been. It was challenging when I was 16 years old, writing for the first time.
It was challenging at 30 years old. It's hard. I know that I want to live up to my fullest potential. I want to be the best human being that I can possible be. I want to make the best art that I can. Sometimes, you have to write just to write.
If that turns into something great, hone it until it's the best that it can be, and then eventually put the paintbrush down. Put the final coat of lacquer on the canvas, and just walk away, and that's perfect. That's Same Love.
Rule #6: Be Disciplined
Interviewer: In 2009, when the mix tape. There was a period where, I think around that time, you were kind of like, "Is this something "that's going to work for me or not?" What is it that got you through? How'd you work through that?
Yeah, it's tough to say exactly what it was. I think it was hard work. It was discipline. It was knowing that if this doesn't work out, then I will have to get a nine-to-five. I don't want to do that. I really don't want to do that. It was working with Ryan, and putting everything into the music.
Leading up to that point, I think that you have to look at my track record. I had always wanted to get sober. I could never get sober. I couldn't make music while I was under the influence of drugs or alcohol. I finally got sober in 2008, got out of rehab, and was like, alright, this is it.
I've wasted years of my life. If this is going to work, it has to work now. There's no alternative. I met somebody that had the same dedication as me, that put everything into the music, everything into the craft, and didn't go out, didn't really have many friends. Just kidding, just kidding.
We only hang out with each other. No, it's somebody that wasn't going to be like, up until that point, I was making music with people that were constantly putting their priorities into getting getting loaded, or chasing women, or whatever, and that's what I did for a long time.
It lead me to being broke and in rehab, and moving back into my parents' house, which is awesome. I wanted a career, and Ryan was somebody that had the same discipline, and sacrificed everything.
Rule #7: Don't Give Up
Did you ever want to just give up on your dream? Yes, earlier today. It happens all the time. That's part of being an artist, I feel like, is being challenged to push through those moments of is this what I'm supposed to do.
The people that succeed, and the people that make it in the music industry, I think that never goes away. That's something that you're always fighting and working against. That's the process of being an artist.
Rule #8: Master Your Craft
By the time I got to college, I made this album called The Language of My World. And, with this album, I did the same thing. I locked myself in my room for like, all of college. That was it. I just worked my ass off in my room, and kept writing, kept recording.
I wasn't great going into college, but by the time I got out, I had kind of learned a little bit of a craft. By the time that I got out of college, I read this book called Outliers, by Malcolm Gladwell. Nobody's read it. One person. Anyway, this book examines this theory, right.
Malcolm Gladwell makes this point. He says it's not about what you're building. It's not about the talent that you're going with. It's about the hours that you put into that talent. He says that if you want to be a master at whatever it is that you love to do, if you want to develop that craft to its utmost potential, what you have to do is work.
You have to work a lot. You have to put in hours. He says that if you put in around 10,000 hours into that one thing, that eventually you will master that craft. I don't know how close I am to 10,000 hours, but every single time we step on stage, we get one step closer.
Rule #9: Start Somewhere
Hip-hop in Seattle in the late '90's was grunge music. It was very different. It was a very small scene. It was a couple hundred people verses, it's very different now. We would, we didn't have a place to perform. There was no venues. There was no people to fill the venues if we could book the venues.
So, what we did was, we did poetry readings. Really what that was was just acapella raps. Those took place on Mondays. A lot of people would get together. A lot of people being, like, 15, 20 people, and spit each other raps that they'd been working on that week.
That was a place that we honed our skills on a stage. I don't know if anybody out there's a performer, but it's a lot more challenging to perform in front of 15 people acapella than it is for 20,000 people. It's a lot more intimate. That got me to a place of performance where I felt comfortable, and was able to then transition that to the stage. It was an imperative part of my process.
Rule #10: Be Grateful
Be grateful, be happy, and enjoy this because it's not promised. Who knows where we're going to be in a year, two years, three years? We're at this position now. I don't want to look back and be like, you had it all, and you weren't even present for it. You weren't able to enjoy it. I want to be here, be now, and be grateful.
Thank You
Thank you so much. I made this because Anna Jung asked me to. So, if there's a famous entrepreneur that you want me to profile next, leave it in the comments below, and I'll see what I can do.
I'd also love to know which of Macklemore's top 10 rules had the biggest impact on you. Which one did you like the most? Leave it in the comments, and I'll join the discussion.
Thank you so much. Continue to believe, and I'll see you soon.
---
You might also like
---
More from Macklemore
---
Good morning Believe Nation! Today's message is live and breathe your craft. Over to you Martin Garrix. Martin Garrix When I was like …
Hello, Believe nation! Today we're going to talk about how you can develop discipline. And as always, guys, as you're watching if …