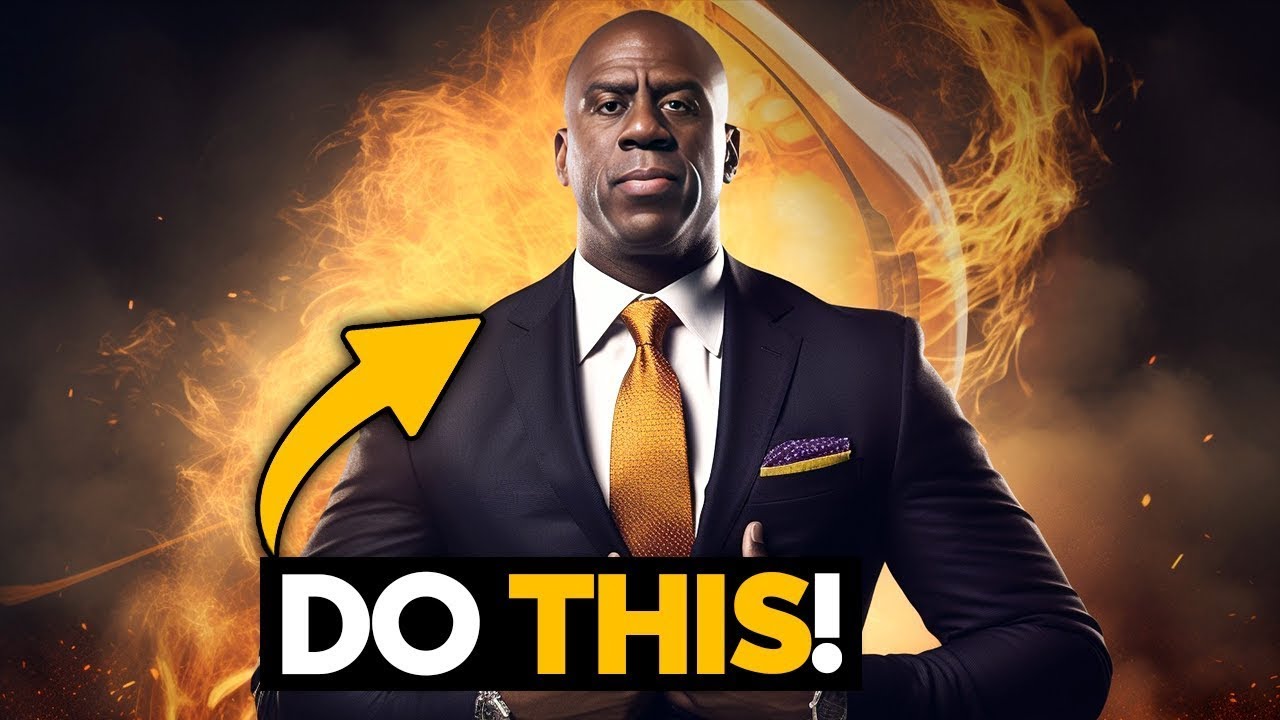 He's an American, retired NBA player who played point guard for the LA Lakers. He won a championship and a NBA finals Most Valuable Player award, in his rookie season. He was rated as the greatest NBA point guard of all time, by ESPN, in 2007. He's Magic Johnson. And here's my take on his Top 10 Rules for Success.
Magic Johnson's Top 10 Entrepreneurship Rules For Business and Success
Rule #1: Keep Your Brand Strong
What do I worry about? I worry about brand control. My brand is huge now, right? And one thing I fight with everyday, I want to make sure I don't dilute the brand. I don't do anything, make any major mistakes. Because any mistake will hurt your brand.
And so those are the things that keep me up at night. Just making sure my brand remains strong. And so that's a good message for all these young men and women watching your show. Is make sure that your brand is everything. And you will always be able to make money if your brand is strong.
Even if you go bankrupt. If your brand is strong, you'll be able to still make some money. Donald Trump proved that. He bounced right back. But look where he is today. He went through that phase, came right back. Because he kept the brand strong. And that's important.
Rule #2: Stop Being Fearful
When I did my research on starting a business, the most important thing you have to do, and a lot of you in here, some day want to be like Larry. And like Mr. Bryn, is that you have to first, stop being fearful. A lot of you will block your own success.
Because you're fearful of what's going to happen. Because the comfort zone is here. Make a great living. My bills are paid. Everything is great, "I'm scared to change." so you block your own growth. So you have to now say to yourself, once you get the tools, once you've done your homework, then you can start making a move to say, "Okay, "hey I can be a businesswoman, a businessman. And start my own thing." But you got to believe in yourself first.
Rule #3: Dream Big
I'm a big believer in, if you don't dream it you can't become it. I mean, look where you're sitting. You've done a wonderful job. And you remained a good man, with all the success that you've had and your family has had. And just like myself, you had the dream that you could be something in life.
And do something in life. And so, I was a big dreamer. My job was to clean these seven floors between Friday and Sunday. So, every time I would go to, the seventh floor was the CEO's office. So I would bust in like I was the CEO. I'm dreaming, like I'm the CEO now.
And then I would kick my feet up on his desk, recline the seat back. And I pretended like I had an assistant out front. And I would hit the intercom button, "Tony, could you bring me today's paper? "And some coffee and doughnuts?" And so I'd pretend she would come into the office and one time I'm sitting there, dreaming, and he walks in on me.
And he said, "What are you doing?" I said, "Well I'm dreaming like I'm the CEO." And who would have ever thought? I've been blessed. Here I am, I am the CEO of my own company. And what a blessing. But I think back to those moments. And those moments helped me to get to where I am today.
Rule #4: Hustle
When I was starting out, I've always wanted to be an NBA basketball player but also a businessman. And so this went way back. So even before I even was drafted. So I promised myself and my parents, when I got some money I would know what to do with it. And I would take care of it.
Interviewer: What you got a lemonade stand somewhere?
Oh yeah, yeah, yeah, back in the day, I was hustlin' man. Because I didn't get money to go to the movie. My parents didn't have that.
Interviewer: So you bought you a movie theater.
Yes, paper route, lemonade stand, I used to shovel snow. So I was hoping there was going to be a snowstorm so I can go out and shovel people's driveways, and so on. So I've always hustled, my whole life. And I always knew what money was all about.
Rule #5: Know Your Costumers
See, the most important thing in business is you have to know your customer. And then you have to speak to that customer. And then don't try to be everything to everybody. We do one thing. Urban America, that's all I do. And that's very, very important.
And so we have the number one TGI Friday's in the West. Restaurant, right in Los Angeles. Only Friday's that serves Cristal, Dom Perignon, XO. Because that's what my what? Customer wants.  Got to know your customer.
Rule #6: Learn To Listen
My mother, I tell you, first of all, she rubbed off on us so much. Because here's a woman that worked all day. Then she had to come and care for all the kids.
Interviewer: And there were 10 of you.
And there's 10 of us. So when you think about six girls  and four boys.
Interviewer: I get the picture.
I got this from my mother though, John, and this was the key. I got her smile and giving back to the world. That's what I took from my mother. And that's why I try to help everybody. And that's why I have this smile that I have, because of her.
Interviewer: But there's a lesson that she tried to instill in you very early on about listening. I have to assume that's come back to help you a lot in life?
No question about it, it really has. Because especially when you're in sports. And so you have to listen to your coaches. And you have to listen to your teammates. Because they're going to really affect the outcome of the game.
So I was always one of those players who listened, because of what my mother told me. And then at the end of the day, too, also, I listened to other CEO's and other business people as well. Because I don't know it all. I don't pretend that I do.
Rule #7: Make Your Team Better
I thank my high school coach Mr. Fox, for teaching me that making your players better would win championships. I remember you, my senior year, and I was averaging over 40 points. And you said, "Irving, we will never win "with you averaging over 40 points. "You got to average around 20 25 "and make all the other players better." And you're the first one who started me off learning that. And I thank you for that.
Rule #8: Have Tough Skin
Interviewer: You think there's anybody in the NBA now that could have played in your era? In the All Stars?
Oh yeah, I think that Kobe and Lebron, for sure.
Interviewer: What about Garnet?
Garnet, with his toughness, would have been able to play.
Interviewer: I just can't see Lebron driving down the lane on the old, bad boys team, Pistons, all this, old Knicks team.
Oh no, he would have been on the floor, no question about it. No question about it. We would have made all those dudes a little tougher. Now Kobe already got that tough mind attitude. So he would have fit right in.
Even Kobe, if he would have came down that middle, you going to get slammed on the floor, no question. And the guy stand over you and look down at you, like, "What you want to do?"
Interviewer: I miss the old days of the NBA. Those are the days I miss.
You had to understand that you have to have tough skin. Because the Pistons made Scotty Pippin a better player. And Michael Jordan, classic battles. And I love Dr. J against Larry Bird, Philly against Boston. Back then, Bernard King.
He might have been the only player on the Knicks, but he gave everybody hell, boy. So you think about all those rivalries that we had back in the day. Now dudes are friends with each other. So they don't really go at each other.
Interviewer: I don't like that though. I like the Charles, Opie Anthony nation.
Woman Interviewer: They're like, "Please follow "me on Twitter, Instagram."
We hated you, you know? So when we came to the arena, you knew we hated you. We knew you hated us. And we was going to go at it. Just like you talking about Isaiah. We went at it twice in the finals. So Isaiah drove the lane.
I put him on his butt, he came up swinging. You guys remember that? He came up swinging at me. So I hit him, he hit me, so we started fighting. And we ended up winning that series. So the next year they beat us. But like we told each other, we said, "Man, I hate you for these next seven games."
I said, "Hey, handle your business. "Because you come down that lane, "I'm going to put you on your butt." And the same he did to me. But now, today, these dudes man, they just friends, hanging out, talking to each other on the court. I wish I would have talked to somebody, my opponent. And I hated the Celtics too.
Interviewer: We all did, man.
DJ, DJ lived in LA. So we told DJ before the finals that every time we played the Celtics, "Hey brother, you the enemy. "And so don't talk to me. "Can't talk to you."  He was cool, but that's my boy. But, mmm-hmm, when you're lined up and trying to take something from me, especially that championship, I hate you.
Rule #9: Be A Perfectionist
My father worked two jobs his whole life.
Interviewer: At a GM plant.
GM plant for 30 years and then he had a trash hauling service. So he had his own truck. And we would go door to door, pick up people's trash. And it was one situation where it was probably seven below zero and very cold Saturday morning. And my job was to pick up all the loose trash.
It was so cold that I got everything that I could just grab, throw it on the truck. And I ran to the truck because it was just cold, to jump in. By the time I got in and the door shut, my father opened it back up, grabbed me and dragged me through the snow, back to the barrels to say, "Son, you did a halfway job. "
And if you do this job in a halfway manner, "you're going to be a halfway basketball player. "You put in 1/2 the time. "You only put in 1/2 the time as a student." And he said, "You're supposed to do this job right. "So I want you to go get that shovel "and I want you to chop the ice, "until you can get all the trash "that's trapped in the ice and put it on the truck." And that's what happened. And so he taught me how to be a perfectionist and do everything the right way.
Rule #10: Appreciate Your Rivals
I got up here, you do not go into this Hall of Fame and win this honor by yourself. Larry, you know, you're just what a basketball player should be.  The biggest reason that I'm here is because of you making me go to that gym every summer.
Not only staying for four hours. But I figure I better stay for six, because I knew you were there about five or six, yourself.  It was tremendous playing against you. And I'm just happy. And I thank God that I got to know you. Not as just Larry Bird, the basketball player, but Larry Bird the man. And I appreciate you coming out here tonight.
Thank You
Thank you guys so much. I made this because Zano asked me to. So if there's a famous entrepreneur you want me to profile next, then leave it in the comments below.
And I'll see what I can do. I'd also love to know which of Magic Johnson's Top 10 Rules had the biggest impact on you and why. Leave it in the comments. And I will join in the discussion.
Thank you so much. Continue to believe and I'll see you soon.
---
BONUS
Over Deliver
It's not enough for us just to deliver anymore. We got to over deliver. If you want to keep all the billions of customers you have, and hundreds, and hundreds, of million customers you have, you have to over deliver to them. Like the G Phone, it over delivered.
So you got to over deliver. And so we've been able to do that with our fund. They turned me down a couple times, CalSTRS, CalPERS. And they wanted me to really come back and understand that if they gave me this money, and the reason they're giving it to me.
First they turned me down for the reasons of, I didn't have the track record that they thought I should have. And then they said, "If this business "strategy is so great, why isn't "somebody else doing it already?" And I couldn't answer that. So they said, "What we're going to do, "we're going to give you 50 million dollars."
Because I was there for 150 million. But they said, "We'll give you 50." I said, "I'm African American. "I'll take that."  Five dollars I would have took. And if you deliver upon your promise, you can come back and access the other 100. So I bought a shopping center for 22 million.
It was only about 40% or 50% occupied at that time. We brought it up to 100% occupied. We sold that same shopping center for 48 million dollars. So did I over deliver? Yes, that's a lot of money they got. And a lot of return on their investment. So I was able to go from there.
It took, to access the 100 million. But also raise my first real estate fund, which took us almost three years to raise 300 million dollars. We returned our partners 30% on their money. They were very happy.
So how long you think it took me to raise 600 million? After we returned them 30% on their money? Almost less than a year. We raised 600 million. We just returned them about 18% to 20% on their money, very happy. And then before the market crashed, knock on wood, we just raised a billion dollars in cash. And we're ready to go out and invest.
Help Your Community
It still blows you away. You know, that somebody would want to have your jersey on, with your name. Want to go in your business. And frequent that business. And want to take their family to your business. It's been a humbling experience.
Sometime early on and I still do it now, I just go park the car and watch people go in and out. And know that you have affected the community in such a positive way. And then sometimes I cry.
I guess God put me on this Earth to do some special things for other people. It's not about me, it's about the community, and making it better. And I'm glad I've done that.
---
You might also like
---
More from Magic Johnson
---
Good morning, Believe Nation.! Today's message is pursue perfection over you, Benedict Cumberbatch. You can never perfect what we do. There …