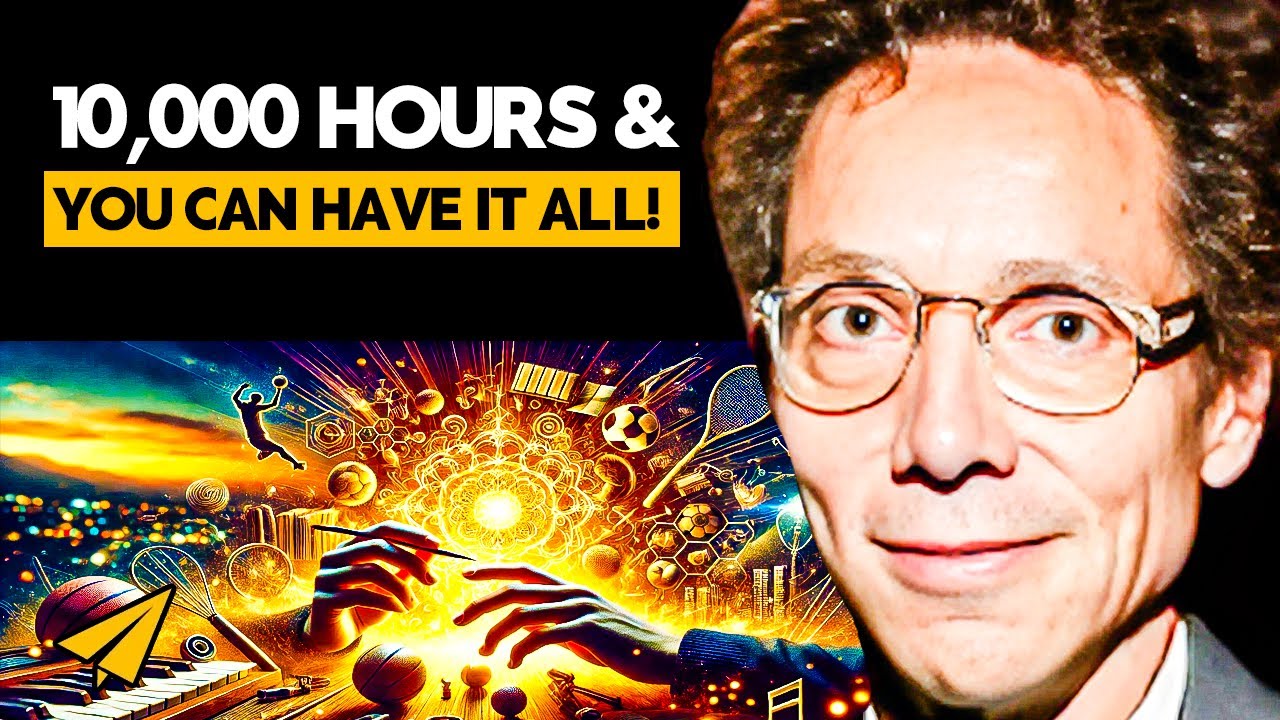 Today we're going to learn from Malcolm Gladwell and his outliers advice.
What's up, Believe Nation? It's Evan, my one word is believe and I believe in people more than they believe in themselves. And my sincere hope is that if you see in you what I see in you, you'll be able to change the planet. I started the Meant to Me series with the goal to try to learn from people who've done a lot more than us.
Try to hang out with people who've had more success than us and hopefully some of their beliefs, some of their mindsets, some of their way of working seeps into us to help us become the best version of ourselves.
Malcolm Gladwell: Outliers & The 10,000 Hours Rule
#1: Practice
Interviewer: An outlier, if you do some sort of scientific experiment, there's this thing out there, that is sort of this aberration that is way off the charts and that's an outlier, right? OK, so let's talk about some outliers. One of the examples of success you use in the book are The Beatles. Tell the story of The Beatles and why they defy the norms and why they were as successful as they were.
Well I was really taken by what happened to them before they came to America. They come here in '64, instant Beatles invasion.
Harry: Explode.
Explode. But before they came, they were the house band in a strip club in Homburg, Germany. And they would play eight hour sets, seven days a week for months at a stretch.
And the idea there is that is what that, we think of them as these geniuses who just come out of nowhere and who are naturally brilliant, but in fact they put in an apprenticeship of thousands of hours before, These overnight successes aren't overnight successes at all.
Yeah, that's one of the big themes of the book, actually, is that we sometimes look at people and we think they must have this great innate talent and we forget the enormous amount of work that went in to what looks like genius.
There's a principle I talk about in the book called the Ten Thousand Hour Rule, which says that in a wide variety of disciplines, from being a good doctor to being a great golfer, it doesn't matter really what it is, it looks like we need to spend 10,000 hours practicing before we get good.
So there's never been a great classical music, piece of classical music composed by someone who hasn't spent 10,000 hours first.
Interviewer: Well, you write about Mozart and everybody talks about Mozart composing as a little kid. He didn't really compose anything anybody cared about until he was what?
23, at which point he had been composing for over 10 years.
Interviewer: So it really, really does make sense.
"These overnight successes aren't overnight successes at all" – Malcolm Gladwell
—
I remain, I'm uninterested in that topic.
Charlie: Which one? The relation between gift and practice?
No I'm more interested in natural gifts. I know they exist and I know there's such a thing as talent, but blah blah blah, but I just feel like, and so what? Because there people and I always think of, you're a basketball fan, I always think of Derrick Coleman.
I remember chatting with a guy who worked for the '6ers and he said, "You have to understand that Derrick Coleman was the most gifted man ever to set foot on a basketball court." He said, "You've heard million other names, nobody was as good as Derrick."
Who has heard today, who thinks, who puts Derrick Coleman up there in the pantheon? No one. He didn't want to work. He had bad habits, he had a bad attitude. I mean, so what? Give me somebody who wants to go to practice in the morning and who wants to try in games and I'll want to celebrate him.
#2: Believe in Meaningful Work
When you put forth effort, you get reward. When you throw your heart and mind and soul into something, you get something back. Now in my book, I call that notion, that belief, that effort brings reward Meaningful Work.
And when you look at the lives of people who are really successful, what you see over and over again is this idea of meaningful work is embedded in their consciousness. You know, I tell the story in the book of The Beatles.
Everybody knows about The Beatles, they come here in 1964, and the British Invasion. The most interesting thing about the Beatles is what happened to them before they came to America. In 1960, 1959, when they were just kids, they were invited to go to Homburg in Germany to be the house band at a strip club.
And they went there and they stayed there for months on end and seven days a week, they played eight hour sets, night after night in this strip club, right? And over the course of that extraordinary crucible, that experience of playing, they taught themselves how to be a great band.
"When you put forth effort, you get reward." – Malcolm Gladwell
In fact, we know, we think now, that by the time The Beatles came to America, they had played together as a live band 1,200 times. We could go to all of the clubs on Friday night in San Francisco, where all of the clubs where all the promising young bands are playing, I submit to you, you would not find a single band that has played together 1,200 times, right? Just doesn't happen.
So what made The Beatles special? What made them special is that they were willing to play together 1,200 times. Willing to play eight hour sets, seven nights a week for months at a stretch.
And why were they willing, because they believed in the notion of meaningful work. They had an opportunity to throw their heart and mind into something and get something back. And that made all the difference in the world.
#3: Confront Culture
And to my annoyance, some reviewers of my book have accused me of being a cultural determinist. In fact, I'm the opposite. The culture that we come from is only deterministic of our behavior if we choose to ignore it, right?
If you never address, they chapter that I was talking about in my talk, the plane crash chapter, it's really about Korean Air and how Korean Air goes from being an airline that almost gets pushed out of business because it has so many plane crashes, to being one of the, now today, one of the premier airlines in the world. And they transformed themselves over the last 10 years precisely because they say they decide, at long last, to confront their cultural legacy and deal with it.
"We can change culture. We're not prisoners of it. We're only prisoners of it if we pretend it doesn't exist." – Malcolm Gladwel
And what they discover is if they are honest and open about the fact that in this particular instance, the cockpit, acting like you're a Korean is not a good idea. Then you can change it, and they do.
They take that airline from, literally, it was this close to not existing anymore and is now an absolutely world class airline. And what they've showed, and I continue this theme in the second half of the book is, once we can talk about and confront culture, we can change culture. We're not prisoners of it. We're only prisoners of it if we pretend it doesn't exist.
#4: Gain Experience
I had a conversation a couple weeks ago, I was giving a talk and I was seated next to a guy who ran a regional bank in Akron, Ohio and I said to him, talking about his business, "How's your business? Your banking business?" He says, "Oh, we're fine. In fact, we're more than fine, we're about to buy a big bank in Chicago."
And I said, "Well why are you fine and no one else is?" He was an older man, he was probably in his, I'd say 60s. And he said, "I've been through this three times before." And I suspect, we sort of talked a bit, and suspect that he got humbled 25 years ago, or in the early 70s or late 70s, and never forgot that lesson.
And it's that kind of, it is in times like that that we understand why experience and learning from experience is so important. It's more than simply, that word is not a kind of meaningless triviality.
Experience matters because there's certain kinds of things that you only learned when you've been humbled, right? You can't just explain to a 28 year-old things are going to get bad, it's not going to sink in.
But to this man I was speaking to, who saw it first hand and dealt with it and I'm sure went through all manner of crisis before, it's a lesson that he kept with him, you know? Colin Powell, before the Iraq war, was the, he was the in-house skeptic. Why? Because he'd been through Vietnam.
You know, in a very first-hand way and a way that many of the other decision makers had not and had never forgotten those lessons. There's another sort of case of someone who appropriately was humbled and learned from experience. And you've got to have people like that around.
"Experience matters because there's certain kinds of things that you only learned when you've been humbled" – Malcolm Gladwell
#5: Learn Storytelling
All my work is about storytelling, but using stories to kind of get at deeper truths. But fundamentally I'm a storyteller and every, you know in revisionist history, everyone of the episodes is a story. It's not me ranting on about this or that and the other thing .
It's we meet really interesting people and we tell their stories and we use that as a way of, and that's a theme in all of my work. I think that the way into complicated ideas is through people and their stories.
---
Thank you guys so much. I hope you enjoyed. I'd love to know what did you learn from this video? What part spoke the most to you and how are you going to apply it immediately somehow in your life or in your business.
Please leave it down in the comments below. I also want to give a quick shout out to Joshua Rodriguez from the Josh Speaks.
Thank you so much, man, for picking up a copy of my book, Your One Word and doing that fun collaboration on your channel together to showcase the book. I really, really appreciate the support, man and I'm so glad you enjoyed the read.
Thank you guys again for watching. I believe in you, I hope you continue to believe in yourself and whatever your one word is. Much love, I'll see you soon.
---
You might also like
---
More from Malcolm Gladwell
---
Today we're going to learn from Malcolm Gladwell and some of his best advice from David and Goliath. What's up Believe …
Good morning, Believe Nation. My name is Evan Carmichael. My one word is believe, and I #Believe that entrepreneurs will …
"I'm not out to convert the world. No interest in so doing. I just simply want people to engage with …