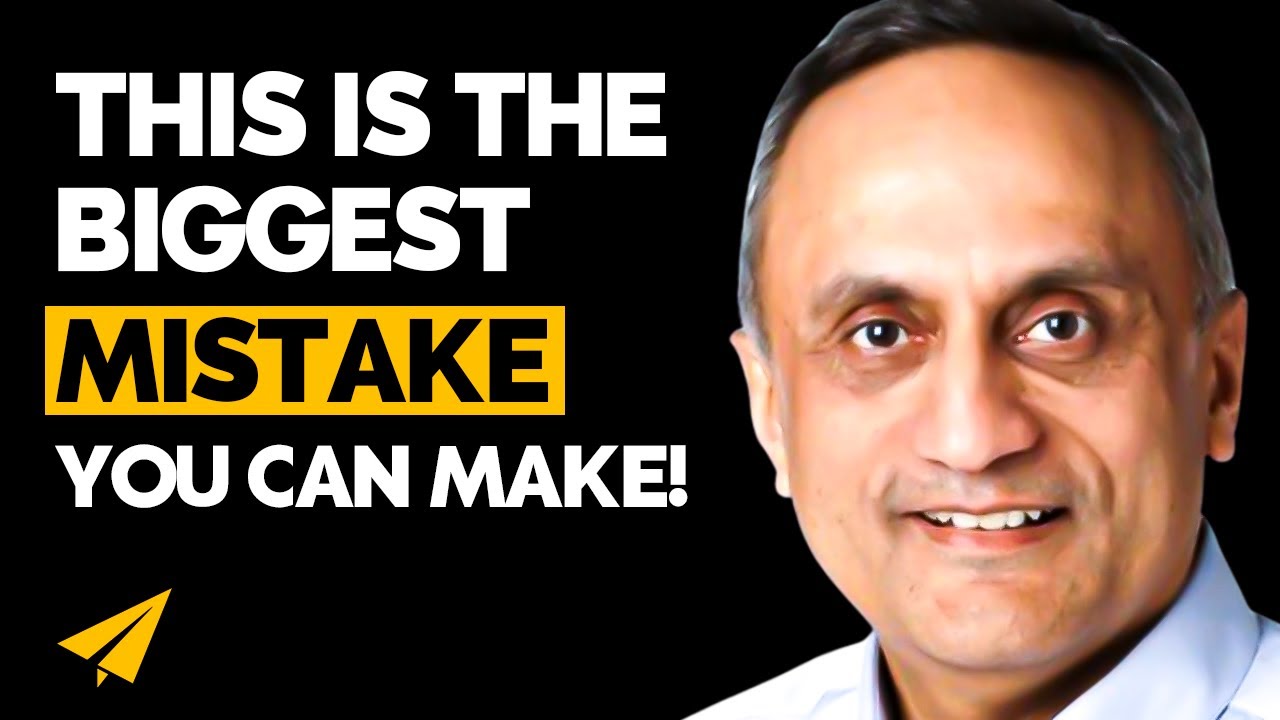 He's an Indian American businessman and philanthropist. He's the founder and CEO of Innovations Ventures, LLC. He has an estimated net worth of $1.5 billion dollars. He's Manoj Bhargava and here are his Top 10 Rules for Success.
Manoj Bhargava's Top 10 Entrepreneurship Rules For Business and Success
Rule #1: Minimize Risk
Somebody asked me, I think we were just having an interview and somebody asked me, well, should we have risk takers? You know, entrepreneurs, risk takers. And I said, no, no, no, no. Entrepreneurs are not risk takers. You know, if I have somebody in my company who wants to take risks, I say, oh no, no, go work somewhere else.
Our job as entrepreneurs is to minimize risk, to manage risk, to give it to somebody else, not take it. If you want to take risks, go to Vegas.  It's a really simple concept but if you tell people you should be risk takers, they go out there and just blow your money. I mean, that's, it's really dumb. And, again, like I said, you know our other principle is please don't do dumb.
Rule #2: Enjoy Your Work
I think there's a misconception that if you're a billionaire that must be, you must go out and your butler brings you tea in the tea garden or something. I get up, you know, I get ready, pour a bowl of cereal, you know.
Interviewer: What's your favorite cereal?
I'm not going to start with that but, you know, I put the milk in, I eat the cereal, drive to work, and then I work like hell. I work hard, if I can, you know, if there's work to be done, I'm doing it. And at the end of the day, I mean, it's really not that different.
I mean, there's somebody who said, there's only one thing you can do eight hours a day and that's work. And what if you enjoy your work? I mean, to me, it's football, basketball, cricket, all in one. Work is great fun and I kind of, we've made our business so that it is fun. You know, everybody there enjoys it and we have certain conditions in the company that if you don't enjoy it, go work somewhere else.
Rule #3: Do Something Useful
Interviewer: So why did you drop out of Princeton?
Well, I was, first of all, I don't hate Princeton. That was a misrepresentation by somebody who went to University of Pennsylvania.
Interviewer: Ha ha ha, okay. So beyond the college rivalry, or the school rivalry, why did you drop out?
Well, I, as I, I mean, the Princetonian just interviewed me a few days ago and I wanted to clear the air because I never said they were bad. And the purpose really, to me, it was look, I got, it was great for a year and then they said why a year? I said, look, it's the same reason why nobody stays for five years.
Why four years? I mean, it's an arbitrary number. I got what I needed out of Princeton in one year and after that I didn't think it was useful. Partially because, look, you go to school and the primary reason is you want to make some money, you want to get a good job and you make some money.
It wasn't important to me. I mean, I thought, I mean, my friends were some of the richest people in the world and they were a little bit, they weren't really together, they were sort of messed up, a lot of them. And I thought, what is this? I'm trying to be like them? That makes no sense. So then I thought, okay, I don't need this and let me find something that's more useful.
Rule #4: Do Your Maximum Today
Planning is, I mean, it has to be related to something. In other words, if it's product, is it, so you have to look at it that way. We look at it simple, if a product idea comes in, I can't plan for a product idea to come in that's slam dunk. If a product idea comes in, we're ready to go execute right now.
And the way we do it is, on the planning side of execution, you know, a bunch of stuff they say, well, this is going to take six months and I don't allow that because what people do is wait five months, there's five and a half months, and then start.
I want to know, when people ask me when do you want this, and my usual answer is three o'clock. And everyday my view is the next day, what can you do today? Do your maximum right now, today. And so, unfortunately, some planning can actually go backwards because they say, well, you know, everybody else takes a year.
How is that relevant? To me it's like, no, no, three days, four days, let's go. So there's a lot of areas in which planning is actually counterproductive.
Rule #5: Think With Your Head
The problem with everyone is they follow fashion, right? You do what's everybody, all your peers, think is cool, plenty things, you know, this is, right now it's cool to start a business in Silicon Valley and get rich. When I was in the early, late 60s, early 70s, it was entirely the opposite.
It was get out, drop out, do something else, right? So people tend to, both are have, both are really irrelevant, you know, in the sense that fashion isn't what should define your life, right? What everybody does, what everybody says, shouldn't define life.
The ideal thing is to do something that has value, right? People say follow your dreams. I think of one game, one time I gave a speech, I said, follow your dreams but make sure it's the right dream. You know, if your dream is to be a serial killer, please don't do that, right? So it's sort of think with your head.
Although I know movies say, no, think with your heart, no, think with your head. Do that which is, you know, has strength, which has meaning. And if you do that which has meaning, your life is better.
Rule #6: Make Slam Dunk Products
Most businesses are the same whether you're selling energy products or any consumer products. If it's useful to people, the rest is just business. So if you find something or invent something that's really useful, at that point, it's really common, whatever you're selling, the process is not that different.
And our process is maybe a little bit different because we really don't have MBA type processing. We basically commonsense. You know, we look at businesses really in a simple way. You make good stuff and you sell it. You know, instead of, you know, all the high-faluting words, which I really don't understand, like brand awareness and brand equity and, you know, all the fancy terminologies people use that they don't have a product.
So, what we did was we simply stick to fundamentals, which is, you make a really good product and 80% of marketing is making a really good product. And then you go out there and if people like it, and they agree with you, then they buy it.
Actually you'll find most of the products that they say are good, are marginal. Right? Most of the folks that come up with products usually use some kind of a gimmick. In other words, gee, let's make it pink if it's for women. Or let's make what's his name famous person endorse it.
Products themselves are marginal. And then they say, well, no, it's a good product. Well, my question is, do you use it? If you're going to go out there and sell it, do you use it yourself? Does your family use it? And if they don't, why are you selling it? You know, and so really you'll find most of the fellows that say we have great products but we didn't get success, is they really don't use the product.
They think everybody else should but not us, we're superior, to our own product. So, there's a compromise amongst people about the quality of what they sell. And quality's also misunderstood. In other words, quality starts if a customer doesn't need it, if it doesn't provide something that they're going to pay for.
We have different technical terms. I mean, our technical terms are slam dunk. You know, everybody understands what that is. You got a slam dunk product or do you have a good product? For us, we get pitched several products a week. And if it's a good product, we don't go out there and sell it.
It's got to be slam dunk. It's got to be where nobody will refuse it. And then you have a hard time with it. So, the flaw is really they don't have good products. Definition of a good product is it will do well. Now, there's some amount of execution but I would say that if you don't have a great product, any amount of execution is only going to buy you a little time. After that, everybody will figure out that this is not that good and not buy it anymore.
Rule #7: Avoid Aggravation
We have what I call when I hire somebody or that's going to join our firm, we have what's called the prime directive, which is if any of you have ever seen Star Trek there's a prime directive. And the prime directive in our company is no aggravation.
Okay, nobody gets to give us aggravation. Whether it's customers, vendors, employees. If you aggravate, you got to go. It's that simple. Because, and it's really business, because usually it's the one percent, you know, some customer that's got one percent of your business and he's driving you nuts.
And he's taking up 80% of your head. How is that business? So, aggravation is the largest cost in business. To me it's really simple. We live here at the work, if an employee is such that they're going to cause all kinds of havoc, that they're going to aggravate, we need to go.
One time one of our senior guys yelled at a receptionist. So I called him in, I said, look, you can't yell at her. You can fire her. If she's that bad, they need to go. But, we live here, don't mess up area, this place. And I've found that aggravation is, if you avoid it, not only do you have fun, but it is, it's a great place to work and nobody quits.
I mean, we can't get people to quit. We have basically, I mean, out of those 70 people, I think we lose about one a year and it's to a non-job. You know, it's like, okay, they don't want to work anymore, they're going to three days a week. We have almost no turnover because there's no aggravation there. So there's huge benefits come from a simple concept.
Rule #8: Don't Chase Money
Most of the people that watch this are relatively rich people, right? I mean, and most of them are going to earn a living. They'll eat, they'll live, you know, they'll be fine. Beyond that, there should be something to do that's useful, that something that says, okay, I did something.
I didn't just work on a door latch all my life or something, you know, not to say door latches are bad. I mean, I'm sure guys work on door latches and it's awesome but at the end of your life you want to say did I do something of value? Or in the beginning, or in the middle.
You know, if everyday you go to work and it's like Office Space, you know, where, do I care, does anybody care? If that's what it's going to be then get paid less, do something useful. You're going to be way better off. And chasing money, I never chase money.
You know, people ask me, well, when do you decide to give it away? I never, the problem is, I never was interested in having toys. But, it's one of those, if you're trying, don't try it happens. And the cool factor, you said. It's sort of, when I was young anyway, if you were trying to be cool, you weren't. So it's sort of if you do that which has value, you're much better off.
Rule #9: Think Things Through
The first step of thinking things through is to go to the customers and find out what they need. Don't just ask them. It's like anything else. If you ask a customer what they need, they'll give you the wrong answer. You have to go there and really think through what happened. And then you'll see what's really needed is so obvious.
Rule #10: Keep It Simple
We have, I mean, we have our own jargon to some extent. Like, for example, somebody comes to me with a project or a product that we're going to go sell or some project, I ask them, is it slam dunk? You know, and, no, it's really good. I say, no, no, is it slam dunk? So, but, but, it really, it's a good product.
And what it does is it totally clarifies their mind. That, oh, no, it's not slam dunk. Then I say, well, why are we going to do it? So our standards are high. We have these simple things which clarify the mind, not totally, you know, mess up your mind, or have so much jargon that nobody knows what your talking about but yet you've got all the right words.
Like ecosystem, whatever, you know, everybody's got ecosystems here, you know. Or, you know, value propositions. No, no, no guys, just sell good stuff to people who need it, you know? So, all of that jargon, all it does is bury common sense. So the idea is that you get simple.
Somebody asked me, you know, in the interview, I said, what does an entrepreneur really need? So I said, only two things. Common sense and a sense of urgency. That's it. And they asked me, who should we learn this stuff for. And my answer was from your mom.
Because she's probably done more management than your MBA professor.  Because she's got a budget, she's got all these kids running around, hard to manage, all of this thing has to be done everyday, seven days a week. Now that's work, that's hard work.
That's learning on the job. And people say, oh, she's just a homemaker, that's like a lowly thing. No it's not! That's great media and people say, oh no, you're saying, well, women should be homemakers. No, no, that's the most, that's the hardest work there is, that's the most talent you need.
Ask the guy who goes out there and works eight hours, any idiot can do that. So it's sort of thinking based on description. In other words, if you look at any word and you really think about it, then you understand it. Otherwise, you just use these words that everybody uses and they think, okay, now this guy must know something, after all, he knows what an ecosystem is.
Our approach to things, like I said, is different. You may agree with it, I'm sure I'm going to get some MBA professor to, I mean, one time the U of M, University of Michigan Law School called me to speak. I said, are you guys kidding?  So I said, you know, I think of MBAs, I think it's totally useless.
So he said, no, no, come over. So I said, fine, if that's what you want.  So I went over there and kind of defined it. I said, look, I mean, I'm not saying that they don't teach anything of value. I mean, I think they teach this much that is useful. Then teach this much that is useless.
And then they teach this much that's harmful.  So, overall, you know, averages on the useless side. Because you come out of school and you actually think you know something? Really? You know, and that's dangerous, because you really don't.
So, I never hire people out of fancy schools for that reason. My first question usually is to an MBA, how are you going to get over it?  So, and I'm not, I'm really not alone in this. The good guys I've met, the chief executives I've met of really large companies that are, you know, that don't, usually they get in front of a podium and it's all PC, lawyer, you know, lawyer-cleared stuff, so they don't say anything.
But the good guys that I've met, they're all sick of MBAs. Really. They're not really enamored of this whole thing because, you know, look, it's a simple thing. If you're going to learn plumbing, go learn from a plumber that's actually seen a pipe. Has fixed a leak, not just written about pipes, and lectured on pipes, and researched pipes.  So I'm not for theoretical plumbers.
Thank You
Thank you so much. I made this because nickthegreek82 asked me to. So if there's a famous entrepreneur that you want me to profile next, leave it in the Comments below and I'll see what I can do. I'd also love to know which of the Top 10 Rules was your favorite, had the biggest impact on you and why.
Leave it in the Comments and I'm going to join the discussion. Thank you so much and continue to believe and I'll see you soon.
---
You might also like
---
More from Manoj Bhargava
---
Good morning, believe nation. Today's message is make something people want. Over to you, Sam Altman. Startups, to be successful, have …