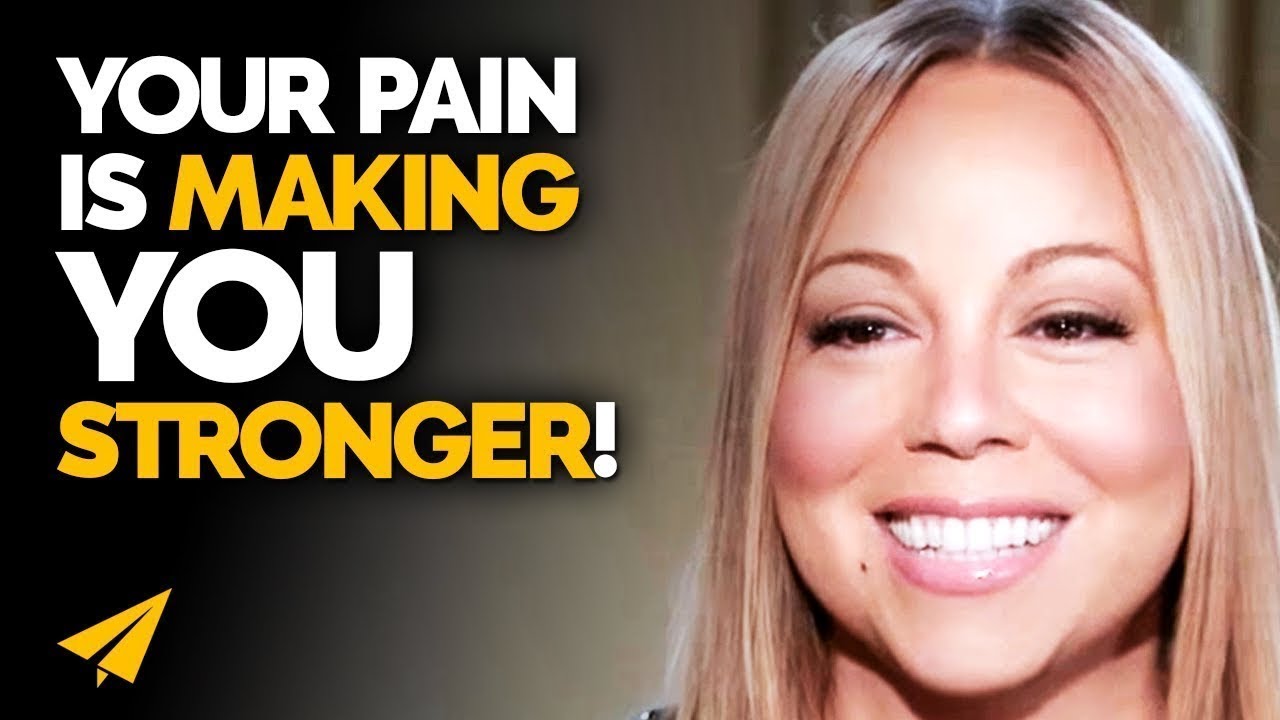 Famous Entrepreneur Quotes
Mariah Carey's Quotes
" Everything I ever went through, made me who I am, and motivated me more, to strive for what I wanted to do."
" I want to be singing, 20 years from now, 30 years from now. That's just always been my dream."
"You can't always be number one. You can't always be winning every award. But, just to be putting music out there, and to be having some level of success, has always been my goal."
Mariah Carey's Top 10 Entrepreneurship Rules for Success and Business
She is an American singer, songwriter, record producer, and actress. In 1990, she rose to fame with the release of "Vision of Love" from her eponymous debut album. She's Mariah Carey and here's my take on his top 10 rules for success.
Rule #1. Find The Thing That Makes You Special
Interviewer: Your voice is one of the more extraordinary things, in modern music. When in your life, did you first realize, there's something special, that comes out of my throat?
The first time, for me, that I actually felt it, was when I was six years old, and I was walkin' down the street, with this little girl, and we're singin' at the same time, and then she stopped singing, and she started listening to me.
And then, I realized it, and I stopped. And I was like, what? And she goes, "When you sing, it sounds like there's music with you."
I never forgot that. That was something, that made me feel special, because I didn't feel special as a kid. I felt different, I felt weird. I didn't feel pretty, I didn't feel like I fit in.
I didn't feel a lot of things, that make kids develop their self-esteem. That moment stuck with me, and made me feel like, no matter what, that's in here, and that's something, that nobody can take.
Rule #2. Keep Growing
Every time I hear one of my songs on the radio, I sit there, and say, okay now, I should have sang that line like this, and done that line like that, or, oh that's rancid, or whatever,  'cause I'm just never satisfied with my work.
I always feel like I could've done, I could have done it just a little bit differently, I feel that, for a first effort, I'm proud of it, and I'm just looking forward to completing the writing that I'm doing for my second album right now, and make the best album that I can, and just look ahead, and not look behind.
Interviewer: You set this really substantial level of success for yourself already. Do you feel like you have to always, kind of, stay at that level?
I don't, because I've been very, very fortunate, to have what's happened me, have happened to me, and I mean, from now on, all I really want to do, is continue to grow, as an artist, and to just continue to putting out music, and hope people, that have supported me, will stay with me.
And you can't always be number one. You can't always be winning every award. But, just to be putting music out there, and to be having some level of success, has always been my goal.
Rule #3. Go For It
Interviewer: What kind of student were you? I also read, that your nickname was Mirage, because you were a mirage, in class.  You were there sometimes, most of the time, you weren't! Is that true?
Well, I mean, I don't want to encourage anybody in that, to go to school, or anything, you know. Far away from me, but, I liked school. I was more social in school, than I was a student, and I always knew I was going to be a singer. That's my thing.
I'm very lucky that I am, 'cause right now, who knows what I'd be doing. But, I don't know, I had trouble getting up in the morning, that's why.
I couldn't take, getting to first period on time. But, I think, everything I ever went through, made me who I am, and motivated me more, to be, to strive for what I wanted to do, because sometimes, if you're too comfortable, when you're growing up, it's just like, yeah, well, I'll do this for a while, and then I'll do that, but I knew that I had to go for it.
Rule #4. Don't Write Off Talent
Meredith: You're under a lot of scrutiny. You've gone through a lot, a lot in recent years, so you must feel particularly happy about the success of this CD. It's not just selling, what was it, 400,000 in the first week? I mean, that's pretty incredible!  That's a big comeback, though! A lot of people are saying, it was over for you.
Yeah. You know, a lot of people were very ready, to write me off completely, and it's like, you know, I never write off, and I'm not tryin' to whatever, but there's certain people, who I'm friends with, who people have written off, and they've come back, to have stellar years, and I have never written them off.
I mean, it was my big moment, and they were not having, necessarily, such a huge moment. They were never written off, in my book, 'cause you can't write off talent.
So, it's like, when people do that, it's just not the right energy, it's not the right thing, but yes it does feel good, and I have to thank my fans, 'cause they've stuck with me, and thank God, it's my biggest first week, ever!
Rule #5. Push Through
You can't really fake it. You kind of have to love it, that much, to make something, that lasts this long. People consider Fantasy a pivotal, groundbreaking, kind of a moment, for pop music, and for me.
I had the idea, to use the Tom Tom Club, Genius of Love, when I was at an amusement park, and I was listening to the radio, when it came on, and I was like, this'd be great.
There were different versions of the song, and I think most people have the memory of the one, featuring ODB. It was a classic. Nobody expected it.
Mariah: You know, it took a little bit of pushing, and pressure to record company, because I don't think they understood why I wanted to do it, and it's 'cause I wanted to have a hot remix.
But, I was glad I got away with doing it, without the record company listening to ODB's album, because it has certain topics on it, that they might not have approved of, for me.
Rule #6. Transcend Categories
Interviewer: Apart from the Whitney Houston comparisons, and continuous surprise over her vocal range…  Many were initially surprised, that her voice belonged to a white woman.
I don't know, everybody likes to put categories on music, and people, and this is black, this is white. You know, and I just really don't think there's a need, to categorize everything.
I mean, what I do is music, and music should be universal. It shouldn't be about, this is too black, this is too white, whatever. I think, everybody can relate to music, and that's what it's all about.
Rule #7. Do What Fulfills You
Interviewer: You don't really get a lot of credit, for being a great writer, and having 18 number one singles.
I wrote 17 of 'em, that's the thing.  But, people don't talk about it, because I think, if you're a female, there's an issue, and if you're not strumming a guitar, or playing a freaking flute, or a fiddle, suddenly, you're less of a writer, because that's not your process.
People don't realize, like when I first started out, I made sure, I hit a lot of high notes. If I just started out, singing softly, only, people wouldn't necessarily have taken notice. It was just about the voice.
Interviewer: Do you consider yourself a writer first, or a singer first?
I do sort of feel like I'm a writer, first. Technically, I don't have write the song, in order to sing it. Somebody could write a song, and present it to me. I don't feel fulfilled, as an artist, that way.
Rule #8. Don't Complain
Interviewer: You said, your parents divorced, when you were three. What was it like, not having a father around the house? Do you feel like you missed out on anything?
I don't, at all. I'm actually glad, that I grew up, with just a single parent, and a single mom, because I think it made me more independent, you know? I mean, I'm not going to sit here, and say, oh, I wish I had the Brady Bunch family.
I used to, when I was little. I used to want to have the perfect family, and I used to be envious of people, that had the perfect, picture perfect thing, but nothing's perfect.
So, you know, I'm glad, about everything that I ever went through, and I think that my mom is a major reason why I'm here today.
Rule #9. Follow Your Dream
I'm not trying to prove anything. I'm just really trying to have a long career, as a singer/songwriter, and I want to be singing 20 years from now, 30 years from now. That's just always been my dream, and it's incredible, to be able to have the success, and I just want to continue going.
Rule #10. Perform Amazingly
---
Thank you guys so much. I made this, because Alicia Maria asked me to. If there's somebody you'd like me to profile, in our future Top Ten, please leave it down the comment below.
I also want to give a quick shout out, to Katie Horrell. Katie, thank you so much, for picking up a copy of my book, Your One Word, and working on the review, for your channel as well. I really, really, really appreciate the support, and I'm so glad that you enjoyed the reading.
Thank you guys, again, for watching! I believe in you! I hope you continue to believe in yourself, and whatever your one word is. Much love, I'll see you soon.
---
BONUS
#Believe In Yourself
Everything that happened, is just like a blessing, and being so incredibly fortunate to have, be in the right place, at the right time, and have all those things, and everything.
But, in addition to that, if you don't believe in yourself, you won't get to that stage, of you even writing a song. Or, saying I'm going to do this, as opposed to just saying, well, I'd like to be a singer, but, you know, probably that won't happen, 'cause so many people want to do it. Why should I think I'm special? Having someone tell you that you are special, and that you can do it, is a big thing.
Find Your Creative Process
Interviewer: How you write a song? You starting with music, you starting with ideas for lyrics, chorus first, verses first?
It's always different. There are times, when a melody and a lyric will come to me, and they're attached. It'll happen, it'll be the inception of an idea, and then I'll continue it. Hero was, and we're going back but, they asked me to write a song, for this movie. It was for Gloria Estefan, supposedly, to sing.
And I don't know if Gloria knows that, or not. I left the room, when I was with Walter Ray, who I used to collaborate with. I took a walk, came back, and I was like, oh no, here's how it goes, ♫ And then a hero comes along ♫ And I started telling him, like, play this, and here is what it is. So, sometimes it'll be like that.
Prepare For Success
Unplugged was, really, like the first concert-concert, I'd ever done, and people were waiting to hear like, can she do this? So, that's why there was that type of pressure.
I was nervous, 'cause I had so many high notes in, and it really requires me, to isolate myself, and just be on vocal rest, and not speak, and be in a well-humidified room, and sleep as much as possible, 'cause people want to come hear me sound right. I'm not going to go out there, and be a mess.
Summary
Rule number eight is my personal favorite, and I'd love to know which one you guys like the best.
Mariah Carey's Rules
BONUS
I hope you enjoyed this article, make sure to check my Mariah Carey video on his Top 10 Rules For Success as well.
You might also like
---