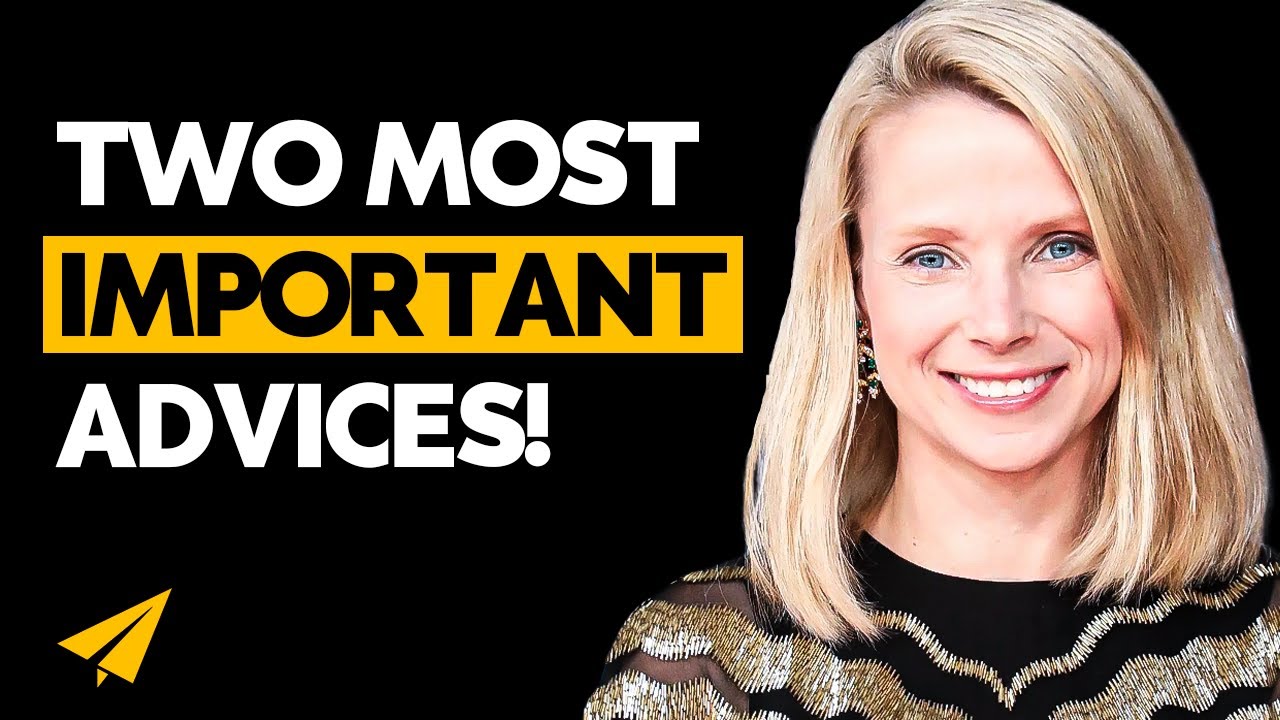 She's an American businesswoman and the president and CEO of Yahoo. Previously she was a longtime executive and key spokesperson for Google. Forbes estimates her net worth to be $380 million. She's Marissa Mayer and here are her top 10 rules for success.
Marissa Mayer's Top 10 Rules For Business and Success
Rule #1: Find Your Rhythm
I've always had a philosophy around balance. A lot of people talk about balance, I don't really believe in balance. But I do believe in finding your rhythm. And I think a lot of it has to do not with three square meals a day, time at home at night, eight hours of sleep, I think it has to do with resentment.
Because I think what fuels burnout is this notion of well wait I sacrificed this thing, and it honestly meant too much to me and it made me resentful and for me it's really about being able to walk out of the office for one week every four to six months, find if I start pushing that out or delaying vacations I'll be like you know, I'm just not going to work that hard tonight.
I didn't get to take that trip I really wanted to take. So I think you can work arbitrarily hard for really hard periods of time, but you need to know yourself well enough that you can avoid resentment and avoid burnout.
Rule #2: Do Something You're Not Ready To Do
Doing something you aren't ready to isn't comfortable. For me, and I assume for many of you it gives you that uneasy upset feeling in your stomach, that sense that this time you may have gotten too close to the edge. But in pushing through that discomfort, you'll learn a lot more about yourself.
You'll learn to do something you didn't think you could do. Or you'll learn where your limits are. Either is valuable. It's important to push through that uneasiness though because in that moment of finding your courage you really grow and you really reach. I'll say it again, do something you're not ready to do.
Rule #3: Balance Between Innovation And Execution
Interviewer: There's a natural conflict isn't there in the world of technology between innovation and execution? We see many companies struggling with it. Can both be done well at the same time?
It's funny because it was pointed out to me a few years ago that one hypothesis is that innovation, if you think about, what's the opposite of innovation? A lot of people would say well it's the status quo, it's stagnancy. And there's another school of thought which says that the opposite of innovation is execution.
That if you have to be in heads down execution mode, it's very hard to find the space to innovate, to have those new ideas and to pull things in. And I know that for us at Yahoo right now, this is going to be a great period of execution.
Can we take these products that we have and revitalize them for the web? And also make the transition to mobile? And while we're doing that execution, will there be room to innovate? To say hey, this is how Yahoo Groups worked on the web, but now there's all these new opportunities in terms of how group communication should work on the phone.
Can we actually spot some of those innovative ideas? And I think there is, but it's hard 'cause I do think that they are natural opposites.
Interviewer: Is size a barrier to innovation?
I don't think so because I think you can innovate at scale and with large size, but you have to be very principled about it. You know if you have, say, 10 engineers and you're going to grow that to be 20 or 30, do you want to be doing the same set of things two or three times better? Or do you want to be doing two or three times more things? And in terms of really, interestingly, in terms of execution, this is a great example of why they're so opposite, so much opposites that if you really wanted to execute perfectly, get the design exactly right, really work though all the details, you didn't ask two to three times as many people per project.
If you want to find those new ideas, those far flung ideas, those things you might not otherwise find, you want to take those same people and put them on something that's far flung that you've never thought about. And so it really is that there is this tension. So I think that you can innovate at scale, but you need to save room to have small teams working on those far flung ideas.
Rule #4: Ruthlessly Prioritize
Interviewer: What's the most important thing that you do to get it all done?
Hmm. You have to ruthlessly prioritize. And I do, and that's one of the reasons I haven't been talking and I'm going to go back to not talking for a while after tonight because I've been really internally focused. You know I'm from Wisconsin and in Wisconsin you know there's all kinds of different people but the one thing that's true of all of us is we all follow the Green Bay Packers to different degrees.
And the Green Bay Packers, the legacy and the lore there comes from their first coach Vince Lombardi who coached them to their early Super Bowl wins. And he's actually quite a pundit. It turns out these kind of phrases you hear like "quitters never win and winners never quit," that's a Lombardi quote. Right, now "the only time success comes before work is in the dictionary," that's a Lombardi quote, right? And Vince Lombardi says "in my life there are three things, "God, family, and the Green Bay Packers, in that order." Right?  And I think that for me it's God, family and Yahoo in that order.
Rule #5: Surround Yourself With Smart People
Find the smartest people you can and surround yourself with them. Working with smart people means that you'll be challenged to do your best. You'll have to strive to keep up with them, and as a result, they will elevate your thinking. When there are better players around you, you get better.
I first noticed this when I was growing up. I had a friend, Laura Beckman. Laura tried out for the volleyball team her junior year of high school, and at the end of the tryouts was given a hard choice. Bench on varsity or start on JV. Most people when they're faced with this choice choose to play, I will pick JV. Laura did the opposite, she chose varsity.
And she benched the whole season. But then an amazing thing happened. Senior year when she tried out, she made varsity as a starter, and all the JV starters from the previous year benched. And I remember asking Laura, how did you know to choose varsity? And she said, I just knew. I just knew if I got to practice with the better players every day I would become a better player even if I didn't get to play in the games.
How does this sporting example relate to smart people? I deeply believe that the same thing happens intellectually. When you surround yourself with smart people they challenge you to think harder and in entirely different ways.
Rule #6: Create A Strong Culture
Interviewer: What have you focused on? What are you most excited about when it comes to innovative technologies, particularly the ones you have some control over?
Well I was really overall just genuinely pleased and surprised. I knew that there had to be great people at Yahoo. The same way that when you sometimes look at art you can tell if it was created by a nice person or not or a depressed person or not. And when you feel Yahoo's products you can tell that there's really nice, very smart competent people there that have a great time.
And it's true, it's a great company overall that has a very fun culture. And for my first few months my focus really was on people. Because I believe fundamentally that technology companies live and die by talent and that's why when people talk about the talent wars, it's not really that some of the companies that are in the talent wars are that competitive with each other, it's just that when you start to see the best people migrating from one company to the next, it means then that the next wave is starting.
And so I got very focused on people, building the right team, particularly the executive layer but all through the business. And also the overall environment. And part of that was because I wanted to make sure that Yahoo was absolutely the best place to work and the people really wanted to come and work there because that will help with the talent piece.
But also because I believe that really strong companies all have very strong cultures. And Yahoo's no exception, it's been a very strong company for a very long time, it's got a strong culture. It's different from every other corporate culture. Each has their own unique and individual flavor. And I really wanted to find a way to amplify it.
Because in amplifying it, that's how you find the energy. And the energy is what you can harness into that innovation and say, OK, if we have people and they are really excited about what they're working on every day and they realize that the next big hurdle is mobile, you can take that energy around the culture and find fun ways to apply it that can be really impactful for end users.
Rule #7: Work In Small Teams
We like to work with really small teams. When I started there were about nine engineers and Larry and Sergey said well, we have nine engineers and right now they do about three different things. So if we double and we have 18 engineers would we want them to do the three things twice as well? Or do we want to do twice as many things? And they said well obviously we'd want to do twice as many things.
And so that's how we've grown. We've tried to keep the teams really small which leads to a sense of empowerment, people making decisions, around what's the best feature? What do their users need? How are they going to build the best product? And it allows also for them to be really agile.
We try and avoid meetings and like a lot of reasons, one of the great things that happens with a small team is you can put them all in the same office. At Google we usually have three or four people in each office and that works really well because when they wanted to make a decision people just roll back from their desk and say hey!
Interviewer: Turn around go what about this?
I've got something that we need to decide right now. So that allows the teams to really be very agile.
Rule #8: Share Information
Be an information fountain. Information used to be scarce and expensive and power came through hoarding it and brokering it. Today it's just the opposite. Power comes from sharing information. Tell everyone everything. The more valuable the better.
Sharing leads to connections, connections lead to collaboration, collaboration leads to creativity and innovation. Creativity and innovation are what change the world. Lack of sharing can kill innovation in big companies where divisions turn into information fortresses.
They compete with each other and end up guarding information from each other as zealously as they do from competitors. Everyone loses as a result. Help others find their way by sharing the information and ideas you have.
Rule #9: Fail Fast
Interviewer: I was wondering if you could talk a little bit about how failure sits in the middle of startups and entrepreneur.
Well failure is a fact of life. The most important thing of course is to learn from failure. But I also think that the other thing that people don't realize about failure is that it's totally fine as long as you do it fast.  Right? So if you fail fast and then you're on to the next thing that's actually successful, you're much better off.
And so you've got to be constantly monitoring your effort, figuring out are you on a trajectory for success? Or are you on a trajectory for failure? And if you're on a trajectory for failure, decide to fail fast, give it up, and move on to the next thing that can be successful.
Rule #10: Experiment
To me, 2014 was our time to do a lot of different experiments. We experimented with some partner content, we experimented with some live content with Live Nation. We had a lot of our editors in different verticals work on their own series and clips of what they wanted to work on.
We did some original content. And we basically did each of those at a really small scale to understand what worked well, what did we think we produced with quality? What did our audience respond to? And now in 2015 returning to it we're really looking and saying OK, what we saw work really well was the magazine content, the deep verticals that Yahoo's always been known for.
How can we build out more video there? How can we work out more on content? So when we do things like The Ultimate DJ, we're going to be running an American Idol-like show with Simon Cowell to find the bet DJ in the world next year. That aligns really deeply with Yahoo music.
The NFL opportunity aligns really deeply with Yahoo Sports. And so I think that it really helped us shape our content experience to think about, let's run a bunch of experiments, build a bunch of different prototypes, see what works and what really our users respond to, and that's things like Live Nation and some of the verticals we've always been strong in, and then how do we build even more content in that vein.
Thank You
Thank you so much. I made this because Home Akaza asked me to. So if there's a famous entrepreneur that you want me to profile next, leave it in the comments below and I'll see what I can do.
I'd also love to know which of Marissa's top ten rules meant the most to you and had the biggest impact.
Leave it in the comments and I'll join in the discussion. Thank you so much. Continue to believe and I'll see you soon.
---
BONUS
Form Partnerships
Interviewer: You described, a couple of months ago how one of your employees asked how Yahoo is going to compete if it doesn't have one of these four key distribution technologies. There's the mobile operating system, mobile hardware, the browser and social. I don't know that we got an answer.
Yeah so it was funny 'cause one of our employees at one of the company meetings asked that and they said given that we don't have mobile hardware, mobile OS, a browser or a social network, how are we going to compete?
Interviewer: That's not just a question for Yahoo, clearly it's a question for every company that seeks to compete with those others that have those key enabling technologies.
Sure, and you know, of the four horsemen of the internet to adopt that analogy, almost all of them are playing in one if not several of those medium. But I think that the big piece here is that it really allows us to partner. Yahoo's always been a very friendly company, has always been, because of our focus also, in addition to technology but also on media, it ultimately means that there's really an opportunity for strong partnerships and that's what we'll be focused on so we work with, for example, Apple and Google.
In terms of the operating system, in terms of the social network we have a strong partnership with Facebook. And so we're able to work with some of these players that have a lot of strength in order to really bolster our user experiences that we offer on the Yahoo site.
Find Your Voice
My advice for women is the same as it is for men which is that you should find something that you're really passionate about because passion is a gender neutralizing force. And I really think that you should work for someone who believes in you.
Work for people who believe in you and invest in you because that's how you'll go far in your career. You're going to give them a lot of your time, be it your own startup, be it a company that you're joining. And you want to make sure that you also get the responsibility and the fulfillment that you're looking for.
And so those are my two words of advice. Find somewhere where you're really passionate, find somewhere where someone believes in you, and I guess my third piece of advice is find somewhere very comfortable. It's interesting for me because I'm a very shy person by my nature and at Google people don't believe I'm shy at all because I'm very comfortable there.
And that I think is really important, one of the most important things for all entrepreneurs, especially for women is to find your voice. And if you can't express what you're thinking and what you believe in, that's a real issue. And so I think it's really important for women entrepreneurs especially to find somewhere where they're comfortable.
Learn From Your Mistakes
The ads in email story is actually a really embarrassing story for me. In terms of how I almost blocked a multi billion dollar business.  So it was the early days of Gmail. I was the product manager, my office mate, Paul Buchheit was the technical lead.
And you know, you're musing about a product, and you're building it, and you're speccing it. But every now and then you just kind of need to take your mind off of it and brainstorm further in the future. And so one night Paul and I were in our office and we always have shared offices at Google so there's three or four of us in there and Paul was like, how are we ever going to make money from email? And I was like well Paul, this is simple, everyone's offering four megabytes in storage, we're going to offer like a gigabyte of storage and we'll give people some amount of storage like a gig for free and then we'll charge them for more space. Simple.
And he's like I'm not so sure. I think we should maybe target ads at the email. And I was like you know Paul, that's going to be just creepy. So we do say this to each other sometimes. I was like, people are going to think that everyone's reading their email and putting these ads against it.
That's a really bad idea. And we argued and argued and argued about it. I was like Paul, we don't even have an email program that can send and receive email for more than the six of us that are using it right now.  'Cause we had this little program inside.
And he was like, fine, and I was like how about we just figure out like, how to get this working before we, you know, really go into a lot of detail about how we're going to make money from it? And Paul and I were both night owls and so around three in the morning I went to leave.
And I remember walking out the door 'cause Paul would come in, he was sort of like the typical engineer, come in about noon and so I left at three, Paul was still working away. And I remember walking out the door, we had this little glass panel.
As I walked out I leaned back and I said, so Paul, we agreed, we're not going to explore that ads idea, right now, right?  And Paul was like oh, yeah yeah, yeah yeah. And so Paul stayed for another four hours until seven AM when he went home, building stuff.
And as I said there were six of us in the company using the early form of Gmail. And I came back in at like nine in the morning, logged into my email and there were ads everywhere!  And so Paul had hooked up this system that grabbed keywords out of your email and put ads against them. And I was like oh no! Larry and Sergey are going to show up at like 11. They're going to log into their email, there's going to be ads everywhere.
But I was like you know, but I could tell from Paul's emails to me at the end of the night he had been working till at least seven. So I was like I don't want to wake him up now. But I'm going to have to call him at like 10:30 and be like, you've got to log in and like, turn this off. And so the funny thing was then I had from like nine until 10:30 to kind of play with it. And Al Gore was coming by the office, and there was an ad for Al Gore books.
And one of my friends had mailed me and said do you want to go for a hike this weekend? And there was an ad for hiking boots. And I was like you know, these ads aren't bad. They're at least relevant if not useful. And so by 10:30 I decided I wasn't going to call Paul and Larry and Sergey came in and then this interesting thing happened where, and it's sort of interesting in terms of history 'cause people get confused.
You're building Gmail, and I do think that whether or not targeting ads at email is still an open question, is still an open issue of debate between Paul and I maybe that's how we do it. But what happened that night was Paul basically figured out how to target our text ads that had been running alongside of search at content. Which traditionally on the web, about 5% of page views that are done every day are searches.
So if you walk into a cybercafe or a classroom about one in 20 screens will have a search page up. Which basically meant we had a great database of ads that was good at making money from 5% of the web. What Paul had done was given any paragraph, given any amount of text, he could find a relevant ad from our database to run alongside it. And so it basically was a way of taking our ads database and saying we're not just going to put these ads on Google Search, we're going to put these ads out on the web.
So today when you see those blocks of textual ads that say Ads By Google on the bottom, that's something called AdSense and it was actually born that night. And it in truth is actually much more successful than even ads inside of Gmail were. 'Cause Larry and Sergey said wow, this is amazing. Let's rip this out of Gmail, just let people run this on whatever pages they have on the web which meant that bloggers could suddenly quit their job and blog full time 'cause they could make money from it.
And people, like About.com were like we can put even more content online 'cause we can make money from it. And so you know we launched AdSense which I think last year was somewhere in the five to seven billion dollar revenue range. So it was just this really amazing thing where that Gmail, that experiment that happened inside of Gmail became this big product outside which I almost quelched with my hey Paul, we agreed we're not doing that right now right?  But you know, those types of things it's just, it's that Pasteur quote, "chance favors the prepared mind."
You're messing around with these types of things and seeing potentials and opportunities and whether or not ads in email is a good idea, thinking about how ads could target at email let us take ads and target it really broadly at content.
---
You might also like
---