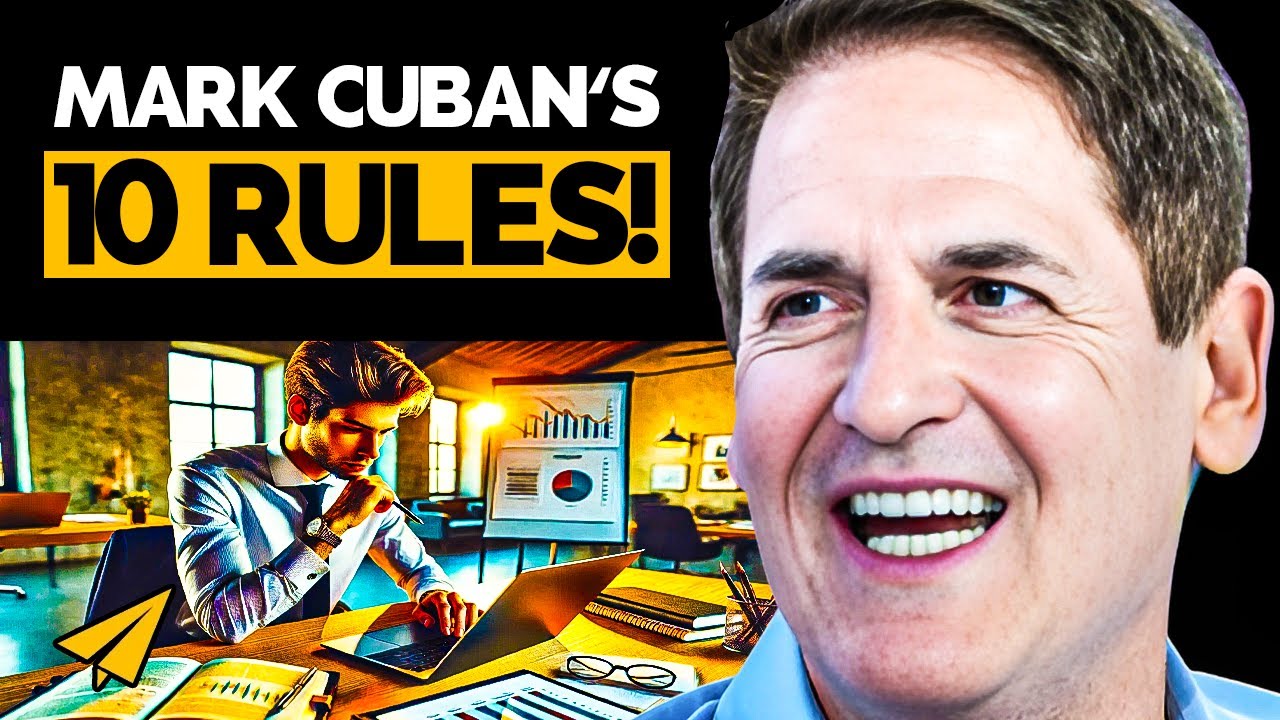 Evan: Hello Believe Nation, I'm Evan Carmichael. My one word is believe, and I believe that entrepreneurs are going to solve all of the major problems of the world.  So to help you on your journey, today we're going to learn from billionaire Shark Tank investor, Mark Cuban, and my take on his top 10 rules for success, volume two.
And as always guys, as you're watching, if you hear something that really resonates with you, please leave it down in the comments below. Put quotes around it so other people can be inspired and when you write it down it's much more likely to stick for yourself as well. Enjoy!
Mark Cuban's Top 10 Rules for Success Vol. 2
Rule #1: Just Go For It
Sometimes, being young and trying things, you're so naive and you don't know any better, all you do is learn. And, if you fail it doesn't matter. And so, whether I was nine, 10, 12, 16, 21, the failures were irrelevant. And whether you're nine, 12, 16, 21, 22, 24, I'm sleeping on the couch. I have a car with a hole in the floorboard. I'm living like a bum and like a student. And so what did I have to lose? And so, I think that influenced me as much as anything. So, my dad was like, "Go for it. You know? Why not? "What have you got to lose? "You have to sleep on a different couch?" So I think that was motivation.
Rule #2: Find Something You Love To Do
The type of person you are kind of points to the things you're good at. Are you 12? You're not going to know.
Are you 16? You're not going to know. If you're 18, maybe if you have a special talent, right?
Yeah.
You can throw a baseball a hundred miles an hour. You can sing and your voice is incredible. You're a concert pianist. You're a chess Grandmaster. If you have a specific skill set or talent that just immediately propels you to the top, yeah you want to follow that.
Yeah.
But I remember having a list, I still have it. When I graduated from college, I was getting ready to graduate, and all of the different industries that I thought I might want to partake in. When you find something you're good at.
Yeah.
Go for it. I was never really into technology when I was a kid. But then as I got a job that used it, I found out I was good at it. And once I found out I was good at it, then it became a lot more fun. You know, when you're good at something it's almost always fun, right?
Yeah, yeah.
And once it was fun, and I combined that with my business skills, then I saw, okay, I know how to make money at this stuff. Cause I know how to sell. Now I know tech. That gives me something I love to do. And so, what I tell people, the key is find something you love to do and be great at it. Because once you do that, it's all gravy from there.
Rule #3: Be A Shark
What if I offered you 1.25 million dollars to sell the whole company.
Mark, you're saying, "Screw the other Sharks."
Yup. I like what you guys are doing. I want you to come back to me with a percentage. I don't want you to even talk to these guys.
You are asking him to take that option with you right now and ignore us?
Yup.
You're not a very nice guy.
It's not about me being wonderful.
No, no, I have that title, thank you.
It's about making a business decision, right?
Hi, I'm Mark Cuban. I'm a bully. Look at me.
What's that about, Mark?
Like I said, guys, you got to pay to play.
There's tension in this room, I can feel it.
It's offensive.
You got a shot here, right? Don't let these guys drag you down.
Are you really interested in this?
I like the idea.
You really think cooking bacon bedside, is a good idea?
I love your passion. I love your knowledge.
I'm waiting for the but.
Yeah, there's a but coming.
You've got a 24 second shot clock. $750,000.
I've never seen greed like that. That's unbelievable greed.
You broke up with your potential partner without even looking at him.
You're a savage.
I'm just a lean, mean, shark machine, baby! If I say yes to whatever your counter is, you have to tell me that you will say yes immediately and we have a deal.
$100,000.
Wait a minute.
For 20% equity.
Ahhh!
Done, done, and done.
Crap.
You like that Barbara?
I don't like it one bit.  That was so damn smart.
No but that's a compliment to you.
Barbara, I screwed you but it's a compliment to you.
I feel really good about it.
This isn't the rose garden, it's the Shark Tank. And you know what, sometimes you got to take the bite and sometimes you're the chum.
Rule #4: Try Out Different Things
You just have to try different things and even if 99% of them fail, you only have to be right one time. You don't have to figure it all out in advance. You can be wrong. You can pick the wrong career or you could pick the wrong job. You can pick the wrong spouse. You could pick the wrong whatever, but, you get it right one time, you're set. But if you don't try, and if you don't go out there and try all those different things, you'll never get that one time.
And so, it's not a question of, okay, how much different stuff do I do? Or how many different things should you try? Try 'em all. Try 'em all until you find the one you like. And then it's like, it gets really easy. Cause even when  up, you're on a mission. You're loving what you do. You know? And then it gets easy. And so, that's just the approach I've always tried to instill in people who work for me and myself.
Rule #5: Work Hard
I knew I was wired to be excited about business. How or why? I don't know. But there are certain guys who have the genetics to jump out at the gym, right?
Mhmm, mhmm.
There are certain guys that when they golf, they have the muscle memory and the discipline. Dirk Nowitzki may not be the most talented guy in the NBA, but his discipline and his focus to do what's necessary to be successful, he's willing to do. And combine it with being seven feet tall and being skilled, makes him an amazing basketball player. So, it's understanding what your skill set is, finding the right place to use those skills, and then going for it.
Will that make you 250 grand? It depends if you pick the right industry. But whatever industry you pick, if you out-work everybody, if you try to be a little smarter than everybody, if you try to be a better salesperson than everybody, if you try to be better prepared than everybody, you've got your best chance. Because if you don't do it, and somebody else does… You know, I have this saying, "Work like someone's trying to take it all away from you."
Work, actually work like someone's working 24 hours to take it all away from you, and that's kind of the way I look at it. I remember asking my dad to… I wanted new basketball shoes, 'cause I was a basketball junky back then. He's like, "Well, your shoes work. "If you want a new pair of tennis shoes, "you have to go out there and get a job." And I'm like, "Dad, I'm 12 years old." And it just so happens he was playing poker with his buddies and one of his buddies was like, "Well, I got a job for you. "I've got these garbage bags that we distribute.
"You can sell them door to door." I'm like, okay, and it was when I was selling them and realizing that I like to sell and that I could sell and that I recognized that selling was about providing a service and creating value for people, that I knew, literally, back then, I knew that I could always succeed. I remember, I was 16 I think, when I started a stamp company, and started going to stamp shows and trade shows, and just working a little bit harder than other people and trading up from one stamp to the next.
I remember one time I started with a quarter and bought a stamp and left with $50 thinking, "hey if I could do this, I could do anything." And it's not that everything worked. I failed a lot. But I never ever felt like I wouldn't be able to work hard enough to succeed.
Rule #6: Follow Your Efforts
I also always say, it's not about passion. Everybody's got passion for something, right? Don't follow your passions, follow your efforts. Because, people say, "I was passionate to play baseball." "I was passionate to play basketball." Doesn't mean all of a sudden I was going to be good enough.
Yeah.
But I found myself being really curious about business, being really curious about technology. And that curiosity is really what drove me. And I think, particularly if you're young today, curiosity is great. Always learning and trying to find new things, and being curious about new things. Cause that's what leads you to that path. Trying to figure out in advance? That's hard, cause you don't know what you don't know.
Rule #7: Put Yourself In Their Shoes
Be prepared. Understand. Put yourselves in the shoes of the people or the businesses that you're working with. The message that I just got on Cyber Dust is a perfect example. If he were to put himself in my shoes, it would be obvious that Cyber Dust is important to me. I'm trying to push everybody to message using it. I've volunteered, and Dave mentioned, that hey, I'm going to be answering questions long after this is over from everybody sending me messages.
So Cyber Dust is obviously important to me. And so, if you're able to do something that reflects something that is important to me, or whoever it is that you're working, or trying to get a job with, or trying to get an internship with, or trying to get an investment from, if you can put yourself in their shoes, and put yourself in context of what's important to them, your chances of being successful increase 99%. A thousand fold.
And one other point I'll leave with you. If you're working for somebody, the best way to be successful is by reducing the stress of those around you. It's not about you. I mean, it's always about me, but that's a different point.  It's not about you, it's about the people around you. If you're reducing the stress of the people around you, those are the people, those people start to gravitate towards you. They want to work with you. Because you make going to work easier, more pleasant. You help them accomplish their goals. You help put them in a position to succeed by reducing their stress.
Rule #8: Go Beyond Dreams
You know, Shark Tank, I do the show, not because they're great investments, but I do the show because it sends the message to kids eight to 80 that the American Dream is alive and well. You can watch the show and come to realize that somebody out of Iowa, or the middle of nowhere in Texas can start a company, and turn it into something special.
And I think so many families watch the show together that particularly in this day and age when so many people are saying what's wrong with this and what's wrong with that and what's wrong with America, it just really reinforces that somebody with an idea who's willing to go beyond just an idea to a company phase and really work, something special can happen, and just reinforcing that is really important to me.
Rule #9: Look At The Opportunities
What makes it work is like, everybody's got ideas, right? And most people just think, "oh it's my idea and I don't have this," right? The people that get it done, they don't look at the obstacles, they look at the opportunities. Instead of coming up and saying, "Oh, I wish I had a connection. "Wish I had money, wish I had this."
Like this dude with the surfboard man, he went out and found a used surfboard and he started putting it all together and it was just his time. And then he took it, built one. Figured it out, build another one. And then it's the same thing with some of the other, pretty much all of the other companies, where, rather than finding the excuses why they can't do it, they find the reasons to make it work, and then they just bust their ass and good things happen.
Rule #10: Play League Of Legends
Announcer: Team Cuban going for it, Bjergsn, oh! The three man pulling! And there's still more fights to happen.
Host: No!
Announcer: Hotshot, dodging back out. High still drops. The big, good fight for team Cuban, an ace, actually.
Host: Yup. And that may be. Do you think they can close it out right now? I mean, they've got a lot of death timers.
Announcer: Double left alright he's on the nexus. Reginald's on the nexus too. No other's making it.
Host: Whose going to get the last hit? Whose it going to be?
Announcer: They don't even know what's happening.
Host: Is it Reggie or Tongalim? Oh, they're waiting, the snowball connects high and couldn't come in.
Announcer: But the minions are coming.
Host: One more fight! And then he won the game, oh! Gigi!
Announcer: And some impressive support from these guys for Cybersmile as well. Always fun to raise some money for charity.  Mark Cuban clearly delighted with his victory here.
Thank You!
Thank you guys so much for watching. I hope you enjoyed. If you want to get your pick of who I should profile next in the Top Tens, check out the link in the description and go and cast your vote.
I also want to give a quick shout-out to Megan Loftin from the Bootstrap Boutique Channel. Megan, thank you so much for picking up a copy of my book, "Your One Word," and doing the review on your YouTube channel, as well as posting to your Twitter account. I really appreciate the support and I'm glad you enjoyed the read.
So thank you guys again for watching. I believe in you. I hope you continue to believe in yourself and whatever your one word is. Much love, I'll see you soon.
---
BONUS
Be willing to make sacrifices
You know I didn't have as many personal relationships as I probably would have liked. I put personal relationships aside. I had girlfriends where it was like, "me or your business." And I was like, "what was your name again?"  You think I'm kidding.
So, I probably took things to an extreme. But yeah, I gave up on personal relationships in a big respect because I really was on a mission. And once I realized I was good… So when I sold my first company, I bought a lifetime pass on American Airlines and my goal was just to party like a rockstar in as many countries, with as many people as I possibly could.
Then I went back and got involved in the streaming business, and I remember sitting there and telling, we had probably 10 employees, saying, "Look, this streaming thing "I think is going to be really big. "
And so, we really have to focus. "And there's going to be some sacrifices. "And if you're willing to make those sacrifices, let's go. "And if you're not, I understand, "you make your own decisions." And I was willing to make those sacrifices. And it all turned out great in the long run, but during that time, it wasn't always easy, and it wasn't always… Yeah it was tough sometimes.
Always challenge yourself
I always did everything back-ass-halfwards. I like to challenge myself. And I went to Mount Lebanon High School in Pittsburgh. And I wanted to take business classes my junior year. Only they didn't offer any business classes, and so I decided I'd take some college business classes, but University of Pittsburgh didn't offer any real business classes either. So I said I'm going to challenge myself.
And so, I took a couple night classes at the University of Pittsburgh my junior year in high school. Did well in them, and wasn't really challenged all that much at all. And so I just dropped out of high school, and instead of going back for my senior year, I went to the University of Pittsburgh and started taking classes there.  My buddies were like "Where'd you go?" I've always tried to challenge myself.
Learn through process
You've got to know your own skill set, right? And you've got to know how that fits within your company's life cycle. Some companies are a slow grind. And you just have to understand that, and you've just got to bide your time until it starts to click, and then grow with it quickly. If you're trying to release a product that needs to be ubiquitous, you've got to go as fast as you can and then, you know- Release a product, like a launch?
Yeah and there's a lot of people that'll say perfection is the enemy of profitability. And that doesn't mean you have to wait 'til it's a perfect product. Cyber Dust is a perfect example. It's been almost two years, we still haven't advertised it yet, because we know it's not ready yet. And so it's been a slow growth grind because we want feedback. We want to keep on learning. We're evolving. But it really just depends on what the product is.
Is it a barbershop? Right? Is it an app? Is it a service, is it a product? But the key is looking for the low-hanging fruit. What customers are willing to write you a check or commit to it? So that they're willing to integrate it into their daily lives, or integrate it into their daily business. And so, getting a commitment, either through time or revenue, is typically what I look for. And so, if I can get a commitment, then I'm going to be able to learn.
I'm going to see how they use it. Do they sustain usage? And then, once I get the next one, hopefully it came a little bit faster than the first one. Then I can ask for referrals. And then the next one, then the next one. And I just try to ramp it up. You know, when I bought the Mavs, we had no season ticket holder base. And so, literally, it was a matter of just putting a list of former season ticket holders and a white pages back then, on my desk, next to my phone, and making phone calls.
You?
Yeah, me. Yeah because if I'm not going to do it, how can I expect someone else to do it?
That's amazing to me. So just get on the phone, "Hey, this is Mark Cuban, I'm the new owner of the Dallas Mavericks."
Unbelievable.
I'd like to invite you back for a game.
Unbelievable.
It's not though, this is my business.
But, well, you can't get regular sales guys or something to make those calls once they get to a quarter.
Yeah.
You're a guy that's a billionaire, and you're making those calls.
But that's all fine and good right? Because, everybody's got their own goals, right? But still, I didn't want anybody at the Mavs to be able to say, "Well he's not willing to do the work." If I walk around, I'm picking up all the papers, I'm not saying go get that picked up. I'm like, okay that's trash, I'm picking it up.
But in terms of speed of growth, it's really, you've got to get that first customer first. And then, when you get that first, what did you learn? Reiterate. Get that next customer. And then, hopefully, as you learn more and more through the process, then the next one, the next one, the next one comes by even faster.
You might also like
---
More from Mark Cuban
---
Today, we're going to learn how to ignite the fire within you. Hello, Believe Nation. It's Evan. My one word …
Hello Believe Nation, it's Evan. My own word is believe and I believe in people more than they believe in …
Good morning Believe Nation. My name is Evan Carmichael. My one word is believe. I believe that entrepreneurs will solve …