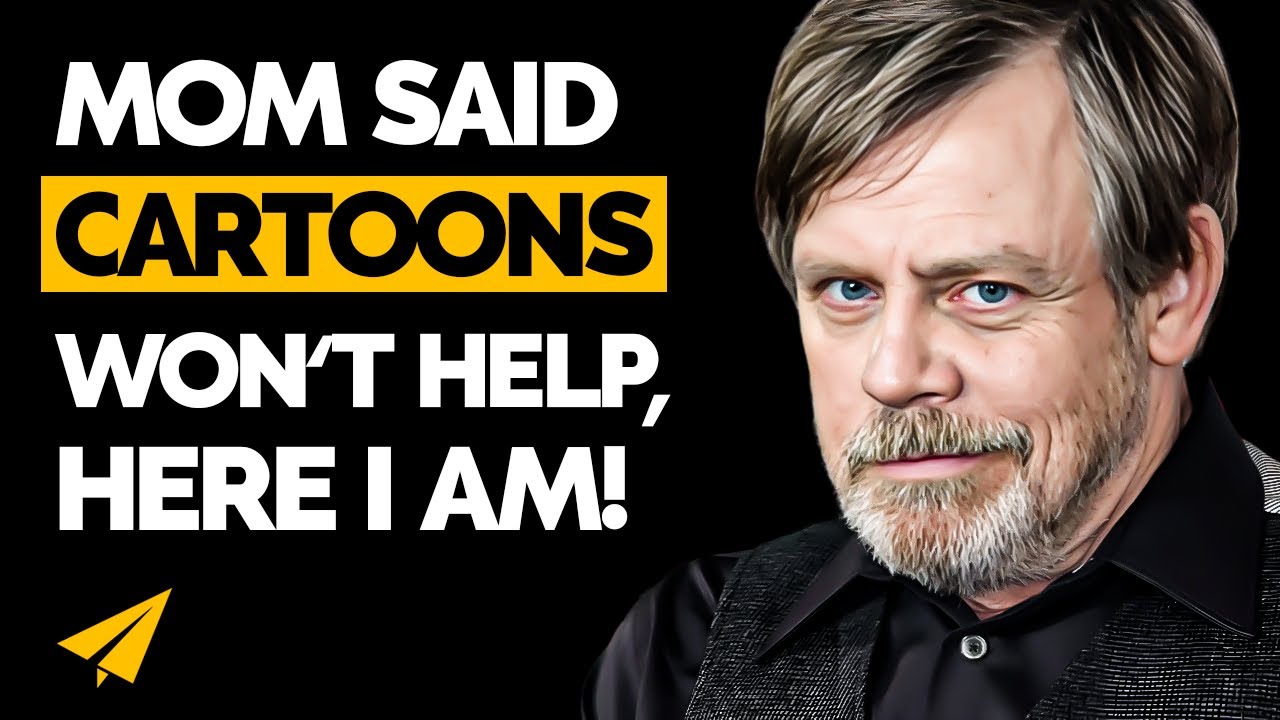 Famous Entrepreneur Quotes
Mark Hamill's Quotes
"I love the allure, the danger, of working without a net."
"I really love what I do."
"I usually take advice by observing what other people do"
Mark Hamill's Top 10 Entrepreneurship Rules For Business and Success
He is known for his long-standing role as DC Comics' the Joker. He appeared in multiple television films such as The City, and Sarah T. – Portrait of a Teenage Alcoholic. He's Mark Hamill and here's my take on his top 10 rules for success. 
Rule #1: Find Your Path
As a kid I was just mad about the original King Kong I loved all the stop-frame animation, Ray Harryhausen pictures, and horror, and fantasy, you know I loved all the black and white universal films, I still do. When I realized, I think I saw a documentary on the Disneyland show, which it was called then, where you saw Clarence Nash recording the voice of Donald Duck.
I don't know if I was six, seven, but it suddenly occurred to me, these things don't just emerge full-blown, somebody goes to work and actually makes a Daffy Duck cartoon, and I thought, "I want to do that!" I mean, I wasn't sure I wanted to be an actor, I thought I could, I didn't know what I wanted to be but I certainly wanted to be in the business of going to work and having a colossal ape carry a woman up the Empire State Building I thought, you know, it was just mind-boggling to me you know, that somebody got to do that for their profession.
Rule #2: Stick To It No Matter What
I don't have a lot of people coming up and saying you know, I should be on Broadway, I do this and that, or I should be in movies, or whatever, but lots of people say oh, I could do cartoons. Listen to my Homer Simpson, well that IS good, I like that.
But it's, you got to be dedicated, you know, it's not a matter of being able to do a good Homer Simpson, and you're going to have a career, it's hard work, I go to drama classes all the time and I hate to be a buzz kill, but I try and talk kids out of show business, seriously, I say if there's anything you like as much as performing, even if you get into it academically and become a drama teacher, or if you, if there's something else you like, you can still do community theater, you can do amateur theater, you can still perform, but I'm telling you, if you get into it as a profession, you're in for a lifetime of rejection, and unemployment, I mean, you could have, you get seven or eight jobs and then you don't work for a year and a half, you know? And you start running out of money, you have to go drive a cab, or wait tables, or something.
It's a miserable profession. Believe me. Please don't do it.  And that's not just from the standpoint that, you know, obviously there's probably people in the audience more talented than me that will be stealing my jobs if they succeed, it's not that, it's just that it is, only through the, if you can't talk someone out of show business, then they have a shot.
I love the allure, the danger of working without a net. You know, it's one thing to be a tightrope walker, if there's a net. As opposed to being a tightrope walker where you could plummet to your death at any moment, and that's the disconnect between someone who's rational and someone who's just crazy enough to go into show business and stick to it no matter what. Tenacity is almost more important than talent. It's equally as important, for sure.
Rule #3: Love What You Do
I really love what I do. I'm so lucky to be able to do what I wanted to do when I was a kid, you know, I had a little tape recorder, I would tape, you know, I loved the sound of peoples' accents, Bella Lugosi,  I never dreamed why I thought where's this guy from, why's he talk like that? Hearing the Beatles' dialects.
I loved the sound of it all. And so I would be practicing and my mom would say things like well, yes honey, that is a very good Elmer Fudd impression but it's not going to help you later in life with your profession.  I haven't played, no, I haven't played Elmer Fudd, but I loved Peter Laurie, I love Boris Karloff, I loved the way he spoke,  I don't know where he's from, and he's got a slight lisp, but I loved the sound.
Laurel and Hardy, I said where's this guy from? Before the Internet, I know a lot of you can't remember this, but before the Internet you actually had to go to the library and look things up in books. It was very embarrassing cos I'm not really an intellectual person, I don't want to know about Russian history, and ancient Rome, I said, you know, do you have any books on the Three Stooges, you know  But you know I like having fun.
Rule #4: Commit Passionately
Man: When you see Mark become the Joker, when he's actually in the recording booth, and he's doing these voices, he actually physically kind of twists himself and manifests himself into joker.
Man 2: Mark sometimes thinks he actually is Joker, so he just turns up and he just nails it. In fact we wrote all the dialog to really fit into where her was taking Joker.
Mark: One of the things that informs the Joker is his laugh. I remember reading the comic books it was ha ha ha ha ha ha ha, but ho ho ho hee hee, hoho hee. His laugh should be like a musical instrument it should sort of illustrate his mood it could be ominous and intimidating,It could be gleeful and wild abandon, but I didn't want to just have one rote laugh, I was driving from the first recording session, thinking now how did I laugh? I'm on the freeways in Los Angeles  no that's not it  no that's not it Now I'm sure no one in Los Angeles would look twice at somebody, look at that guy laughing maniacally, in his car.
Man 3: It's actually really fun to watch him perform the character because all the other actors are all seated and Mark has to stand to do it, and he gets his whole body into it.
They used to kid me because I was the only one who would stand up, they had these little you know, those separators that you see for musicians, so your sound doesn't bleed into other peoples' mics. And everybody's sitting down at their little music stand, and I just thought to energize the character, to shake my fists, and I felt I've got to stand up.
Rule #5: Be Confident
One thing that gave me confidence is I said, there's no way they're going to cast the guy who plays Luke Skywalker to be this icon of villainy so I was really cocky in the sense that I knew I couldn't get the part. Sometimes what trips you up is that you want it so bad your nerves betray you and your timing's off.
You over-sell it. Or I don't know, it's hard to describe. But the one thing that I felt about Joker was, since there's no way I can get this, just from the standpoint of, of, the, publicity of saying, you know, cos, years after I did it, people kept saying, that Mark Hamill? You know, and they'd demand on the street, do the voice that's not you, is it?! But, er, I had the confidence of knowing that I couldn't get it, so I said, you know what, I'm going to go in there, give 'em the best damn joker they've ever heard, and they're going to really regret the fact that they can't hire me I was, I had this arrogance when I did it, which worked well for the part.
Rule #6: Don't Turn Down Opportunities
I had a little trouble with Sushi Girl, cos I read it and I thought wow, this is awfully violent, he even tortures someone with pliers to the teeth, and I've been married to a dental hygienist for over 30 years, so may the floss be with you, with her.
But, er, I thought, this is one of those movies that I'd like to see, I don't know if I can handle being in it, so foolishly, I turned it down, and my daughter said you know you're always complaining about why don't I get parts like Paul Giamatti, or why don't I get parts like Steve Buscemi, cos I love those character parts, it doesn't have to be the main role, just something interesting, and supporting is fine with me, she said if you turn this down, I don't want to ever hear you complain about not getting character parts again, I thought, boy, is she right.
I wonder if it's too late, and I called my agent, and said contact them, and say that I want to meet with the director and fortunately they hadn't cast that part, because as it turns out, I mean, I didn't know anybody in the cast, except for Tony Todd, and he has such gravitas, he's such a great actor, and I was sort of his sidekick.
So I thought, well at least I know Tony, and, erm, but it turned out to be, you know, one of the most fulfilling roles I've ever played, and I didn't expect that.
Rule #7: Learn From Others
I once asked Lee Marvin for advice I meant career advice but he thought for a moment, and he said, er, "never stand when you can sit." and I still follow that advice. There's a little seat in the elevator, I sat down on the way up. But, no, I usually take advice by observing what other people do.
You know? People say did you give the young cast members advice, you know, in the new Star Wars film? I said absolutely not. They are amazing, and in fact, if anyone should be getting advice, it's me from them.
Rule #8: #Believe In What You Do
Man: The first Star Wars in the UK, from what I understand, was like a mini mutiny. Everyone thought George Lucas was an idiot, nobody wanted to be on the set, the actors were incredibly critical, some of them, I'm just curious, sort of, to the extent you observed it, kind of how you saw George Lucas.
Mark: The attitude towards the film when we were first making it?
Man: The first production, when the part that was in the UK? Yeah, it was very badly, so how did he kind of lead through that, how did you lead through that? And what was your impression of him?
Well what I have to tell you is that the crew that was making it, they were all very professional but they all thought it was, put kindly, "rubbish". They thought it was silly, I mean, there's not a lot of things they can compare it to, Doctor Who, maybe, there's a comic strip called Dan Dare, the idiom was not really something that was familiar to the British crew.
So they were really nice, and they liked all of us, but they just thought it was ridiculous, they thought it would be a movie that would be released only in matinee for children, in the daytime. And I loved the British sense of humor, we had Kenny the boom guy, you know, you'd be doing this dialog, you know, you know, I want to go to Alderon with you, you know, there are all these phrases that were unusual to their ears, and it'd get picked up by the crew, and you'd be walking along the hallway and you'd pass Kenny, he'd go, "Alderon, we're all going to Alderon, mate, all of us…"  And you know, he'd always be there, you'd do this really difficult dialog and you'd look up at Kenny holding the boom, and he'd always give you the eyeroll like, "ugh", , it was all, and believe me, there was a typo one day on one of the, when they were trying to type "Obe wan kenobe", and they added an 'i' where they shouldn't, and it came out "obe wonky" we didn't know what that meant, but the crew never let us forget it.   "Obe Wonky, alright, you alright?" But it, no. But they were very kind about it. But I just thought, you know, you have to believe in what you're doing. I thought it was good.
Rule #9: Work Hard
Interviewer: Famously you almost did all your stunts yourself, except for a few, so I noticed you shaped up since Sushi Girl. Are you still into fencing stuff?
Well first of all, Bob Anderson was the Olympic Champion and he made me look good, because I, you choreograph it down to each and every move. In those days, we'd choreograph the scene, and then George looked at it, and he said "You can't take your hand off the lightsabre" we said "why?" He said "because it's heavy, it's like Excalibur," which really limits the kind of movement you can make.
You know, flash forward a couple of decades and we're watching Phantom Menace, and they're twirling them around like batons. He changed his mind. But we had to go back, and re-do the whole thing. So Bob Anderson I give full credit for making me look like I was a competent sword fighter.
The only stunts I wasn't allowed to do because of the insurance, Colin Skeaping was my stunt double, and he went out the window in Empire Strikes Back, and I think he did some of the flips and some of the training sequences on Dagabah. But I loved it at the time.
When they wanted me to get into shape for seven, they got me a trainer, and I went to the gym and lost, I don't know, over, like 42 pounds or something but, and you go on this diet which is basically, if it tastes good, don't eat it. There's no sugar, no dairy, no fun, it's just, er, protein shakes, and lots and lots of.
I've eaten more vegetables in the last four years than I have in my entire adult life But you know it's really distressing when you figure out it's just diet and exercise? Cos you want that magic thing you see the ads on TV, don't change your diet, don't exercise, just take this pill, I'm writing down all the information, my wife's saying you're not getting those pills, whatever they are, and it's true, if you work out, watch your diet, swim, it all pretty much all falls away, so I'm very grateful to get paid to get into shape.
Interviewer: Do you still train for fencing?
Hmmm. That's a loaded question. Perhaps.
Rule #10: Perform For Your Fans
Thank You
Thank you so much guys. I made this because DarkClaude 4 asked me to If there's someone you want to vote on for the next top 10 check the link in the description and go and have your say.
Finally wanted to give a quick shout out to Matthew Britt Matthew, thank you so much for picking up a copy of my book "Your One Word", taking that picture, posting it to Instagram, I really appreciate the support, and I'm so glad you enjoyed the read.
So thank you guys, I believe in you I hope you continue to believe in yourself And whatever your one word is. Much love. I'll see you soon.
Summary
Mark Hamill's Rules
I hope you enjoyed this article, make sure to check my Mark Hamill video on his Top 10 Rules For Success as well.
---
You might also like
---